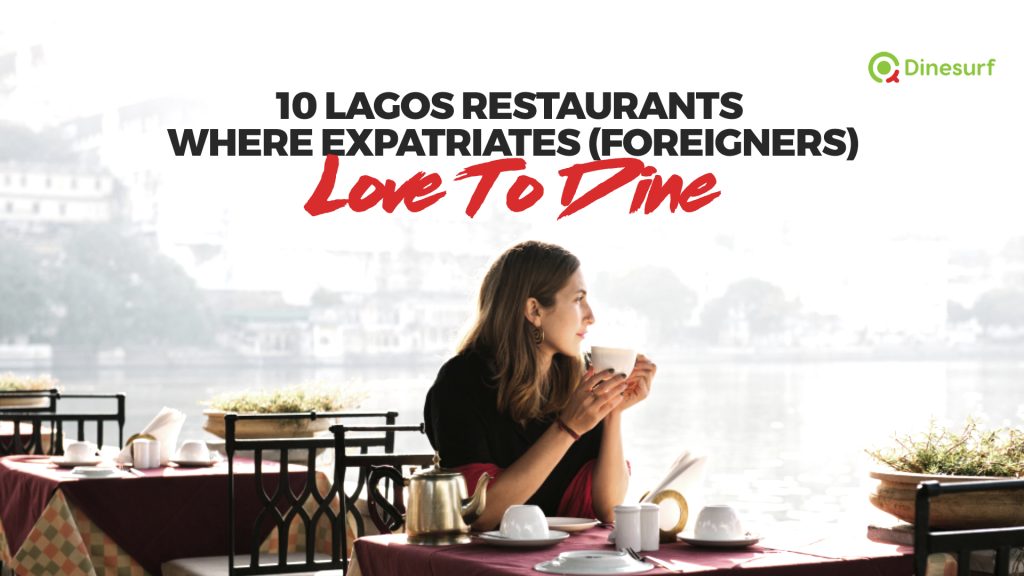 If you're an expatriate (foreigner) living in Lagos, Nigeria, then you know that there are endless dining options to choose from. But which restaurants should you visit if you're looking for a truly authentic Nigerian experience? Here's a list of 10 Lagos restaurants where expatriates love to dine.
These Lagos restaurants include:
1. Salma's Lebanese Cuisine
This restaurant is a popular choice for expatriates looking for authentic Lebanese food and if you meet any Lebanese/middle eastern person and ask them their favorite middle eastern spot, they would all unanimously choose this place. The food is reasonably priced and the portions are generous.
Located in the heart of Victoria Island, La Taverna is a favorite among expatriates and the rich kids of Lagos for its Italian food. Alot of people go on Tuesday night (because of Tacos Tuesday), word around is they also have the best pizzas.
3. The Blow Fish group
The Blow Fish group consists of The Blowfish Hotel, 9-7 Supermarket, The Purple Restaurant, La Veranda Italian Cuisine, Izanagi Japanese Restaurant, Mahawis Lebanese Grill, and Vellvett Grill and Lounge and International grill restaurant and Lounge with a very special design and atmosphere. Expats and maybe 10% of the rich Nigerians are the ones you would see in this place.
4. Lagos Jet Ski Riders
The Club: More of the European expatriates come here, and you also need to be invited or be a member of the jet club before you are allowed in. Food is good and reasonably priced, and service is very responsive with a live band playing at one corner in the evening especially over the weekend.
You would barely see any Nigerian in this place because it is packed full with foreigners especially on Saturday. According to Opeyemi Famakin, he said: "you can legit take a picture and lie to people that you're abroad as you'd probably be the only black person there."
6. Moist beach club
Moist beach club is located inside Oniru private beach. You need to make reservations before you can enter. It is a trendy Restaurant & bar situated along the shores of the majestic Atlantic Ocean.
7. Thai Thai
From the name, you can tell that it is a Thai restaurant. Great ambience, good food and you can also say it's quite hidden. Just make sure to make a reservation if you ever want to visit this restaurant.
8. SLoW
It is a tropical brasserie that serves farm-fresh Latin American & West African dishes, plus cocktails. Consider making a reservation before you walk in. This is one out of the thousand Lagos restaurants that is quite hard to make a reservation, probably because the service is so great, that is why it is always filled with foreigners or some Nigerians.
One of the top restaurants that serve Japanese cuisine. The meals here are quite pricy and if you are not a sushi fan, it is best to have a taste of another cuisine that is not Japanese. The restaurant space is beautifully designed and It has both an indoor and outdoor sitting area.
It is like an up market English café and not really a place to hang out with a large number of people because of its size. Their food is not that expensive but only a certain group of people go there. (If you know, you know).
Lagos is a city with an interesting blend of cultures. Expatriates have their own favorite restaurants, and this list provides some insights into where they like to eat. If you are looking for a good meal in a foreign-friendly environment, these ten restaurants should be on your list.
Reference: Opeyemi Famakin (https://www.instagram.com/p/CUo2kHdgZ0L/
There are so many other Lagos restaurants on our platform where expatriates love to dine and some of them are offering a 10% discount currently. Check them out by clicking Lagos restaurants.
YOU MAY LIKE THIS