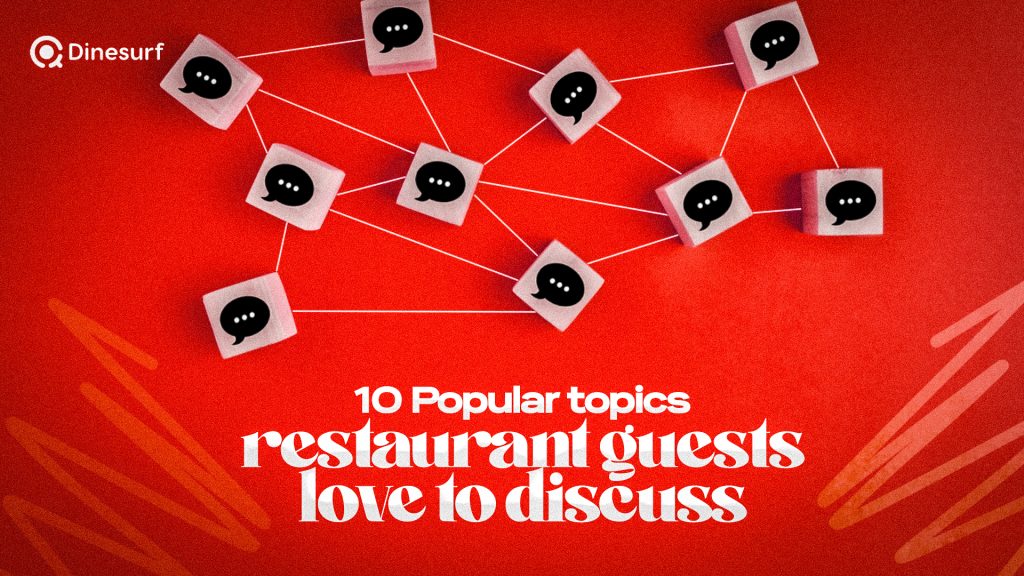 Gathering guests around the restaurant table is one of the most beloved aspects of being a restaurateur. Not only do you get to present your culinary creations, but you also get to see first hand who's enjoying them and revel in their delight. Because of this it's important for restaurateurs to be aware not only of how to best serve their food and drinks, but also be tuned into topics that engage and entertain guests. Keeping an eye on these 10 popular topics, which range from politics to entertainment gossip — can help keep conversations lively and ensure your customers have a pleasant dining experience!
Popular topics restaurant guests love to discuss includes:
1. Recent world news: Everybody likes to stay up-to-date with what's happening in the world, so keeping an eye on current events is a great way to spark conversation at the restaurant table.
2. Local sports teams: Whether it's your local basketball team or football squad, chances are your customers are fans of their local teams and love discussing the latest wins or losses. Most times, this particular topic can be a bit noisy, just make sure to keep things down during discussion.
3. Movies and TV: With so many new shows and films coming out all the time, there's no shortage of material to chat about when it comes to entertainment. Ask what people have seen recently or what they're looking forward to.
4. Food and drink recommendations: Guests may be looking for recommendations on menu items and drinks that are popular, or that the server or bartender thinks they might enjoy based on their tastes and preferences. This is the best time to showcase your menu and also recommend some of your best items off the menu. You can do this yourself or leave it in the hands of your bartender.
5. Allergies and dietary restrictions: If a guest has a food allergy or dietary restriction, they may want to discuss options with their server that accommodate their needs.
6. Restaurant history and ambiance: Guests may be interested in learning about the history of the restaurant, how it was established, and what makes it unique. They may also want to talk about the atmosphere, decor, and overall vibe of the restaurant.
7. Local attractions and events: If a guest is visiting the area for the first time, they may be interested in learning about local attractions and events that they can check out during their stay.
8. Cooking techniques and ingredients: For foodies and culinary enthusiasts, they may be interested in learning about the cooking techniques used by the kitchen and the ingredients that are used to prepare the dishes.
9. Wine and cocktail pairing: For guests who are interested in wine and cocktails, they may want to discuss pairing options with the server or bartender to enhance their dining experience.
10. Service and hospitality: Guests may want to talk about the service they are receiving and how they are being taken care of by the restaurant staff. They may also have suggestions or feedback on how the service can be improved.
No matter what topics come up at your restaurant table, it's important for restaurateurs to stay abreast of current conversations and trends. This way, you can always be prepared to engage in a lively discussion with your customers!
One other thing you should note as a restaurateur is to make sure that you are not intruding into your guests conversation. They should call for you and not the other way round, so your gesture does not come in as offensive. This post would help you to take the right approach towards your guests.
YOU MAY LIKE THIS