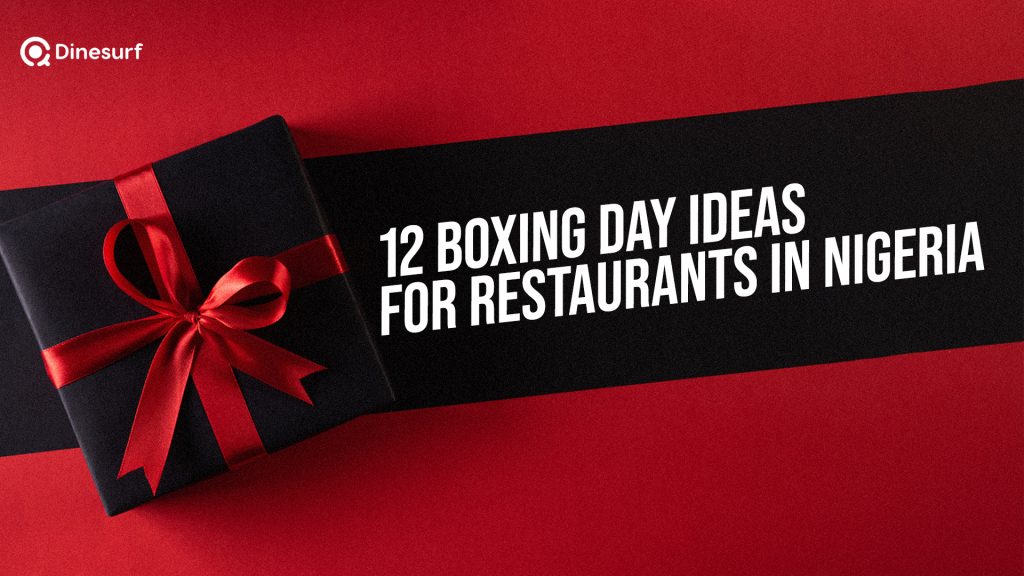 The day after Christmas can be a weird one for restaurants. A lot of people have gone home to their families, so there's no office crowd, but at the same time, the leftovers from last night's feast are still making everyone feel stuffed and content. So, what do you do on Boxing Day? Well – for restaurant owners – don't stress about it! To help get your creative juices flowing and get those customers back in your restaurant sooner rather than later, we've got 12 exciting ideas that you can try out this Boxing Day!
Boxing day ideas to implement in your restaurant include:
1. Throw a 'Dine and Dance' party – Get your customers up on their feet with a fun mix of music and food! Offer themed dishes that pair perfectly with the music, whether it be traditional Nigerian cuisine or something a bit more out there.
2. Celebrate 'The Day After Christmas' with a special menu – Give your customers something to look forward to on the day after Christmas Day. Create a special menu featuring dishes inspired by the holiday season, such as roasted turkey with festive sides or a hot chocolate-flavoured dessert.
3. Run an 'All You Can Eat' buffet – This type of promotion is always popular with customers and it's super simple to set up! Just roll out a selection of delicious Nigerian dishes and let your guests' stomachs be their guide! Check for ideas here.
4. Have a movie night – Set up a projector in one corner of your restaurant and show some classic movies that everyone knows (and loves!). Serve food throughout the evening so your customers can enjoy dinner while they watch.
5. Create some festive cocktails – Get creative in the bar and introduce some special seasonal cocktails! This can be a great way to drive sales and get people in the door on Boxing Day.
6. Give away freebies – Everyone loves getting something for nothing, so why not offer a selection of complimentary dishes? This could be anything from soup starters to dessert treats – just make sure that they're delicious!
7. Run a 'Happy Hour' – Offer discounted drinks and food between certain times on Boxing Day to see the crowds flock in. This type of promotion is always popular and can be great for drumming up interest in your restaurant.
8. Host a quiz night – Quizzes are a great way to get people talking and interacting with each other, as well as having fun while they eat! Ask customers to form teams and compete against each other for prizes or discounts on their next visit.
9. Have an International Food Fair – Get your kitchen staff to put together a selection of international dishes from around the world, such as Chinese food or Italian meals. Customers can then come in and sample different cuisines in one meal!
10. Launch a Puzzle Challenge for Kids – If you're thinking about attracting families with kids, why not set up a fun puzzle challenge that they can take part in over lunch? This will keep everyone busy while parents get to enjoy some delicious food without worrying about their little ones getting bored.
11. Create a Special 'Boxing Day Music Brunch' – Get some local musicians to come in and play acoustic sets while customers have a leisurely brunch. Have your staff serve some classic Nigerian breakfast items such as akara, moin moin, etc.
12. Have a Karaoke Mixer Night – Spice up the evening by hosting a karaoke mixer! Allow guests to come in and take turns singing their favorite songs while they enjoy some of your best eats.
So, there you have it! 12 unique and exciting ideas to help make Boxing Day a success in your restaurant. Don't forget to spread the word so all your customers can come out and join in on the fun! We wish you luck with trying out these ideas and hope that everyone has an amazing time at your Boxing Day event. Enjoy!
Restaurants on the Dinesurf platform are still open, even on boxing day. Make a reservation here now and enjoy the season!
YOU MAY LIKE THIS