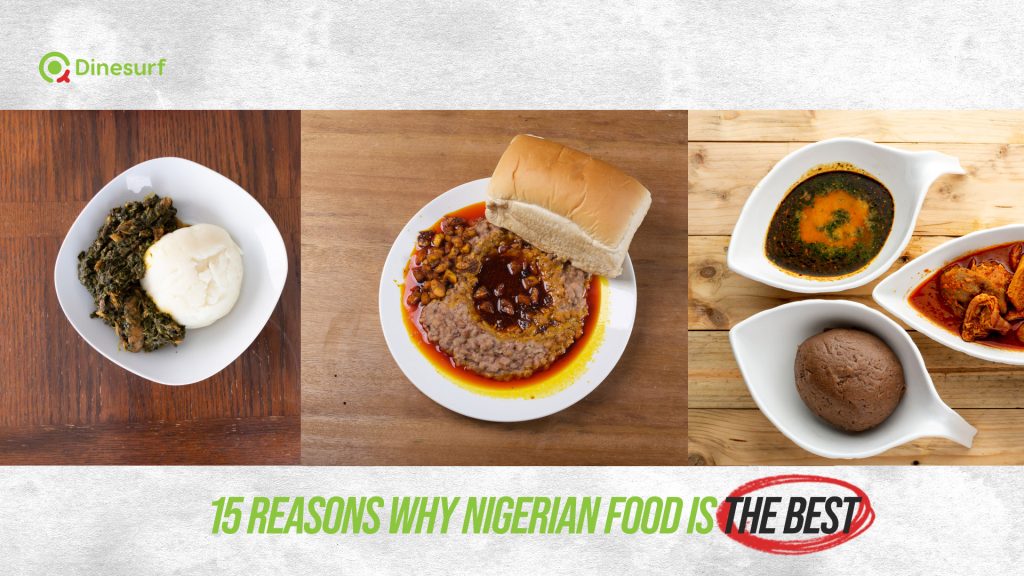 When it comes to food, Nigerian cuisine is king – there's simply no contest. If you don't believe us, just check out these 15 reasons why Nigerian food is the best.
1. There's so much variety
Nigerian cuisine is incredibly diverse, with different dishes to suit every taste. Whether you're in the mood for a hearty stew or a light soup, there's always something to tantalize your taste buds.
2. The flavors are out of this world
Nigerian food is packed with flavor. From the spice of chili peppers to the sweetness of palm oil, each dish is a explosion of taste.
3. It's nourishing and satisfying
Nigerian food is not only delicious – it's also nutritious. Most dishes are made with fresh ingredients that are rich in vitamins and minerals, so you can be sure you're getting a healthy meal.
4. It's perfect for sharing
Nigerian food is meant to be shared – it's part of the culture. So gather your friends and family around a big pot of stew and enjoy some quality time together.
5. It's affordable
One of the best things about Nigerian food is that it's very affordable. Even if you're on a budget, you can still enjoy a hearty, satisfying meal.
6. It's easy to find
No matter where you are in Nigeria, you'll always be able to find good Nigerian food. From street stalls to upscale restaurants, there's no shortage of places to enjoy a meal.
7. It's perfect for any occasion
Nigerian food is perfect for any occasion – whether you're celebrating a special event or just want a quick, delicious meal.
8. It connects you with your heritage
Nigerian food is a delicious way to connect with your African heritage. By enjoying traditional dishes, you can learn more about the culture and history of Nigeria.
9. It's a great way to try new things
If you're adventurous, Nigerian cuisine is the perfect way to explore new flavors and ingredients. With so many different dishes to choose from, you're sure to find something you love.
10. It's perfect for vegans and vegetarians
Nigerian food is surprisingly vegan- and vegetarian-friendly. Many dishes are made with beans, vegetables, and other plant-based ingredients, so everyone can enjoy a meal.
11. It can be customized to your liking
One of the great things about Nigerian food is that it can be customized to your liking. If you don't like something in a dish, simply leave it out or add more of what you do like.
12. It's delicious
This one is obvious, but it bears repeating – Nigerian food is absolutely delicious! With so many different flavors and textures to enjoy, you'll never get bored of eating Nigerian cuisine.
13. It's perfect for a quick meal
If you're short on time, Nigerian food is the perfect solution. There are plenty of quick and easy dishes to choose from, so you can enjoy a meal without spending hours in the kitchen.
14. It's kid-friendly
Nigerian food is a great option for kids as well. From simple soups to stewed vegetables, there are plenty of dishes that even picky eaters will love.
15. It's simply the best
At the end of the day, Nigerian food is simply the best. There's no other cuisine that can compare in terms of flavor, variety, and affordability. So if you're looking for a delicious, satisfying meal, look no further than Nigerian cuisine.
Nigerian food is definitely worth a try if you haven't had the opportunity yet. The flavors are rich and complex, and there's something for everyone to enjoy. Once you give it a try, we guarantee you'll be hooked! What's your favorite Nigerian dish? Let us know in the comments below.
We have a range of restaurants on our platform that serve Nigerian meals and you would not be disappointed! The best part? A 10% discount is being offered currently and you can make a reservation to any of them on here. If you also own a restaurant that serves such meals, you can register on our platform and also get it listed on TripAdvisor.
YOU MAY LIKE THIS