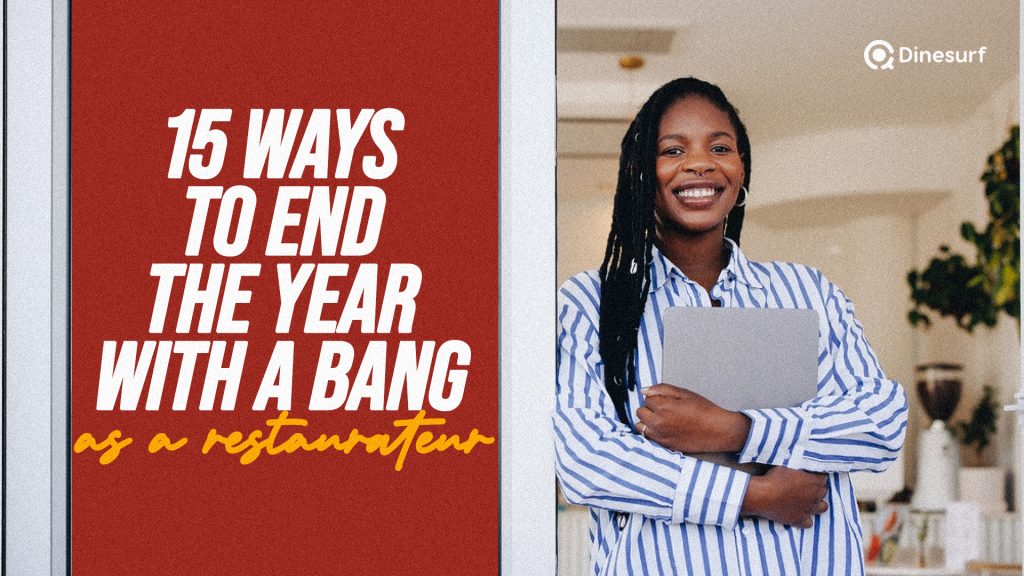 As the year winds down, restaurateurs are working hard to end 2022 on a high note. From planning festive events to implementing new marketing strategies, there are plenty of ways to ensure that your restaurant finishes the year strong. In this blog post, we'll outline fifteen such strategies. So read on and see how you can put these tips into action!
Tips to end the year with a bang as a restaurateur:
1. Plan a festive event: Celebrating the holidays is a great way to attract customers and generate excitement around your restaurant. Hosting a special event like a New Year's Eve party or a holiday-themed menu can be a great way to do this.
2. Get creative with your marketing: The end of the year is an excellent time to freshen up your marketing efforts. Brainstorm new ideas and strategies that will help you reach your target audience in the coming year.
3. Evaluate your performance: Take some time to reflect on how your restaurant has performed over the past year. What worked well? What could be improved? Use this information to set goals for the upcoming year.
4. Focus on customer service: The holidays are a busy time for restaurants, so it's important to ensure that your staff is providing excellent customer service. Pay attention to feedback and take steps to improve the overall dining experience at your restaurant.
5. Spruce up your space: The holidays are a great time to give your restaurant a fresh look. If you're able, consider making some cosmetic changes like painting walls or rearranging furniture.
6. Update your menu: Take advantage of seasonal produce and freshen up your menu with some new items. This is also a great opportunity to promote any new dishes on social media and in other marketing materials. You can get some inspiration from some restaurants on our platform here.
7. Train your staff: The end of the year is a good time to provide additional training for your staff. Whether it's customer service or food safety, make sure your team is prepared for the busy holiday season.
8. Get organized: The holidays can be a hectic time, so it's important to get your restaurant organized in advance. Make sure you have adequate supplies on hand and that your staff knows what they need to do to prepare for the rush.
9. Decorate your restaurant: A little bit of holiday cheer can go a long way! Take some time to deck out your restaurant with festive decorations. This will help create a warm and inviting atmosphere for customers.
10. Offer discounts and promotions: Everyone loves a deal, so offer some special discounts and promotions around the holidays. This is a great way to attract new customers and boost business during slower periods.
11. Make your restaurant more social media-friendly: Social media is a powerful marketing tool, so make sure your restaurant is taking advantage of it. Post photos of your food, share customer reviews, and run some holiday-themed contests or giveaways.
12. Give customers what they want: Take some time to survey your customers and find out what they want from your restaurant. Use this information to make changes or additions to your menu or operations.
13. Partner with other businesses: Forming partnerships with other businesses is a great way to cross-promote and reach new customers. See if you can team up with a local business for a holiday promotion or joint marketing initiative.
14. Plan for the future: The end of the year is a good time to start planning for the future. Set goals for the upcoming year and devise strategies for achieving them. This will help ensure that your restaurant is on track for continued success.
15. Take some time for yourself: Finally, don't forget to take some time for yourself! The holidays can be stressful, so make sure you're taking care of your own mental and physical health. Once you've taken care of yourself, you'll be better equipped to take care of your business.
So, as we come to the end of 2022, it's time to start planning how you will close out the year in your restaurant. These 15 ideas should help get you started! What are you waiting for? Get brainstorming and make some magic happen in your establishment. How will you close out 2022 in your restaurant?
Also, for the new year you can start off by signing up your restaurant on our platform and enjoy a 30 days free trial. Sign up here now and enjoy this offer.
YOU MAY LIKE THIS