Father's Day is just around the corner, and what better way to honor the amazing dads in Lagos than by treating them to a scrumptious breakfast? Lagos is home to a vibrant culinary scene, and there are several fantastic breakfast spots that offer a delightful start to the day. From cozy cafes to waterfront restaurants, here are seven breakfast spots in Lagos where you can create lasting memories with your father.
7 Breakfast spots in Lagos
Locations: Victoria Island and Ikeja
Services: Yellow Chilli is a renowned spot for culinary excellence, and their breakfast menu is no exception. They offer a fusion of traditional and modern dishes, giving a unique twist to classic Nigerian breakfast staples. Treat your father to a memorable breakfast experience and relish their delectable creations.
2. The Lighthouse
If you're looking for a breakfast spot with a stunning waterfront view, Lighthouse Restaurant is the perfect choice. Enjoy the picturesque scenery while indulging in a diverse breakfast menu, featuring both continental and Nigerian options. The tranquil ambiance and delectable food make for an unforgettable Father's Day celebration. This restaurant is located at 14E Admiralty way, Lekki Phase 1.
With location in both mainland and Island (Ikeja and Victoria Island), Bungalow Restaurant is known for its laid-back atmosphere and delicious breakfast offerings. Indulge in their fluffy pancakes, crispy bacon, and fresh fruit platters while enjoying the rustic charm of this popular spot.
Located in the bustling city of Lagos, Orchid Bistro is a renowned culinary establishment that offers an exceptional breakfast experience which makes it one of the top breakfast spots in Lagos. With a focus on quality ingredients, creative flavor combinations, and impeccable presentation, Orchid Bistro's breakfast menu is a delightful fusion of international and local influences.
RSVP Restaurant in Lagos is not only known for its exceptional dining experience but also for its delightful breakfast menu. The restaurant understands the importance of starting the day right and offers a range of breakfast options that cater to various tastes and preferences. The customer service is top notch and also a family friendly restaurant.
Cactus Restaurant in Lagos is not only renowned for its overall dining experience but also for its delectable breakfast menu. This popular establishment offers a range of breakfast options that cater to various tastes and preferences, making it an ideal spot to start your day with a satisfying meal. The breakfast menu at Cactus Restaurant features a fusion of flavors, combining traditional Nigerian dishes with international influences. Whether you prefer a hearty breakfast or a lighter option, you'll find something to suit your palate.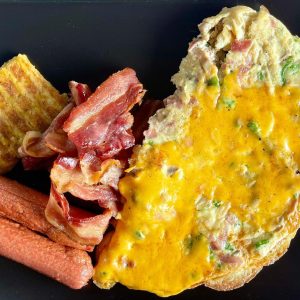 Lala's Bistro caters to breakfast lovers with its mouth watering morning offerings. The breakfast menu at Lala's Bistro is a delightful blend of flavors, featuring a variety of options to start your day right. From classic favorites to innovative creations, their breakfast menu has something to satisfy every palate. To view their breakfast menu, click on Lala's Bistro.
This Father's Day, show your appreciation and love by taking your dad to one of Lagos' incredible breakfast spots. Whether you choose a cozy café or a waterfront restaurant, these seven breakfast spots offer delicious food, warm hospitality, and the perfect ambiance for a memorable morning. Celebrate your father's love and care with a delightful breakfast experience that he will cherish for years to come.
There are tons of breakfast spots in Lagos, that are not on this list. If you intend to search for more, check breakfast spots and you can also make a reservation through the platform. Do something incredible to appreciate your father!
OTHER POSTS YOU MAY LIKE