Restaurants are always looking for ways to bring in more business, and one way is to host events. But it can be hard to keep track of everything related to events, from reservations and payments to updates if anything changes. 
Event management can be a huge challenge for restaurants, especially when it comes to keeping track of payments and updates. And if something changes after the event is already booked, it can be difficult to make the necessary changes quickly.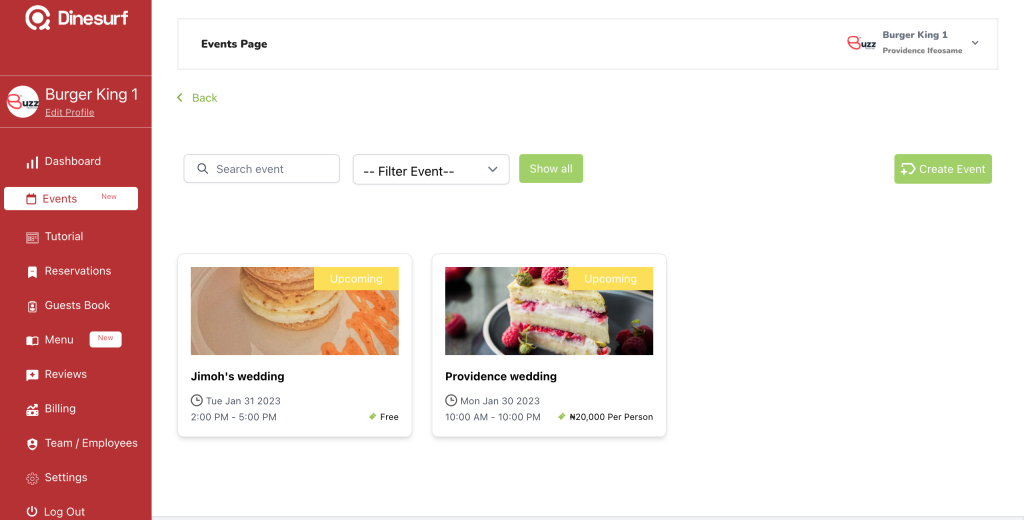 Dinesurf's event feature solves all of these problems!
You'll have control over your event's data like reservations and payments while being able to update information quickly if anything changes. Plus, you can choose whether you want to offer free, postpaid or prepaid events – with the ability to receive payments for prepaid events via Dinesurf.
It's time to take the stress out of events with Dinesurf. You'll no longer have to worry about managing payments and updates – it's all taken care of for you.
Key features
With Dinesurf, event management has never been easier!
Create and Manage events in minutes – Create events in just a few clicks and easily manage them with Dinesurf's intuitive event management system.
Manage guest payments – Accept credit or debit card payments for prepaid events directly from Dinesurf, so you don't have to worry about collecting payments at the door.
Send automated reminders – Automate reminder emails to remind guests about their upcoming event, so you don't have to worry about sending out manual emails.
Update information quickly – Easily update event information in just a few clicks if anything changes, like location or date.
Keep track of everything – Get detailed analytics on each event, including number of attendees and total revenue generated.
Update Information Quickly – Easily update event information in just a few clicks if anything changes, like location or date.
Getting your First Event on Dinesurf
With Dinesurf's event feature, you can easily manage all of your restaurant's events from one central place. Just log into your account and you'll have access to everything related to each event, including guest List, Revenue Generated, Unique Event Page (Each event get a unique page you can promote and send traffic to.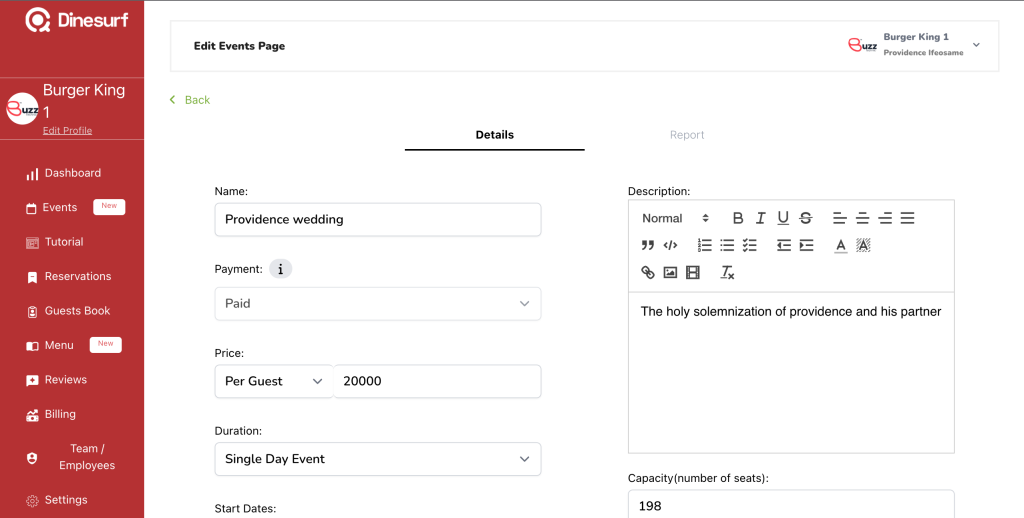 Create and Manage events in minutes
Our platform offers a convenient way to create and manage your event in minutes! All the details of your events are built into one page that you can access online at any time – meaning no more deleting or reposting updates for social media posts.
How to create an event
Simply enter your event details
Event Name
Description
Date and Time (Single Date, Date Range or Recurring)
Ticket Prices
Upload an image for your event and publish.
Then set up your payment options – you can choose to offer free, postpaid or prepaid events. For prepaid tickets, you'll be able to accept payments directly from Dinesurf. Once all the details are filled in, hit submit and your event is ready!
Your event will have its own website page with all the details potential guests need to know.
Plus with diners in Africa and around the world discovering restaurants through us; creating an engaging event listing on Dinesurf will be well worth it for improved visibility.
View and Monitor Reports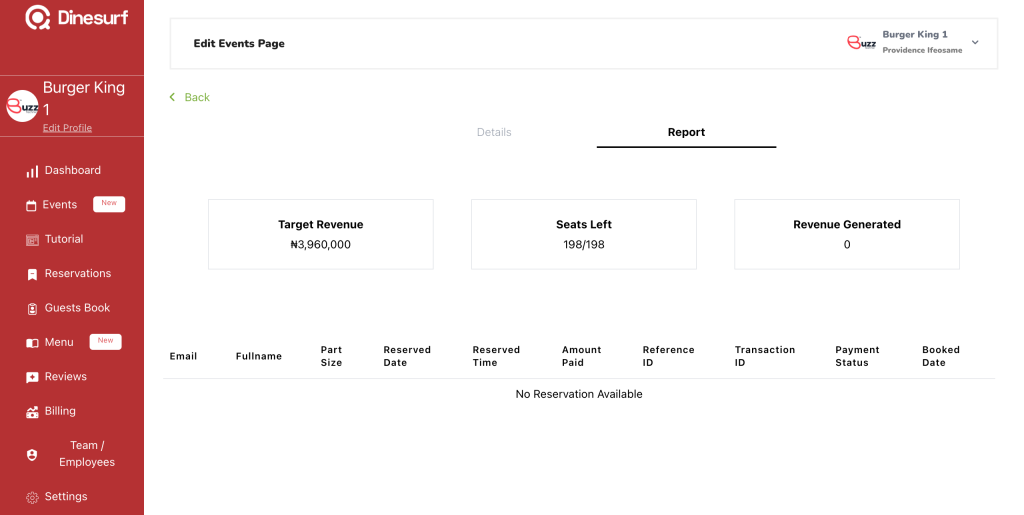 By clicking on each event card created, you can view events "Report" to see guest data, payments, etc to avoid wastage and poor planning from no-shows or high turn out.
Monitor all of the events created and view their performance at a glance so you can make necessary modifications in no time.
Enjoy the simplicity of managing and hosting events with Dinesurf! Create, monitor, and update events in minutes. Plus, receive payments easily for prepaid events. Try it out now to make your restaurant's events run smoothly and successfully. Get started today!