22 Mar

Transitioning from a casual dining to fine dining? Things to note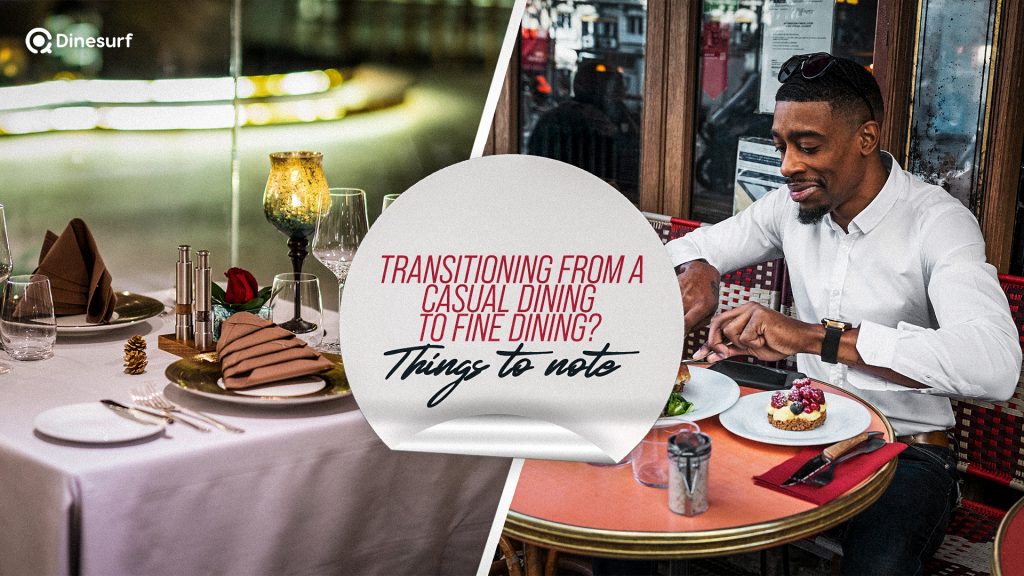 Navigating the shift from casual to fine dining can often be a daunting task for restaurateurs looking to upgrade their establishment. Understanding customer expectations and striking that perfect balance between atmosphere, menu options, service standards and pricing are key elements when transitioning from one type of restaurant experience to another. By taking some time to analyze each aspect carefully, you'll ensure your patrons get the upscale dining experience they're expecting! Whether you're just getting started or already in the process of taking your casual eatery up a notch, here are a few tips that will make the transition smoother.
• Get creative with your menu: Who says you can't enjoy a delicious gourmet meal in a casual atmosphere? By adding some dishes that are more refined, yet still within the scope of what your customers want, you'll be able to ensure they're getting an enjoyable but elevated experience.
• Invest in quality glassware: Upgrading your glassware from casual plastic cups to sophisticated stemless wine glasses or beer steins can instantly elevate any dining experience.
• Invest in higher-end ingredients: Every dish needs to look and taste its best if it's going to wow your guests. To achieve this, investing in premium quality ingredients is essential—it will be worth every penny! Not only will it make for better-tasting food, but the presentation will also be improved.
• Focus on presentation: Paying attention to how food and drinks are presented can go a long way in creating an upscale dining experience. Serve meals on decorative plates and ensure they are presented in an artful manner. Additionally, garnishes can be used to add colour to a dish and make it more visually appealing.
• Offer a signature cocktail: Give your customers something special to sip on while they wait for their meal. Offering unique cocktails that are inspired by the season or local flavours is a great way to make guests feel special and ensure they have an enjoyable experience.
• Get the right atmosphere: The look and feel of your restaurant can make or break a guest's dining experience. Fine dining restaurants typically have a more refined decor than their casual counterparts. Invest in quality materials for restaurant furniture and fixtures, such as mahogany tables and leather chairs, as well as special touches like custom table linens or art pieces. Additionally, adding soft lighting and relaxing music will help set the tone for an elegant evening out.
• Invest in proper training: All staff members should have extensive knowledge on the menu items so they can answer questions as well as upsell dishes confidently at every opportunity. Proper etiquette training also helps ensure everyone will be providing top-notch service with every interaction.
• Offer a few extras: Specialty services can help draw in more customers. You might offer a pre-dinner appetizer with wine pairings, or perhaps create unique tasting menus featuring seasonal ingredients. Additionally, providing a well-stocked bar and experienced sommelier will set you apart from other restaurants.
• Don't forget about pricing: Prices are important for keeping customers happy—if they feel like they're getting good value from their meal, chances are they'll be back again. That being said, it's also important to understand that you need to charge enough to cover expenses. Consider factors such as staffing costs and ingredient costs when setting prices.
By taking the time to consider what it takes to transition from casual dining to fine dining, you'll be able to upgrade your establishment without any hiccups. With these tips in mind, you can ensure that your patrons will leave with a smile on their face every time!
*Some people may not understand the difference between casual dining and fine dining. This post would help you have a better understanding- click here. Also, speaking of fine dining, we have some of them listed on our platform like Placebo. You can view the rest of them on here.
YOU MAY LIKE THIS