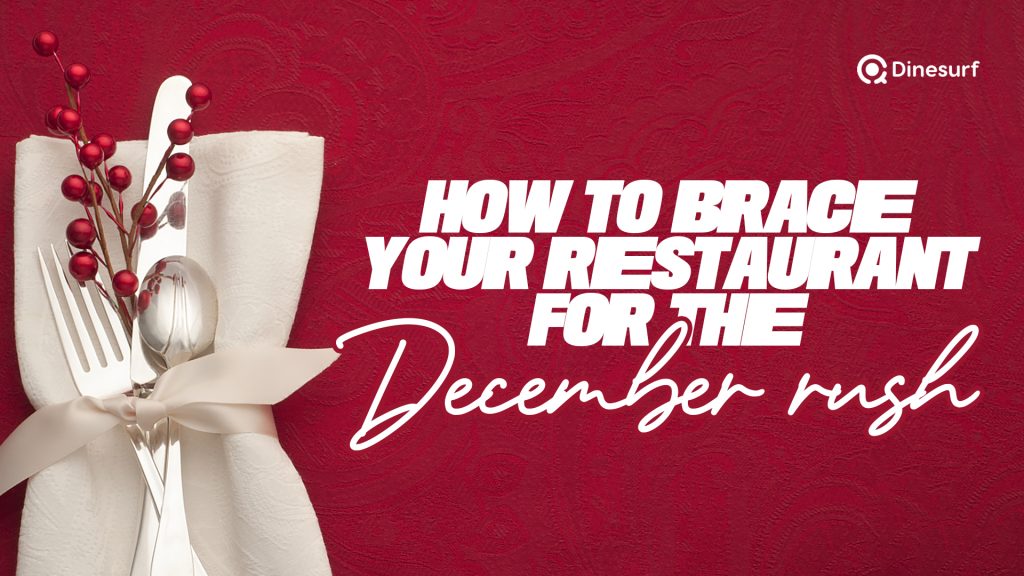 If you're a restaurateur, you know that December is the busiest month of the year. With all the holiday parties and gatherings, it's no wonder that everyone wants to dine out! But don't worry – with these tips, you can brace your restaurant for the December rush and make sure your guests have a great experience.
Tips on how to brace your restaurant for the December rush:
1. Have a plan.
Before the madness begins, take a step back and create a game plan. Decide what promotions you'll run, what specials you'll offer, and how you'll accommodate larger parties. Having a solid plan in place will help you stay organized and focused as the month gets busy.
2. Hire extra staff
This is probably the most important thing you can do to prepare for the December rush. Make sure you have enough servers, cooks, and dishwashers to handle the increased volume of customers. You may even want to consider hiring temporary staff to help out during peak times.
3. Stock up on supplies
Another key to success during the December rush is to make sure you have enough supplies. This means having plenty of food and drink on hand, as well as extra plates, utensils, and napkins. It's also a good idea to have some backup supplies in case you run out of something during the busy season.
4. Prepare your menu in advance
To avoid any last-minute rush, it's a good idea to prepare your menu in advance. This way, you'll know exactly what you need to order from your suppliers, and you can start prepping dishes ahead of time.
5. Be prepared for long waits
With all the parties and gatherings happening in December, you should be prepared for long waits. Make sure your restaurant has ample seating so that guests aren't left waiting for a table. And, if you can, offer some type of entertainment (like live music or TVs) so that guests don't get too bored while they wait.
6. Offer special holiday menus
Take advantage of the season and offer special holiday menus. This is a great way to attract customers and boost sales. Be sure to feature seasonal ingredients and dishes that will excite your guests.
7. Decorate your restaurant
Get into the festive spirit by decorating your restaurant for the holidays. This will create a warm and inviting atmosphere for your guests. And it can also help you stand out from other restaurants in the area.
8. Promote your specials
Make sure your guests are aware of any specials or promotions you're offering during the December rush. This could be anything from discounts on certain menu items to holiday-themed cocktails. Promote your specials through social media, your website, and in-store signage.
9. Offer takeout and delivery
Another way to ease the December rush is to offer takeout and delivery. This way, guests can enjoy your food without having to wait for a table. And it's a great option for those who don't want to deal with the hassle of dining out during the holidays.
10. Be prepared for complaints
No matter how well you prepare, there's always a chance that something will go wrong. Be prepared for complaints and have a plan in place to deal with them. apologizing and offering a discount or freebie can often help diffuse the situation.
December is a crucial month for restaurants. By following the tips in this article, you can prepare your restaurant for the holiday rush and ensure that both you and your customers have an enjoyable experience. Keep these things in mind and you'll be sure to make it through the hectic holiday season with ease (you can read here for more tips). Do you have any other tips for surviving the December rush? Share them in the comments below!
Do you also want to know how to grow your revenue this December without spending on ads? Then you should register for our upcoming Webinar, click here.
OUR LATEST POSTS