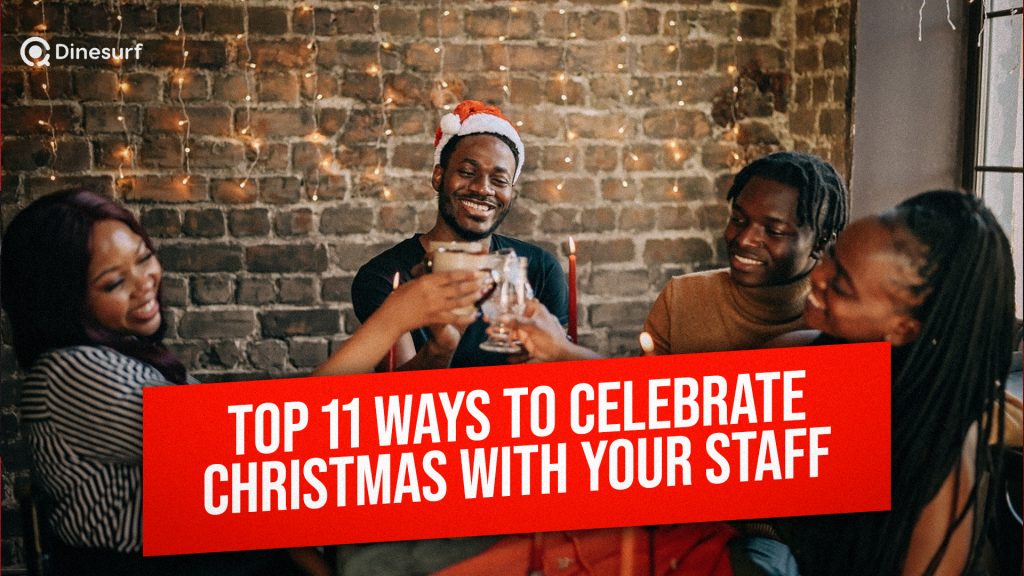 It's the most wonderful time of the year, and you know what that means! It's time to spread some cheer and celebrate Christmas with your restaurant staff! The holidays are a great opportunity for employees to bond, have fun together and create memorable experiences in your restaurant. Whether you choose to organize an elaborate festive bash or something more low-key, here are 11 creative ways to celebrate Christmas with your staff this year. Ready? Let's jingle bell rock!
11 ways to celebrate Christmas this year with your staff include:
1. Have a Potluck Lunch – Get everyone in the kitchen and whip up some tasty holiday treats to share! Ask your staff to bring their favorite dishes, sides, snacks and desserts for an afternoon of delicious noshing. Bonus points if they come dressed as Santa or Mrs. Claus!
2. Holiday Movie Marathon – Pick out some classic holiday movies, pop some popcorn and get ready for a day of laughs and nostalgia. This is an especially great way to wind down after a hectic service shift so your employees can relax and enjoy each other's company at the end of the night.
3. Decorate Your Restaurant – Transform your restaurant into a winter wonderland by stringing up lights and decorations. Have everyone pitch in, and don't forget to have some holiday-themed music playing in the background for an extra festive atmosphere.
4. Participate in a Secret Santa Gift Exchange – Get your staff into the spirit of giving this season by organizing a Secret Santa gift exchange! Set a budget, assign each employee their "Santa", and let them pick out the perfect present for their recipient. Don't forget to take lots of photos to capture the moment!
5. Hold a Christmas Trivia Game – Test your staff's holiday knowledge with a fun trivia game! You can download or create Christmas-themed questions and design the game around different tasks, like charades or puzzles.
6. Take Photos Together – Capture some special memories with pictures of your staff having fun at the holiday celebration! You could even give each employee their own copy of the photo as a keepsake.
7. Plan an Outing – Take your staff out for a day of fun, it could be at a resort, a nearby park, outdoor activities, etc. Spending time together outside the restaurant can help bring everyone closer and will be sure to leave them with great memories!
8. Host a Karaoke Night – Gather around the karaoke machine and let your staff members show off their singing chops! You can also hire professional karaoke singers to come in and provide entertainment for the night – it's sure to be a hit with your crew!
9. Give Away Handmade Gifts – Show your appreciation for your employees by giving them handmade gifts that you crafted yourself! Whether it's something small like cookies or something bigger like a custom-made painting, your staff will be delighted to receive such thoughtful gifts.
10. Have a Gift-Wrapping Contest – Get your staff into the holiday spirit by hosting a gift-wrapping contest! Set up a designated area in your restaurant and have everyone compete to see who can wrap their gifts the fastest. The winner will get bragging rights – and maybe even a prize if you feel so inclined!
11. Organize a Charity Event – Spread some Christmas cheer by organizing a charity event for your staff. Ask them to bring their donations and then have everyone vote on which charity to give the proceeds to. It's a great way to show your appreciation for your employees and those in need this season!
Celebrating Christmas with your staff does not have to be a big production. By following the tips in this blog post (check here for more ideas), you can show your appreciation for their hard work and dedication throughout the year. It is a great way to build morale and keep everyone excited about coming into work each day. What are some of the ways you celebrate Christmas with your staff? We would love to hear from you in the comments below.
Bonus point: One other way to celebrate Christmas with your staff, is making a reservation with another restaurant and having them over for a dinner/award night. Dinesurf is always here to make sure that if you decide to celebrate christmas with your staff this way, you can make a reservation here.
YOU MAY LIKE THIS