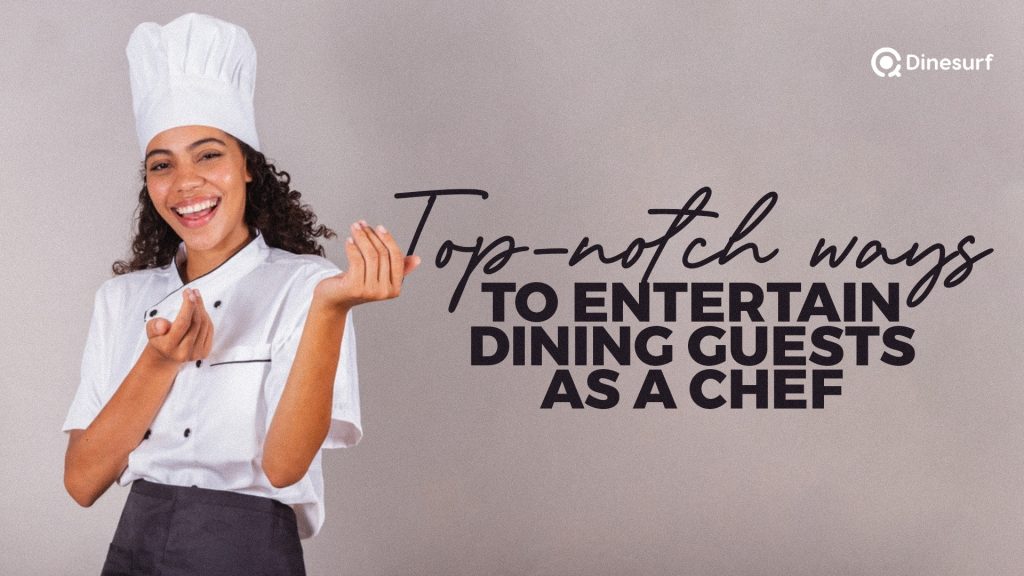 As a Chef, you know that it's important to keep your guests entertained. But sometimes, it can be tough to come up with new ideas. Never fear – we've got some top-notch entertainment ideas for you! Whether you're looking to impress with a culinary showpiece or simply want to keep your guests chatting and laughing, we've got you covered. So read on for some great tips on how to entertain your dining guests!
Tips on how to entertain your dining guests:
1. Get them involved in the kitchen!
One great way to entertain your guests is to get them involved in the kitchen. Ask them to help you prep the food, or even cook alongside you! Not only will they love getting a behind-the-scenes look at how you work, but it'll be a fun bonding experience for everyone. And of course, they'll be more than happy to taste-test your dishes! Just make sure, that before you this there is an activity or two that everyone can do so not everyone is in the kitchen at once and things get chaotic. Also make sure to take permission from your boss (restaurateur) before you do this so that they are okay with having people in the kitchen and inform guests too before they come over, so they know what to expect.
2. Put on a culinary show!
If you're looking to really wow your guests, why not put on a culinary show? Prepare a few of your signature dishes and then plate them up in an artistic way. Your guests will be impressed by your skills – and they'll love getting to try your delicious food! Just make sure that you don't spend too much time plating up the food, as your guests will get hungry waiting for you to finish!
3. Set up a culinary challenge
If your guests are foodies, then they'll love a good culinary challenge! See who can come up with the most creative dish using a mystery ingredient or have a contest to see who can identify the most spices in a dish. You could even set up a blind taste-test – just be sure to have some prizes on hand for the winners!
4. Play some fun games!
Games are always a great way to keep people entertained. And there are plenty of options that are perfect for a dining setting. Try something like food trivia or see who can guess the ingredients in your dishes. You could even have a contest to see who can come up with the best pairing for your wine!
5. Tell some stories!
People love hearing stories, so why not share some of your own? Talk about your experiences as a Chef, or some of the challenges you've faced in the kitchen. Your guests will be fascinated, and it'll give them a whole new appreciation for your work. You can do this while preparing the food or even during dessert!
6. Create a festive atmosphere!
No matter what time of year it is, you can always create a festive atmosphere in your restaurant. decorate the space with seasonal decorations, play some fun holiday music, and even serve up some special dishes. Your guests will love getting into the spirit of things, and it'll make their dining experience that much more memorable.
7. Give out goodie bags!
Send your guests home with a little something to remember you by – like a goodie bag filled with your signature spices or a homemade recipe card. They'll love getting to try out your dishes at home, and they'll be sure to think of you every time they use your products! Plus, it's a great way to promote the restaurant.
*BONUS – Need more idea? Check this post.
As a chef, you may not have your own restaurant just yet but if you intend to bring more customers into the one you work at, following these tips are sure to help! Make sure that your boss or the owner of the restaurant is okay with some of these things before doing them so that there are no surprises, and everyone is on the same page. Also, take into consideration the type of atmosphere the restaurant has as well as the clientele before planning anything so that it fits well with everything. Other than that, have fun and enjoy coming up with new ways to entertain your dining guests!
We have a majority of restaurants on the Dinesurf platform that entertain their dining guests, although they have a special day for all that. You can click here to make a reservation to one of them now.
---
YOU MAY LIKE THIS