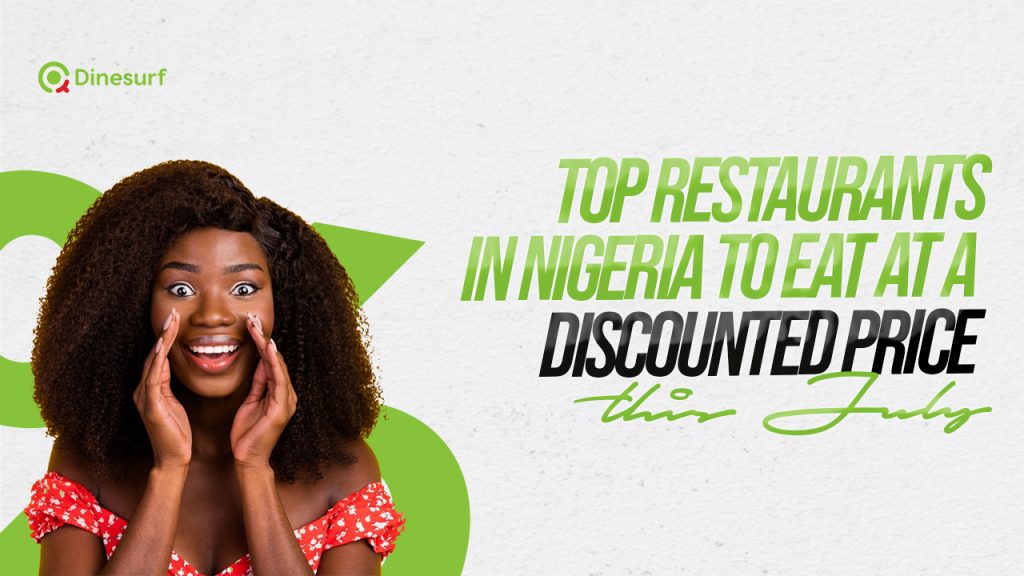 There's no need to break the bank this July when in Nigeria. Check out these top restaurants to eat at a discounted price! From Nigerian cuisine to international favorites, you're sure to find something to satisfy your appetite. So go on and enjoy a scrumptious meal without emptying your wallet.
This is an Asian fusion restaurant with its location in Abuja which also gives a fine dining experience where you can enjoy meals like Indian meals, Chinese meals, Sri Lankan and Continental meals without having to break the bank.
This is a Lebanese restaurant located on Victoria Island, Lagos. The outside seating gives this place a nice vibe but the inside is more beautiful. The meal served here is quite affordable and you are definitely going to have such a swell time dining at this restaurant.
Fine dining experience is assured when you dine in here ranging from the continental and local dishes being served to the Cocktails and mocktails as well. You are sure to have a swell time dining in here. You can dine like a king while still on a budget! All you need to do is make a reservation and enjoy the discount they have for you. Location is Lekki, Lagos.
Looking for a place to dine the night away? This restaurant is the best place you can ever be. They can be found on Victoria Island, Lagos. This restaurant also serves the best of Nigerian, Indian, Chinese and Continental and Sri Lankan Cuisines. They also offer Vegetarian and Non-Vegetarian options. To crown it all, there is a rooftop bar and world class equipped rooms for guests and travelers to relax. You can have an amazing time here too on a discount.
A newly opened restaurant in Lekki, Lagos. The restaurant has a cozy feel to it and the ambience is warm with a minimal décor. There is also an outdoor space as well and if you are a fan of bathroom selfies as well, well you are in luck. It also offers private dining and events appropriate for groups, casual or business meetings. The meals and drinks are affordable, you would definitely have a great dining experience. For directions, TripAdvisor is always there.
This restaurant is located on Victoria Island, Lagos and offers the best of African, Continental and Mediterranean dishes. It also offers an array of premium quality Wine, Champagne, and Cognac. They also offer Happy-Hour Drinks, Late-Night Food for The All-Nighters and so much more, you are in for a swell time! Just make your reservation today, there is a discount waiting for you.
A proud Efik restaurant which is located in Lekki, Lagos and also offers other cuisines, you won't miss home so much if you step in here because all the meals are well prepared especially the Afang soup! If you've always wanted to go local, why not try this restaurant now? There is a discount reserved for you in the month of July.
One of the best family friendly restaurants in Abuja and also affordable as well. This is also a restaurant that prepares homemade meals and you can enjoy it at a discount too. Visit this restaurant for more details.
Your best plug for finger foods and other varieties. If you are looking for somewhere in PortHarcourt to just place your order and pickup once it's ready, then this is a good place. Meals are affordable and delicious! To grab a spot in their ongoing discount, you can join the train now.
A restaurant that specializes in African cuisine, catering services and also doorstep deliveries. With a beautiful ambience and tasty homemade meals, you are definitely going to have a good time. You can find them in Gwarimpa estate, Abuja.
Located in the residential spot of Maitama, Abuja. It is a fancy indoor and outdoor restaurant and it is quite secluded and perfect for people who love to just chill alone or with friends and try new meals.
If you are in Nigeria this July, be sure to check out these top restaurants to eat at a discounted price. This offer is valid till Sunday, 28th July, 2022. You will not be disappointed with the food or the prices! Have you been to any of these restaurants before? Tell us in the comments.
YOU MAY LIKE THIS