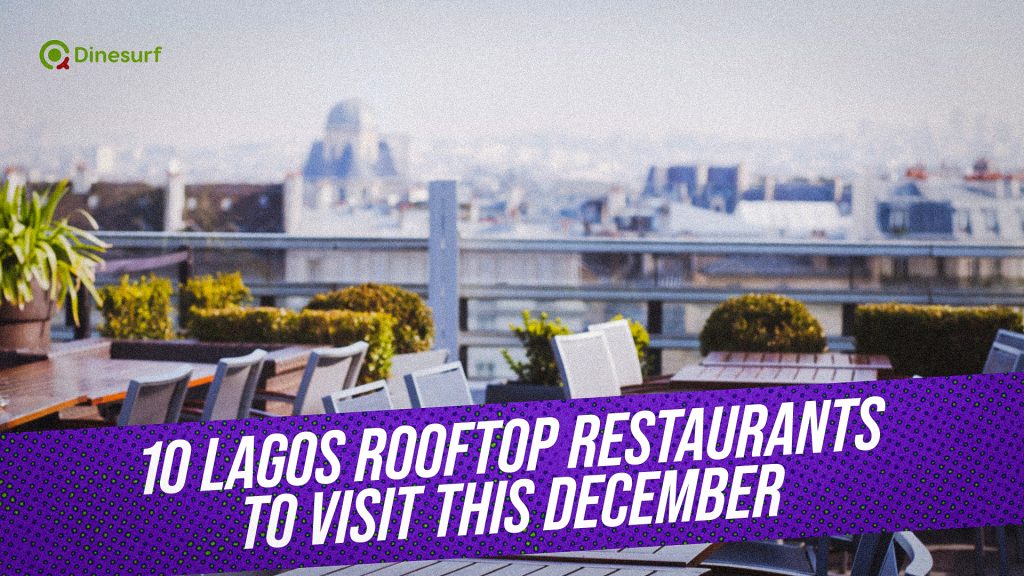 There's no better way to enjoy the cool December weather in Lagos than by eating at one of the city's many rooftop restaurants. From international cuisines to local favorites, there's something for everyone on this list. So, whether you're looking for a romantic dinner spot or somewhere to take your friends and family, be sure to check out these 10 amazing restaurants.
The 10 rooftop restaurants in Lagos include:
Hard to imagine a better vantage point of the Victoria Island skyline than just across Landmark. The slick, sophisticated, all-season restaurant and lounge is very much a backdrop to the Lagos vista. Drinks and service are excellent, and up to standard. The cocktail menu is smart and quite extensive filled with variants of cocktail options, Beer cocktails, champagne, whisky, and tequila cocktails.
2. Danfo Bistro
Located in Ikoyi, Danfo Bistro is a great spot for those looking to kick back, relax and take in the sunset. It showcases an artistic and rustic ambience inspired by the city of Lagos. The rooftop is best enjoyed at night with millennials bopping to alternative music especially on Friday nights. You can grab a meal on the rooftop, but your best bet is to have your food inside the restaurant and aim for drinks on the rooftop.
3. Rue 80 (Maison Farenheit)
Located in Victoria Island, Rue 80 is a modern rooftop lounge with a panoramic view of the Lagoon. It is an excellent spot to enjoy some scrumptious food and drinks while taking in the beauty of the city skyline. With its chic decor, vibrant atmosphere and creative cocktails, this is one place you don't want to miss out on!
La Veranda is located at The BlowFish Hotel, Lagos and is a delightful restaurant with comfortable and stylish furniture. It offers stunning views of the city and its environment, making it an ideal spot for dinner and drinks. This restaurant is definitely worth a visit if you're looking for a different dining experience with friends or family.
5. Sky Restaurant & Lounge
Situated at the tallest Penthouse of Eko Hotel, the Sky Restaurant has a 'wow' factor that is hard to dispute. It's about the highest restaurant in the city of Lagos and has a picturesque view of both the city and the Atlantic Ocean. It offers Asian fusion menu delicacies! 
6. The Observatory Lagos
This restaurant was born in December 2020 and is nested in the heart of Lekki Phase 1. Walking through the doors gives you a scenery that gives an almost starry-night feel, serene and calm while you feast your eyes on the hustling lifestyle of Lagos; without being part of it. The Observatory offers an intimate fine-dining experience and to top it off, they boast of having one of the best mixologists, perfectly curating cocktails to dazzle your tastebuds.
The cool, hip and upscale rooftop lounge, located on the 5th floor of Twinwaters, allows you to escape into a world of relaxation and an atmosphere of calmness. Overlooking the Atlantic Ocean, The View, with its swanky structure is the perfect spot for meeting up with friends, taking your loved one on a date or even setting a quick afternoon business meeting. The outdoor couches add a stylish touch to the stunning rooftop setting, which will give you a premium experience.
8. La'Vee Restaurant
This rooftop restaurant located at Lekki Phase 1 has a beautiful ambience and perfect view of the city. It's a great spot to go with friends or family, especially during the cooler evenings when you can enjoy their outdoor seating. The menu is quite varied, offering something for everyone.
This rooftop restaurant and lounge is located in Victoria Island, with a stylish design. It offers an amazing view of the city skyline and makes for a lovely dinner spot during the cooler months. The outdoor setting will help you relax while enjoying good food and drinks, making it one of the best spots to check out this December.
10. Vertigo Lagos
This is an upscale fine dining restaurant with an elegant ambience, comfortable furnishings and soothing warm tones in the heart of Victoria Island. With its modern decor and views of the city skyline, it's perfect for a relaxed evening with friends or family.
These rooftop restaurants boast of amazing views that would totally make your dining experience one to remember. With the festive season just around the corner, be sure to add these top 10 Lagos rooftop restaurants to your list this December!
YOU MAY LIKE THIS