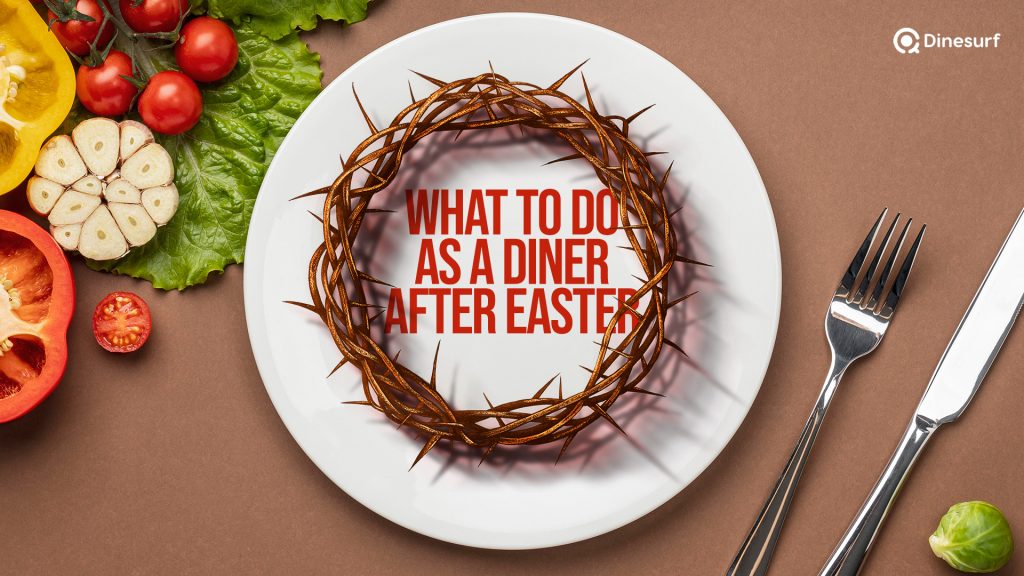 Easter is officially over, which can only mean one thing: it's time to start figuring out what to do as a diner. Sure, you could just go ahead and eat all of the candy that you bought over the weekend, but eventually that sugar high will wear off and you'll be looking for something else to occupy your time. Here are a few ideas to get you started.
1. Drink plenty of water: This one is especially important if you indulged in a few too many treats at Easter dinner. Drinking lots of water helps flush out toxins and keep your body healthy. 
2. Take a cooking class: One great way to spend your time after Easter is to take a cooking class. This is the perfect opportunity to learn how to cook some of your favorite Easter dishes or try something new altogether.
3. Go on a picnic: With the weather starting to warm up, now is the perfect time to go on a picnic. Pack up your favorite Easter dishes (more like leftovers from the day before) and head to your local park for a day of fun in the sun. You can do this with friends or alone.
4. Go out to eat: If cooking is not your thing, you can always go out to eat. This is a great way to try new foods and explore different restaurants in your area. If you spent Easter dining with friends in their houses, you can decide to spend some time alone in a new restaurant. Who knows, you might even find your new favorite spot. You can check out some of the restaurants on our platform here.
5. Visit a local museum: Use this Easter break as an opportunity to visit a local museum. This is a great way to learn about different cultures and history. Many museums also have special exhibits during this time of year, so be sure to check that out as well.
6. Stay in and watch movies: Sometimes the best way to spend your time is by doing absolutely nothing at all. So, if you're feeling lazy, stay in and watch movies all day. Make sure to have plenty of snacks on hand!
7. Go shopping: Use your Easter candy money (or any money you may have gotten as a gift) to go on a shopping spree. This is a great way to treat yourself after all of the holiday feasting.
8. Spend time with family and friends: One of the best things to do as a diner after Easter is to spend time with your loved ones. Whether you're going out to brunch or just staying in and chatting, quality time with those you care about is always a good idea.
9. Get outside and enjoy the weather: Now that Easter is over, the warmer weather is finally here. Get outside and enjoy it! Take a walk, go for a run, or just sit in the park and people watch. Just make sure you enjoy the weather, even if it rains.
10. Volunteer: Use your time after Easter to give back to the community. There are many organizations that could use your help, whether it's for a day or on an ongoing basis.
11. Learn something new: Use this time after Easter to learn something new. Whether you take a class or teach yourself, learning is always a good way to spend your time.
12. Relax: After all of the holiday hustle and bustle, you may just need some time to relax. Easter can be a busy time, so make sure to take some time for yourself. Do something that you enjoy and just relax. You deserve it.
Easter is over, but that doesn't mean the party has to end. There are plenty of things to do as a diner after Easter. And we hope these few ideas will help you a lot as a diner. How was Easter for you? Tell us in the comment section.
YOU MAY LIKE THIS