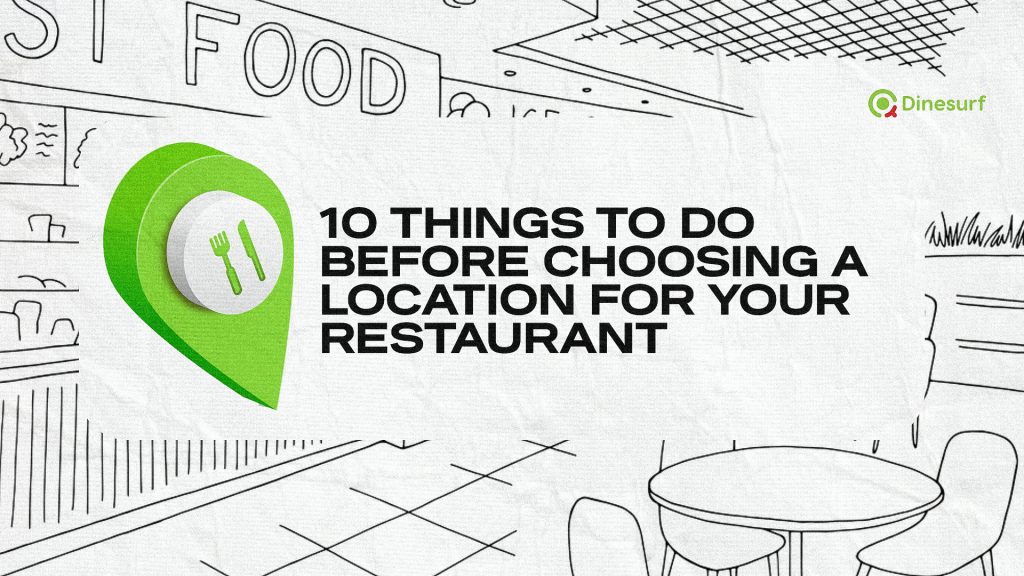 Ask any restaurateur and they will tell you that choosing a location for your restaurant is one of the most important decisions you will make. But with so many factors to consider, how do you know where is the best place for your business? There are 10 things to keep in mind when scouting out potential locations.
Things to do before choosing a location for your restaurant
1. Research the competition
Find out what your competitors are doing right and wrong. Look for outlets in your area that offer similar food or services, and get a feel for their success. If you find there is limited competition in the area, this may suggest an opportunity for you to set up shop–but it could also mean ample competition down the road.
2. Check out the neighborhood demographics
You should research the demographics surrounding your potential restaurant location. It is important to target the right clientele and you should ask yourself important questions such as: Are there enough people nearby to support my restaurant? Or is this an area you're willing to drive customers to, if necessary?
3. Consider the transportation options nearby
Transportation can impact your restaurant's success greatly. Check out what type of public transportation access the neighborhood has. If it's lacking, will your patrons be able to get there easily by car or on foot? This is especially important if your restaurant is in an area with slim parking.
4. Look for stable utilities and internet providers around the area
It's best to select an area where utilities are more or less stable. If there's frequent power outages, for example, it can be difficult to enjoy a meal or host events in an establishment without reliable electricity. You also want to make sure the area has a stable internet service provider, as this will affect your restaurant's operations and marketing plan.
5. Check for safety concerns
No one wants to be in an unsafe area. Make sure the area is safe for customers and employees by consulting with the local authorities and other people who frequently visit it. Out of all the tips listed in this post, this is one of the most important one when it comes down to choosing a location for your restaurant.
6. Check for zoning and licensing restrictions
Different states and cities have different rules you'll need to follow when setting up a restaurant. For example, some areas require commercial kitchens to be set up outside of residences; others don't allow certain types of establishments, such as bars or liquor stores, in certain areas. By checking your local zoning board and business licensing requirements early on, you can ensure that no red flags are raised down the road.
7. Check the parking availability
There should be ample parking for customers and employees at your restaurant's location. You don't want to set up your restaurant where there aren't enough parking spots or where customers have to park a few blocks away and walk.
8. Research the community's economic situation
You should look into the economy of the surrounding community before you set up your restaurant. You'll want to know what kind of disposable income is present in the area and if it's growing or declining.
9. Check the climate around your location
Your restaurant's ideal climate should be fairly consistent throughout the year, meaning it doesn't get too hot or too cold to enjoy a meal especially if you plan to make your restaurant an outdoor one. Make sure that even if the rainy season starts, your customers are well covered while still having a great time.
10. Consider the space you have available
Before you select a neighborhood, determine how much space is available for your restaurant. Try to find an area where you'll have enough room to cook indoors and operate outdoor features, such as a patio. Do not settle on a location that's too cramped or crowded when there are alot of alternatives.
So, before you start choosing a location for your restaurant, take the time to complete all of these steps (Read more). It may seem like a lot of work now, but it will be worth it when you open your doors and see customers lining up to eat at your establishment. Have you ever opened a business in an area that wasn't ideal? What tips would you give others who are looking to open a restaurant?
At Dinesurf, one thing we can assure all our customers looking for restaurants to dine in, is that you would have a fine and seamless dining experience in any of the establishments you choose to go along with! To make a reservation now, click here.
YOU MAY LIKE THIS