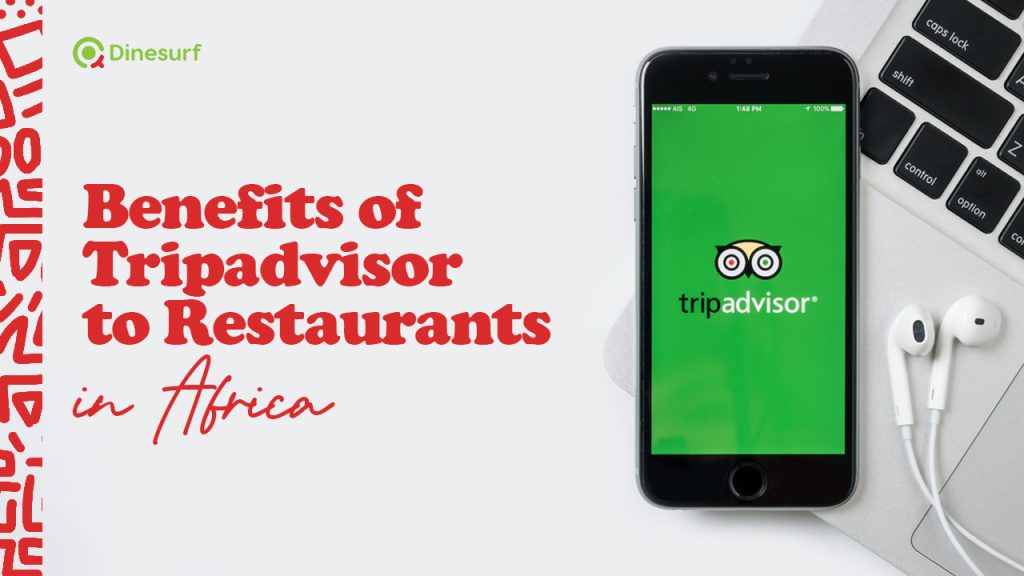 Are you one of those people who likes to plan every aspect of your holiday before departing, or do you like to go with the flow and see where the wind takes you? No matter which type of traveler you are, chances are that at some point during your trip you will use TripAdvisor. Given its massive user base (over 200 million monthly users), it's no surprise that TripAdvisor is often referred to as "the world's largest travel site". But did you know that TripAdvisor is not just for tourists? Restaurant owners and managers can also benefit from using TripAdvisor. In this blog post, we explore the benefits of using TripAdvisor for restaurants in Africa.
Some of these benefits are:
1. It's a free marketing tool:
TripAdvisor is a free marketing tool that can help you promote your restaurant to a wider audience. All you need to do is create a business listing for your restaurant on the platform and make sure that your listing is up-to-date and accurate. Doing this will make your restaurant more visible on the site and could help you attract new customers.
2. Reach a Wider Audience:
As the world's largest travel site, TripAdvisor gives your restaurant the opportunity to reach a wider audience than you would through other marketing channels. And with users from all over the world using the site to find restaurants in Africa, there's a good chance that some of those users will be potential customers for your business.
3. Improved SEO Rankings:
One other benefit of using TripAdvisor for restaurants is that it can help improve your SEO rankings. This is because it is a high-quality website with a lot of authority, and having a listing on the site can help increase your restaurant's visibility in search engine results pages (SERPs).
4. Boost sales and revenue:
One of the most obvious benefits of using this travel site for restaurants is that it can help boost your sales and revenue. This is because when potential customers search for restaurants on TripAdvisor, they are generally looking for somewhere to eat. And if your restaurant is listed on the site, there's a good chance that those potential customers will choose your business over others.
5. Valuable feedback:
Another benefit of using this travel site for restaurants is that it provides valuable feedback. This feedback can be useful in identifying areas where your restaurant can improve. It can also help you understand what customers like and don't like about your business. This information can then be used to make changes that could lead to more customers choosing your restaurant over others.
6. Increased Customer Engagement:
There is an increase in customer engagement. This is because when customers leave reviews and ratings on Tripadvisor, they are more likely to return to the site to see what others are saying about your restaurant. Additionally, responding to reviews and ratings can also help increase customer engagement.
7. Track your Performance:
TripAdvisor also provides restaurant owners and managers with the ability to track their performance. This is done through the use of TripAdvisor's Management Center. The Management Center allows you to see how your restaurant is performing on the site and makes it easy to spot areas where you can improve.
8. Access free promotional tools:
This travel site also offers a number of free promotional tools that can be used to promote your restaurant on the site. These tools include the ability to create special offers, add photos and videos, and create a virtual tour of your restaurant.
9. Manage your listing:
Finally, one benefit of using this travel site for restaurants is that it gives you the ability to manage your listing. This means that you can update your listing at any time and make sure that all of the information is accurate and up-to-date. Additionally, you can also add new photos and videos, as well as create special offers, all from within your listing.
TripAdvisor is a powerful tool for restaurants in Africa to increase their visibility and bring in new customers. The site can help restaurants build their brand, learn about customer preferences, and improve their service. African restaurateurs should make sure they are taking advantage of all that TripAdvisor has to offer. Have you used TripAdvisor to promote your restaurant? What results have you seen?
It would also interest you to know that Dinesurf is Integrated with TripAdvisor and restaurants can track their latest reviews from TripAdvisor on their Dinesurf Dashboard. We are also available to ensure that restaurants that do not have a TripAdvisor listing can get one. Contact us today through the link: https://dinesurf.com/contact/
Reference: https://www.garestaurants.org/news/why-every-restaurant-should-claim-their-tripadvisor-listing
YOU MAY ALSO LIKE