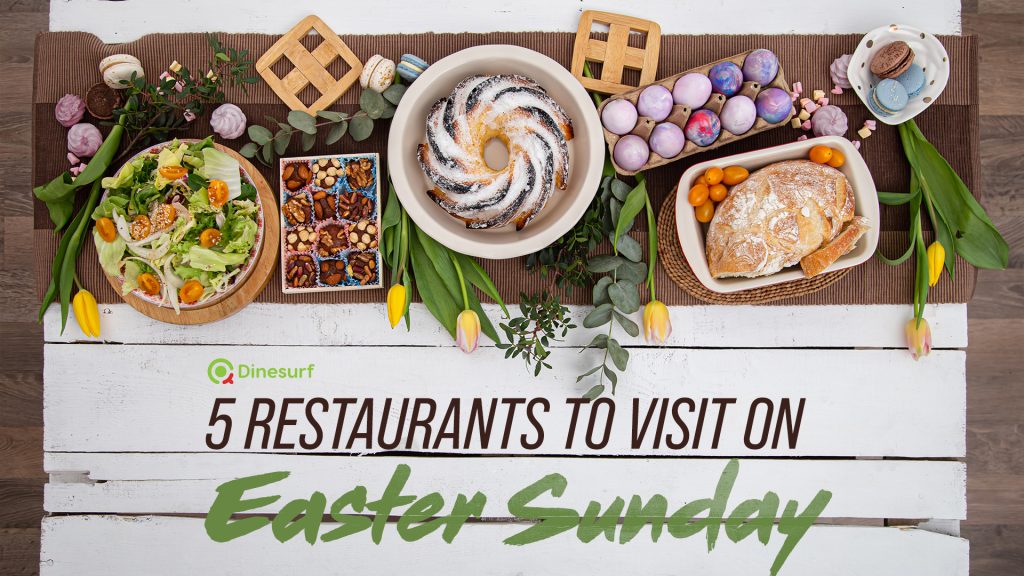 Are you looking for a way to spend Easter Sunday alone or with family? Whether you want upscale cuisine or something more casual, there are plenty of restaurants open on Easter that will satisfy all your tastebuds! Why not explore your town while also enjoying some of its best eats? This Easter, munch on delectable dishes at these five restaurants – handpicked by us to make sure your bellies are full and your tastebuds satisfied.
5 restaurants to visit on Easter sunday include:
Indigo Bar Restaurant and Suite.
Located in Lagos, Nigeria. It is known for its contemporary design, upscale dining experience, and luxurious accommodations. The restaurant at Indigo Bar offers a menu of both Nigeria and international dishes (Indian, Chinese, Sri Lankan cuisines). They also offer Vegetarian and Non-Vegetarian options. The bar is stocked with a wide selection of wines, spirits, and cocktails, and it features a lively atmosphere with live music performances on certain nights. On Easter Sunday, the restaurant has curated an Easter menu for customers and also a live performance to serenade your night while you have dinner. To make sure you have a table on a busy night, it is best to make reservations in advance, click here to book your table.
Taj Restaurant and Bar.
Taj is an exquisite restaurant located in the heart of Lagos, Nigeria. With its modern decor, warm atmosphere, and a variety of cuisines, there's something for everyone to enjoy.
Taste the deliciousness of Italian, Japanese, Mexican, Comfort Food, and Continental cuisines. Whether you're looking for a light lunch, a romantic dinner, or a weekend brunch, Taj has it all! Enjoy the perfectly fine-dining experience with a casual dress code and casual dining atmosphere. From traditional dishes to modern masterpieces, Taj's menu will make your taste buds dance. There's a brunch spread happening from 9am-4pm on Easter Sunday, make sure to take the whole family to Taj. To view their menu and also make a reservation, click on this link.
15onHerbert.
15onHerbert's is a haven for food lovers in Port Harcourt. The restaurant is known for its delectable dishes, which are made with only the freshest ingredients. Whether you're in the mood for a hearty meal or something light, Herbert's has something for everyone. The atmosphere is warm and inviting, and the staff is friendly and accommodating. On Sundays, including this Easter Sunday, 15onHerbert has a sunday buffet with a wide array of dishes. The brunch buffet is available from 12pm-6pm, so there's plenty of time to enjoy the food and atmosphere. Make sure to make your reservations in advance, click here for more information.
D_vine Cuisine and Lounge.
This restaurant is located in Abuja, Nigeria, and serves Caribbean and Pan-African cuisine in an inviting atmosphere. The menu features authentic Jamaican, Pan-African and African-inspired dishes, made with the freshest ingredients and traditional spices. The team of experienced chefs will craft dishes that will tantalize your taste buds and delight your palate. They also feature an extensive wine list, with a selection of red, white, and sparkling wines from around the world.
You get to experience an intimate and luxurious dining experience with a variety of seating options, including both indoor and outdoor seating at D_vine. To make sure you have a table during Easter, it is best to book in advance. Click here for more.
Elysium Lagos.
Elysium Restaurant is a fine dining establishment that houses a cafe, Garden Restaurant, Lounge and a fine dining Restaurant. They offer a menu that spans across 16 Countries in the Mediterranean, Middle East, Europe and South America. Dine in one of the most beautifully appointed restaurants with a warm and inviting atmosphere. They also have a selection of seasonal cocktails, wines, and spirits. On Easter Sunday, the restaurant would be open to cater for all your needs! Just make sure to make a reservation before heading out. For more information, click here.
This Easter Sunday, celebrate with family and friends over some delicious meals at any of these restaurants. Make sure to book your reservations in advance for a hassle-free experience! These restaurants are also listed on Tripadvisor this would help with directions and enable you see more reviews. Enjoy your Easter Sunday! Happy Easter!
YOU MAY LIKE THIS