We present a handpicked selection of the best restaurants in Lagos to have dinner, each offering a unique blend of flavors, ambiance, and unforgettable memories.
Welcome to the vibrant culinary landscape of Lagos, where flavors come alive and dining experiences become unforgettable memories. When the sun sets and the city's skyline lights up, the quest for a perfect dinner spot begins. Whether you're seeking an intimate ambiance for a romantic evening, a lively atmosphere to celebrate with friends, or a place to indulge in the finest local and international cuisines, Lagos has it all. Join us as we unveil the city's top culinary gems – the 7 best restaurants in Lagos where dinner isn't just a meal, but an extraordinary journey for your taste buds.
Best Restaurants in Lagos To Have Dinner
Amidst all the restaurants in Lagos, these restaurants have stood out in our books. They include:
1. Bisque Restaurant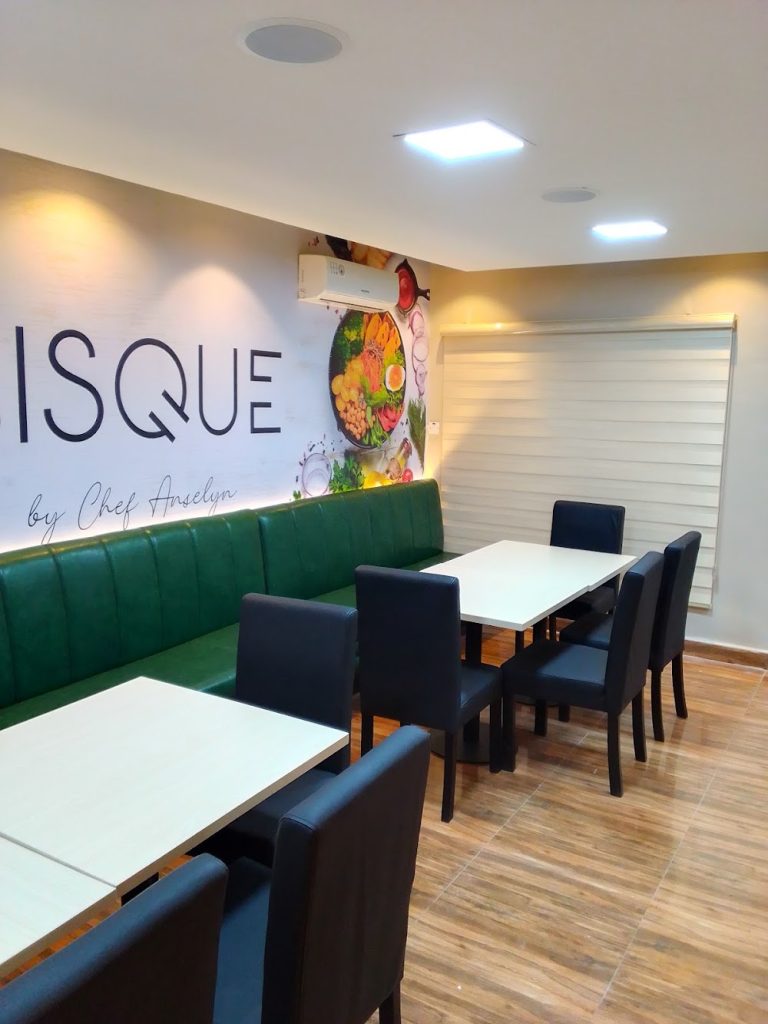 Welcome to Bisque Restaurant, a premier dining experience located in Lagos. Whether you're looking for a romantic dinner, a casual lunch, or a special occasion meal, Bisque Restaurant is the perfect choice. The experienced chefs create culinary masterpieces that tantalize the taste buds, and the menu highlights fresh, seasonal ingredients and exquisite flavours that will be sure to please all. The staff at Bisque Restaurant are attentive and accommodating, creating a luxurious environment that will make your dining experience extra special.
2. Pondicheri Restaurant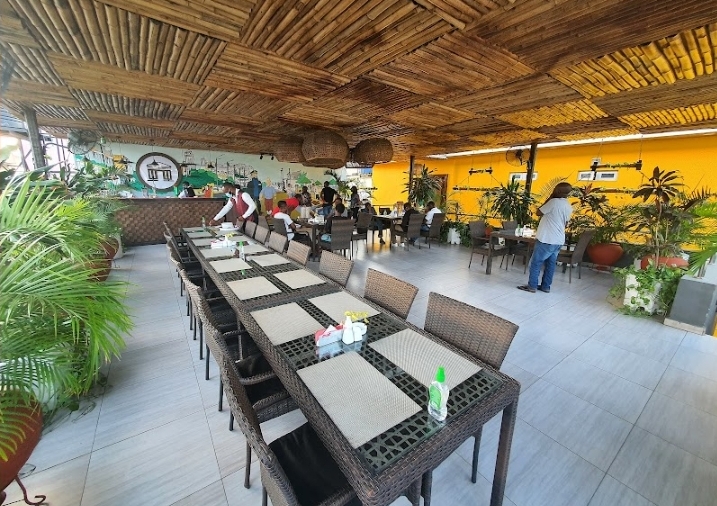 Located in the vibrant city of Lagos, whether you're looking for a casual meal or an intimate dinner, Pondicheri has something for everyone.
The restaurant features an outdoor seating area, perfect for enjoying a meal with friends or family on a warm summer's day. If you're looking for a more intimate dining experience, the restaurant also offers a cozy patio with comfortable seating. The restaurant also offers a casual dress code and is ideal for business meals. Pondicheri strives to provide customers with a unique and memorable dining experience.
3. Spur Nigeria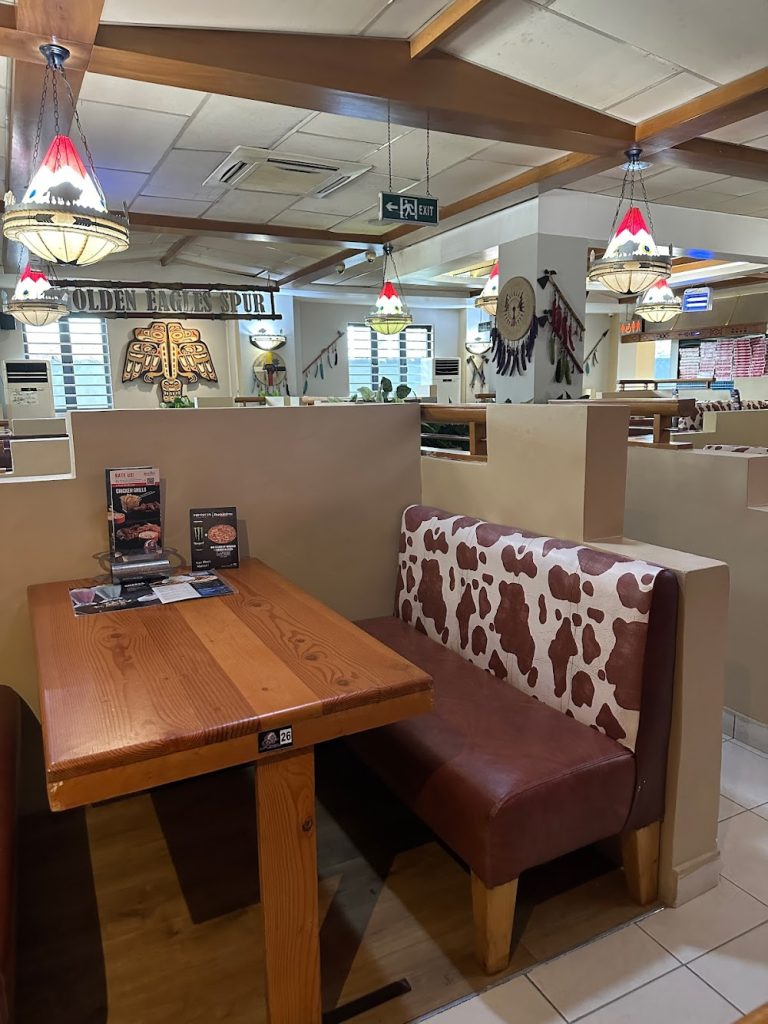 Spur Nigeria is a restaurant located in GRA, Ikeja and it is a top choice for a variety of dining experiences. From business meetings and birthdays to family dinners and self-dates, we have something for everyone. The menu offers a wide variety of dishes from seafood to pizza, as well as appetizers, desserts, and milkshakes. The food is always cooked to perfection and the presentation is impressive. The Panarotti pizza is a must-try, as it is filled with rich flavours and a great presentation. Customers love the peppered buffalo wings and the chapman. The atmosphere at Spur Nigeria is always pleasant and inviting. They also offer a children's game room and mini outdoor playground with swings and a see-saw. To top it off, Spur Nigeria is also a great place to take photos with its beautiful setting.
4. The Pentagram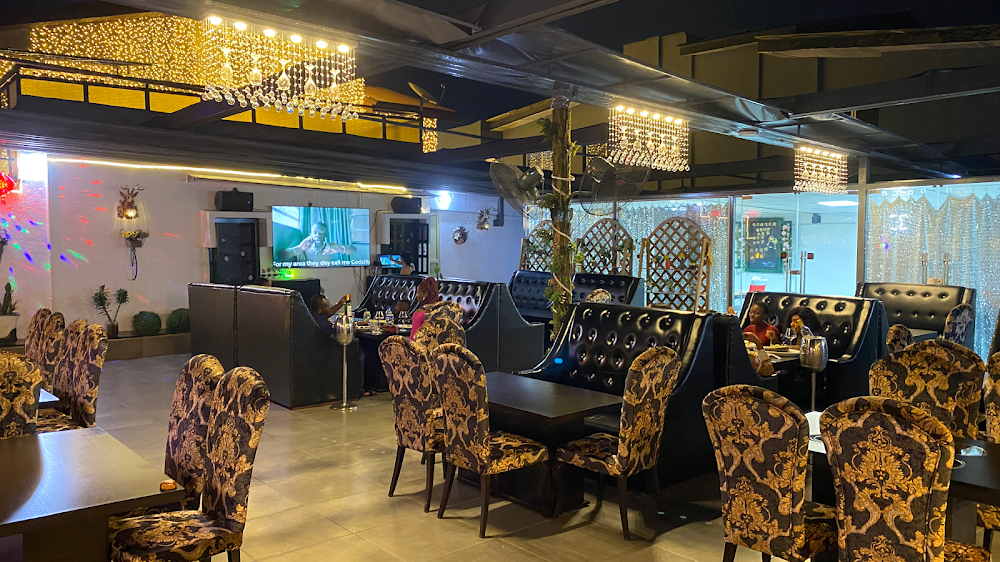 The Pentagram is a restaurant located in Lagos, Nigeria that offers a unique and exciting dining experience. The restaurant has a great ambience, perfect for special celebrations such as birthdays and romantic dinners. The menu offers an array of delicious dishes, from the popular Braised Chicken Nuggets and Singapore Noodles to the more traditional Chinese Fried Rice, Chicken Slurry and Beef Sauce. The restaurant is also known for its lively karaoke nights featuring Nigerian music. The Pentagram has won over many fans with its great food, excellent service and beautiful atmosphere. Whether you are looking for a romantic dinner, a fun night out with friends, or just a place to enjoy a delicious meal, The Pentagram is the perfect choice.
5. Micada Restaurant and Bar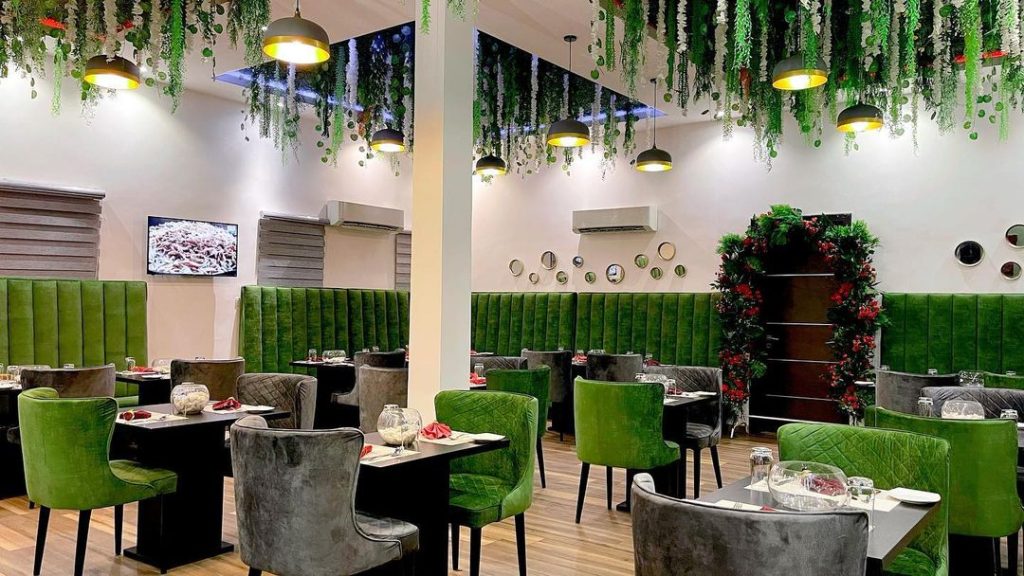 Micada Restaurant & Bar in Lagos is the perfect place for a delightful dining experience. From the moment you enter the restaurant, you will be welcomed by the serene ambience and friendly staff. With its beautiful environment and cozy atmosphere, this restaurant is the perfect spot for a romantic dinner, a business lunch or just a night out with friends. The menu at Micada Restaurant & Bar offers a wide variety of delicious dishes. For pescatarians, the tuna is a must-try. Their Ofe Ogbono is sure to tantalize your taste buds, while the Stir Fry Noodles will leave you craving for more. Salads are also a popular choice, as they are fresh and flavourful. The service at Micada Restaurant & Bar is second to none.
6. Rococo Restaurant, Lounge & Club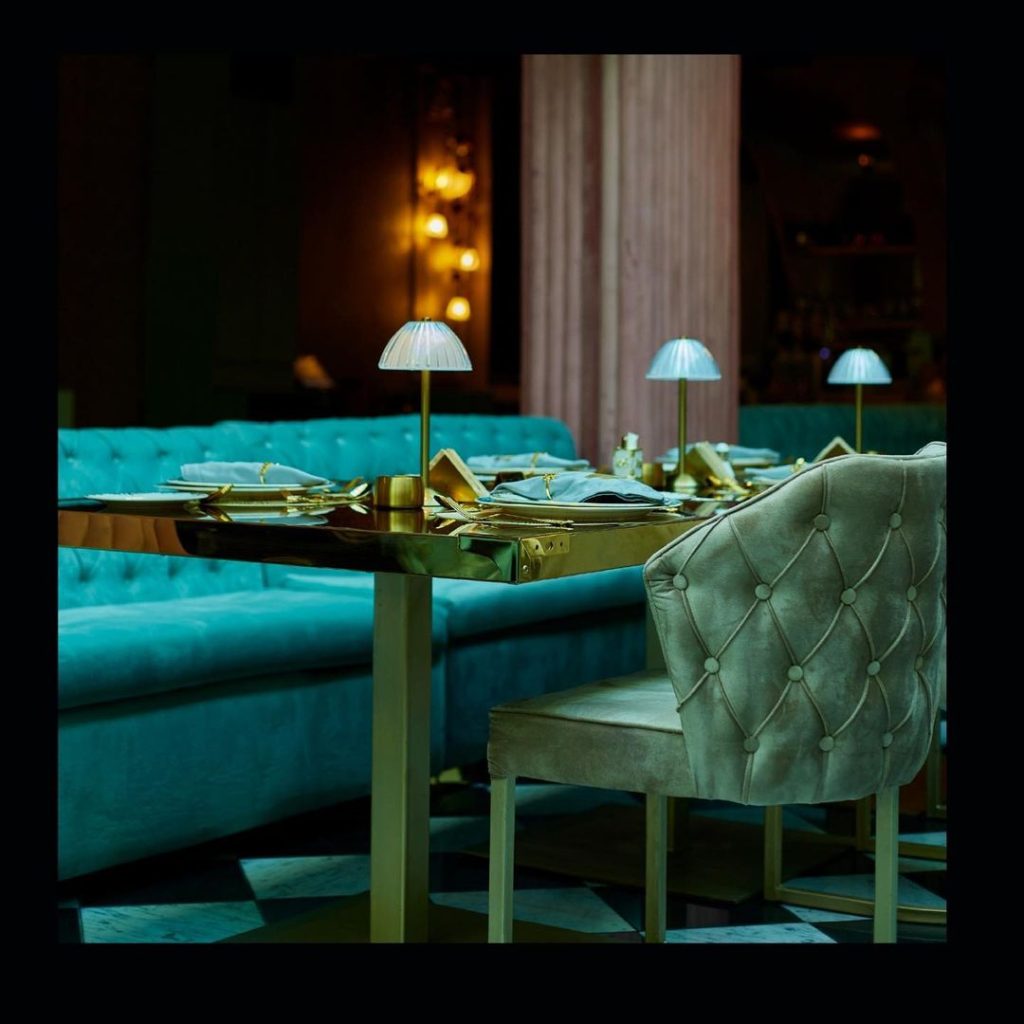 From the moment you walk in, you are immediately enveloped by the tantalizing aromas of freshly cooked meals and the warm, cozy atmosphere. The restaurant has an elegant yet relaxed feel, perfect for a night out with friends or a romantic dinner date. The menu at Rococo offers a range of delicious dishes that will tantalize your taste buds. Whether you're craving something savory or sweet, you'll be sure to find something to satisfy your cravings. The chefs take pride in creating flavorful dishes with fresh ingredients that will please even the most discerning palate. Rococo Restaurant, Lounge & Club has everything you need for a wonderful evening out.
7. Shu Garden Chinese Restaurant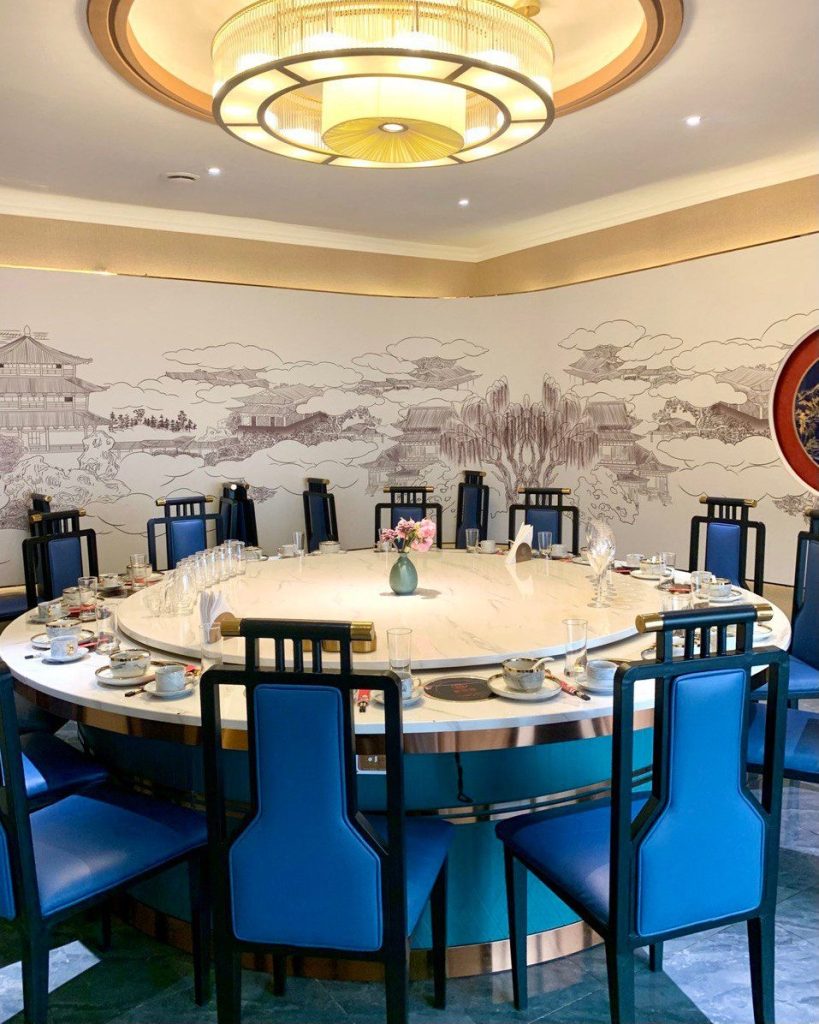 Shu Garden is the perfect place to indulge in exquisite Chinese cuisine, right in the heart of Ikeja GRA, Lagos. From its sophisticated décor to its attentive service and flavourful dishes, it's a truly luxurious dining experience.
The menu features a variety of Chinese specialties, from traditional favourites like dim sum to creative and contemporary dishes. Whether you're looking for an intimate dinner or a large banquet, Shu Garden's experienced chefs and attentive staff will ensure that your meal is one to remember. And for a truly unique experience, try the private dining room, which can be reserved for special occasions; from business dinners to family celebrations, Shu Garden is the perfect place to share a meal and make memories.
In the heart of Lagos' culinary landscape, these 7 exceptional restaurants redefine the dinner experience. From local flavors that tell tales of tradition to international delights that spark curiosity, each venue offers a unique journey for the senses. As the sun sets over this bustling city, let these dining destinations be your guide to creating unforgettable memories and savoring the essence of Lagos through its diverse and delectable cuisine.
OTHER POSTS YOU MAY LIKE