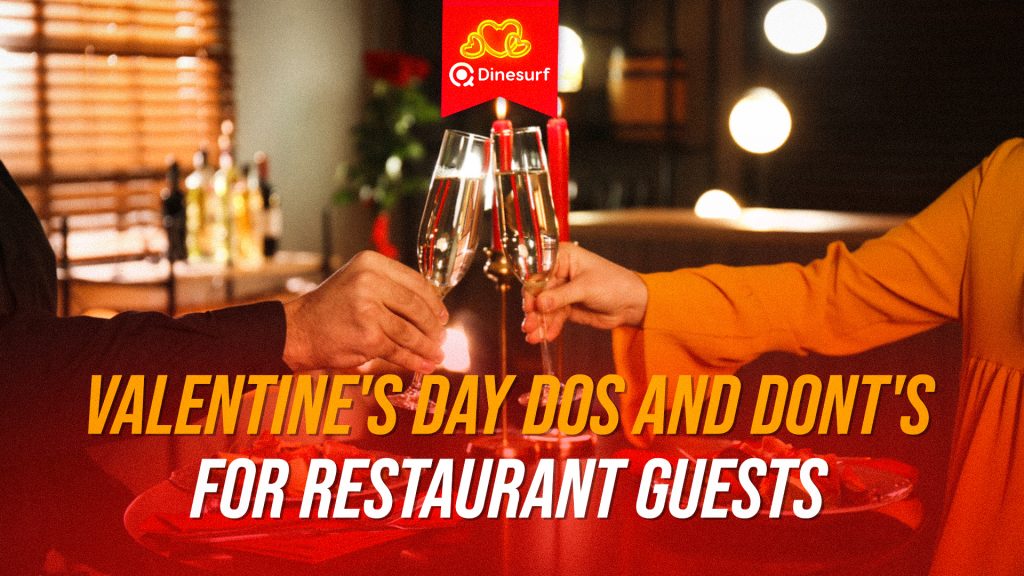 It's that time of year again, and it looks like you've decided to treat your sweetheart, special someone, or best friend to a Valentine's Day dinner out! How exciting…and potentially daunting all at the same time. What do you need to know before dining out with your Valentine? We have all the tips and tricks for ensuring that you have an enjoyable experience with no unfortunate missteps. Read on to find our expert advice on Dos and Don'ts surrounding restaurant etiquette this February 14th – so you can focus on having fun making memories together! 
Valentine's day Dos and Don'ts for restaurant guests include:
Do: Make reservations. Nothing is worse than showing up without a reservation on Valentine's Day and being told that the restaurant can't seat you – or only having tables available during inconvenient times. Show your date you really care by making sure that everything is taken care of ahead of time – you don't have anything to worry about then! Dinesurf makes this easy for you! Make a reservation here.
Do: Arrive early/on time. Being late to a restaurant on Valentine's Day is not only inconsiderate of your date, but it can also be disruptive to the waitstaff and other patrons. Make sure you arrive early enough that you can check in and wait comfortably for your table.
Don't: Forget to bring small gifts. Although flowers are always a classic, why not consider something a bit different? Chocolate-covered strawberries, or even just some heartfelt cards and even something your partner has always wanted will be sure to hit the mark. Plus, it'll give you an opportunity to show your thoughtfulness and appreciation for your date! 
Do: Put away all technology. That means phones, tablets, and laptops. Nothing ruins a romantic dinner like having your date's attention split between you and their phone! Make this Valentine's Day about the two of you by leaving all electronic devices at home – or at least in your pocket or bag.
Don't: Order for your date. This is a surefire way to make your date feel uncomfortable and unheard. Let them choose their own meal, or at least ask what they would like before ordering for them. 
Don't: Order an expensive item without consulting each other. Sure, it might seem like a grand gesture to order something pricey for your partner, but it can also come off as a bit presumptuous. Talk it through with each other first and make sure that both of you are comfortable with your selections (and the cost!).
Do: Dress to impress – but don't go overboard. You want to look nice on a special occasion like this…but keep it casual and comfortable too. Overly flashy outfits or anything that is too tight can be distracting, not to mention uncomfortable.
Don't: Make a fuss. Everyone knows how busy restaurants can get during this period, so take it in stride if something isn't quite right. Your server will do their best to make sure that you have an enjoyable experience, but don't make demands or try to get special treatment – your Valentine won't be too impressed with that.
Do: Enjoy yourself! This is your chance to create special memories with your partner and make it a night to remember. Listen attentively, share stories, laugh, and enjoy each other's company. Let the evening take you away from all the hustle and bustle of life and truly savor every moment. You can read more here.
Overall, Valentine's Day is a special occasion that should be treated with respect…but also with a bit of fun! Follow these Dos and Don'ts when it comes to restaurant etiquette this February 14th – so you can enjoy your romantic evening without any awkwardness or missteps. Happy Valentine's Day in advance!
YOU MAY LIKE THIS