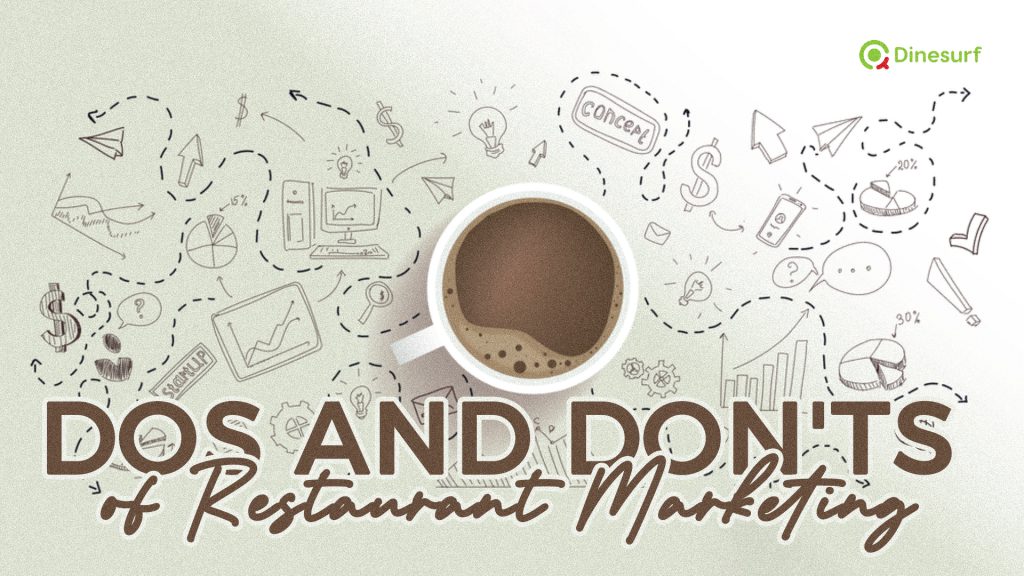 Think you don't need to market your restaurant? Think again. Even the most delicious food in the world won't sell itself, and if you're not reaching out to potential diners, you're missing out on a lot of business. But before you start blasting your menu all over social media, there are a few Dos and Don'ts of restaurant marketing to keep in mind. So read on for some tips to help get your restaurant seen by the right people and bring in more customers!
Restaurant marketing Do's and Dont's include:
DO:
1. Define your target market
Before you start marketing your restaurant, it's important to know who your target market is. Are you trying to attract families? Business professionals? Students? Once you know who you're trying to reach, you can tailor your marketing strategy to them specifically. This will help ensure that your message is more effective and that you're reaching the right people.
2. Use a mix of marketing channels
Don't put all your eggs in one basket when it comes to marketing your restaurant. Instead, use a mix of different channels to reach potential diners. This could include things like print ads, online advertising, social media, PR, and even word-of-mouth.
3. Focus on your USP
What makes your restaurant unique? Whether it's your amazing food, great service, or cool ambiance, make sure you're highlighting your USP in your restaurant marketing. This will help you stand out from the competition and attract diners who are looking for what you have to offer.
4. Use stunning visuals
In today's visual world, it's more important than ever to use stunning visuals in your restaurant marketing. This means using high-quality photos and videos that show off your food and space in the best light possible. After all, potential diners are more likely to be tempted by a beautiful image than they are by a block of text!
5. Be active on social media
Social media is a powerful tool that you can use to reach potential diners and build up a following for your restaurant. Make sure you're active on platforms like Facebook, Instagram, and Twitter, and be sure to post engaging content that will get people talking.
DON'T:
1. Overlook SEO
When it comes to online marketing, SEO is crucial. This stands for search engine optimization, and it's the process of making your website and online content more visible in search engine results pages. This means using relevant keywords, optimizing your website for mobile, and more. If you don't have a handle on SEO, now is the time to learn!
2. Ignore your website
Your website is often the first point of contact between you and potential diners, so it's important to make a good impression. Make sure your site is up-to-date, easy to navigate, and that it includes all the information that potential customers might be looking for. Oh, and don't forget to include some stunning visuals!
3. Neglect email marketing
Email marketing can be a great way to reach potential diners and keep them updated on what's going on at your restaurant. Make sure you have an email list set up, and send out regular newsletters with news, special offers, and more. Just be careful not to spam people with too many emails!
4. Spam people with too many emails!
This leads us nicely onto our next point… Don't spam people with too many emails! If you're sending out regular newsletters, make sure they're interesting and relevant, and that you're not bombarding people with messages. Otherwise, you'll just end up annoying them, and they're unlikely to visit your restaurant as a result.
5. Be afraid to try new things
When it comes to marketing, it's important to be open to trying new things. This could mean anything from starting a blog to using Snapchat filters. The key is to experiment and see what works for you. After all, you never know what might just take off and help attract new diners to your restaurant!
Whether you're marketing a new restaurant or trying to increase sales at an existing one, use these dos and don'ts as guidelines (check here for more guidelines). And always remember that the most important thing is to focus on your customers—if you give them what they want, they'll keep coming back for more. Are there any other restaurant marketing tips you would add to this list? Share your thoughts in the comments below!
Dinesurf is the right platform for your restaurant and we also provide marketing tips that would be beneficial to you and your restaurant. Click here to join the moving train.
YOU MAY LIKE THIS