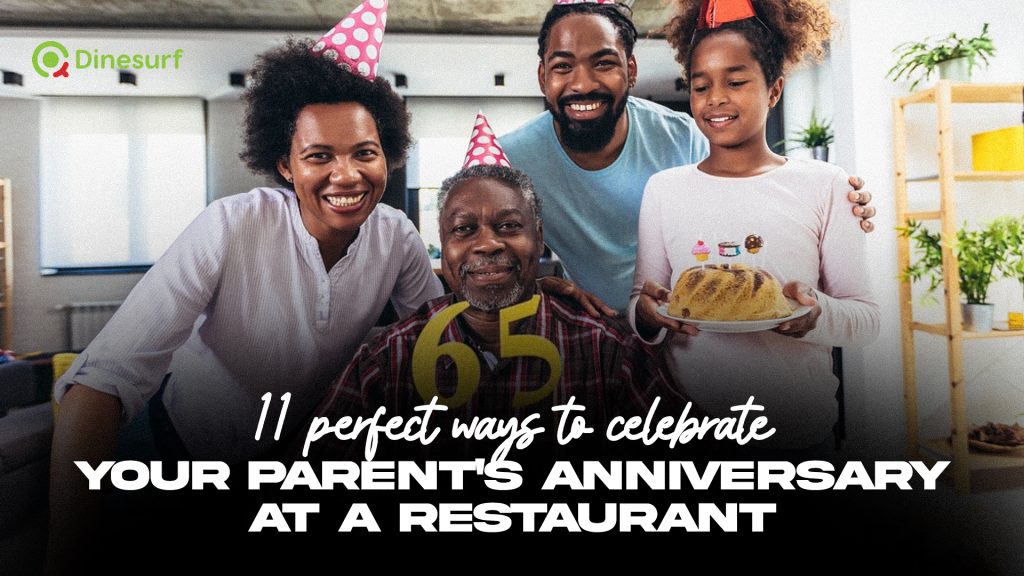 What do you get the couple that has everything? How about a great dinner out to celebrate their anniversary? Here are 11 perfect ideas for celebrating your parent's anniversary at a restaurant. Whether they prefer a quiet evening out or a night of celebrating with friends, we've got the perfect suggestion for them!
Suggestions for celebrating your parent's anniversary.
1. Make reservations at their favorite restaurant. This is a no-brainer, but it's worth mentioning because it's the surest way to guarantee that your parents will have a great time on their anniversary. If they have a particular spot that they love, call ahead and make sure you can get a table for two.
2. Pick a restaurant with a view. If your parents are the type of couple that enjoys a good meal with a great view, then choose a spot accordingly. A lot of cities have restaurants located on top of tall buildings or next to beautiful parks. Do some research and find a place that will give them a stunning view while they eat.
3. Find a restaurant with live music. Music can really set the mood for a special evening. If your parents are fans of live music, then try to find a restaurant that has a band or singer performing during their anniversary dinner. This will add an extra layer of romance and excitement to the evening.
4. Choose a restaurant with great food. This one is pretty self-explanatory. The whole point of going out to eat is to enjoy a good meal, so make sure you pick a place that has excellent food. Your parents will appreciate it if you take the time to find a spot with great reviews and a menu that looks appetizing.
5. Plan a themed dinner. If your parents have a favorite hobby or interest, why not plan a themed dinner around it? For example, if they love golf, take them to a restaurant that has a golf-themed menu. Or, if they're big baseball fans, find a spot that serves up some great ballpark food.
6. Make it a family affair. If you have siblings or other relatives who are close to your parents, invite them out to join in on the anniversary celebration. This way, everyone can share in the fun and memories.
7. Order their favorite dishes. Most restaurants will have a special anniversary menu, but you can also ask the waiter to bring out your parents' favorite dishes from the regular menu. This will make the evening even more special for them.
8. Get a cake for dessert. No anniversary dinner is complete without a delicious dessert. If the restaurant you're at doesn't serve cake, you can always order one to go and bring it back to the table for your parents to enjoy.
9. Bring along some champagne. What's a better way to celebrate an anniversary than with a nice bottle of bubbly? Pick up some champagne on your way to the restaurant and surprise your parents with a toast to their special day or if they are not fans of alcohol, get them a non-alcoholic wine instead and still go ahead with the toast.
10. Give them a gift. If you really want to make your parents feel special, then give them a gift during their anniversary dinner. It doesn't have to be anything big or expensive, just something that shows you care. A nice piece of jewelry or a new watch would be perfect. Your parent's anniversary is special to them, make sure the gift is also something of value.
11. Take photos. Be sure to snap some pictures of your parents during their anniversary dinner so you can look back on the memories for years to come. They'll appreciate having physical evidence of the wonderful evening they shared with you.
No matter what you do to mark the occasion, your parents will appreciate your effort. So get creative and have some fun planning their perfect anniversary celebration at a restaurant! How are you going to make this year's celebration special for your parents?
You can read here for more suggestions.
Are you looking for a great restaurant where you can celebrate your parent's anniversary? Look no further than the Dinesurf platform. We have top notch restaurants on our platform and you can make a reservation as well. Just click here.
YOU MAY LIKE THIS