Lagos State is known for its vibrant food scene, and Ikeja is no exception. This bustling area is home to some of the best restaurants in the city, ranging from street food vendors to fine dining establishments. In this article, we'll be exploring the top five restaurants in Ikeja that you need to try. Whether you're in the mood for traditional Nigerian cuisine or something with an international flare, these restaurants are sure to satisfy your cravings and leave you wanting more.
The 5 Best Restaurants in Ikeja
Location: 11 Oduduwa Cres, Ikeja GRA, Ikeja.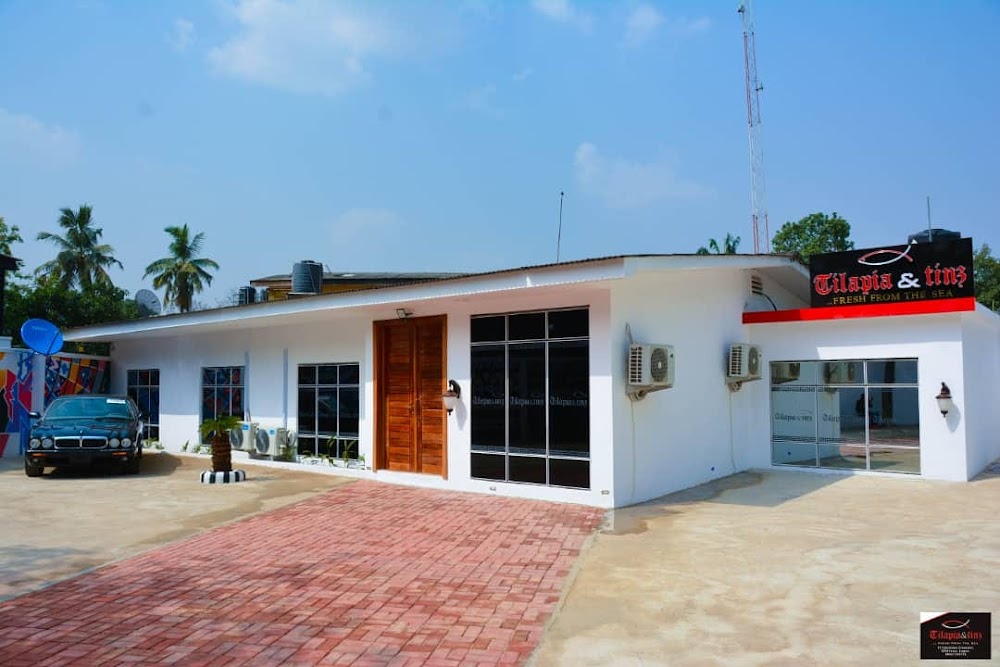 Tilapia & tinz African Signature Restaurant is a truly unique and remarkable dining experience. Located in Ikeja, this hidden gem is sure to exceed expectations. With its beautiful atmosphere, courteous wait staff, and a wide selection of tantalizing dishes, it's the perfect place to spend a night out with friends or family. The interior of Tilapia & tinz African Signature Restaurant is tastefully designed and provides a pleasant atmosphere for diners. There is plenty of seating, so it's perfect for groups of any size. The staff is friendly and accommodating, ensuring that all guests have a wonderful experience.
The menu features a variety of delicious dishes, from classic African fare to contemporary seafood dishes. Overall, Tilapia & tinz African Signature Restaurant is a great choice for a night out with friends or family. With its delicious food, friendly staff and beautiful atmosphere, it's sure to be a favorite for years to come and definitely deserves to be among the restaurants in Ikeja you should visit.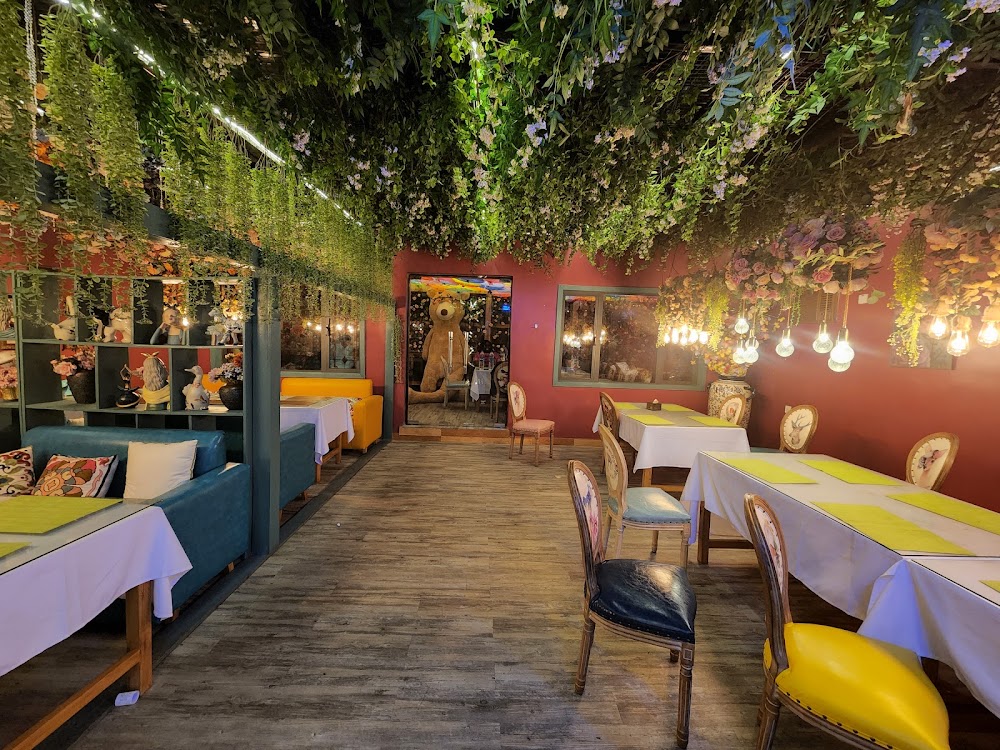 Alice Garden Restaurant is a hidden gem in Ikeja, Lagos. The restaurant offers a romantic and serene atmosphere, complete with cinematic lighting that is perfect for capturing special memories with your loved ones. The menu features a wide selection of Chinese dishes, as well as a few local options. The food is always served timely and is delicious, with plenty of options for a great price.
The decor is beautiful and creates an intimate atmosphere for special occasions such as date nights, baby showers, birthday parties, and more.
The staff is always friendly and accommodating, and the wait time for food is short. For those looking to enjoy the restaurant in a more luxurious setting, there is a VIP section available for a small fee. The restaurant also offers an array of drinks that pair perfectly with the food. From classic cocktails to local favorites, there is something for everyone. Overall, Alice Garden Restaurant is an incredible experience, with delicious food, a beautiful atmosphere, and friendly service. Highly recommended!
Location: Marriott Hotel Ikeja, 122 Joel Ogunnaike St, Ikeja GRA.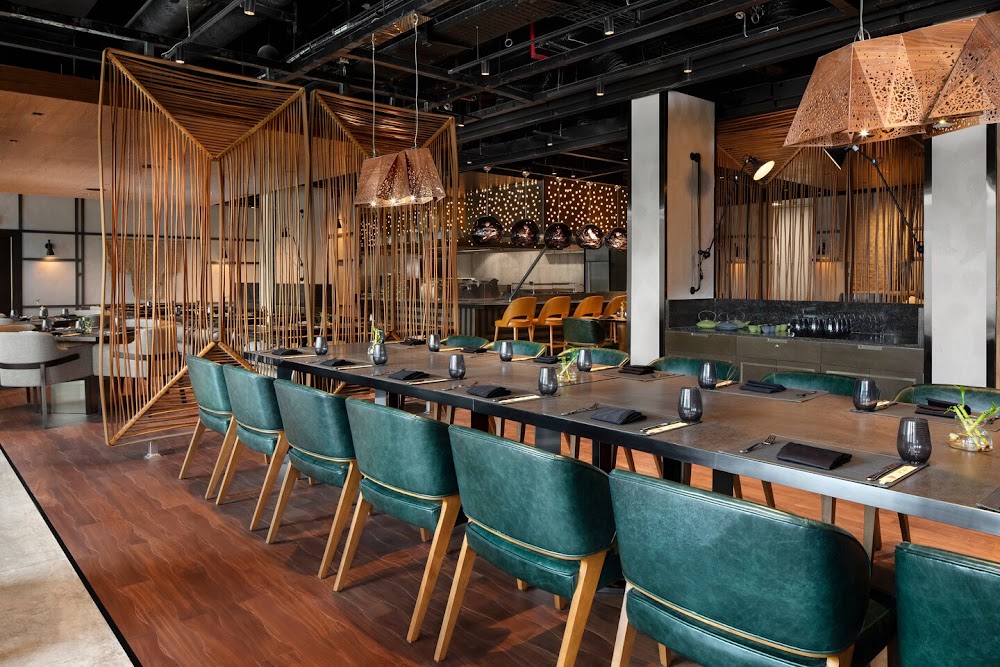 Wakame Asian Kitchen & Lounge is a restaurant located in Ikeja, Nigeria, that offers a unique and unforgettable dining experience. With its modern and industrial decor, this restaurant is a beautiful and inviting space. The open kitchen provides diners with a view of the chefs in action, creating a truly interactive experience. The menu is carefully curated to both excite and satisfy diners with a selection of traditional Asian dishes.
Guests can begin their meal with the delicious Tempura Octopus or Tempura Prawns. The Pan Seared Gyoza is also a great option for an appetizer. For the main course, guests will be tempted by the Lamb Rogan Josh and Garlic Nan. For dessert, the Matcha Cake with Coconut Ice Cream is a must-try. The drinks menu features a variety of options including the Spicy Ginger and Vodka and Coconut-based Mocktail.
Whether you are dining with family, friends, or a date, Wakame will provide an unforgettable experience. Make sure to make a reservation before showing up to avoid being disappointed.
Location: Jara shopping mall, 22 Simbiat Abiola Way,Ikeja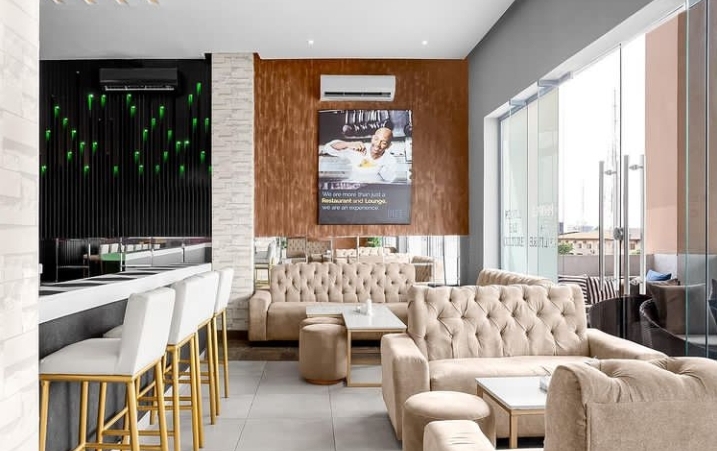 355 Lifestyle Ikeja is the hottest spot to chill, eat, drink and meet new people on the mainland.
It's is a one-stop destination for food, drinks, and entertainment. From steakhouse to African cuisine, they have something for everyone. The lounge and nightclub are the perfect places to let loose and have a good time. Whether you're looking for a business meal or a night out on the town, 355 got you covered always.
Location: 57 Joel Ogunnaike St, Onigbongbo, Ikeja.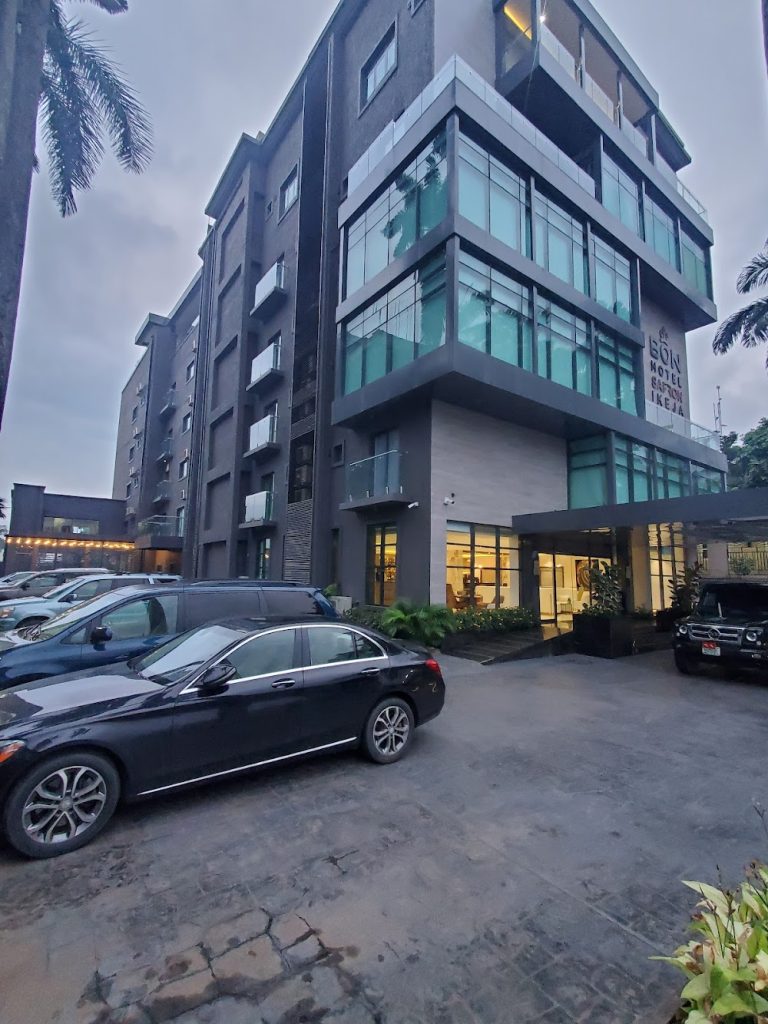 The Safron Rooftop is a cozy rooftop restaurant, in the heart of the Ikeja GRA, with breath-taking views. We provide a unique dining experience with a variety of cuisines from all around the world.
The menu, which features African, Italian, Indian, Mediterranean, and Asian cuisines is carefully crafted to tantalize your taste buds. The rooftop bar is a great place to relax and enjoy a refreshing drink while admiring the breath-taking view of the city. The outdoor seating area provides a comfortable and intimate setting for you to enjoy a delicious meal with your loved ones.
When it comes to special occasions or events, Safron Ikeja is the perfect place to host them. The fine dining options provide you with the perfect backdrop for any celebration. They also offer private dining rooms and reservations to ensure that each and every one of your guests is taken care of. At Safron, you will have a unique, enjoyable, and memorable experience.
Conclusion
In conclusion, Ikeja is a food lover's paradise. With so many restaurants to choose from, it can be difficult to know where to start. That's why we've put together a list of the top five restaurants in Ikeja that you simply have to try this weekend. So, whether you're a local or just visiting, be sure to check out these amazing restaurants and enjoy some of the best food that Lagos State has to offer!
For more restaurants in Ikeja, check the Dinesurf platform.
OTHER POSTS YOU MAY LIKE