28 Mar

5 Popular Cheap eats in Abuja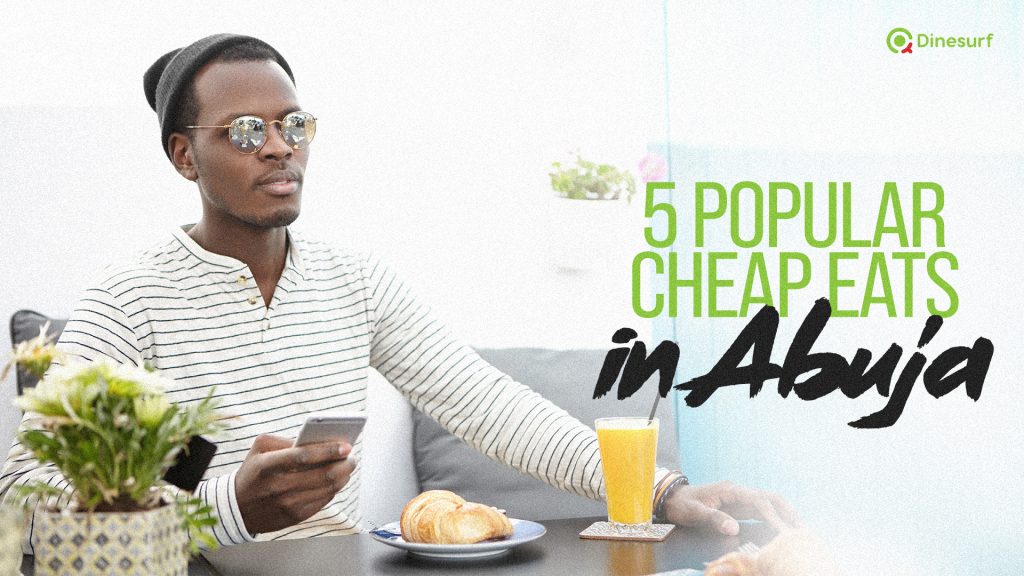 Looking for cheap eats in Abuja? Whether you're visiting the city on a budget or simply trying to save a little bit of money, finding inexpensive eateries can be tricky. Fortunately, Abuja is home to some amazing and flavourful places that are easy on the pocketbook. We've put together a list of 5 popular and affordable restaurants in Abuja worth exploring — from street food stalls to low-key cafes with great vibes! With this guide, you'll be able to find delicious local dishes without breaking your bank balance; so, let's take a closer look at some great cheap eats options available in Abuja.
These popular cheap eats in Abuja include:
Yahuza Suya Spot: Yahuza Suya Spot is a traditional suya spot that serves up some of the best street food in Abuja with its location at 48, Ademola Adetokunbo Crescent, Wuse 2. It is known for its creative ability to turn the normal barbecued meat we all are used to buying on the roadsides or shops into a full-fledged meal. Yahuza suya spot offers all kinds of barbecued meat on their menu ranging from Chicken suya to Beef suya, shredded beef or chicken, dry meat, or Kidney or gizzard suya. It is a perfect spot to get well-grilled meat in a neat environment. Prices range from N500 – N1,500 depending on what you order. Read here for more reviews.
Burger Meal: Burger Meal is one of the most popular fast-food restaurants in Abuja. It's well-known for their delicious burgers and side meals, all of which are made from fresh ingredients. The restaurant also has a variety of other meals on their menu for kids as well (View menu). Burger Meal is located at Jabi Lake mall, Abuja.
Iya Oyo: This is one of the top amala joints in Abuja and also one of the popular cheap eats in Abuja. It's well-known among locals and visitors alike for it's delicious amala, Ewedu and Gbegiri. You can also find other delicious local dishes like pounded yam, abula, rice and beans at Iya Oyo. It's located at 112 Idris Gidado St, Wuye, Abuja. With less than #1,000 you can get a good plate of food as they sell according to your preference.
Grounded Cafe: One of the best coffee shops in Abuja and also budget friendly. Grounded Cafe is located at 10 Fandriana Close, off Aminu Kano Crescent Abuja, Nigeria and serves up a variety of coffees, teas and snacks. It's the perfect spot to grab a quick bite, work or relax with friends over coffee. Price range is between 1,500 and 5,000 naira.
Waffle Way: If you are looking for the perfect breakfast spot in Abuja, then Waffle way is your best bet! They serve amazing waffles, crepes and pancake which can be eaten with a variety of toppings like syrup, honey, whipped cream and even fresh fruits. You can also get burgers if you are not in the mood for something sweet. Prices range from N600 to N6,000. Waffle way is located at 45 Gana St, Maitama, Abuja.
With the wide variety of cheap eats available in Abuja, there is no excuse for not experiencing the delicious food found in Abuja. From small eateries to larger establishments, there are numerous options to suit any individual's needs. Keeping in mind that these cheaper food options are some of the best dishes available in Abuja as well as being cost effective, it's an easy choice. Eating out can be expensive and stressful at times, but with this guide to 5 popular cheap eats in Abuja you can make a meal that not only satisfies your taste buds but also your budget. So, whether you're a student on a tight budget or just looking for an affordable and delicious meal, head over to Abuja and savor all that Nigeria has to offer!
*** Just to add, there are lots of cheap eats in Abuja and also amazing restaurants that are also budget friendly. If you would like to see some of them, you can click here to view and make a reservation now.
YOU MAY LIKE THIS