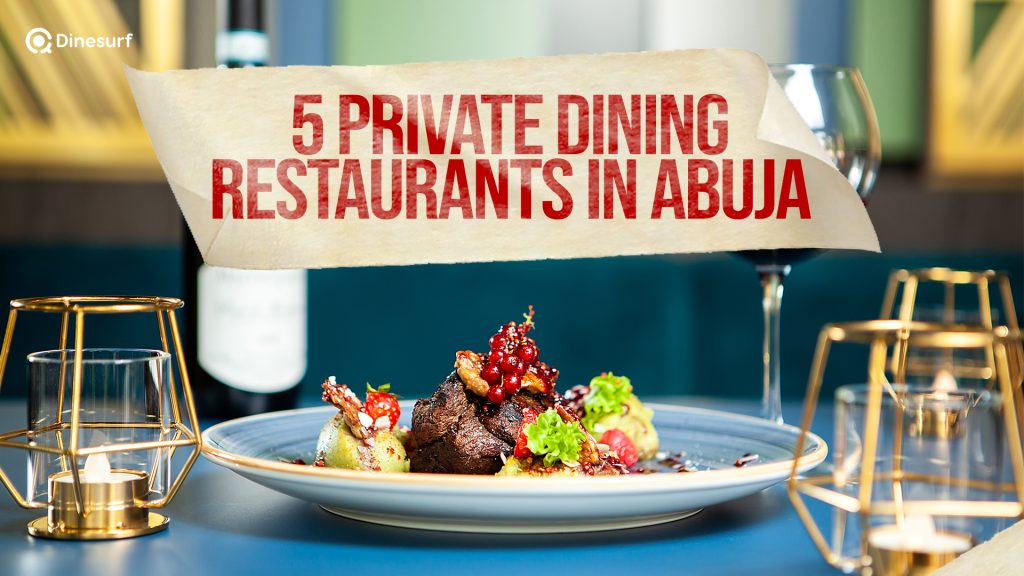 Are you looking to add a touch of luxury and sophistication to your dining experience in Abuja? Do you love trying out new restaurants, but don't want the hustle and bustle that usually comes with it? Look no further! Here are 5 of the best private dining restaurants in Abuja. Whether it's an intimate dinner for two or a gathering with friends and family, these hotspots will ensure your Abuja food experience is truly unforgettable. Enjoy all the culinary delights without ever having to worry about being disturbed!
The 5 private dining restaurants include:
BluCabana Restaurant & Cafe: BluCabana is an upscale restaurant and lounge located in Abuja, Nigeria. The restaurant offers a private dining experience for customers who want to enjoy a more intimate setting for their meal or event. BluCabana's private dining area can accommodate up to 12 guests. The room is decorated with elegant furnishings, with a chandelier and a large mirror adding to the luxurious ambiance. This private dining area is suitable for private dinners, birthday celebrations, business meetings, or any other special occasion. Customers can customize their menus to suit their preferences, and the restaurant also offers a selection of wines, champagnes, and cocktails. Overall, BluCabana's private dining options are a great choice for customers looking for a luxurious and exclusive dining experience in Abuja.
Bukka Restaurant: This is a popular chain of restaurants in Abuja, Nigeria, that serves authentic Nigerian cuisine. The restaurant offers a wide range of dishes, including local delicacies and popular Nigerian meals, such as Jollof rice, pounded yam, egusi soup, suya, and pepper soup. Bukka restaurant in Abuja offers private dining options for customers who prefer a more intimate and exclusive dining experience. Private dining at Bukka restaurant provides a unique opportunity for guests to enjoy their meals in a more private and relaxed setting. The private dining areas at Bukka restaurant are suitable for small to medium-sized groups and can be reserved for special occasions such as birthdays, family gatherings, business meetings, and other events.
La Taverna: A popular Italian restaurant located in Abuja, Nigeria. The restaurant is known for serving authentic Italian cuisine, including pizza, pasta, risotto, and other Italian specialties. The private dining area at La Taverna is designed to create a comfortable and intimate atmosphere for guests. It features a private bar, personalized menu options, and attentive service from the restaurant's staff. Overall, La Taverna provides an excellent private dining experience for those who want to enjoy the restaurant's delicious Italian cuisine in a more exclusive and intimate setting.
Dark Room by the Yellow Plate: Abuja's premier 24-hour online food delivery cafe and bistro, located in the heart of the city. It is known for its dimly lit atmosphere and modern decor. It offers guests a unique private dining experience in a dark room where they can enjoy their meals without any distractions. The restaurant is known for its personalized service and exquisite menu, which features a range of African and international dishes. It's important to note that due to the intimate and exclusive nature of the experience, advanced booking is usually required.
Newton's Restaurant and Bar: This is one of the picturesque worthy restaurants in Abuja. This restaurant offers both an indoor and outdoor dining options. Apart from the regular seating area, this restaurant also offers private dining experiences to its guests. The private dining option is usually offered in the form of a luxurious and comfortable booth that can seat up to 8 people. This type of setting makes it an ideal choice for couples or small groups who want to enjoy their meals in a more intimate and exclusive atmosphere. Guests are able to customize their menus according to their preferences and can also choose from a selection of fine wines, champagnes and cocktails.
These are some of the best private dining restaurants in Abuja that provide customers with an exclusive and intimate experience. Whether you're looking for an Italian-themed dinner or a more traditional African meal, these restaurants offer something to suit every taste and budget. From luxurious booths at Newton's Restaurant and Bar to the dark rooms at Dark Room by the Yellow Plate, each of these restaurants provides guests with an unforgettable private dining experience. So, if you're looking for a unique way to celebrate a special occasion in Abuja, make sure to check out one of these amazing private dining options!
There are some private dining restaurants that were not mentioned in this post. To check for more of these type of restaurants and make a reservation, click here.
YOU MAY LIKE THIS