In Lagos, sushi enthusiasts are in for a delightful treat with a multitude of flavors and creativity waiting to be explored. These five sushi spots have earned a well-deserved reputation for offering the very best rolls in town. From meticulously handcrafted traditional favorites to innovative, chef-driven creations, each of these establishments brings a unique twist to the art of sushi-making. Whether you're a seasoned sushi lover or a newcomer to this culinary journey, these spots in Lagos are sure to leave your taste buds tingling with joy. So, prepare your chopsticks and indulge in a sushi experience that promises a symphony of flavors and a culinary adventure you won't soon forget.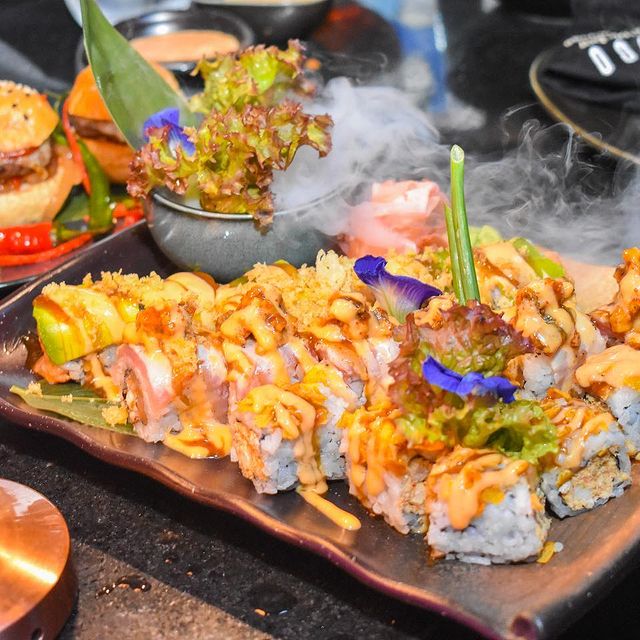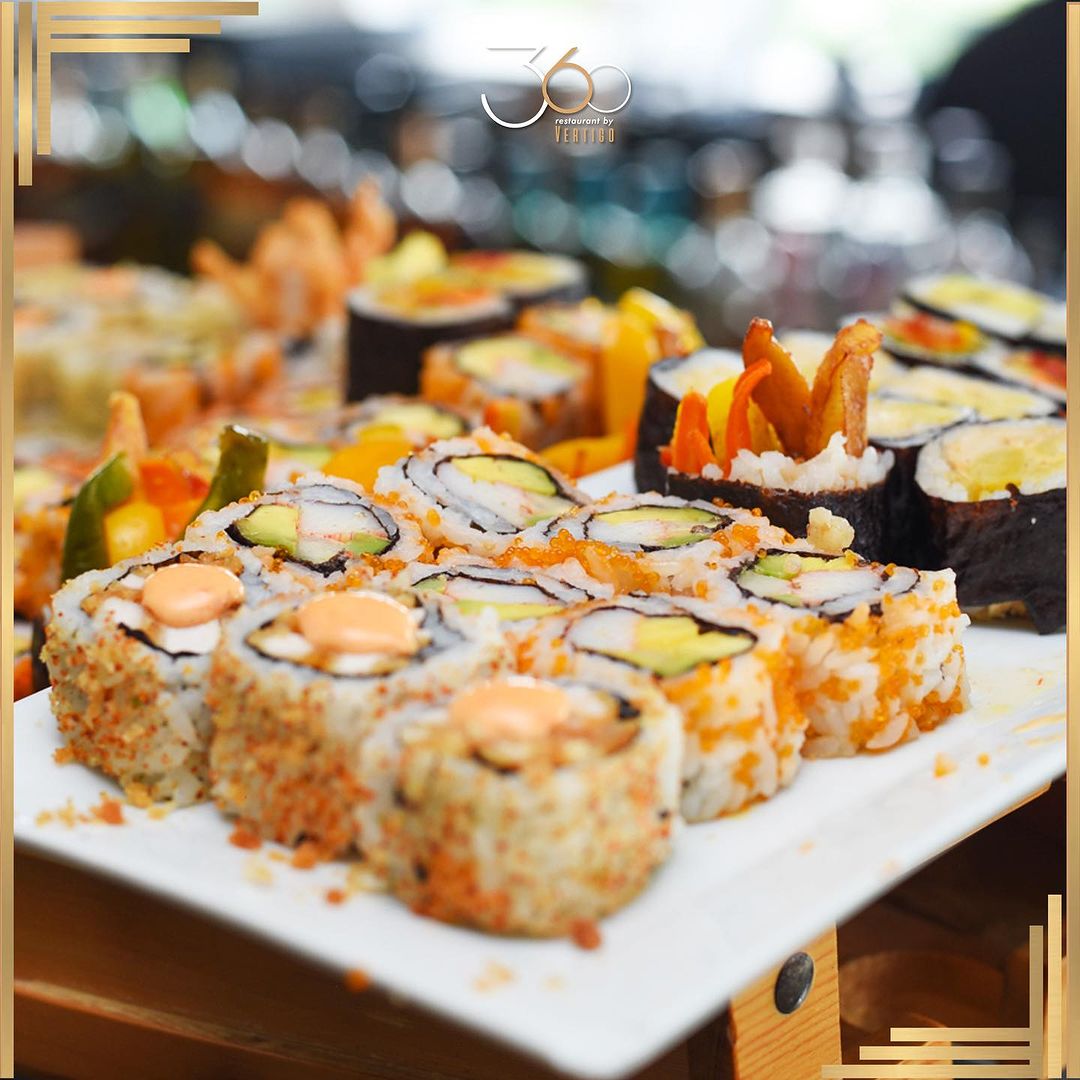 1. 360 Restaurant by Vertigo
Vertigo Restaurant in Lagos promises an unforgettable dining experience. Perched on the 8th floor, the restaurant offers a breathtaking panoramic view of the city, creating the ideal ambiance for any occasion. Their Sunday Buffet is a culinary delight, featuring unlimited servings of sushi, pasta, grills, chicken fajitas, and more. To sweeten the deal, a delectable array of desserts, including cakes, fruits, and rice pudding, awaits. Notably, beverages are inclusive with the buffet, while water incurs an additional cost. The lunch buffet also shines, showcasing a diverse selection of Nigerian dishes such as rice, fried yam, plantain, and succulent goat meat. The pasta station is a favorite among patrons, with the lasagna earning a must-try status. What truly sets Vertigo Restaurant apart is its incredibly friendly and attentive staff who patiently guide diners through the menu and promptly address any queries. Their diligence in maintaining a clean and welcoming environment ensures a pleasant dining experience. While parking space may be limited, the restaurant's exceptional food, welcoming service, and unparalleled view make it a must-visit destination. Whether you're gathering with friends or family, Vertigo Restaurant is the perfect choice for indulging in a Sunday or lunch buffet.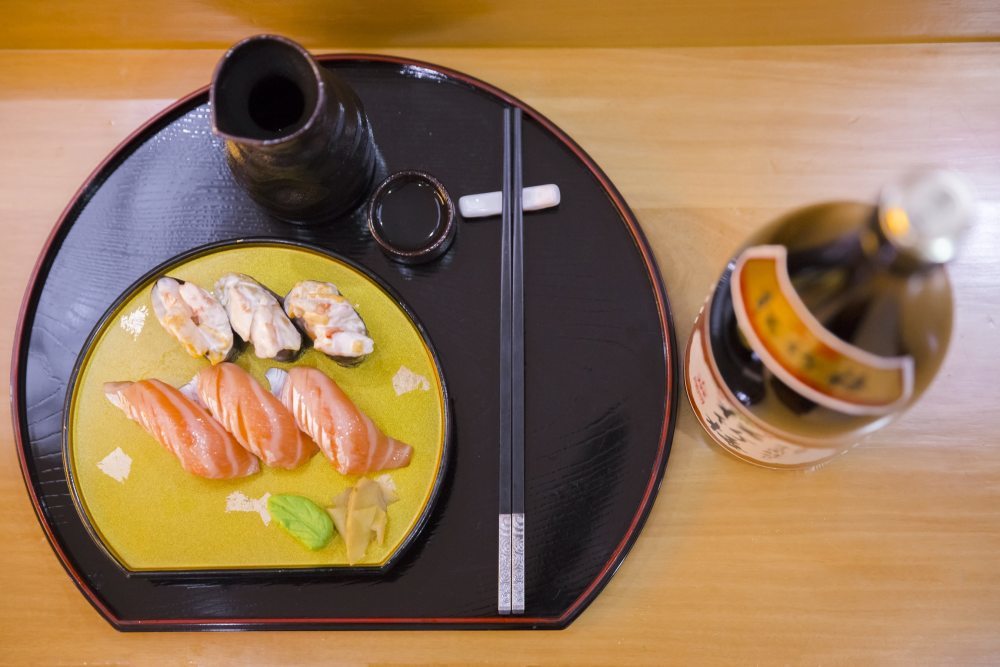 2. Mayumi (Japanese) Restaurant
Mayumi, nestled in the heart of Lekki, Lagos, stands as an authentic Japanese dining haven. Founded by a dedicated team of culinary artisans and aficionados, Mayumi has made a name for itself through its exceptional and inventive culinary creations. The restaurant offers a warm and welcoming ambiance, accentuated by a minimalist décor that sets the stage for a serene and tranquil dining experience. Mayumi's menu is an expansive and diverse tapestry of flavors, catering to a wide range of tastes. From classic sushi and sashimi to inventive interpretations of traditional Japanese dishes, there's a dish to captivate and satisfy every palate. The commitment to top-tier ingredients and the chefs' unwavering dedication to their craft ensure that each dish is a masterpiece. Whether you're seeking a full-fledged dining experience or simply craving a quick bite, Mayumi is the perfect destination for any occasion. Step inside and immerse yourself in the exquisite world of Japanese cuisine, all within the stunning setting that Mayumi provides.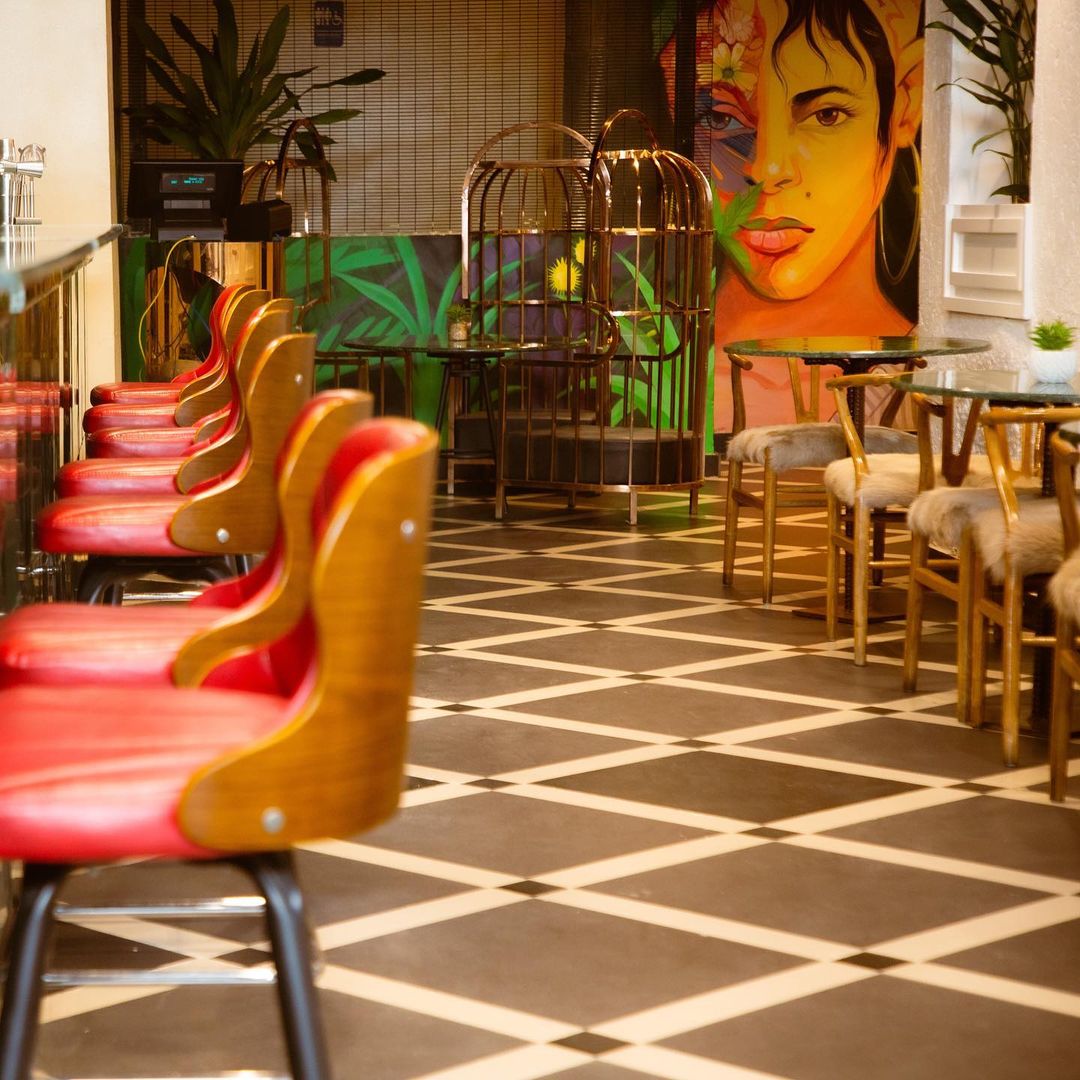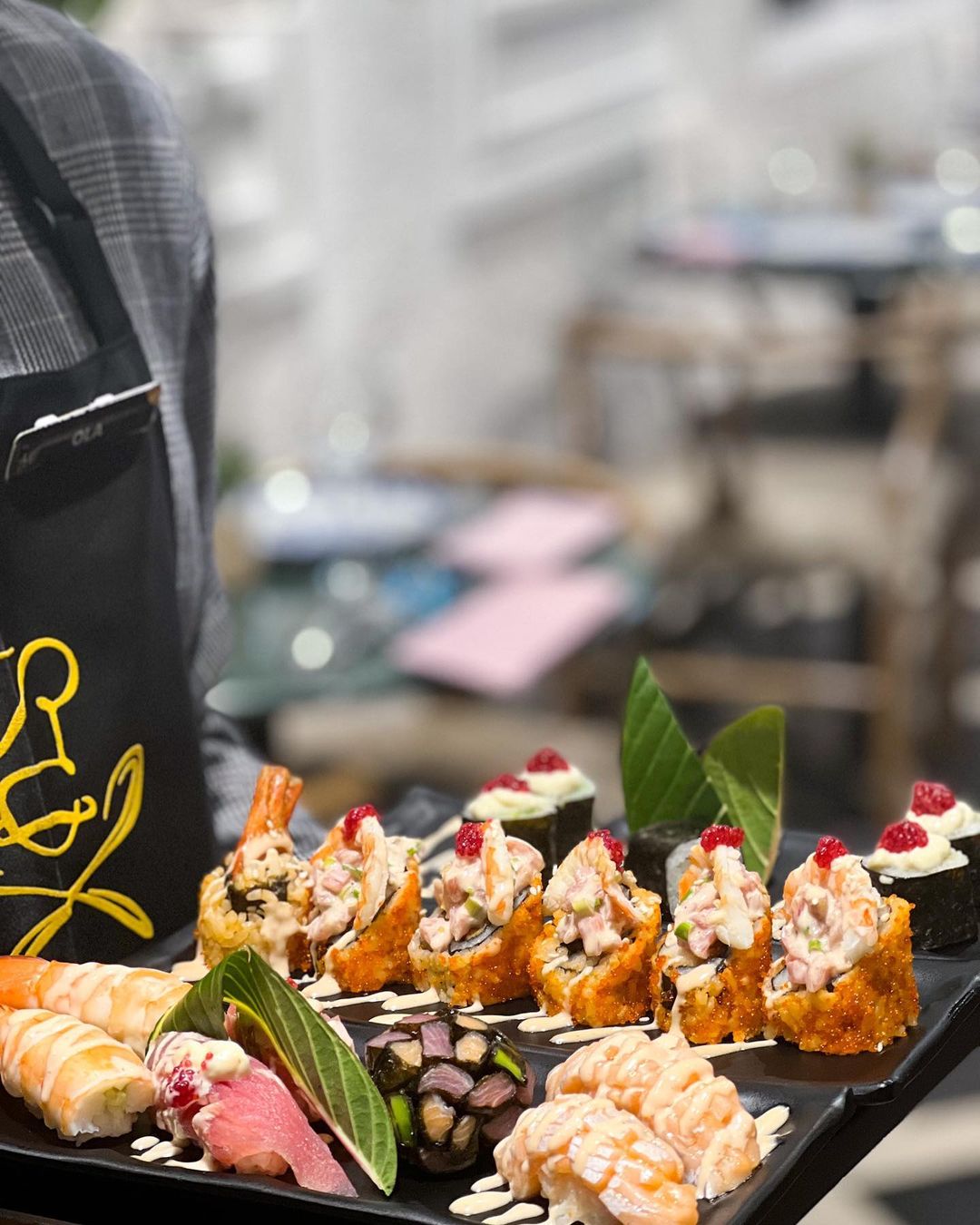 3. The Shed
The Shed, an oasis of elegance and refinement located in Admiralty, Lekki, offers a chic and luxurious dining experience that's ideal for a romantic dinner, intimate celebration, or a successful business lunch. At The Shed, the culinary artisans have curated a menu that marries the flavors of Asian Fusion and European Cuisines, all meticulously prepared with the freshest ingredients to enchant your taste buds. From sashimi to succulent steaks and an array of vegetarian delights, these offerings cater to diverse palates. The restaurant is adorned with tasteful decor, featuring warm lighting and exquisite furnishings that create an atmosphere that's both cozy and inviting, with a touch of sophistication. The friendly and attentive staff is dedicated to ensuring your meal is nothing short of memorable, ready to accommodate any special requests. The Shed boasts an outdoor seating area, perfect for al fresco dining, where you can relish a picturesque view of Lekki and its breathtaking scenery. The culinary journey extends to custom-made cocktails and exquisite desserts, ensuring that your dining experience is nothing short of exceptional from the moment you step inside. In addition to the delectable offerings, The Shed also specializes in sushi, adding an extra layer of culinary delight to their menu. Whether you seek a romantic dinner for two, a successful business lunch, or an intimate celebration, The Shed is your ultimate destination for a luxury dining experience, combining fine-dining features with exquisite cuisine.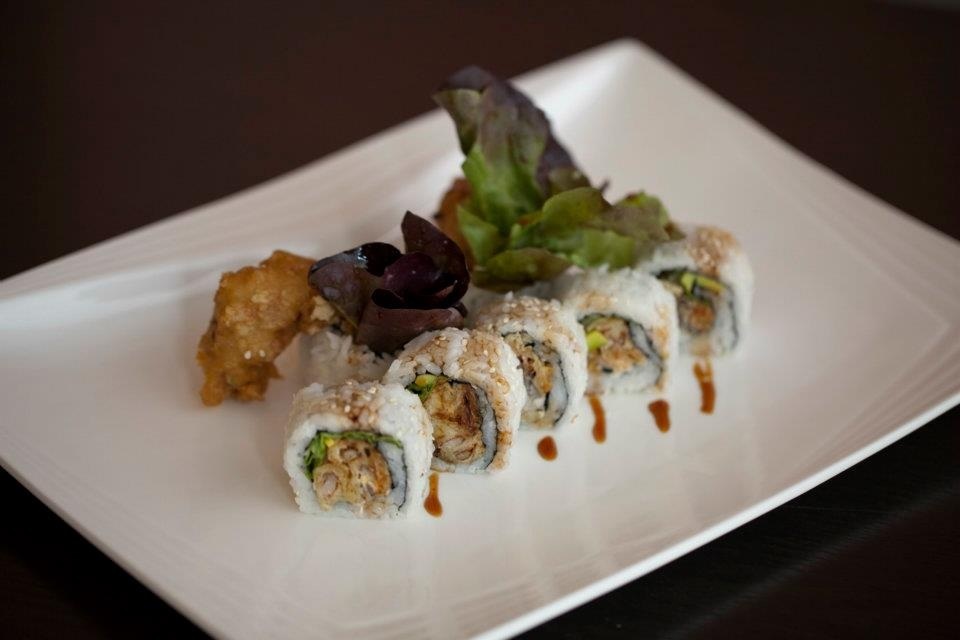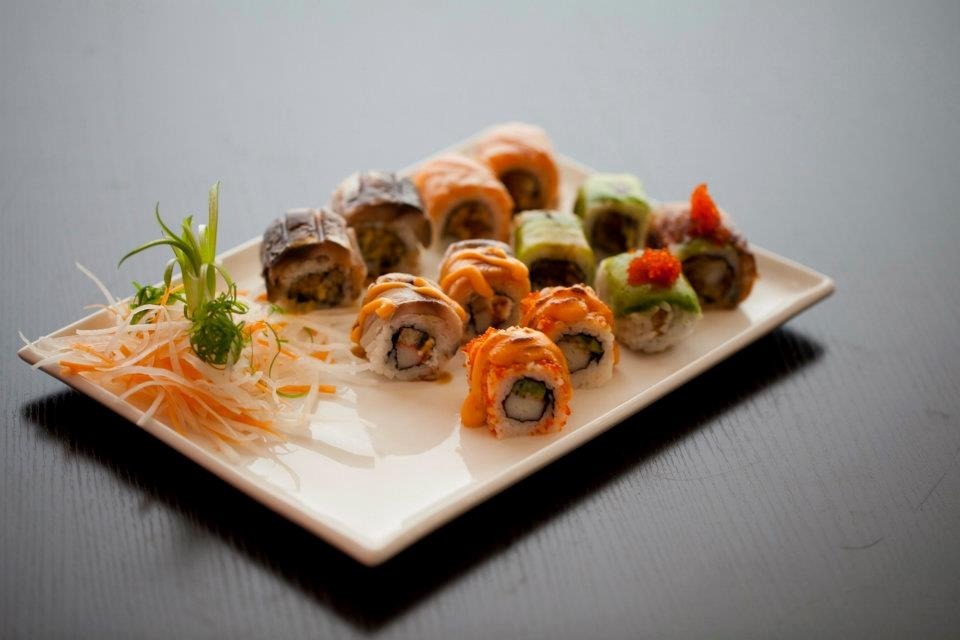 4. Izanagi Restaurant
Welcome to Izanagi, where you'll encounter an exquisite, sophisticated, and unrivaled Japanese culinary journey nestled in the heart of Victoria Island, Lagos. A paradise for Asian cuisine aficionados, our restaurant welcomes guests into a serene and elegant atmosphere. The interior is thoughtfully adorned, striking a balance between opulence and coziness, creating a delightful ambiance. The menu is both extensive and diverse, offering a comprehensive selection of Japanese delights, including sushi, ramen, dynamite shrimp, egg fried rice, and an array of other Japanese delicacies. The quality of this cuisine is second to none, with each dish meticulously prepared to perfection. The courteous and professional waitstaff not only offers excellent service but also provides knowledgeable guidance on selecting the finest dishes. Elevating the experience, they also present an impressive collection of beverages to complement your meal. For those in search of a genuinely exceptional and enjoyable dining escapade, Izanagi is an absolute must-visit. From the delectable food to the tranquil ambiance, you are promised an experience that will linger in your memory.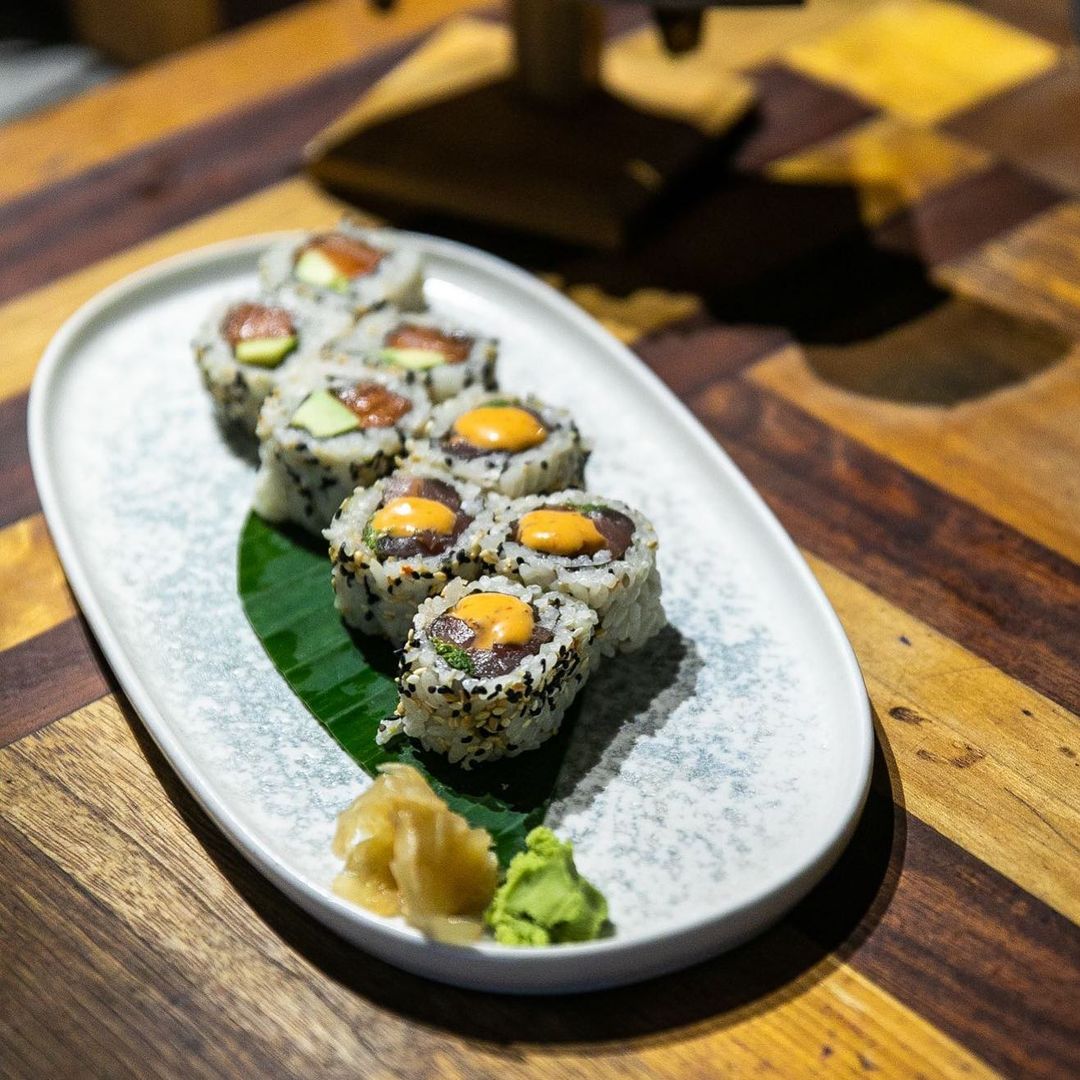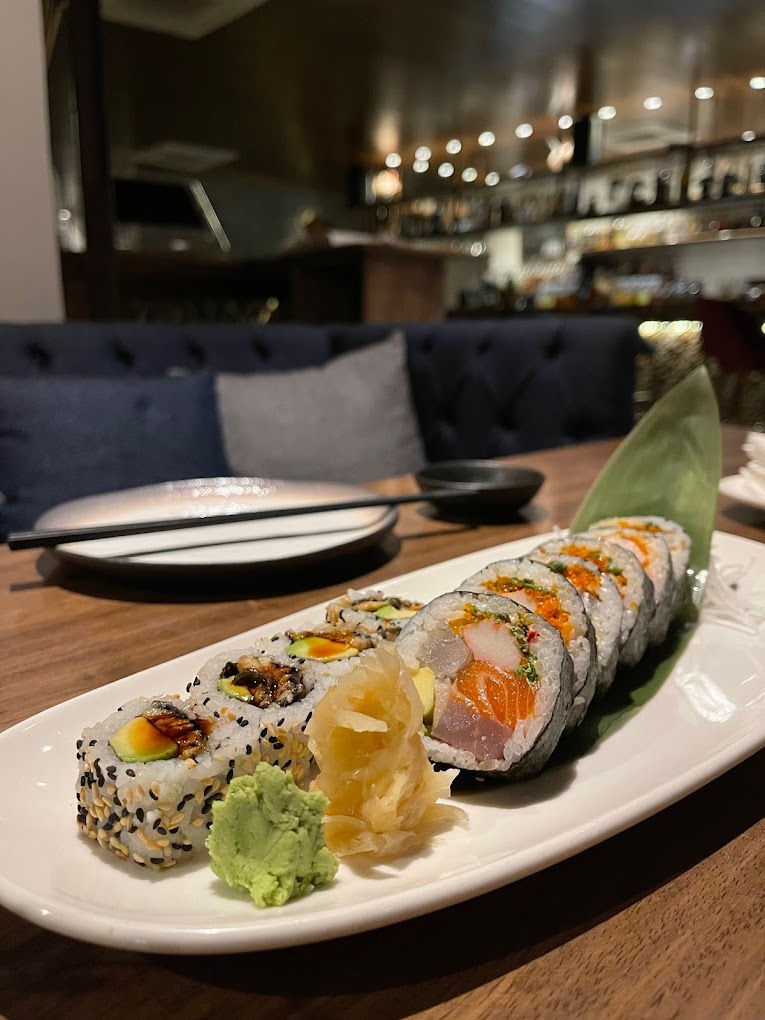 5. Koi Restaurant and Lounge
Koi Restaurant and Lounge, situated in Lagos, Nigeria, stands as an exquisite culinary destination renowned for its specialization in Japanese cuisine. The menu boasts a fusion of traditional Japanese dishes and flavors, coupled with contemporary reinterpretations of classic favorites. The unwavering commitment to detail ensures that every meal is transformed into a truly memorable experience. The restaurant's ambiance is a seamless blend of elegance and warmth, further enhanced by the option of outdoor seating, allowing diners to relish their meals beneath the gentle sunshine or beneath the enchanting night sky. Inside, the restaurant's classic yet modern design offers a range of seating options, catering to diverse preferences. The fine dining experience is complemented by the attentive and friendly service that completes the dining journey. Koi Restaurant and Lounge serves as the perfect venue for a romantic dinner, a productive business lunch, or a heartwarming family gathering. Whether you're in the mood for a light snack or a multi-course culinary adventure, our menu promises to delight every palate. With an unwavering focus on quality, the use of fresh ingredients, and impeccable presentation, each and every meal at Koi is nothing short of an exquisite experience. Notably, the menu also includes a stellar selection of sushi, adding an extra layer of culinary delight to their offerings.
Conclusion
In the bustling metropolis of Lagos, the search for the finest sushi ends with these five exceptional sushi spots. Each establishment has earned its reputation for serving the best rolls in the city. With a symphony of flavors and textures, these restaurants offer a tantalizing experience for sushi enthusiasts and culinary adventurers alike. From classic favorites to innovative creations, these sushi havens invite you to embark on a delectable journey that will leave your taste buds dancing. So, whether you're a dedicated sushi lover or a curious newcomer, these sushi spots in Lagos promise an unforgettable culinary adventure that will keep you coming back for more.
These top sushi spots in Lagos are the real 'roll' models! Get ready to 'roll' into sushi heaven!
YOU MAY LIKE THIS