Get ready to embark on a delightful culinary journey where the little ones are just as important as the grown-ups. In this list, we've carefully curated the 8 best restaurants that not only serve scrumptious meals but also pay special attention to children. From creative kid's menus to captivating play areas, these dining establishments ensure that families can enjoy a memorable meal together while keeping the youngest members of the group happily engaged.
8 Restaurants for Children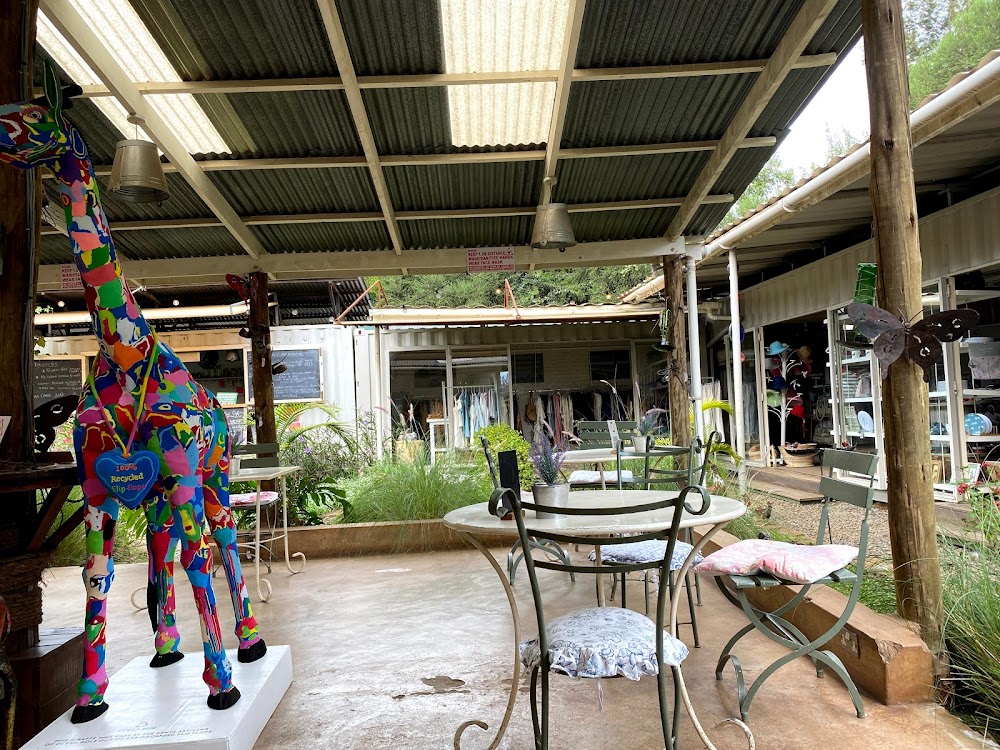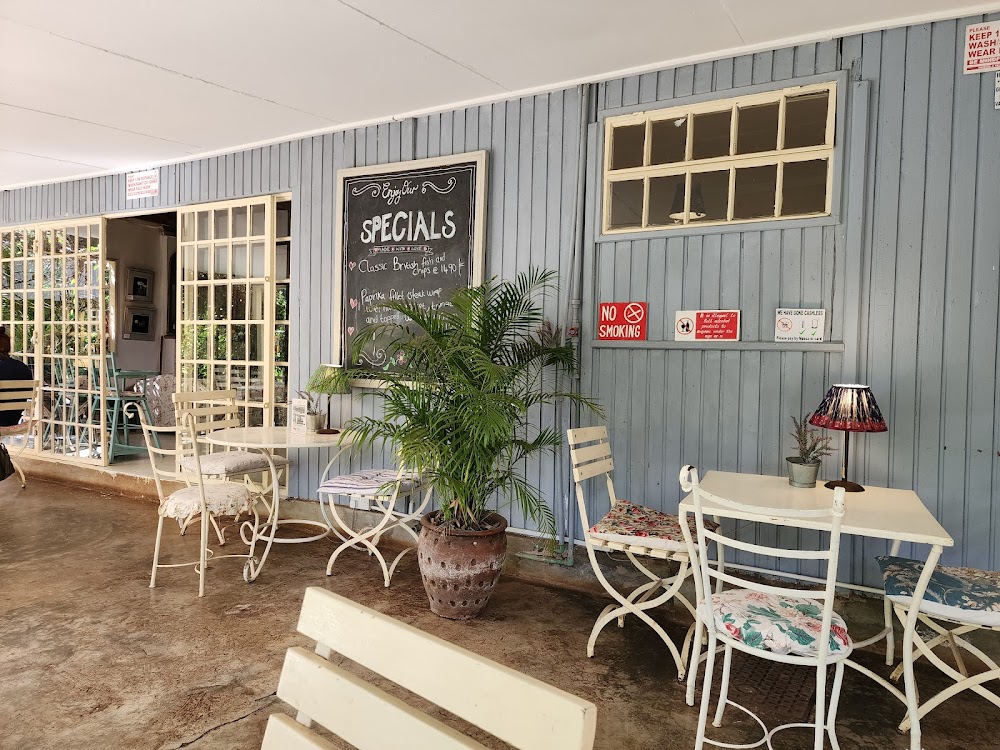 1. Tin Roof Cafe
Tin Roof Cafe, nestled in the heart of Nairobi, is a true culinary gem catering to breakfast, lunch, and late-night cravings with finesse. Its serene and tranquil ambiance, featuring an expansive open seating area, provides guests the delightful choice of dining al fresco on the terrace, amidst the lush garden, or in the cozy cabin-like interior. Notably, this establishment extends a warm welcome to canine companions, ensuring that every member of the family can partake in the experience. The menu at Tin Roof Cafe not only tantalizes the taste buds but also champions health-conscious dining. From the wholesome quinoa salad to the delectable sweet potato chips, each dish boasts a harmonious blend of flavors. Furthermore, the array of wraps, including the tantalizing feta and cheese wraps and the flavorful curried fish tacos, leaves diners spoiled for choice. Fresh, additive-free smoothies and beverages complement the menu, serving as a testament to the establishment's commitment to quality. The attentive and knowledgeable staff take pride in offering guidance on ingredients and accommodating guests with dietary sensitivities, ensuring a pleasant dining experience. With prompt and efficient service, patrons can relish their meals without unnecessary delays. What sets Tin Roof Cafe apart is its inviting, family-friendly atmosphere. Equipped with both indoor and outdoor playgrounds, as well as a creative painting station, it's a haven for children to explore their imagination. It's the perfect destination for quality time with loved ones, where you can indulge in a scrumptious and healthful meal. With top-tier staff, a welcoming ambiance, and a mouthwatering menu, a visit to Tin Roof Cafe promises an unforgettable culinary journey.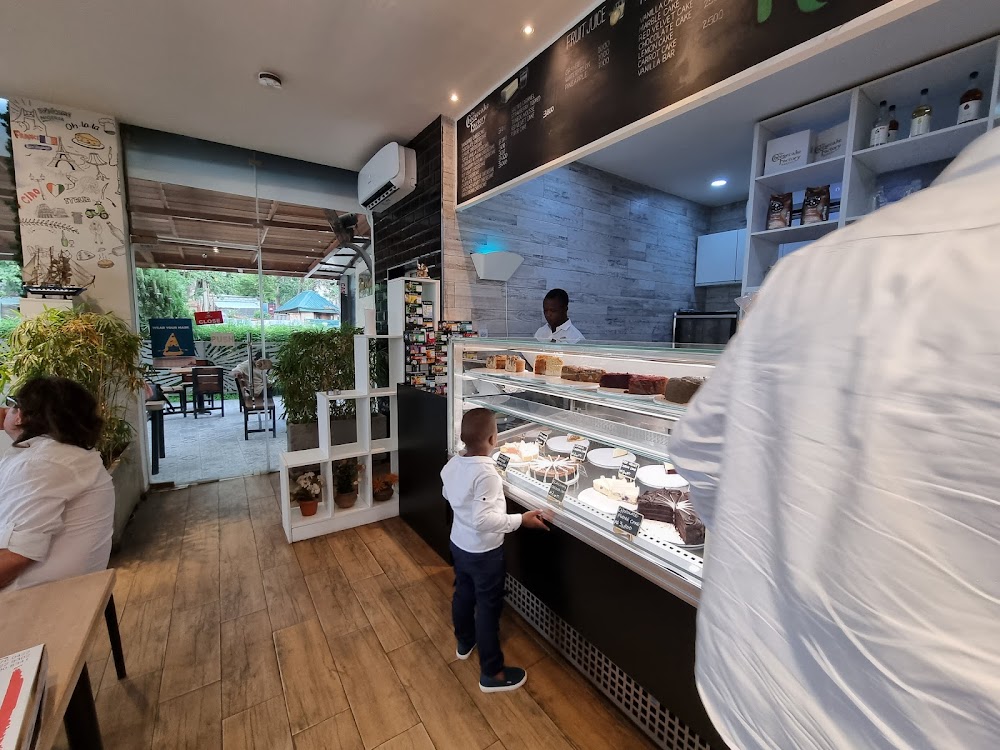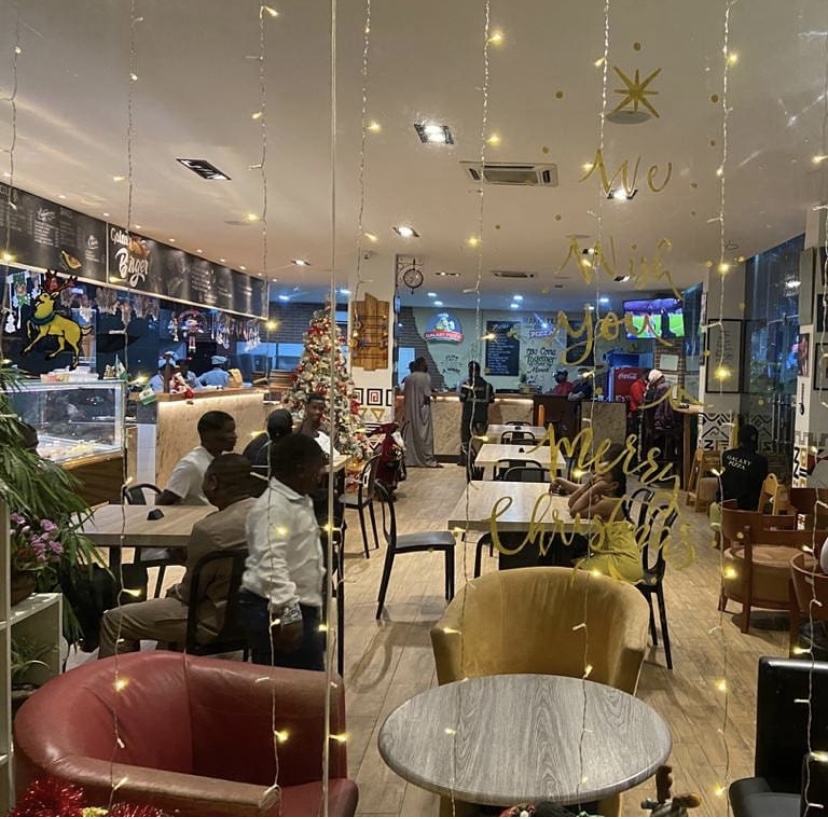 2. Galaxy Pizza
Galaxy Pizza, an Abuja gem, offers a truly exceptional and unique dining experience for all ages. The moment you step inside, you're greeted by a warm and inviting atmosphere, complemented by the irresistible aroma of freshly baked pizza. The menu caters to every taste with its diverse pizza selection, and you even have the creative freedom to design your very own pizza with your favorite toppings. Galaxy Pizza prides itself on consistently delivering perfectly crispy crusts and using only the finest, top-quality ingredients to ensure each bite is a mouthwatering delight. What truly sets this establishment apart is its exceptional staff – friendly, well-informed, and exceptionally attentive. They go above and beyond to ensure your order aligns perfectly with your preferences and are always eager to assist with any questions you may have. Galaxy Pizza also excels in maintaining impeccable cleanliness standards, with surfaces meticulously sanitized between guests. The restroom facilities are consistently well-appointed and impeccably clean, providing all the necessary amenities. And, when it comes to family dining, Galaxy Pizza truly shines. It's an ideal choice for children, offering a welcoming atmosphere and a menu that pleases even the pickiest eaters. From romantic evenings to lively get-togethers with friends, Galaxy Pizza is your ultimate pizza destination in Abuja, ensuring a fantastic experience for the whole family.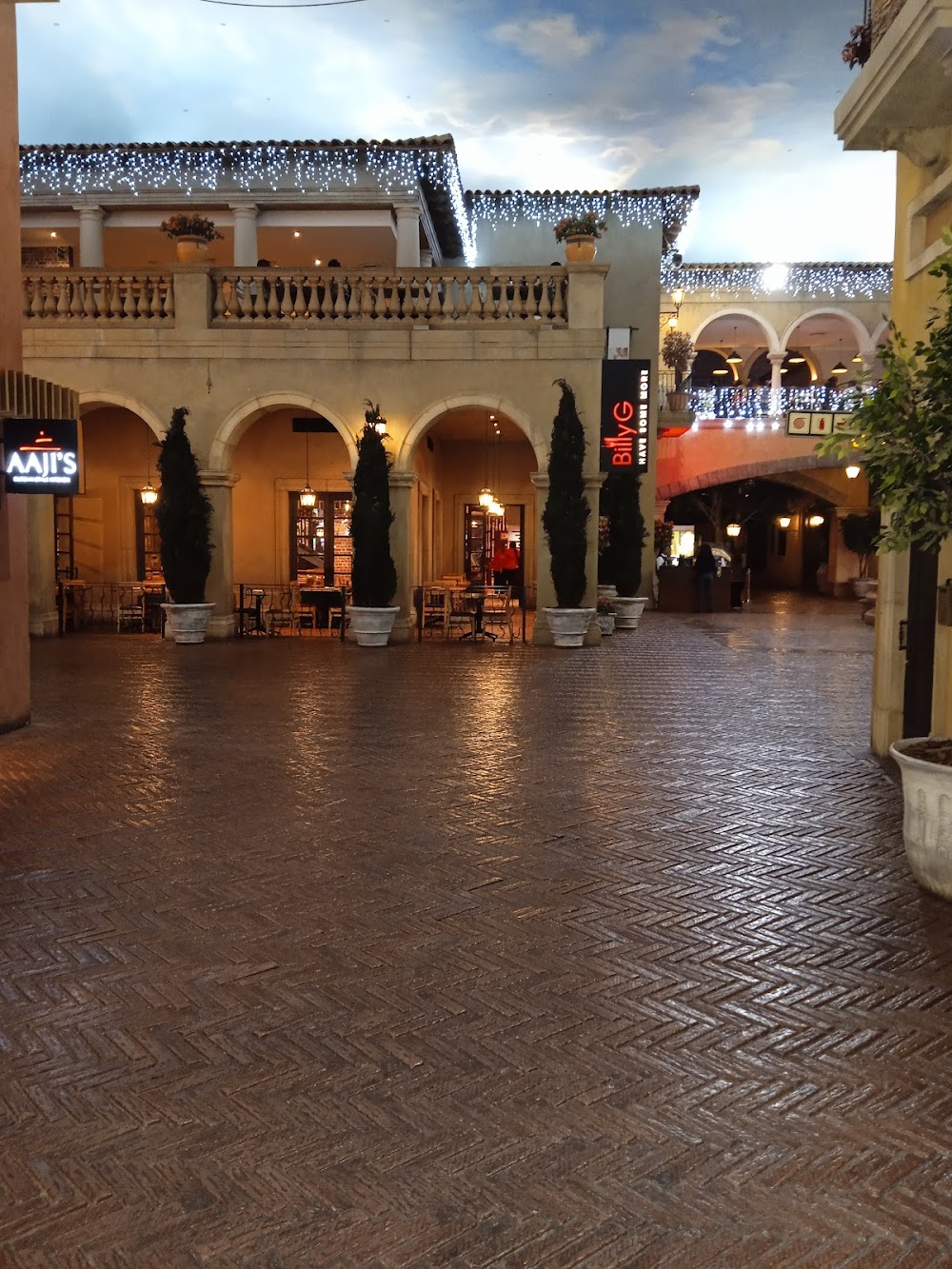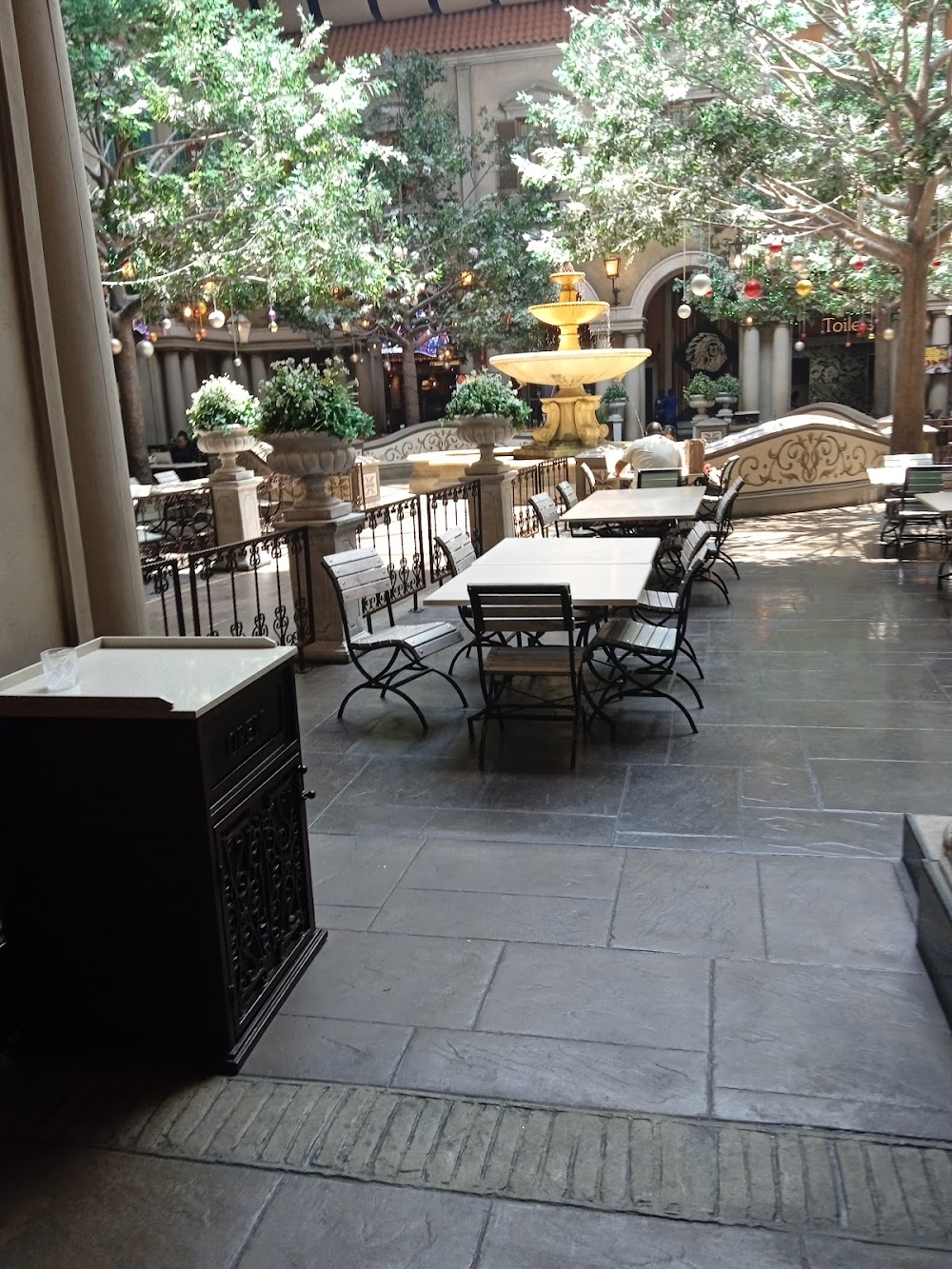 3. Billy G at Montecasino
Billy G at Montecasino, situated in the heart of Sandton, Johannesburg, South Africa, promises an exceptional and unmatched dining experience, catering to even the most discerning palates. The restaurant exudes a modern and welcoming ambiance, replete with comfortable seating, chic decor, and subtle, inviting lighting. The staff, known for their friendliness and attentiveness, elevate the dining experience, with special recognition accorded to Livingstone, a waiter celebrated for his exceptional service. The menu at Billy G at Montecasino is both extensive and diverse, ensuring there's something to satiate every taste. Whether you crave succulent steaks or freshly-caught seafood, the array of dishes is designed to tantalize every palate. For those with dietary restrictions, a variety of options are readily available, with the staff more than willing to offer advice and recommendations. Notably, the dessert selection at Billy G at Montecasino is a standout feature. The cakes are not only fresh but also delightfully delicious, and their malva pudding is a true indulgence. Additionally, the restaurant extends special privileges to pensioners and children under 12, and those celebrating their birthday on the day dine for free. In conclusion, Billy G at Montecasino crafts a delightful dining experience that is certain to delight. With its contemporary atmosphere, exemplary service, and a delectable menu, it stands as the perfect destination to savor a meal with family or friends.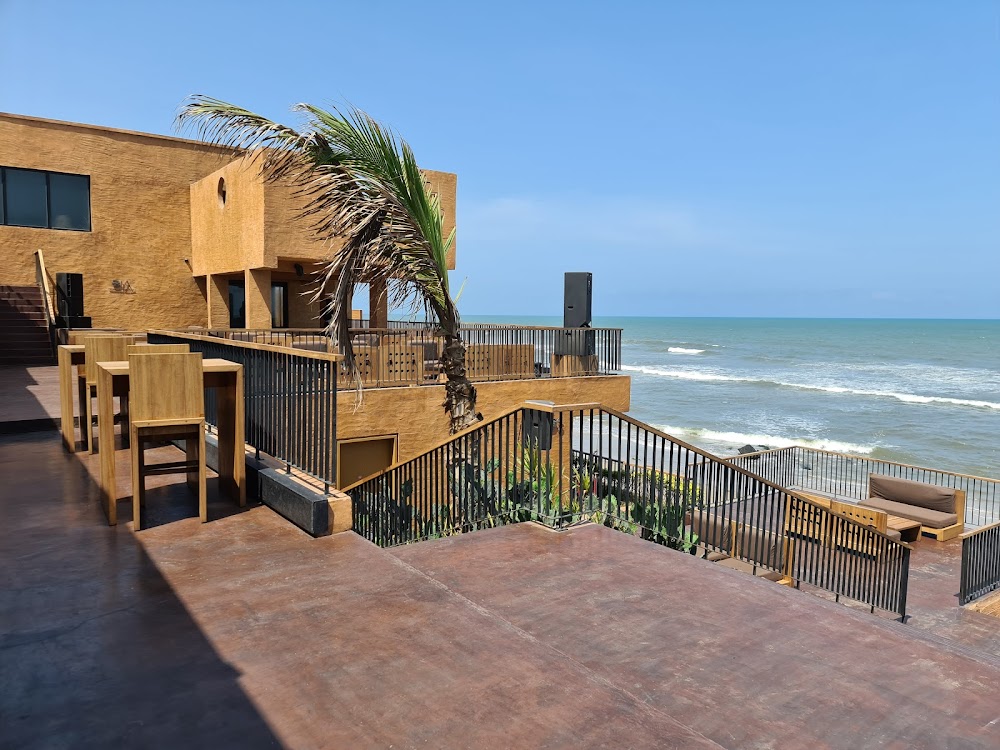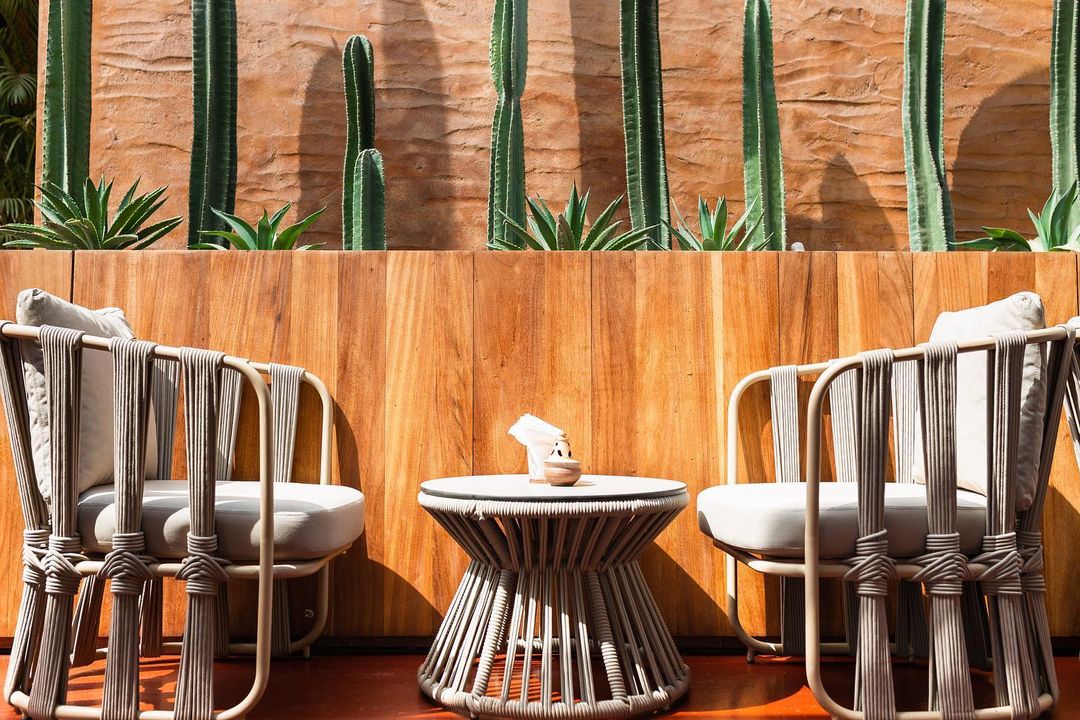 4. Sandbox Beach Club
Sandbox Beach Club, gracefully perched in Accra, Ghana, offers a truly distinctive dining encounter set against the breathtaking backdrop of the beachfront. This restaurant boasts an exceptional menu spanning from seafood delicacies, burgers, and tacos to rejuvenating salads, all masterfully crafted with fresh ingredients and a creative twist on traditional flavors. Complementing this culinary journey is a diverse selection of libations, featuring signature cocktails, craft beers, and a curated wine list. The ambiance at Sandbox Beach Club is a genuine spectacle. Its proximity to the beach allows guests to relish the invigorating sea breeze and embrace panoramic ocean vistas while savoring their meals. The restaurant itself is an embodiment of aesthetic refinement, adorned with captivating decor, and the staff consistently extends a warm and attentive welcome. Glance at the reviews, and you'll find an overwhelming chorus of positivity. Guests shower praise on the delectable seafood offerings, the enchanting ambiance, and the amiability of the service team. Remarkably, many have lauded the staff's exceptional accommodation, especially when it comes to young children. Sandbox Beach Club stands as the ultimate destination to share a meal with loved ones, be it family or friends. With its captivating views, epicurean delights, and affable staff, it's no surprise that this establishment reigns among the most coveted dining spots in Accra. Be it an unhurried luncheon or an intimate evening reprieve, Sandbox Beach Club beckons you to unwind and savor the very essence of Accra's charm.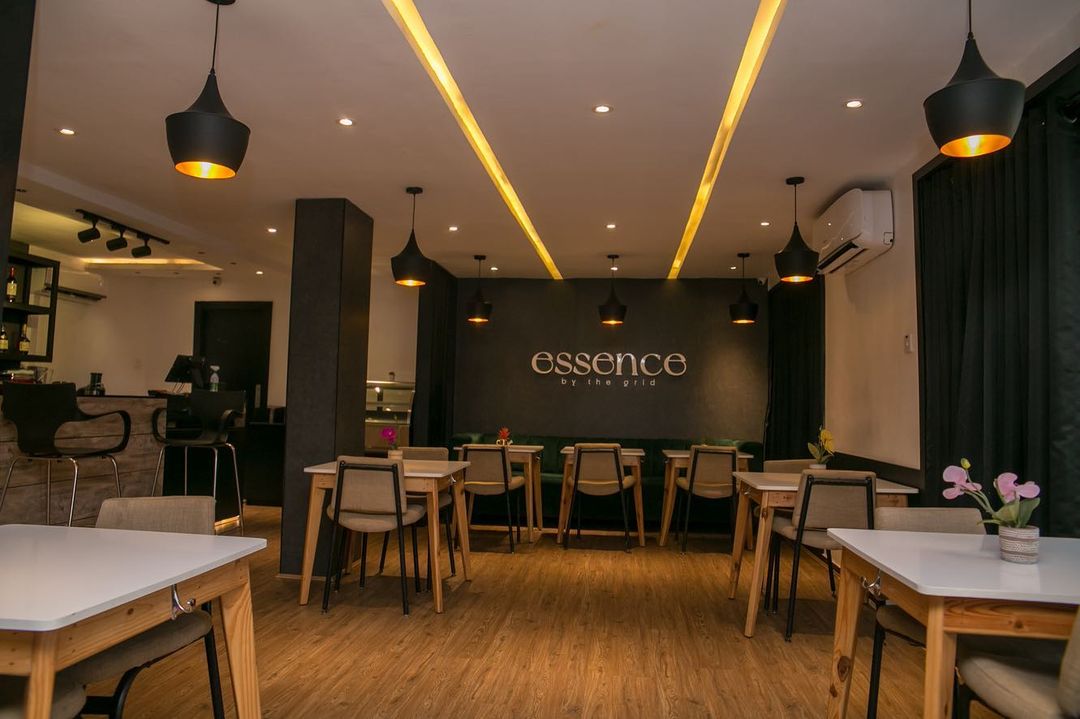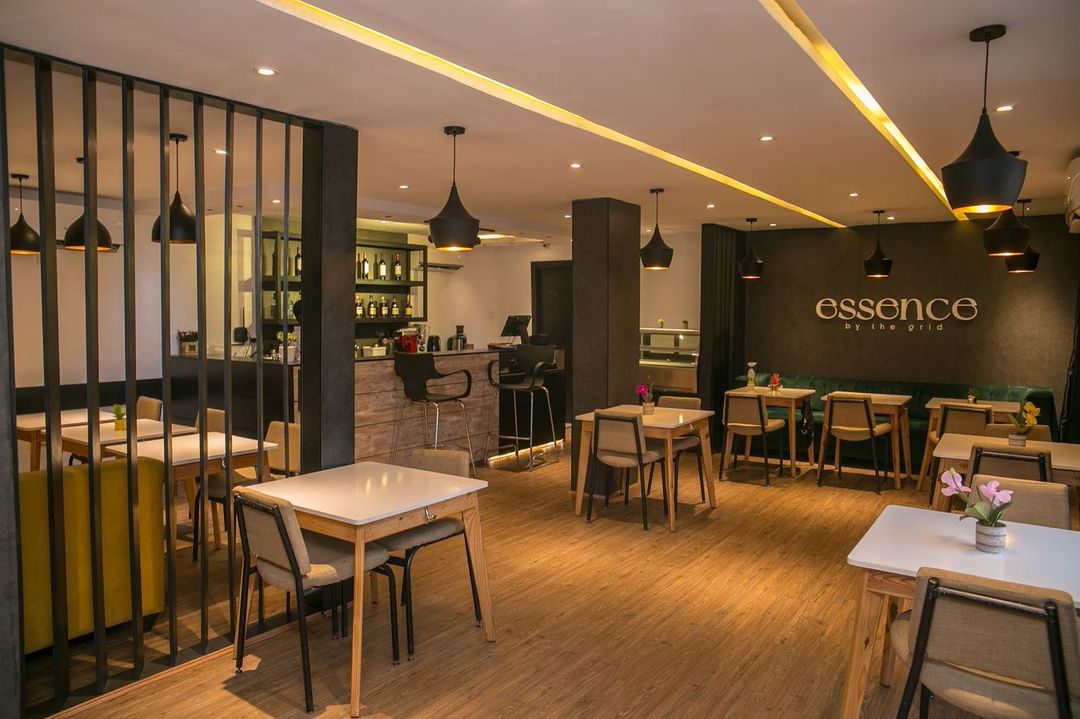 5. Essence By The Grid
Welcome to Essence By The Grid, a dining haven nestled in the bustling heart of Ikeja. Situated discreetly, yet conveniently, this restaurant beckons you into an interior that exudes warmth and tranquility, with soft melodies gently serenading your senses. Your arrival is met with the cordial and attentive service of waitstaff who promptly take your orders. The menu at Essence By The Grid is a culinary voyage that spans from cherished Nigerian classics to beloved international delights. Notably, the jollof rice enjoys a well-deserved reputation, consistently earning accolades from delighted patrons. A diverse array of beverage options, including enticing cocktails, complements your dining experience. Freshly prepared and promptly served, the cuisine at Essence By The Grid invites you to indulge in a sumptuous two-person meal and beverages for approximately 20k. Among the culinary stars are the ever-popular burgers and fries, while the cheesecake stands as an irresistible must-try dessert. This inviting oasis caters to diverse preferences, whether you seek an intimate and cozy evening with a partner or an afternoon of camaraderie with friends, complete with photo-worthy moments. Families with young children will find the restaurant particularly accommodating, with high chairs and convenient handbag hooks at each table. For those who choose to drive, ample parking awaits just outside the restaurant. Essence By The Grid embodies the essence of a relaxed and welcoming dining destination, making it the perfect choice for those in pursuit of a superb meal within an inviting and laid-back setting.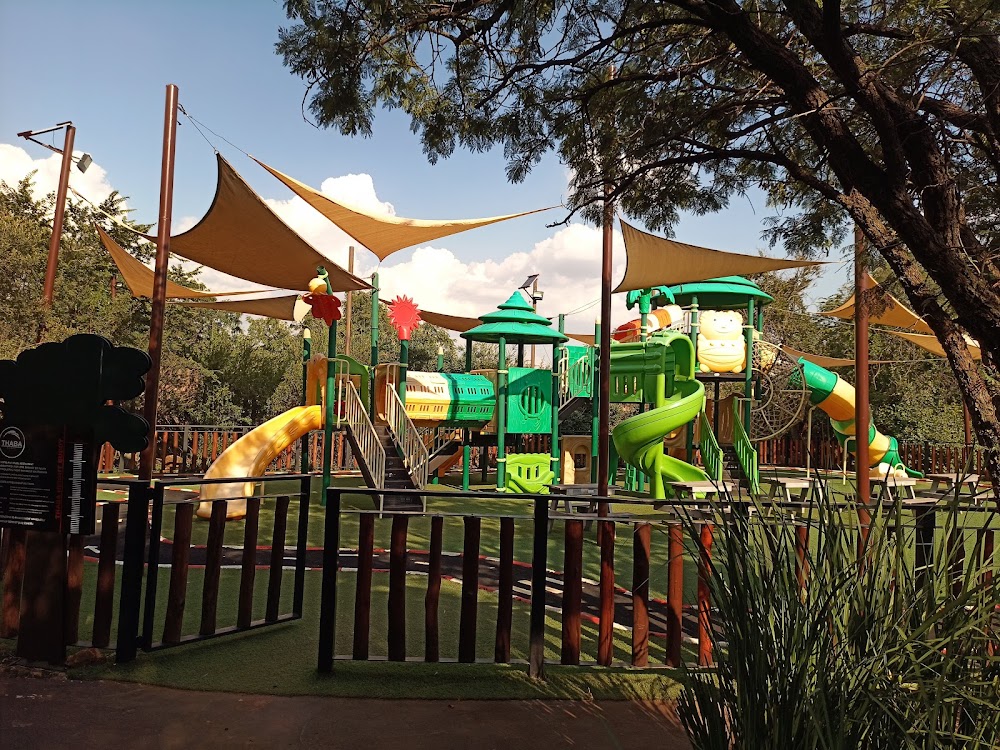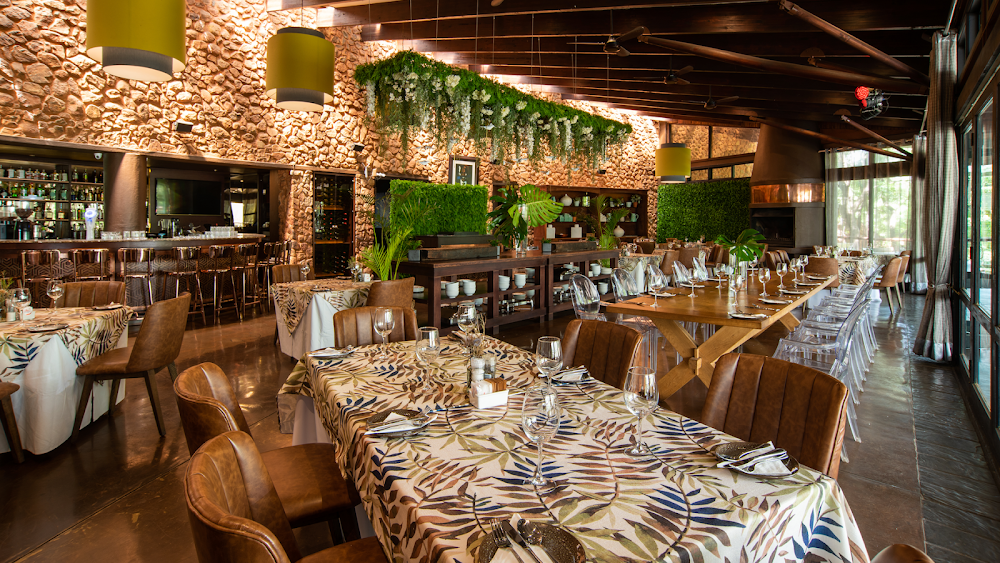 6. Kraal Restaurant
Kraal Restaurant, situated in the heart of Johannesburg, South Africa, is an upscale dining establishment that promises a dining experience unlike any other. Nestled in a serene natural setting, the restaurant exudes a tranquil and peaceful ambiance, setting the stage for intimate dinners, joyous group celebrations, and delightful family breakfasts. The menu at Kraal Restaurant is a culinary mosaic, offering an array of delectable options, from mouthwatering pancakes and flavorful omelettes to a vibrant selection of fresh fruits and hot entrees. Each dish is a testament to the restaurant's commitment to quality, crafted with the freshest and finest ingredients available. The portions are notably generous, and the pricing remains refreshingly reasonable. Adding to its appeal, the restaurant boasts an inviting children's play area, replete with a variety of engaging activities designed to keep the little ones entertained. The attentive staff stands ready to ensure the safety and enjoyment of your children. Glowing reviews from patrons emphasize the exquisite flavors of the cuisine, the unwavering attentiveness of the service staff, and the tranquil ambiance that envelops the restaurant. Additionally, customers have been captivated by the unique charm of the sun dial, an exceptional feature that further enhances the restaurant's allure. Kraal Restaurant emerges as the ideal destination for a leisurely meal in a breathtaking natural setting. Whether in the company of family, friends, or a special someone, an unforgettable dining experience is assured.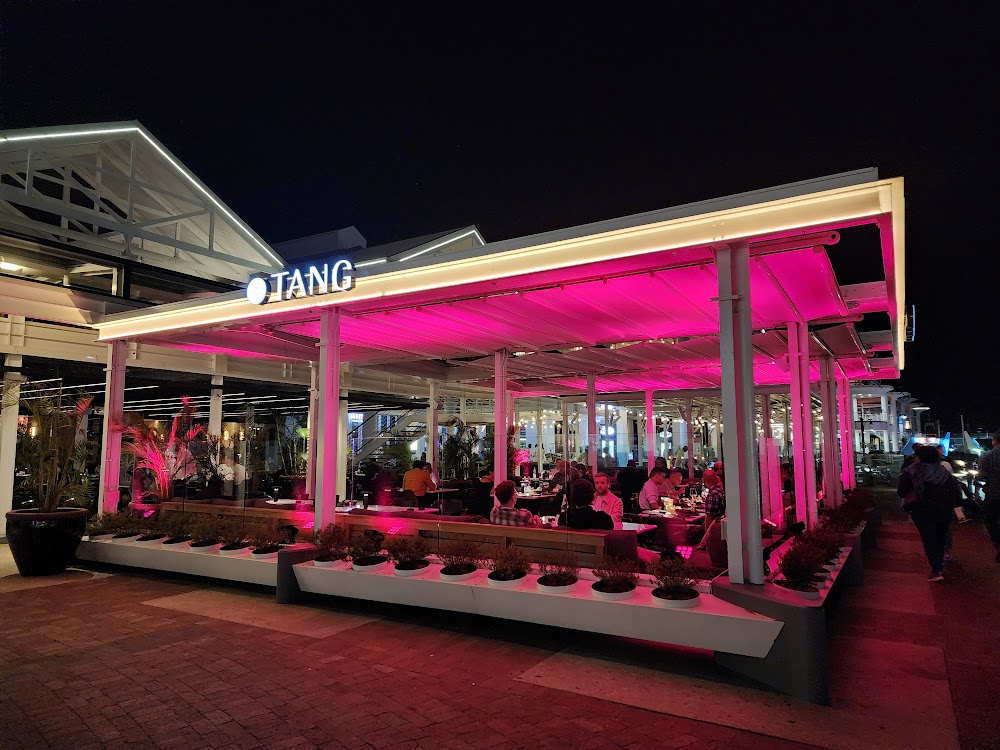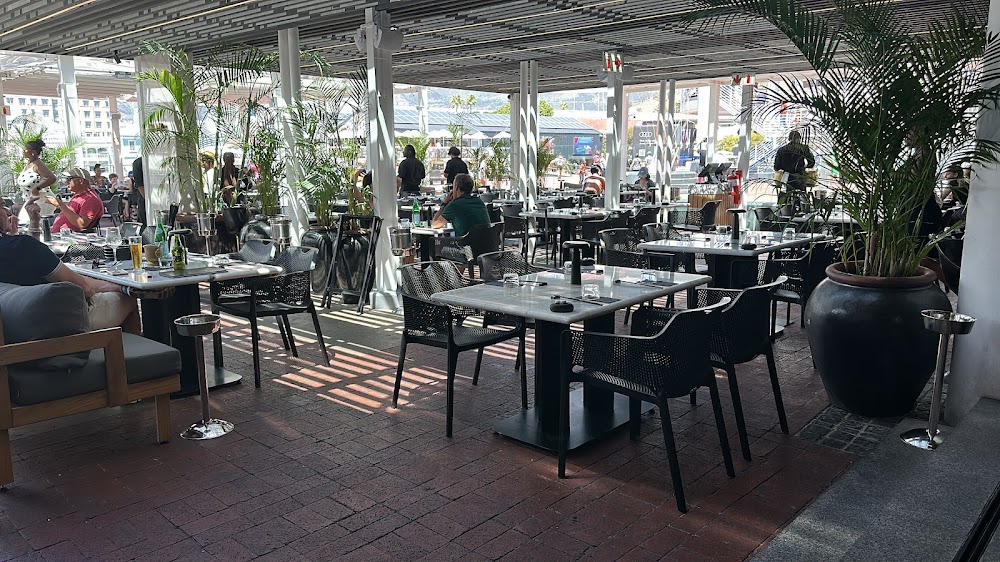 7. Tang Waterfront Restaurant
Discover TANG Waterfront Restaurant and Bar, an opulent dining destination situated in South Africa, boasting breathtaking vistas of Table Mountain from its outdoor seating area. This inviting establishment is staffed by knowledgeable and amiable professionals, with a dedicated table manager ever-present to ensure each guest's experience is nothing short of perfection. The menu at TANG Waterfront Restaurant and Bar is nothing short of an epicurean odyssey, offering an extensive array of delectable dishes, ranging from the freshest sushi to mouthwatering tacos, and even a specially curated menu for children. The cocktails served here are a true art form, and the selection of wines and beverages is nothing short of extraordinary. The atmosphere strikes a balance between lively and vibrant, yet retains a cozy and laid-back allure. While you savor your meal, a carefully selected playlist provides the perfect background, although it can, at times, be a tad exuberant. The staff at TANG are wholly dedicated to ensuring every customer enjoys a delightful experience. The chefs conjure culinary magic to make each visit memorable, all within the confines of prices that remain exceptionally reasonable considering the quality of food and service. TANG Asian Luxury Restaurant & Bar Waterfront stands as the quintessential venue for marking special occasions or enjoying a memorable night out with friends and family. Guests are guaranteed a unique and gratifying dining experience, making TANG a place of distinction in the world of luxury dining.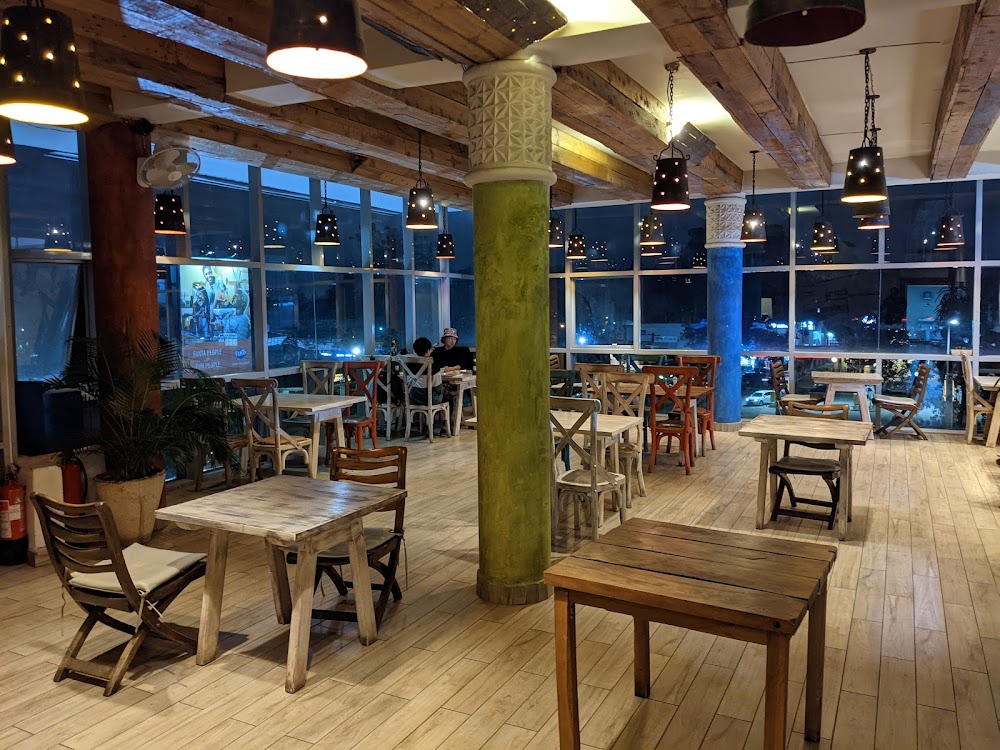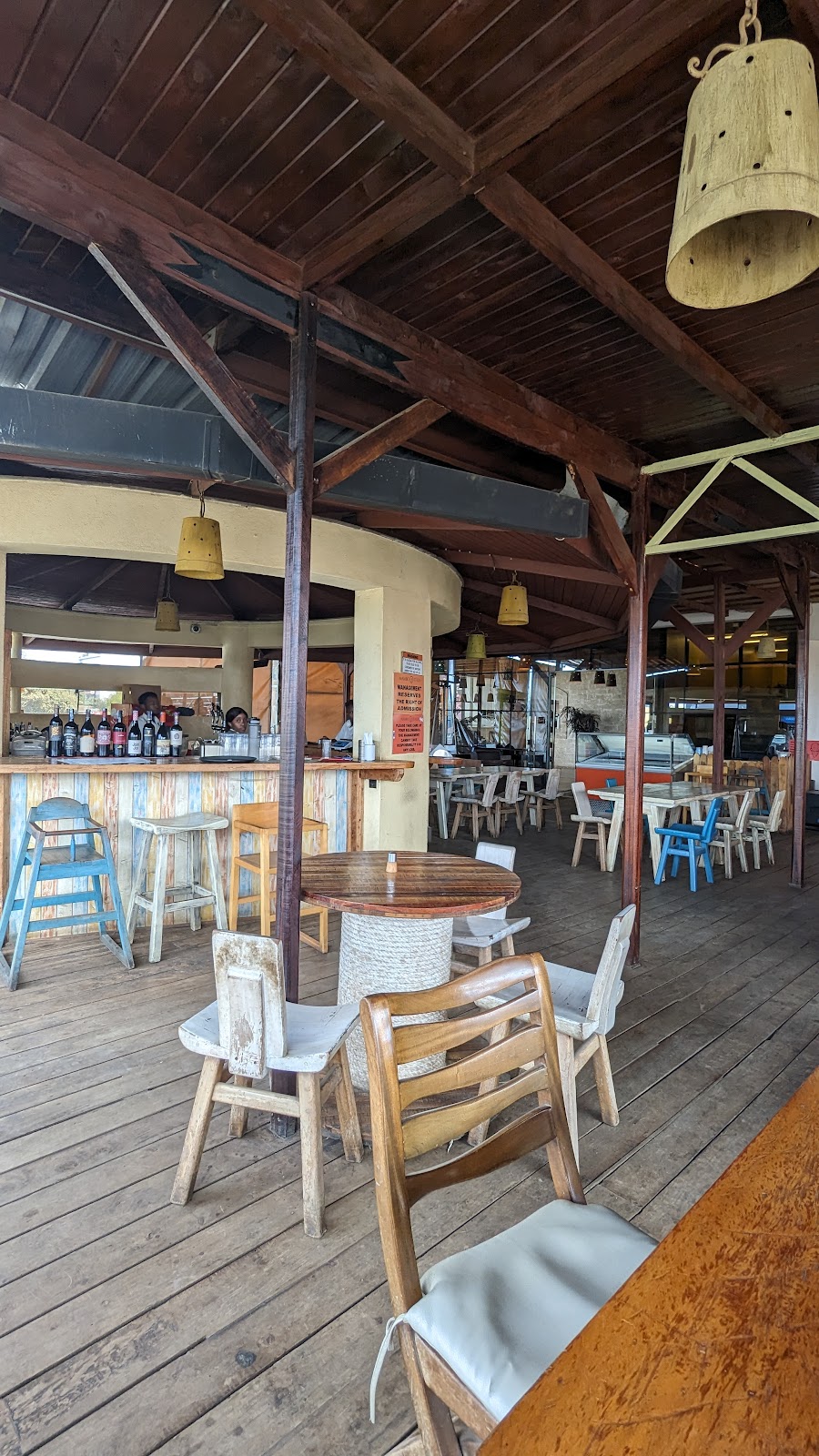 8. Mambo Italia Lavington
Mambo Italia Lavington, a culinary gem nestled in Nairobi, Kenya, offers a captivating fusion of Italian flavors and the vibrant spirit of the city. The restaurant sets the stage with a relaxed and welcoming ambiance, featuring ample space for children to frolic.  The menu at Mambo Italia Lavington is a gastronomic delight, presenting a diverse array of delectable options, including customizable pizzas. Culinary offerings extend from the tantalizing BBQ pork pizza to the grilled red snapper, adorned with a red pepper pesto and accompanied by a side of luscious mashed potatoes. The desserts are a particular standout, with the house specialty, tiramisu, earning fervent praise.  Not to be outdone, Mambo Italia Lavington's craft beers and signature cocktails are a true revelation, served in elongated, shareable glasses. The rooftop venue provides a serene vantage point to unwind and relish the spectacle of Nairobi's bustling traffic. Mambo Italia Lavington proves to be the ideal destination for an evening out with friends, a romantic rendezvous, or a heartwarming family dinner. Its irresistible blend of sumptuous Italian cuisine, craft beers, and signature cocktails crafts the perfect backdrop to savor a meal while creating cherished memories.
Conclusion
In a world where dining out is an experience meant to be enjoyed by the whole family, these 8 best restaurants stand out as champions in understanding and catering to children's needs. From their creatively designed menus to their friendly and attentive staff, these dining establishments have mastered the art of making children feel not just welcome, but truly cherished. With a commitment to providing a memorable dining experience for the youngest members of the family, these restaurants have set a benchmark for family-friendly dining, ensuring that every meal shared here is a delightful and stress-free adventure for both kids and parents alike.
Cap off your culinary journey at the 8 Best Restaurants that truly cater to children, where little diners are treated like royalty.
YOU MAT LIKE THIS