Embark on a delectable adventure through the vibrant heart of Lagos as we unveil 8 exceptional and affordable restaurants in Ikeja. In this bustling metropolis, where flavors from all corners of Nigeria and beyond converge, these dining establishments stand out for their delicious and wallet-friendly offerings. Whether you're a local looking for a new favorite spot or a visitor eager to explore Ikeja's culinary treasures, our curated list promises a delightful and affordable gastronomic experience for every budget.
8 Affordable Restaurants in Ikeja, Lagos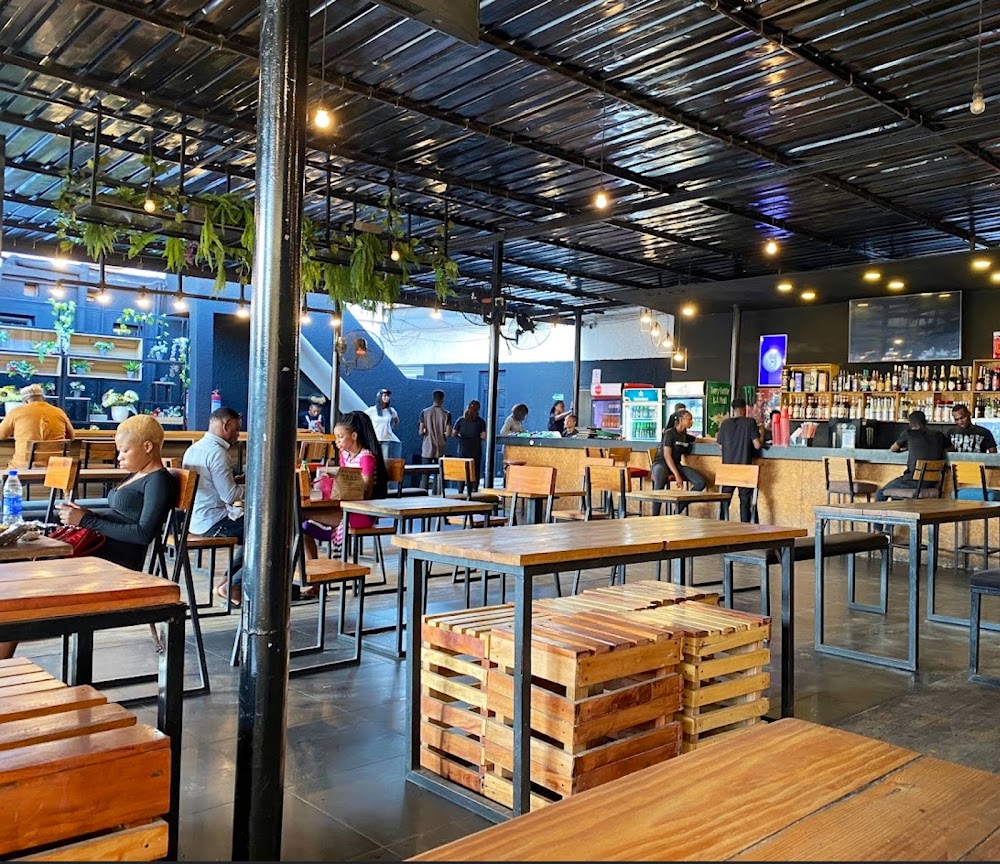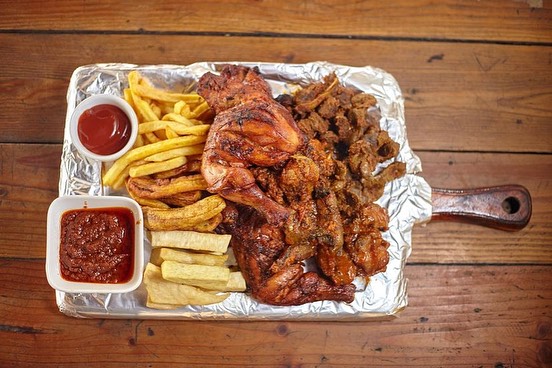 1. Papiee's Meatro
Papiee's Meatro is your ultimate destination for a delectable yet budget-friendly dining experience in Lagos. From its warm and welcoming ambiance to its attentive and friendly staff, this restaurant instantly makes you feel at home. The menu is a treasure trove of culinary delights, offering something to suit every palate. Indulge in hearty proteins, tantalizing sides, and mouthwatering snacks. Notably, Papiee's Meatro is renowned for its wide array of irresistible stir-fries, with the house specialty stealing the spotlight. Crafted with succulent shrimp, flavorful sausage, and a secret blend of spices, this dish promises an explosion of flavors. Make sure not to miss out on their fries, served with a house-made dip that adds an extra layer of freshness and taste. As for beverages, Papiee's Meatro boasts an impressive selection of cocktails and mocktails. The skilled bartenders craft unique and satisfying drinks that complement your meal perfectly. Whether you're planning a casual get-together with friends or celebrating a special occasion with family, Papiee's Meatro offers a cozy atmosphere and prices that won't break the bank. Rest assured, the food and drinks will always meet your highest expectations. Plus, the accommodating staff is more than happy to fulfill any special requests you may have. For an unforgettable dining experience in Lagos, Papiee's Meatro is the place to be. Don't miss the chance to savor their culinary delights – stop by and experience it for yourself today!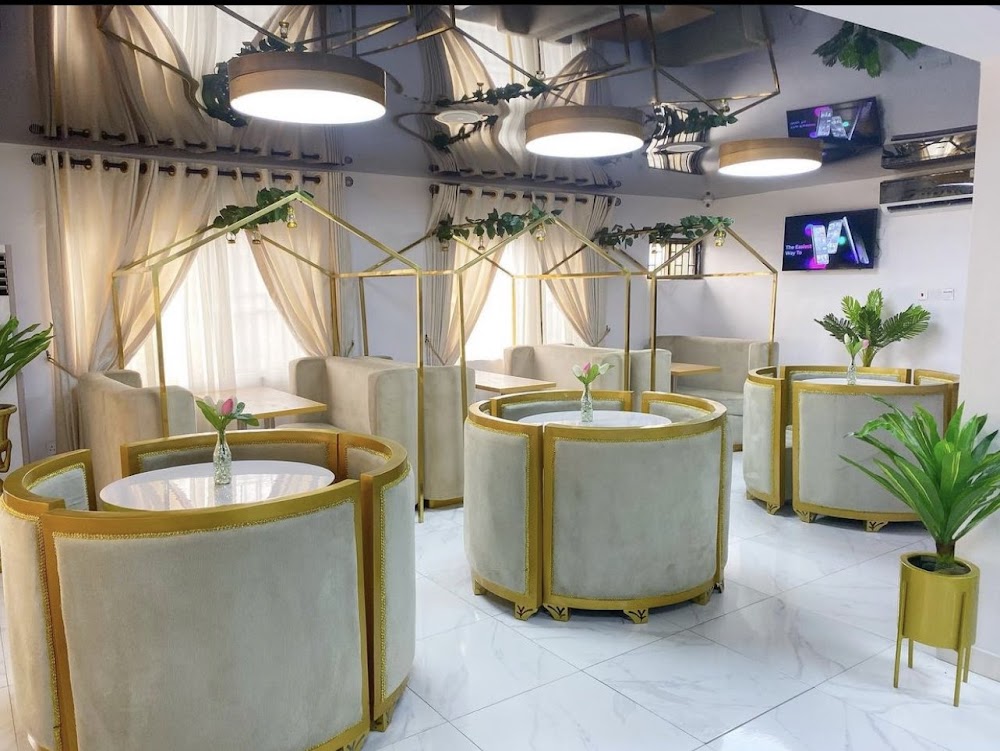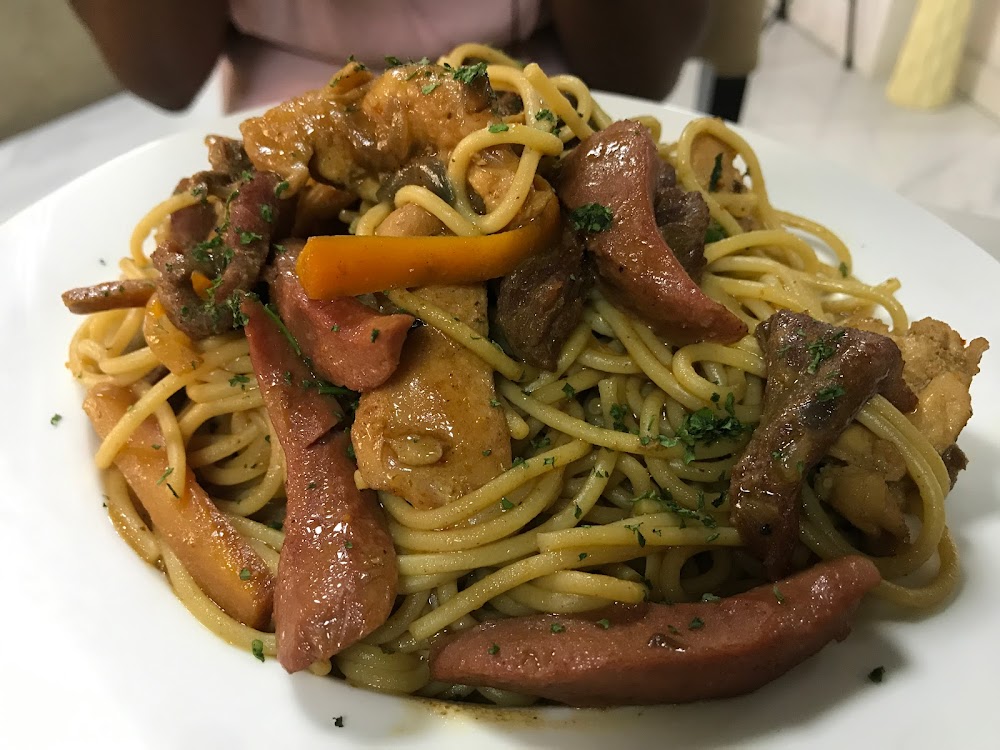 2. Soul Food Restaurant
Soul Food Restaurant in Lagos is an absolute delight to visit, catering to couples, friends, and families alike. Its warm and inviting atmosphere, adorned with minimalist aesthetics, not only makes it a picturesque spot but also invites guests to linger and enjoy. The restaurant takes pride in its top-notch customer service, with friendly and attentive wait staff ensuring a memorable dining experience. When it comes to the menu, variety is the spice of life here. The extensive selection offers something for every palate, and the generous portions won't leave you hungry. What's even better? The prices are refreshingly affordable. Among the standout dishes, the special fried rice is a particular favorite, and their fries are a crispy delight. Don't forget to savor the complimentary side of puff-puff, a crowd-pleaser in every sense. And to quench your thirst after a sumptuous meal, their drink options are perfectly refreshing. For those days when you'd rather dine in the comfort of your home, Soul Food Restaurant also offers convenient takeaway services. In summary, Soul Food Restaurant is your go-to destination for a delicious meal paired with a fantastic ambiance. Whether you're in the mood for a romantic evening, a casual gathering with friends, or a wholesome family meal, this restaurant is certain to leave your taste buds satisfied and your heart content.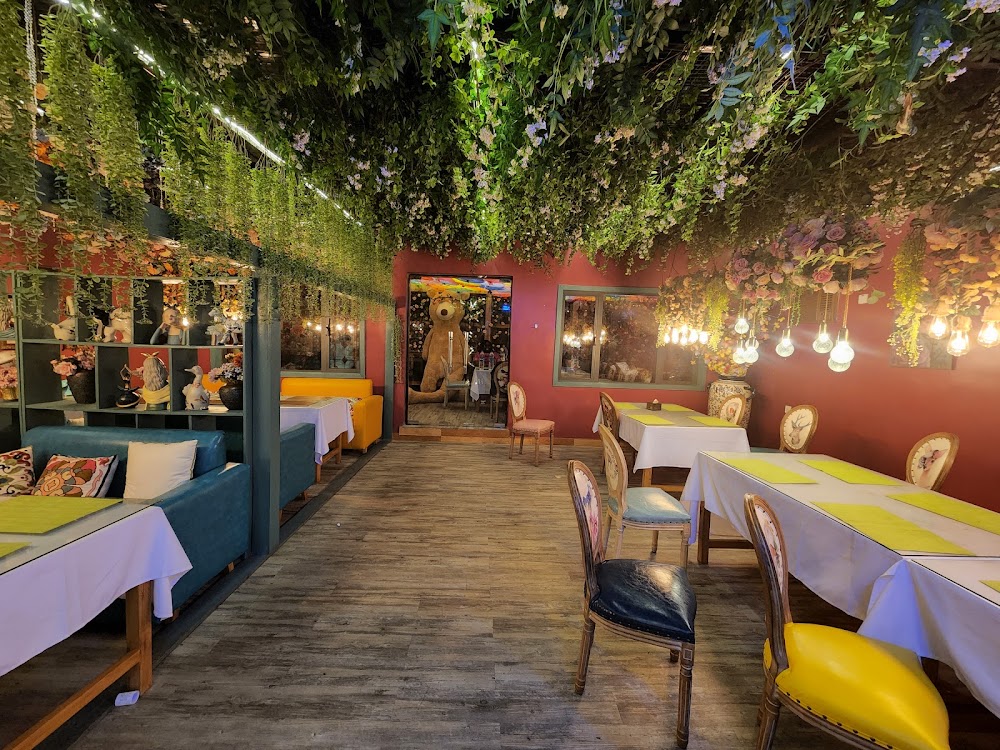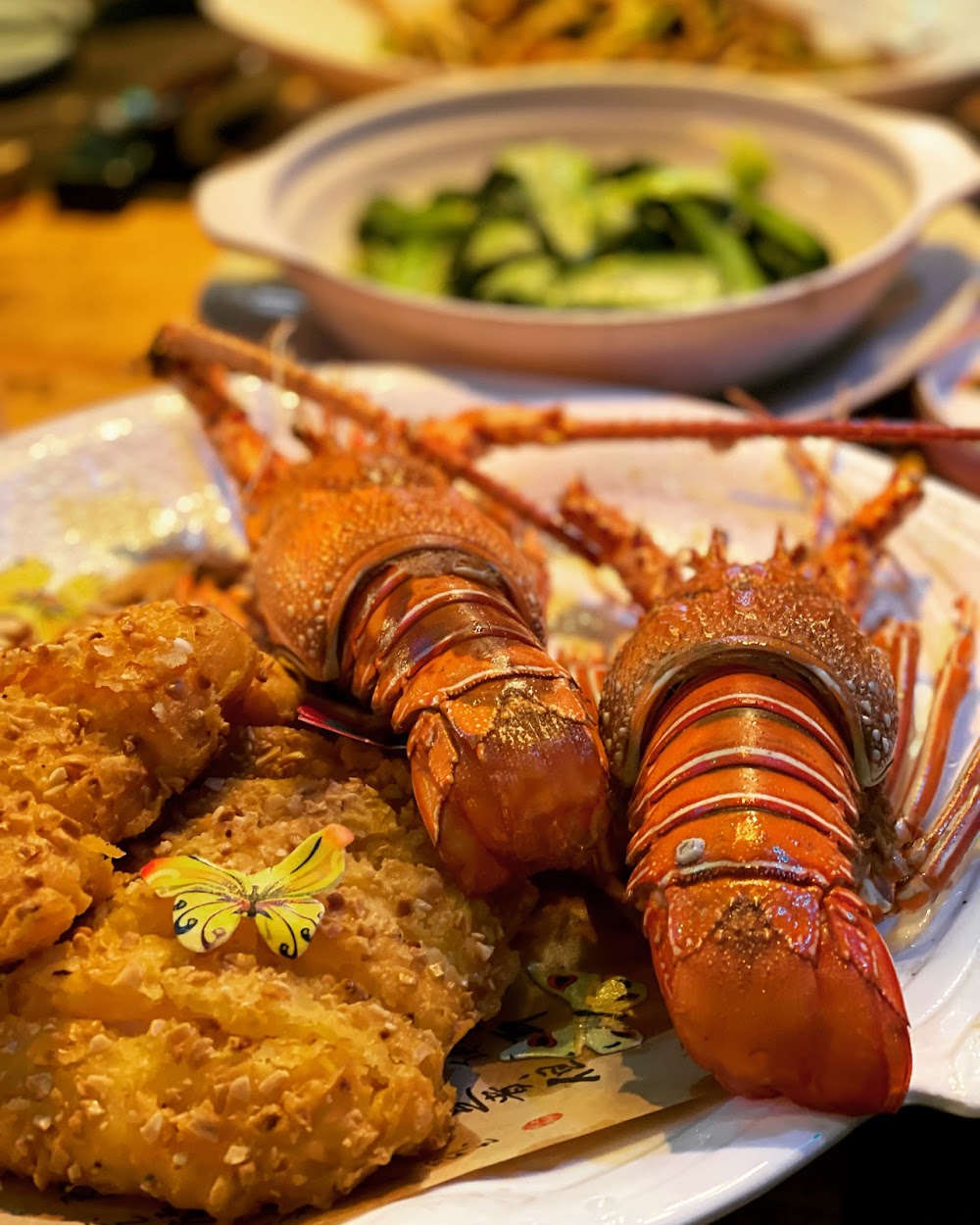 3. Alice Garden Restaurant
Alice Garden Restaurant in Ikeja, Lagos, is a well-kept secret that combines affordability with an enchanting atmosphere. Step into a world of romance and tranquility, where cinematic lighting sets the stage for unforgettable moments with your loved ones. This hidden gem boasts a menu that caters to various tastes, featuring a wide selection of Chinese dishes alongside local favorites. The best part? You won't have to wait long for your delicious meal, and the prices won't break the bank. Parking is a breeze with space for up to 12 cars, making it perfect for gatherings of all sizes. Rest assured, your safety is a top priority, thanks to vigilant security personnel. The restaurant's interior decor sets the stage for special occasions, be it a romantic date night, baby shower, birthday celebration, or any other memorable event. The accommodating staff ensures your experience is nothing short of exceptional. For those seeking a touch of luxury, there's a VIP section available for a nominal fee. And let's not forget the impressive array of drinks, from classic cocktails to local favorites, offering something to suit every palate. In summary, Alice Garden Restaurant provides an incredible dining experience that includes affordability, delicious cuisine, a beautiful ambiance, and welcoming service. It comes highly recommended for those seeking a memorable and budget-friendly dining adventure.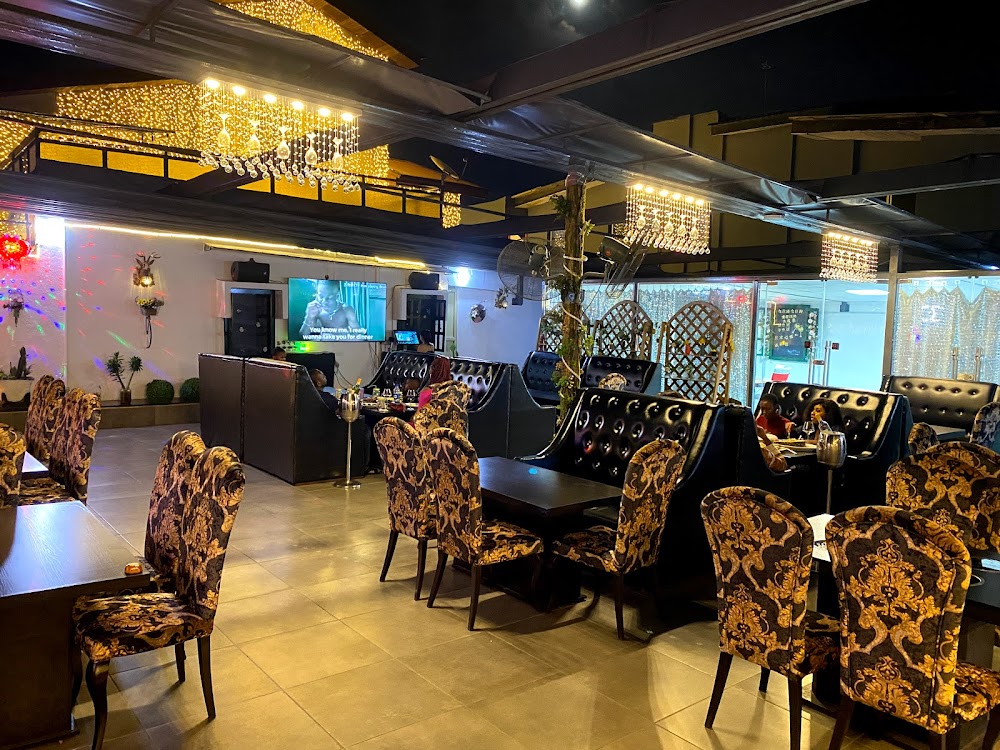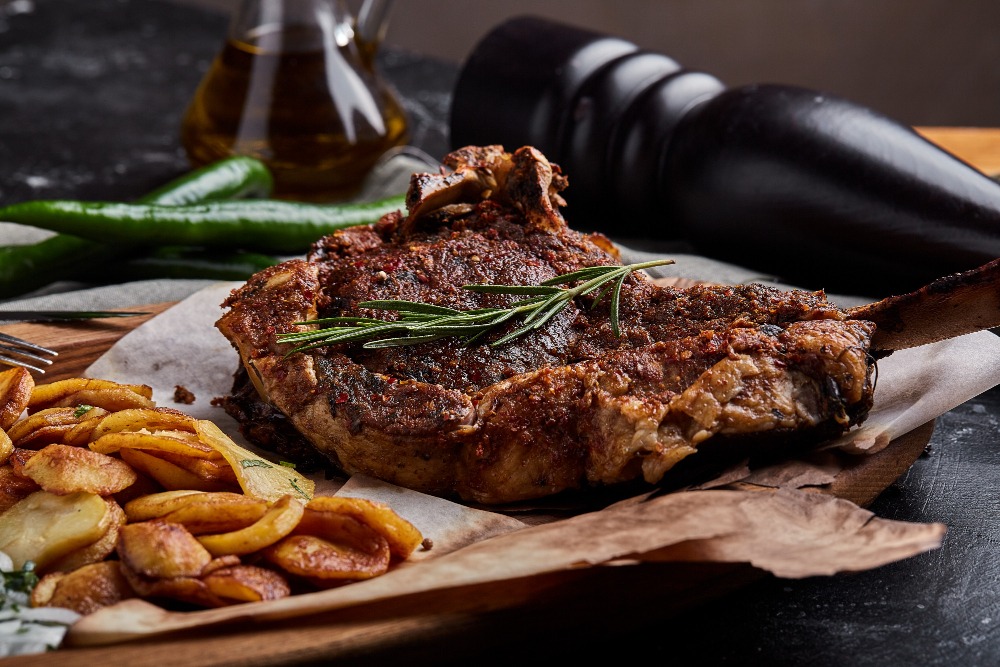 4. The Pentagram
The Pentagram, nestled in Lagos, Nigeria, promises an exceptional and exciting dining experience that won't break the bank. This restaurant exudes a fantastic ambiance, making it an ideal choice for special celebrations like birthdays and romantic dinners.  The menu is a culinary journey, featuring a diverse range of delectable dishes, from the ever-popular Braised Chicken Nuggets and Singapore Noodles to the more traditional Chinese Fried Rice, Chicken Slurry, and Beef Sauce.  What sets The Pentagram apart is its lively karaoke nights, showcasing Nigerian music that adds a vibrant rhythm to your evenings. This dynamic restaurant has garnered a loyal following, thanks to its outstanding food, impeccable service, and its inviting atmosphere. The staff at The Pentagram is renowned for their warmth and attentiveness, ensuring your dining experience is always delightful. While prices may be slightly higher compared to other local restaurants, the exceptional food quality and overall experience make every penny worthwhile. So, whether you're seeking a romantic evening, a fun night out with friends, or simply a place to relish a scrumptious meal, The Pentagram fits the bill. Offering affordability without compromising on quality, it's the perfect destination for creating lasting memories during an unforgettable night out.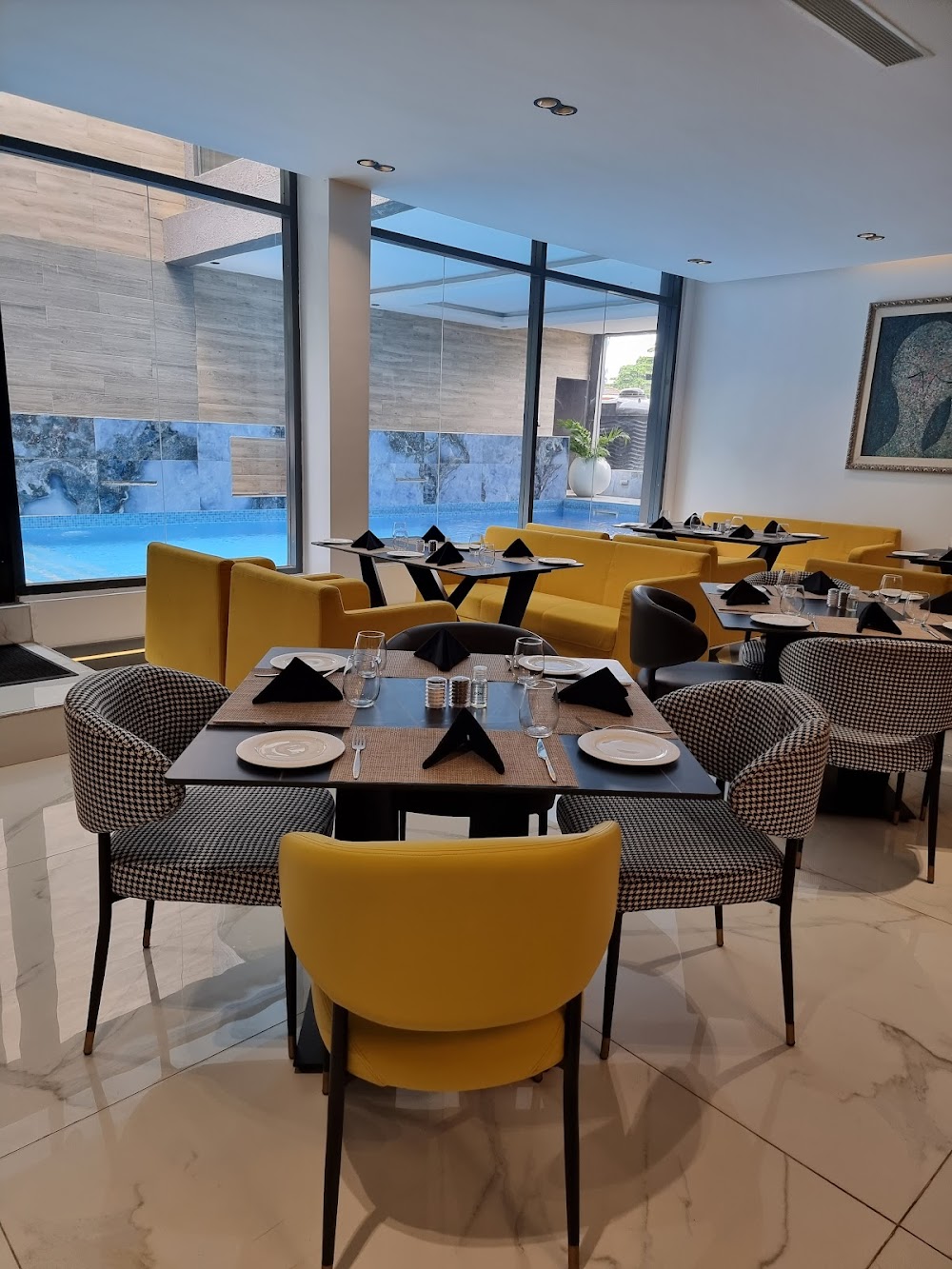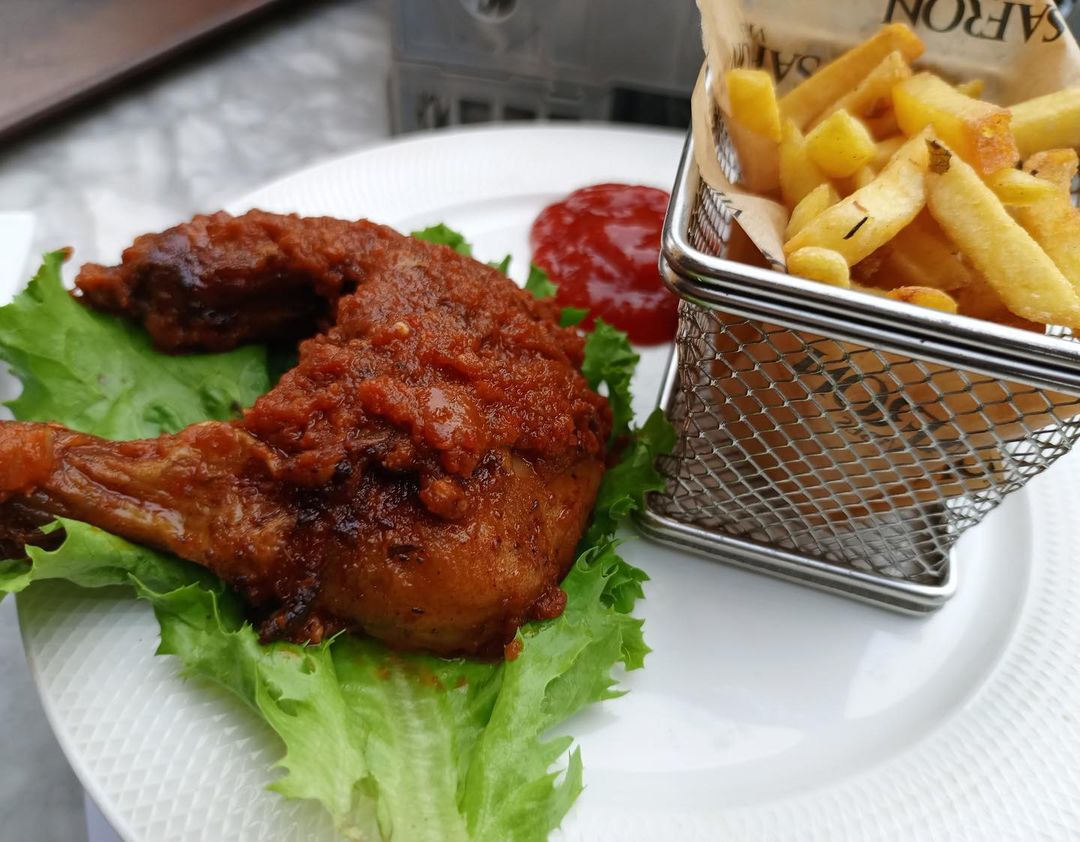 5. The Safron Rooftop
Located in the heart of Ikeja GRA, Safron Rooftop invites you to enjoy a cozy and budget-friendly rooftop dining experience. This dining spot offers breathtaking views, setting the perfect backdrop for savoring a diverse range of world cuisines. The menu, carefully curated to tantalize your taste buds, features flavors from Africa, Italy, India, the Mediterranean, and Asia. As you dine under the open sky, the rooftop bar beckons, providing a relaxing spot to savor refreshing drinks while taking in the city's mesmerizing vistas. Whether you're in search of an intimate meal with loved ones or a venue for special occasions, Safron Ikeja is the ideal choice. Fine dining options provide an exquisite backdrop for celebrations, with private dining rooms and reservations available to ensure every guest's needs are met. The dedicated team at Safron Ikeja guarantees a unique, enjoyable, and memorable experience for all guests. With attentive service, you're assured of an unforgettable time. Visit Safron Ikeja today and immerse yourself in the finest, budget-friendly dining experience that Ikeja GRA has to offer.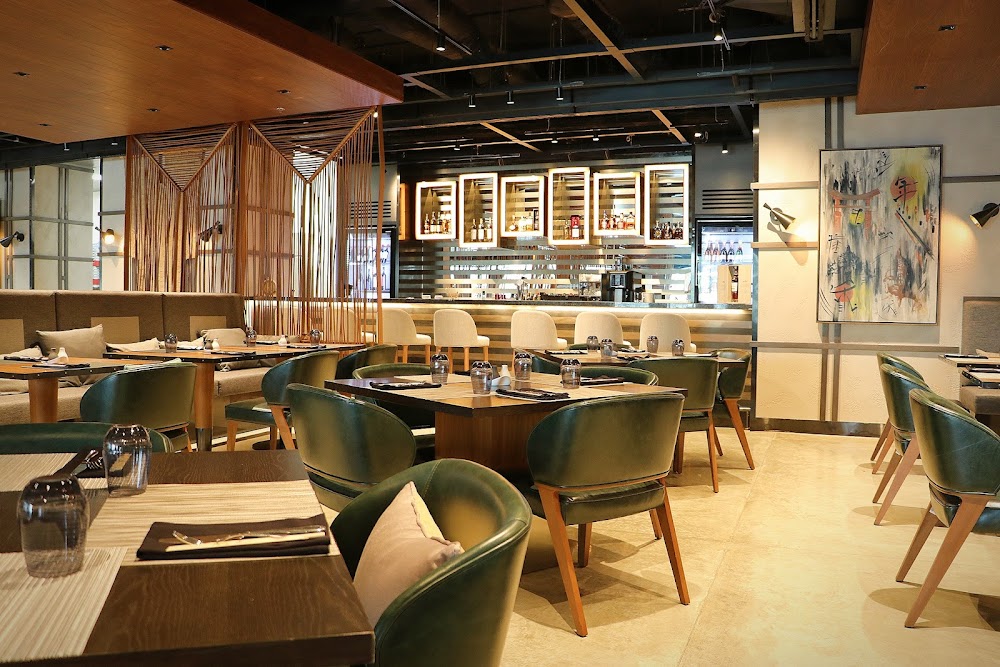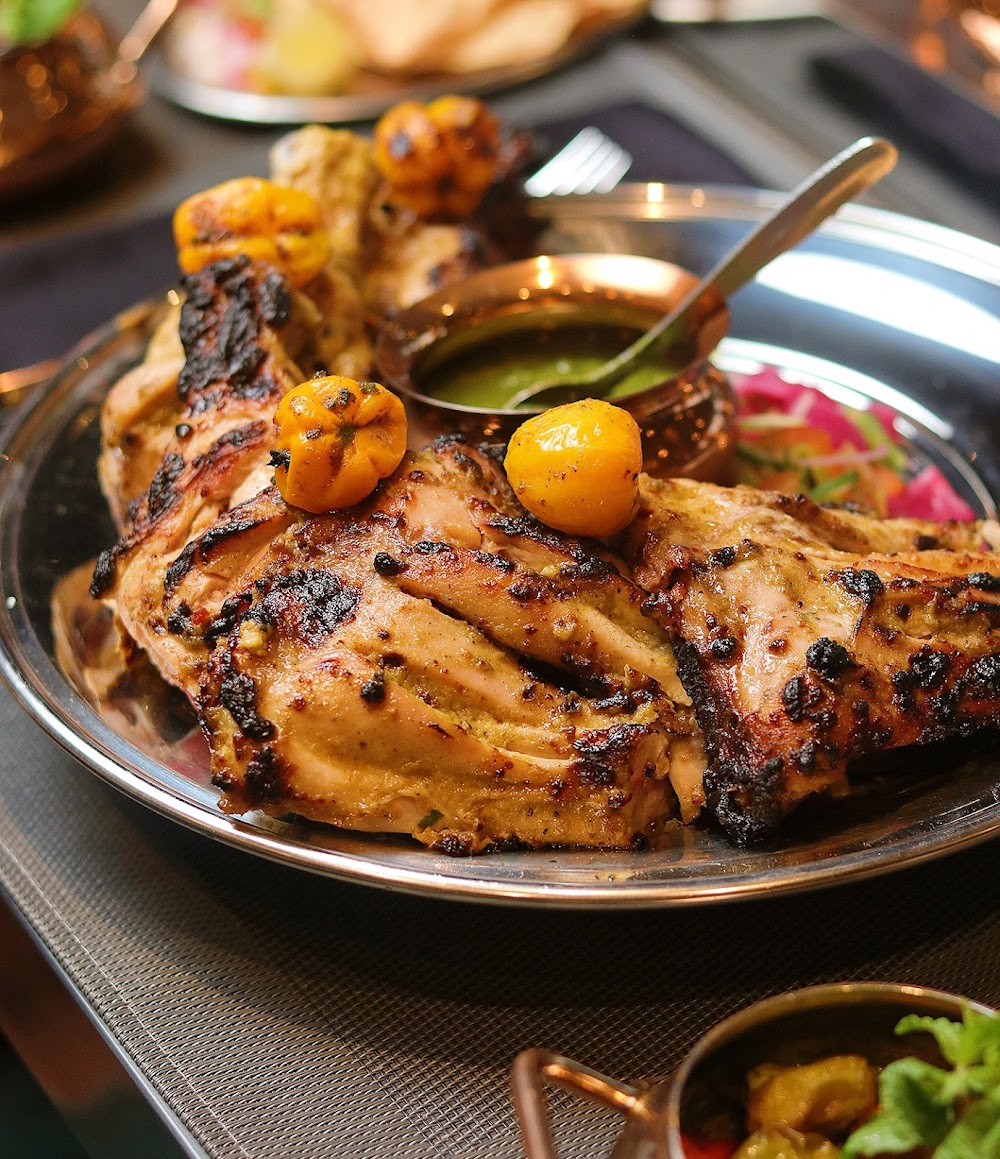 6. Wakame Asian Kitchen and Lounge
Wakame Asian Kitchen & Lounge, nestled in the heart of Ikeja, Nigeria, is a culinary gem that promises an exceptional and unforgettable dining adventure. Step inside, and you'll be immediately captivated by its contemporary and industrial decor, creating a captivating and welcoming ambiance that sets the stage for a memorable meal. What sets Wakame apart is its commitment to delivering not just food but a show. The open kitchen layout invites diners to witness the artistry of the chefs as they craft each dish, adding an interactive dimension to your dining experience. The menu, a carefully curated selection of traditional Asian delicacies, is designed to both tantalize and satisfy discerning palates. With a team of attentive and courteous wait staff, your comfort and satisfaction are their top priorities. Begin your culinary journey with tantalizing starters like Tempura Octopus or Tempura Prawns, or savor the delightful Pan Seared Gyoza. As you move on to the main course, you'll find it hard to resist temptations like the succulent Lamb Rogan Josh paired perfectly with Garlic Nan. Save room for dessert, as Wakame's Matcha Cake with Coconut Ice Cream is an absolute must-try, a symphony of flavors that will leave your taste buds dancing with delight. The beverage menu is equally enticing, featuring options like the Spicy Ginger and Vodka and a refreshing Coconut-based Mocktail to complement your meal. In summary, Wakame Asian Kitchen & Lounge is your gateway to an extraordinary dining experience characterized by delectable cuisine, a warm and inviting atmosphere, and a dedicated staff that ensures your every need is met. Whether you're sharing a meal with family, friends, or a special someone, Wakame guarantees an unforgettable dining adventure. To secure your spot and avoid disappointment, be sure to make a reservation before your visit. Your culinary journey awaits!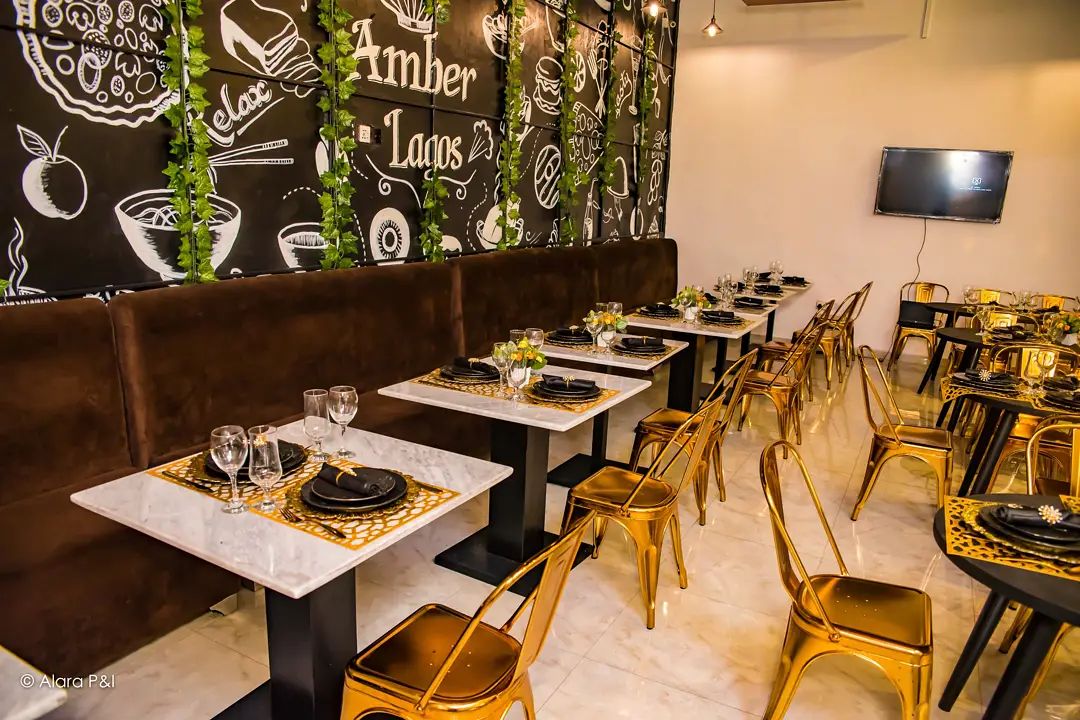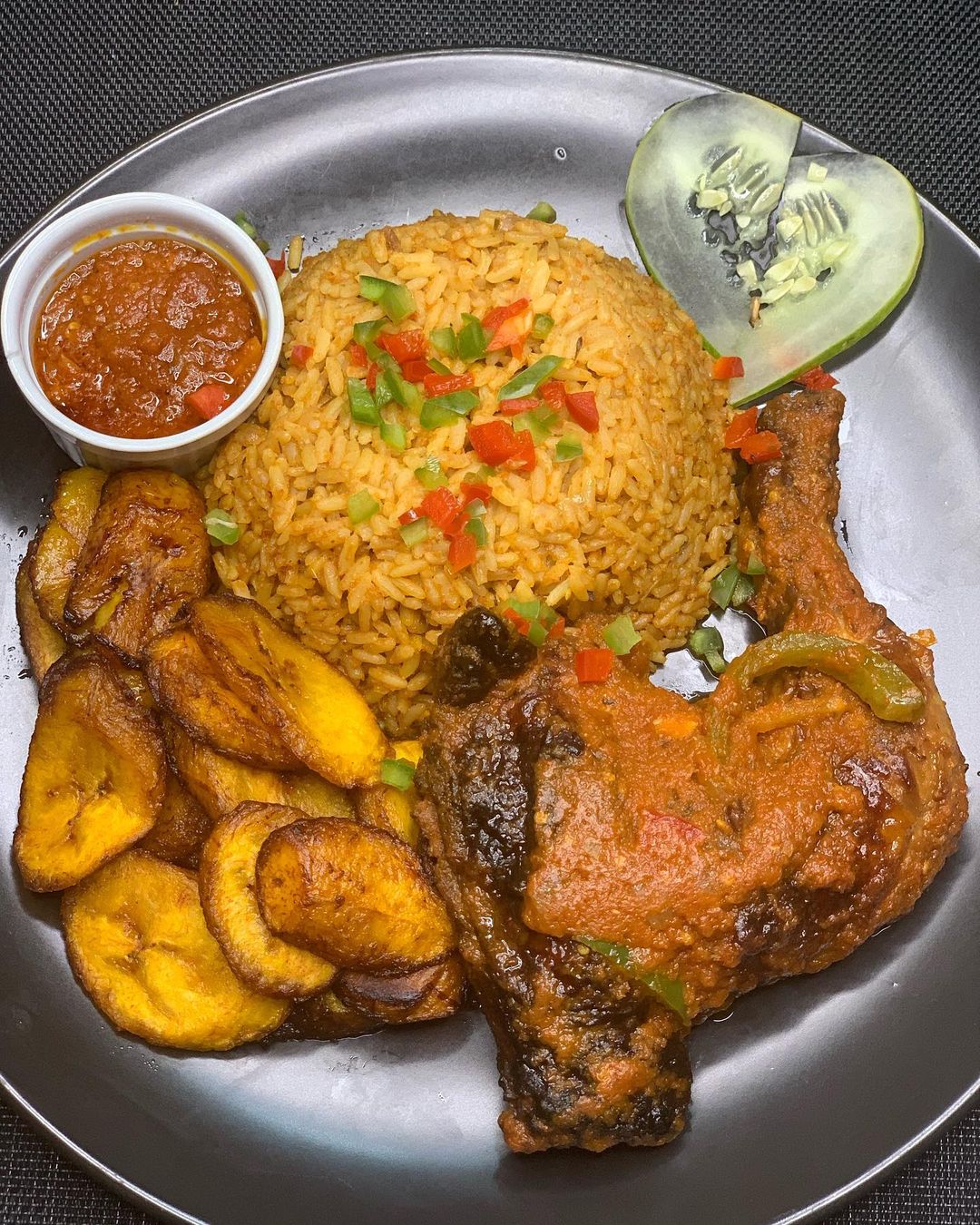 7. Amber Lagos
When seeking the ideal destination for an unforgettable evening, your search concludes at Amber Lagos. Nestled in the heart of Ikeja, this chic restaurant offers a captivating ambiance, setting the stage for a distinctive dining experience. The contemporary decor, bathed in soft, inviting lighting and complemented by creative sound design, sets the perfect mood. The friendly and attentive staff is dedicated to ensuring your every need is met, making your visit truly exceptional. The menu showcases a diverse range of delectable dishes, encompassing both timeless favorites and inventive, one-of-a-kind creations. This restaurant takes immense pride in utilizing only the freshest ingredients, guaranteeing that each bite is a lasting memory. Whether it's the creamy Cajun Pasta or the succulent Grilled Chilli Prawn, every dish is meticulously crafted to perfection. Moreover, the extensive drinks menu offers a variety of craft cocktails, wines, and beers to complement your dining experience. Amber Lagos promises an evening to remember, characterized by a relaxed and welcoming atmosphere and attentive, helpful staff. Whether you're seeking a romantic rendezvous for two or a night out with friends, our restaurant caters to all. And, when it comes to affordability, Amber Lagos offers exceptional value without compromising on quality. So, whether your cravings lean toward a delightful meal or a refreshing drink, Amber Lagos beckons as the perfect choice for an exquisite evening of culinary delight and relaxation.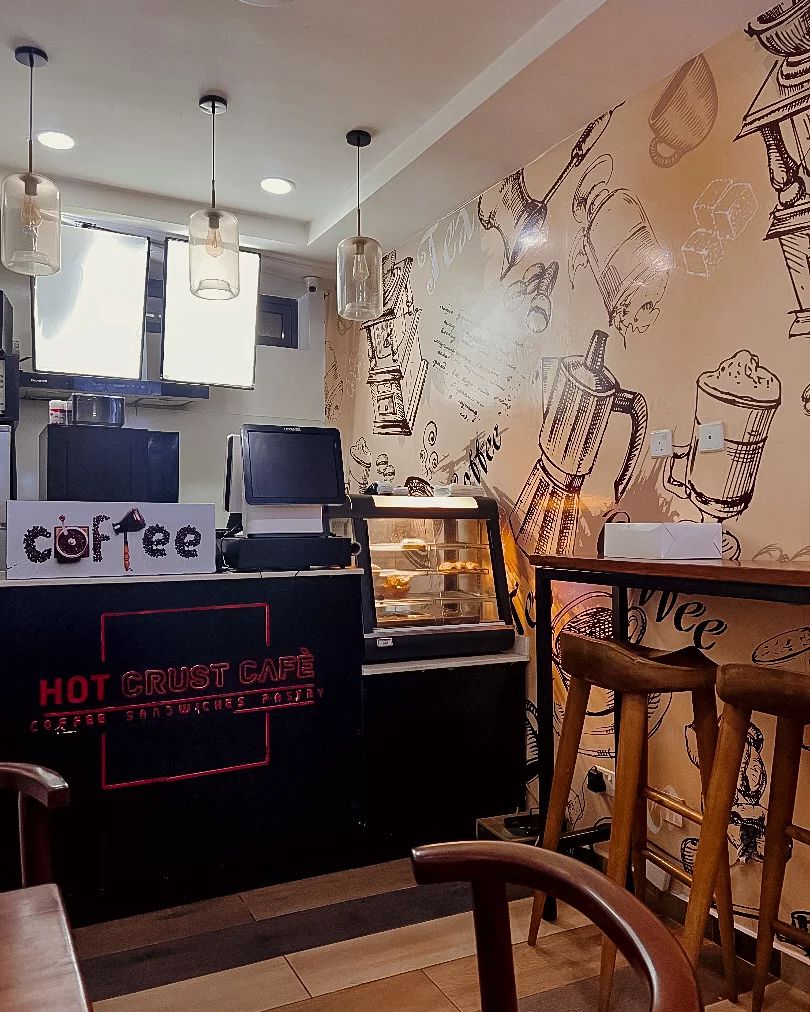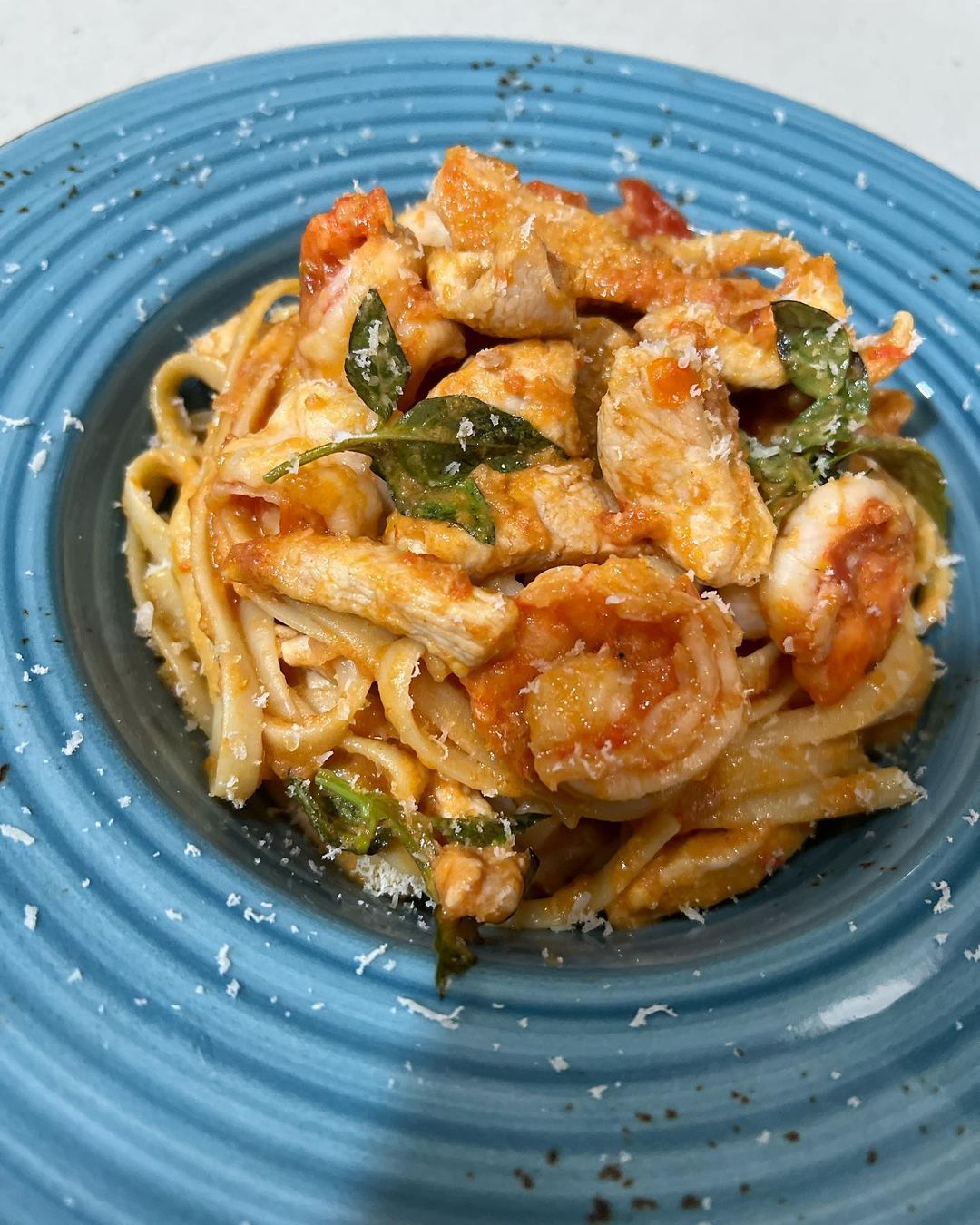 8. Hot Crust Cafe
Hot Crust Cafe, nestled in the heart of Ikeja, is more than just a dining spot; it's an invitation to an unforgettable culinary journey. This cozy cafe doesn't just offer a variety of delicious menu items; it crafts experiences in every dish served. Stepping into Hot Crust Cafe, you're greeted by more than a pleasant atmosphere – it's a warm embrace from the moment you enter. The staff here are more than just friendly; they're dedicated to providing exceptional customer service that will make you feel right at home.  At the helm of this culinary haven is a chef whose expertise knows no bounds. With knowledge and a passion for crafting memorable meals, they are always ready with helpful suggestions and recommendations. You're not just ordering a meal; you're embarking on a flavorful adventure. Hot Crust Cafe's menu is a testament to its commitment to satisfying your palate. From mouthwatering burgers to sumptuous seafood Alfredo fettuccine pasta, every dish is a masterpiece, cooked to perfection. Your visit here is guaranteed to leave you not only with a full stomach but also a wide grin. But there's more to Hot Crust Cafe than just fantastic food. If you're seeking a spot to indulge your taste buds while working on your laptop, this cafe offers the ideal setting. Though it may be small in size, it packs an abundance of culinary goodness, making it perfect for combining work and leisure. In terms of affordability, Hot Crust Cafe doesn't just deliver on taste; it's friendly on the wallet too. You can savor gourmet-quality meals without straining your budget. In conclusion, Hot Crust Cafe is more than just a place to dine; it's a place to savor life's culinary pleasures. With a welcoming staff, delectable dishes, a cozy ambiance, and budget-friendly options, it's a hidden gem waiting to exceed your expectations, whether you're seeking a quick bite or a leisurely meal. Come hungry, leave happy – that's the promise Hot Crust Cafe keeps.
Conclusion
In Ikeja, Lagos, a delightful culinary journey awaits those in search of both flavor and value. These 8 exceptional and affordable restaurants have proven that dining out doesn't have to break the bank. From local delicacies to international cuisines, they offer a diverse range of delectable options that cater to various tastes and budgets. Whether you're a resident or a visitor, these restaurants provide a fantastic opportunity to savor the rich and diverse flavors of Lagos without emptying your wallet. So, the next time you're in Ikeja and hunger strikes, rest assured that these budget-friendly dining establishments are ready to serve you delicious meals that won't compromise on quality or taste. Bon appétit!