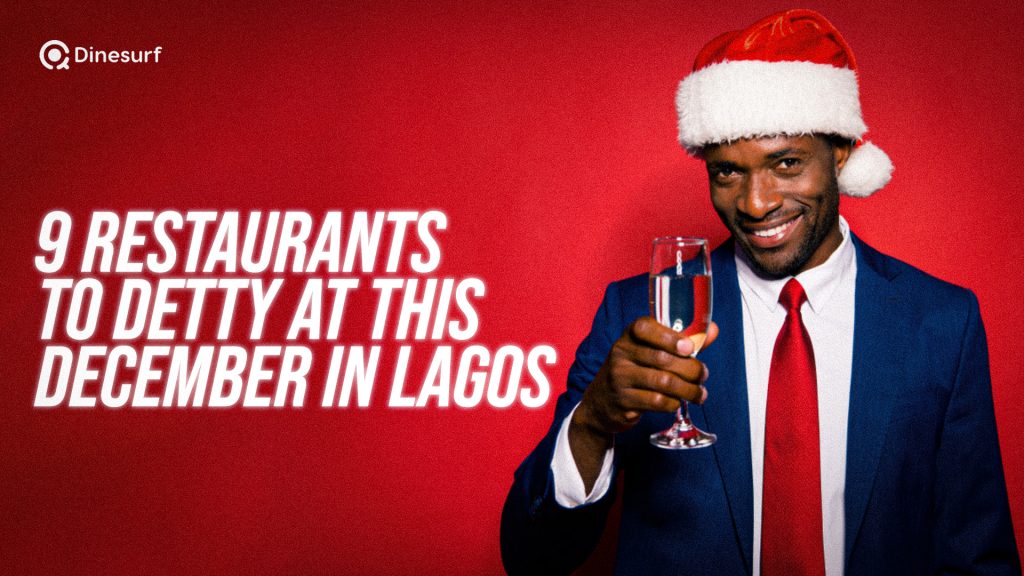 It's that time of the year again when everyone is in a festive mood and looking to explore new restaurants to try out. If you're looking for some places to check out this December, then look no further – we've got you covered. From international cuisine to local favorites, these are 9 restaurants you need to detty at this December in Lagos. Happy eating!
These restaurants in Lagos include:
1. Unusual Cuisine
Unusual Cuisine is an upscale restaurant in Lagos, steeped in the best traditional African and continental dishes, offering the finest of culinary and cuisine experience served in a serene ambience. Definitely 'go-to' choice when the desire is a total and wholesome food experience, and they also cater for individuals with special diet needs.
2. Pitstop
This is one restaurant that has made a name in such a short time. Pitstop is one of the top restaurants in Lagos and also Nigeria's first fitness and wellness-themed restaurant. It has a bike shop, hosts a spinning class and a community of cyclists. If you are someone that's on a strict diet or just looking for a healthier option, then this is the place for you.
3. Indigo Bar Restaurant and Suites
Indigo Bar Restaurant and Suites is located in the heart of Victoria Island, it is accessible, and they offer great dining and hotel experience. They also have a diverse menu that caters to Vegetarians and Non-vegetarians, and they offer Nigerian, Chinese, Continental and Indian Restaurant.
4. Sycamore by One Basket
This particular restaurant is still very new in Lagos and has already made a name for itself. Sycamore by One Basket is an African fusion restaurant that offers a wide range of African dishes (View their menu here). The beautiful ambiance and the excellent customer service are also some of the things that make this place great.
5. The Hangar Lagos
Another new restaurant in Lagos. This restaurant regards themselves as the Home of the BEST FRESHLY cooked Nigerian & International cuisine. The best spot for a sunday hangout with friends and family, The Hangar promises an unforgettable experience.
6. Sketch Restaurant Lagos
A 2D/3D restaurant located in Victoria Island, Lagos. The restaurant uses artistic tricks of illusion to give the appearance of a completely two-dimensional/three-dimensional ancient Egyptian-themed experience in real life. The cuisine is multifaceted and dynamic offering unique delicacies, burgers, pasta, coffee, and more. It has become one of Lagos's latest Instagram-able spots,and also a haven for delicious food, drinks, and banter with family and friends!
7. Turáká Lagos
Want to have a perfect view of Lagos while you dine? Then Turáká is the place for you. This restaurant is located on the rooftop of Ebony life Place in Victoria Island, and it offers a 360-degree view of Lagos. The menu is a fusion of local and international dishes including signature cocktails.
8. La Taverna Restaurant
This particular restaurant has been around for a while and is still one of the best places to eat in Lagos. It's a restaurant that offers a selection of Spanish & Italian dishes with a dash of Latino-Americano and serves both vegan and non-vegan dishes, so there's something for everyone. The ambiance is really cozy and perfect for a romantic dinner or a night out with friends.
9. The Artisan
A High-End lounge bar in the heart of Victoria Island, Lagos Nigeria. Consisting of an indoor air-conditioned bar and an outdoor garden bar, coffee shop, private dining, open air event space, daytime salad bar and grill. The Artisan is perfect for any type of event or celebration. They have a wide range of food and drink menu which makes it one of the best places to Detty in Lagos this December.
And those are our 9 restaurants to detty at this December in Lagos. We hope you have an amazing time and get to try out all these awesome places. If you know of any other great places, make sure to leave them down in the comments below so that everyone can check them out. Until next time, happy eating!
All these restaurants mentioned here are listed on TripAdvisor and you can also make a reservation to any of them on the Dinesurf platform here.
YOU MAY LIKE THIS