Embark on a flavorful journey through the vibrant streets of Lagos as we unveil the definitive guide to the "Best 9 Authentic Indian Restaurants" in the city. In this culinary odyssey, we will explore the diverse and delectable world of Indian cuisine, where every dish is a harmonious symphony of spices, flavors, and traditions. Whether you're a seasoned enthusiast of Indian delicacies or a curious foodie eager to indulge your taste buds, these top-notch eateries in Lagos promise an unforgettable gastronomic experience that will transport you to the heart of India. Join us on this epicurean adventure as we discover the culinary gems that make Lagos a hub for authentic Indian dining.
9 Indian Restaurants in Lagos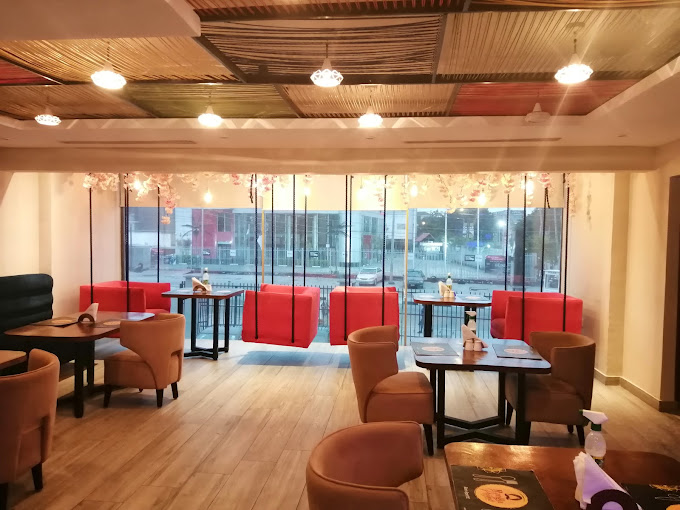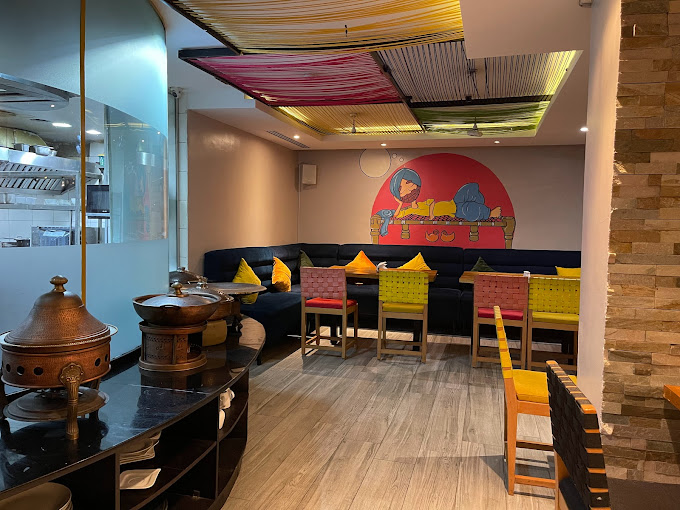 1. Rangla Punjab
Situated in Lagos, Nigeria, Rangla Punjab is a vibrant Indian restaurant that pays homage to the rich flavors and cultural heritage of Punjab. It promises a mouthwatering adventure for your palate, presenting a diverse selection of dishes that will transport you into the colorful world of Indian cuisine. The moment you step inside, you'll be greeted by a warm and inviting atmosphere adorned with lavish decor and lively artwork that sets the stage for an unforgettable dining experience. Rangla Punjab's menu is a treasure trove of traditional Indian delights, encompassing a wide array of choices, from spicy curries and sizzling tandoori dishes to milder yet equally enticing vegetarian options. Complementing these main courses are a range of freshly baked breads and tempting appetizers. This restaurant offers a relaxed dining experience, catering to both intimate gatherings and larger groups with ample seating. Live music fills the air, and the well-stocked bar features an impressive selection of local and international beers, wines, and spirits. A cozy outdoor patio is also available, creating the perfect setting for al fresco dining. Whether you're seeking a romantic dinner for two or a joyous gathering with family and friends, Rangla Punjab is the ultimate destination for an authentic Indian feast. Immerse yourself in a symphony of flavors within a warm and inviting setting that will make you feel right at home.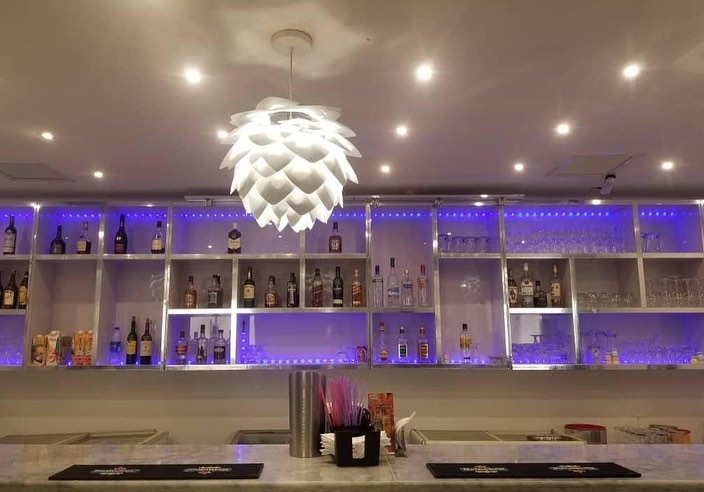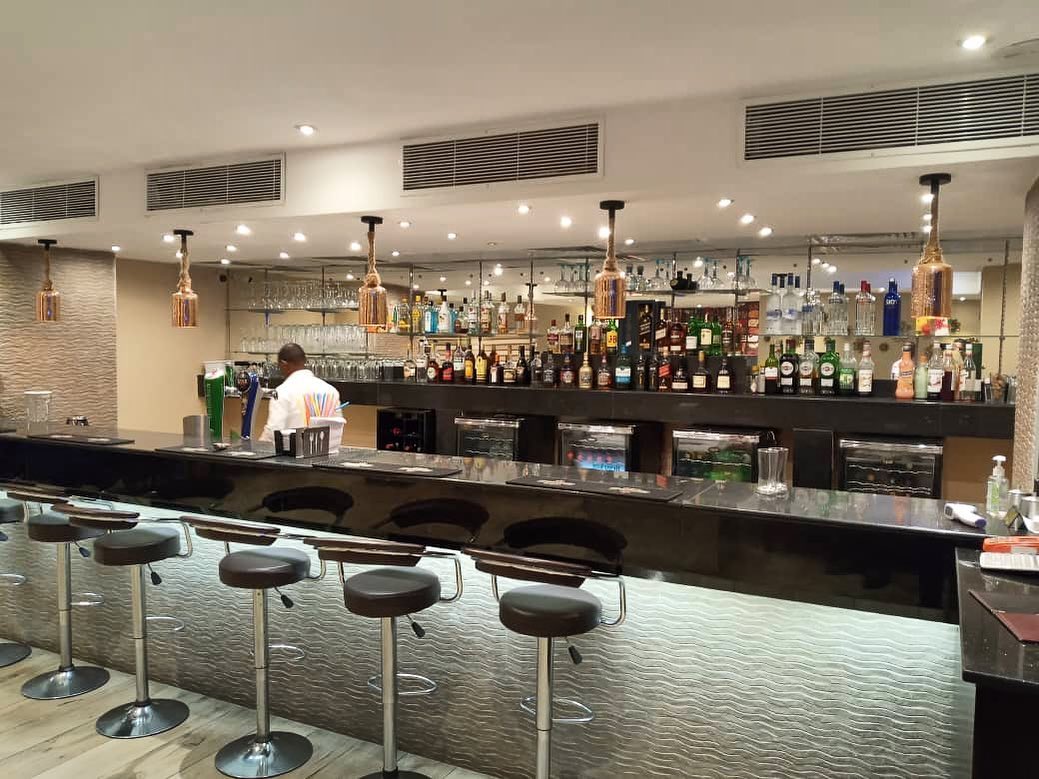 2. Sherlaton Restaurant
Located at the very heart of Lagos, Nigeria, Sherlaton Restaurant is a distinguished dining establishment that offers an extraordinary culinary experience. This restaurant is dedicated to the art of Indian cuisine, presenting a diverse array of dishes prepared with locally sourced, fresh ingredients. From traditional favorites like curries and tandoori specialties to inventive fusion creations, Sherlaton Restaurant caters to a wide range of tastes. The restaurant's skilled chefs are passionate about crafting innovative and flavorful dishes that promise to delight the most discerning palates, inviting patrons to explore the intricate flavors of Indian cuisine. Sherlaton Restaurant provides an inviting ambiance, ensuring that all guests feel at home. With contemporary decor and a warm atmosphere, the restaurant sets the stage for a delightful fine dining experience. The menu features an array of options, including tempting vegetarian and vegan dishes, complemented by a thoughtfully curated selection of wines and craft beers. For those who prefer to enjoy their meals at home, the restaurant offers a comprehensive catering service. At Sherlaton Restaurant, each dish is meticulously prepared to perfection, showcasing the freshness and quality of its ingredients. The experienced chefs take great pride in their culinary innovations, ensuring a memorable dining experience, no matter your preferences. Sherlaton Restaurant is committed to delivering an unforgettable culinary journey that will leave a lasting impression.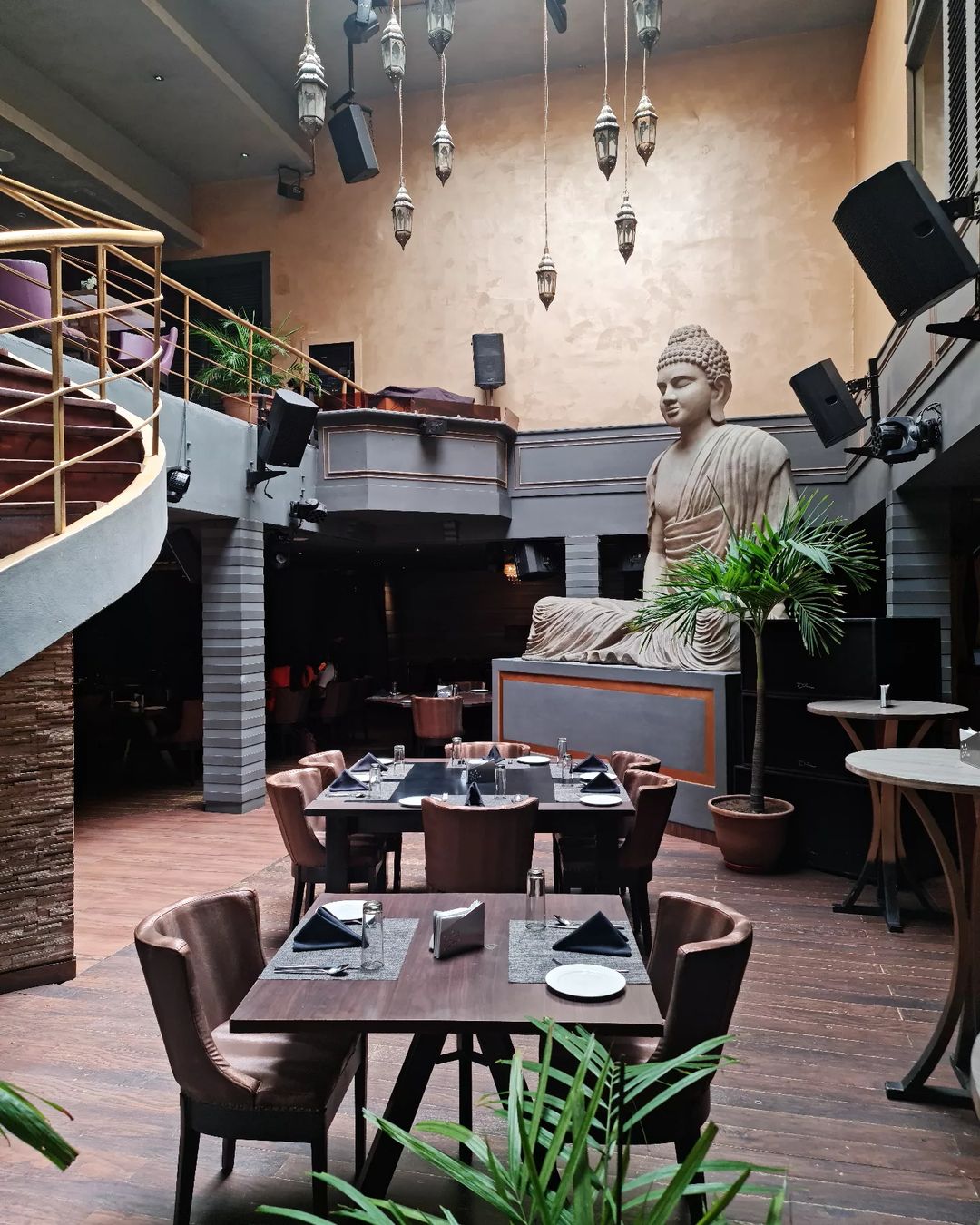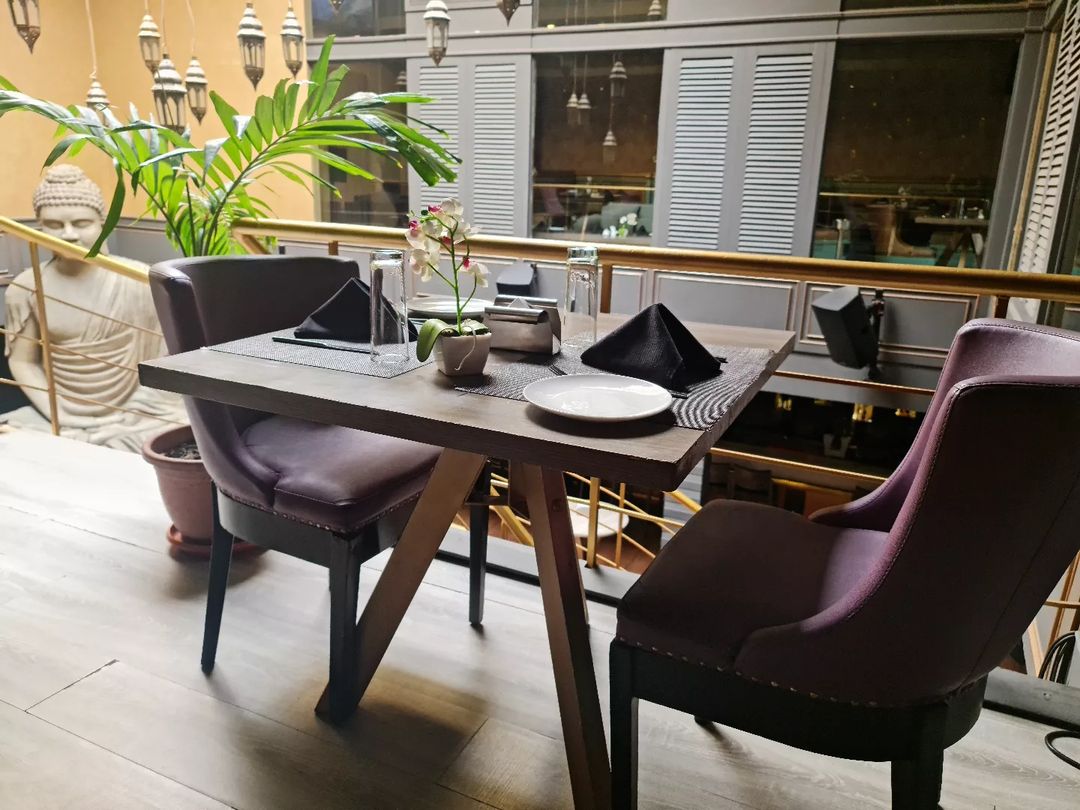 3. Spice Route
Extend a warm welcome to the captivating Spice Route, an opulent Indian culinary voyage nestled in the heart of VI, Lagos. Allow yourself to be transported to the far-flung corners of the Orient as we entice your senses with Chef's Special Signature Dishes, meticulously crafted with the freshest ingredients sourced locally. Immerse yourself in a vibrant Asian Restaurant adventure, where the richness of Asian culture unfurls before you, from the grandeur of Asia to the exotic landscapes of Southeast Asia. Within the resplendent ambiance of Spice Route, where attentive service harmonizes with stunning decor, you're cordially invited to partake in an experience of unrivaled dining, destined to etch itself indelibly in your memory, enriching your culinary journey for years to come.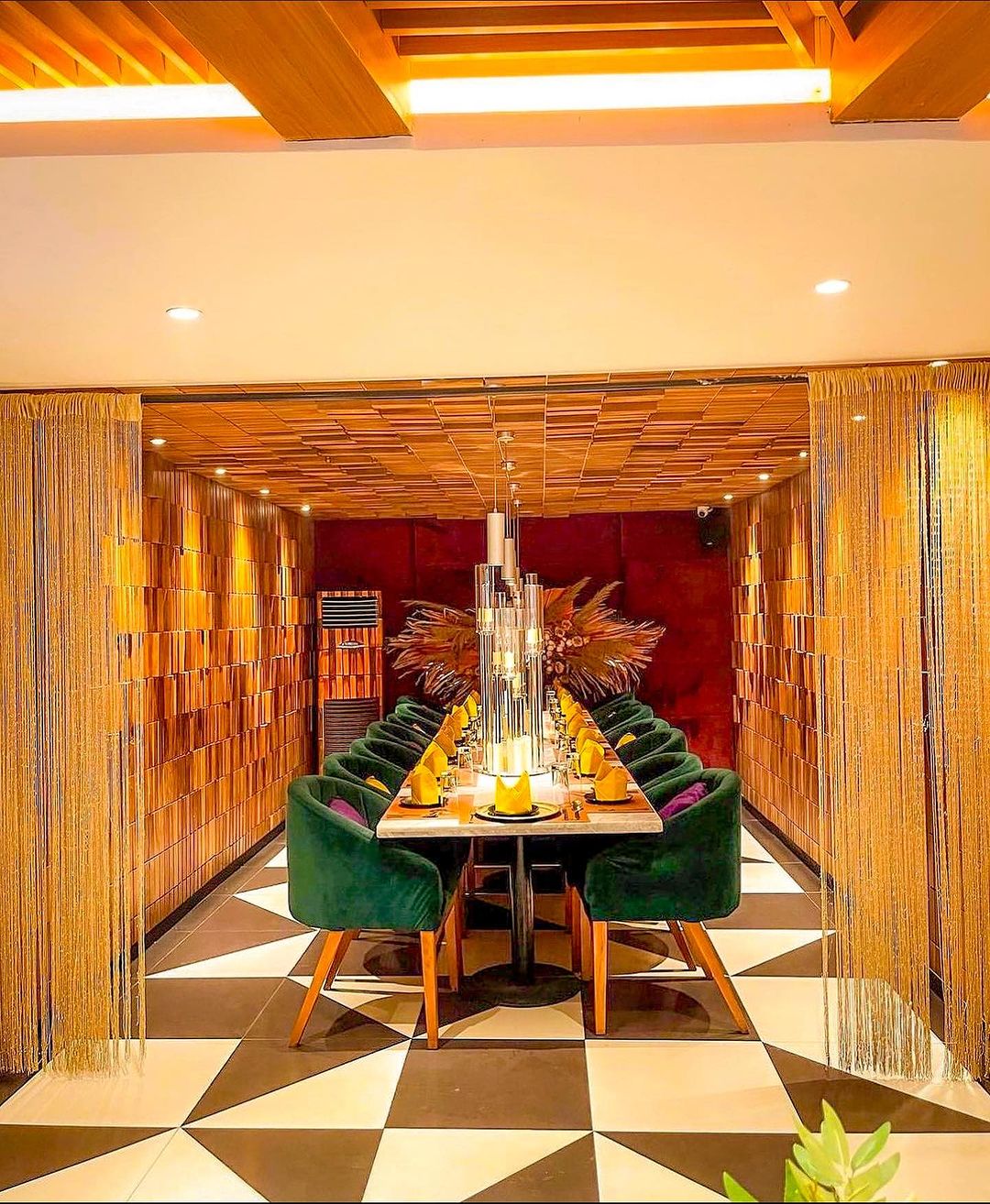 4. 343 Degrees North
Embark on an extraordinary voyage that fuses the essence of authentic Indian cuisine with the artistry of culinary innovation, uniting people from diverse backgrounds in a celebration of culture and gastronomy within a gracefully chic setting. At its heart, 343° North beckons you to explore modern Indian fare that, while staying true to its roots, presents a departure from tradition. This culinary journey unfolds through a menu that artfully combines creations from three distinctive kitchens: the Indian Haute Kitchen, the Tandoor Grill, and the Indo-Chinese Fare. 343° North also extends an array of unique spaces, each perfect for hosting an array of events. Our enchanting private dining room, the rooftop lounge, and the terrace area provide ideal settings for corporate gatherings, social luncheons, brunches, cocktail receptions, or dinners. Whether for business or pleasure, 343° North promises a remarkable dining experience coupled with versatile spaces to create unforgettable moments.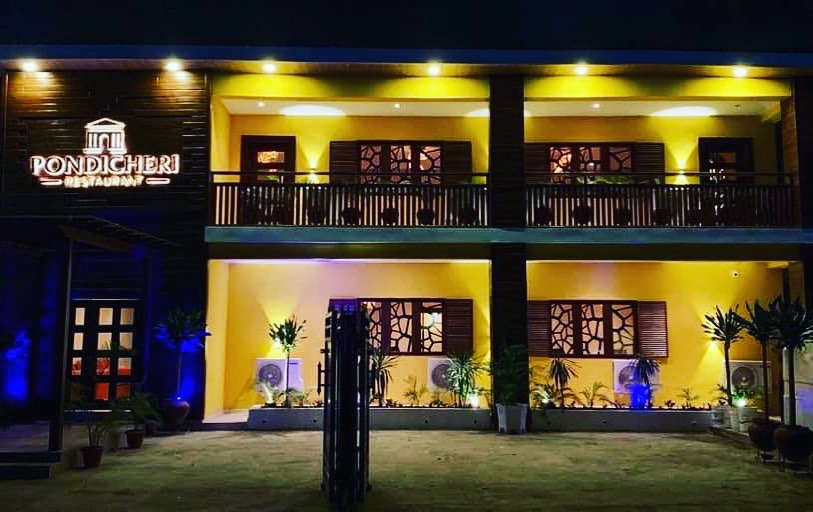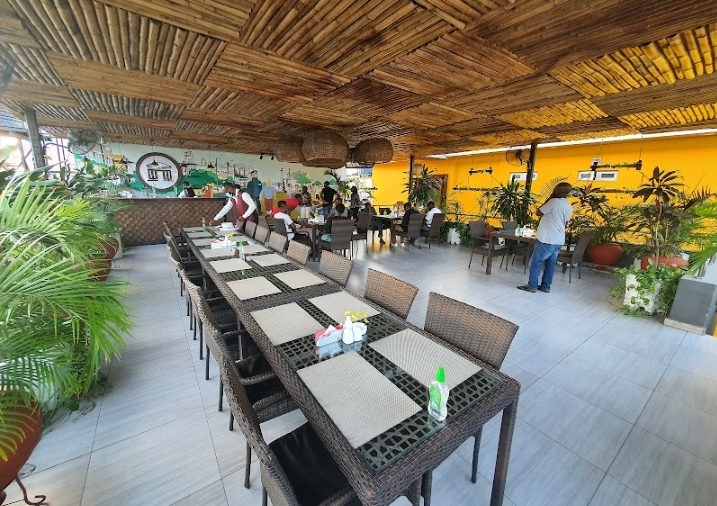 5. Pondicheri Restaurant
Step into the welcoming embrace of Pondicheri Restaurant, an Indian culinary gem nestled in the vibrant heart of Lagos. Whether you're seeking a relaxed meal with friends or a romantic dinner, Pondicheri caters to every need. The restaurant boasts an inviting outdoor seating area, perfect for savoring a meal with loved ones on a balmy summer's day. For those desiring a more intimate dining experience, a cozy patio with comfortable seating is offered. Pondicheri maintains a casual dress code, making it an ideal choice for business meals. At Pondicheri, the commitment is to craft a unique and memorable dining experience for each and every guest. Accomplished chefs wield the freshest ingredients to conjure delectable Indian dishes that will tantalize taste buds. The aim is to ensure that every moment from the instant guests step through the doors is unforgettable. Dine at Pondicheri, where global flavors and warm hospitality await, and be part of an experience that transcends ordinary dining.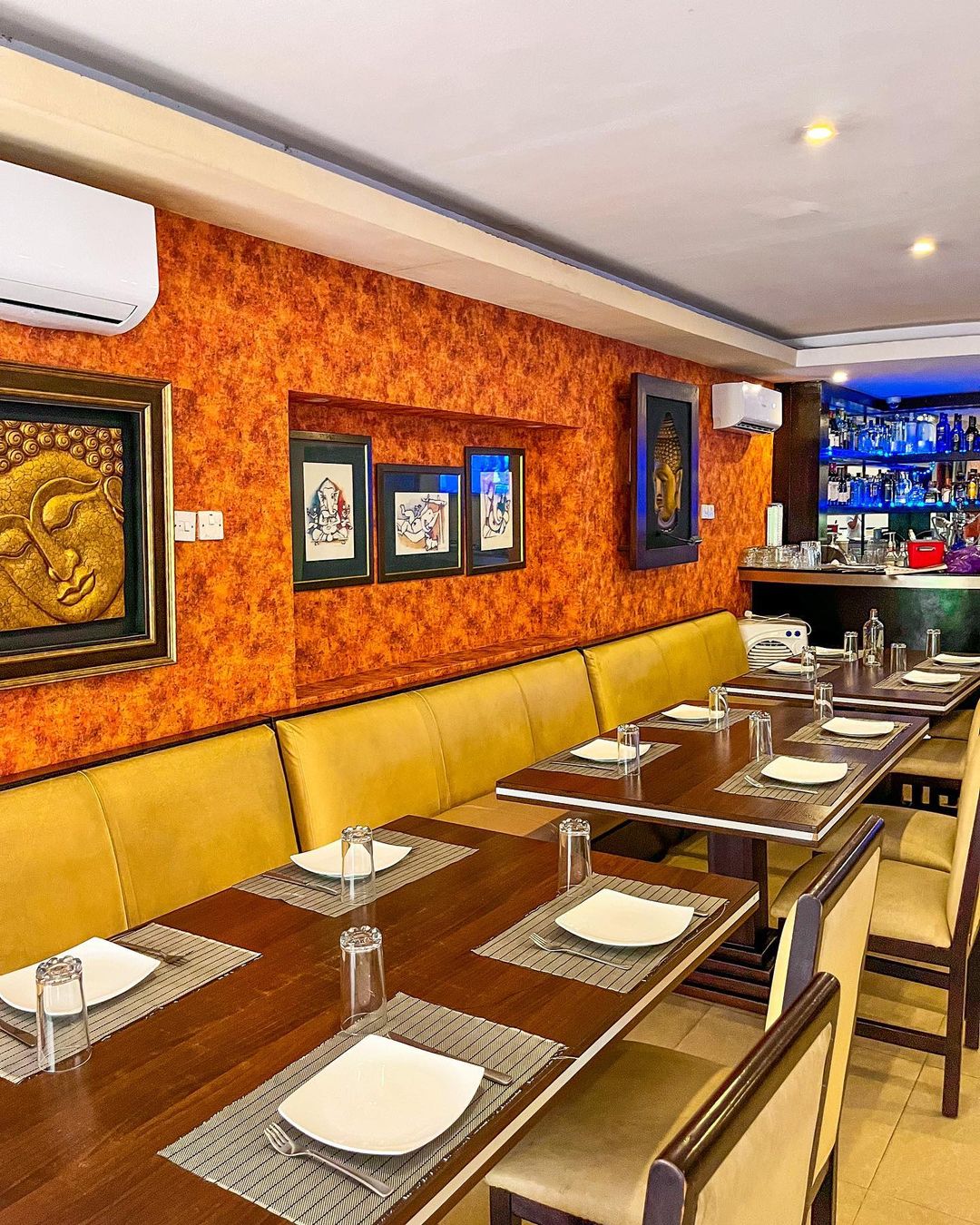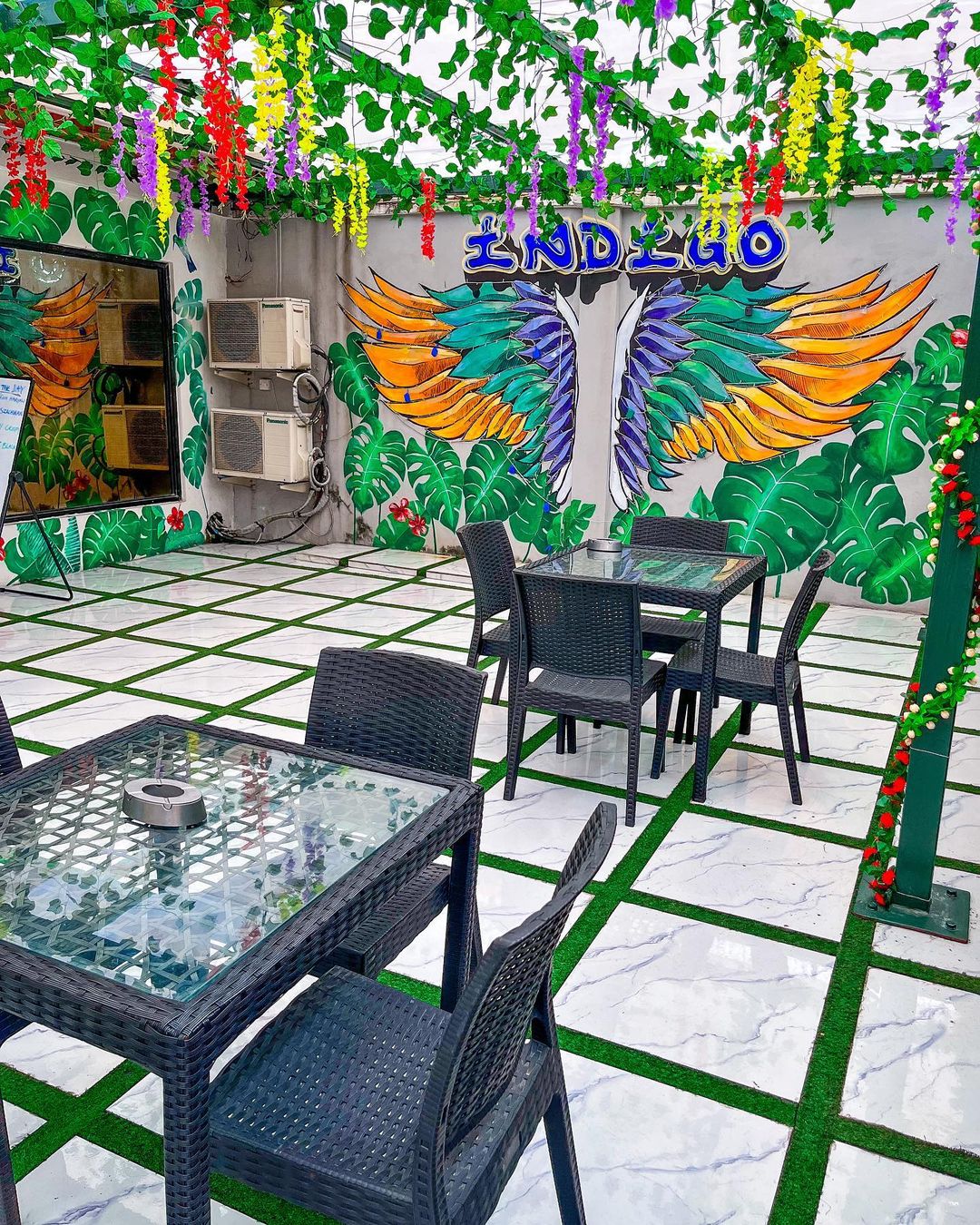 6. Indigo Bar Restaurant and Suites
Discover Indigo Bar Restaurant and Suites, situated in the heart of Victoria Island, Lagos. This establishment proudly presents a delightful fusion of Nigerian, Indian, Chinese, Continental, and Sri Lankan cuisines, offering both Vegetarian and Non-Vegetarian options to cater to a wide range of tastes. They take pride in the open bar, where expertly crafted cocktails and libations await to elevate your dining experience. Additionally, they also offer world-class, well-appointed rooms, providing a tranquil retreat for guests and travelers seeking relaxation and comfort. At Indigo Bar Restaurant and Suites, you are invited to embark on a captivating cross-cultural culinary journey, exploring a diverse menu that celebrates the vibrant tapestry of flavors from around the world. They are ready and eager to serve you, ensuring a memorable dining experience that transcends borders. Join them today and savor the essence of global tastes at Indigo Bar Restaurant and Suites, where an amazing cocktail bar further enhances your dining adventure.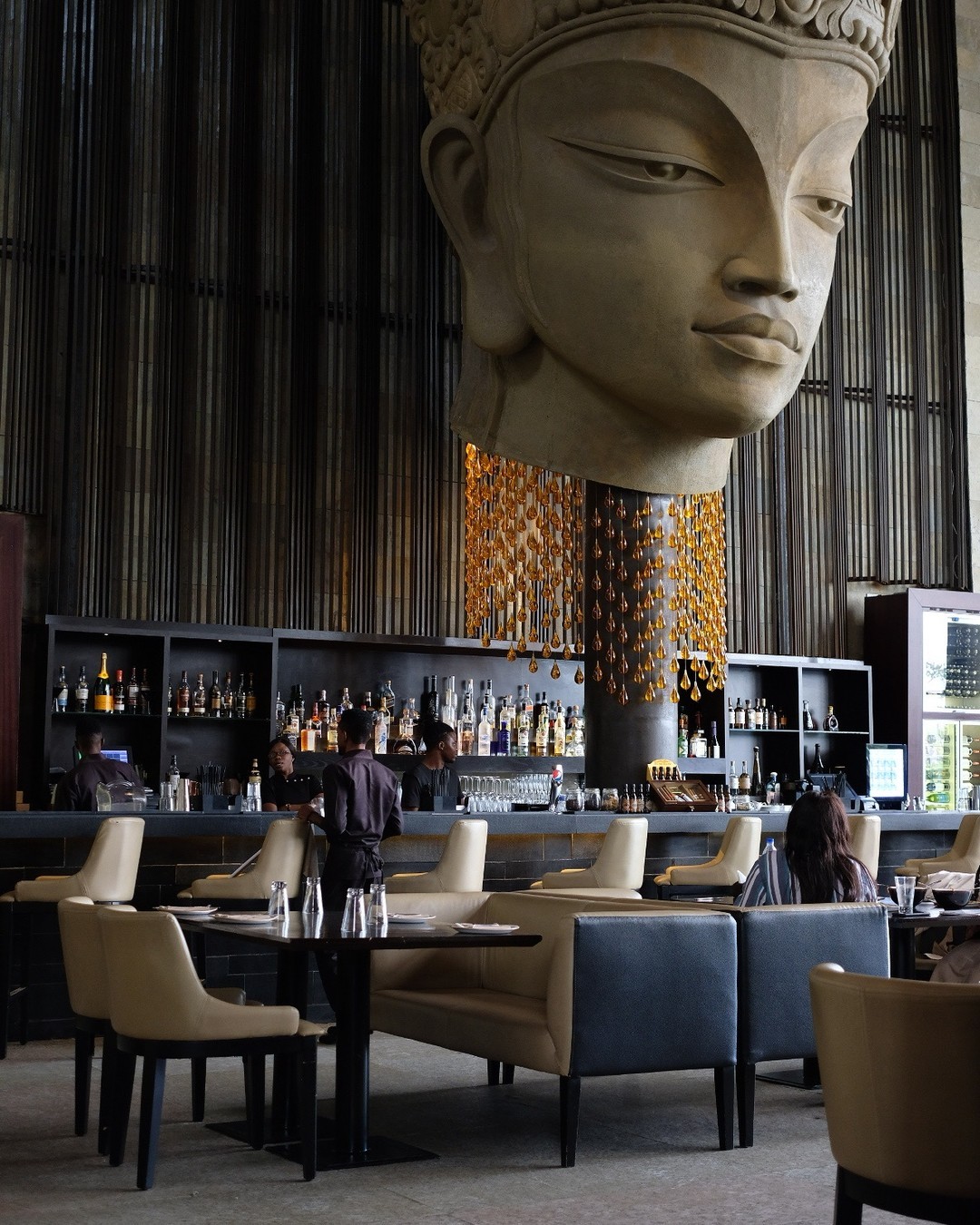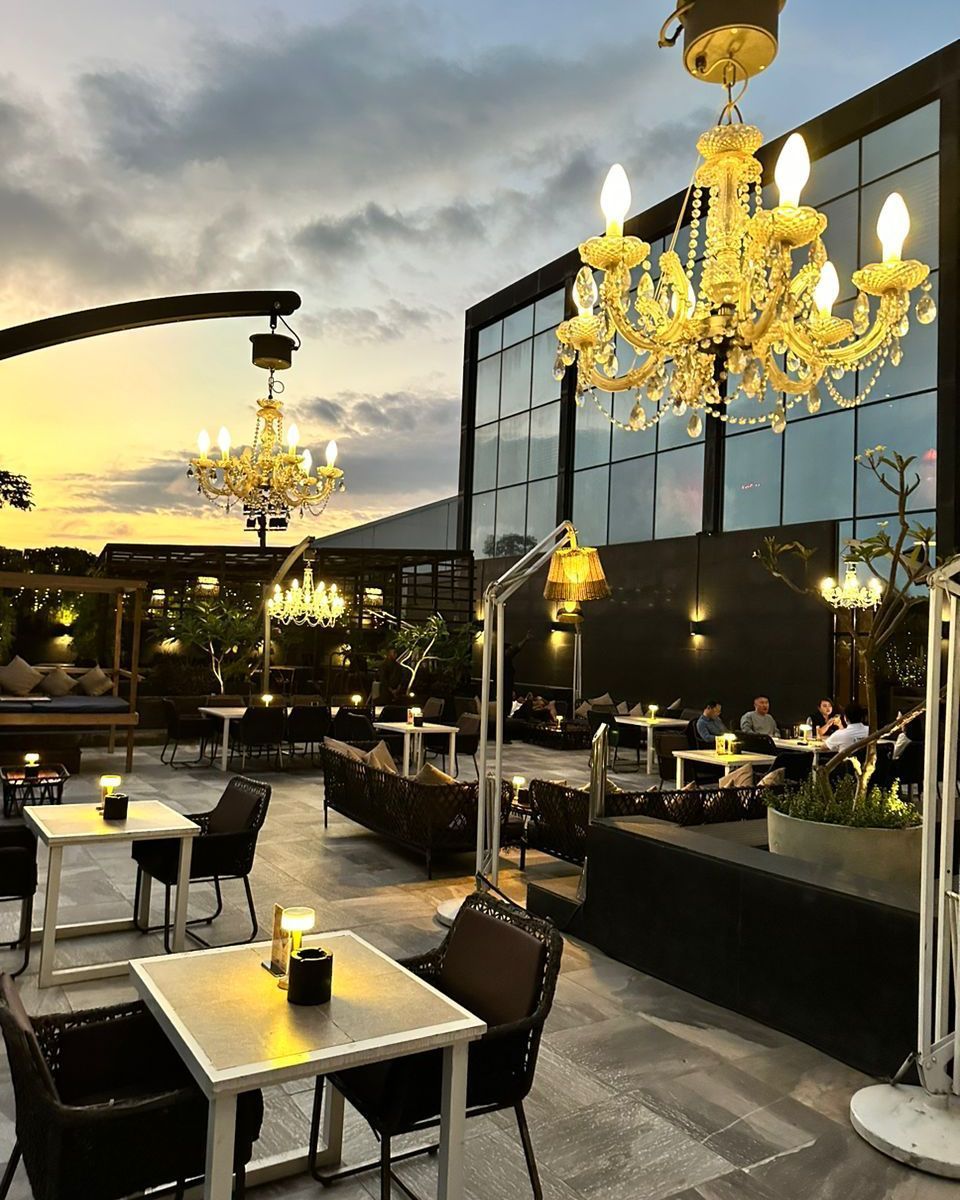 7. Shiro Lagos
Shiro Lagos, situated in the heart of Lagos, is an exceptional restaurant that promises an unparalleled dining journey. The restaurant's ambiance exudes warmth and comfort, featuring lofty ceilings and a dedicated teppanyaki space. The staff's remarkable friendliness and attentiveness ensure that each guest enjoys a memorable evening. The menu at Shiro Lagos is expansive and diverse, offering a wide array of dishes that cater to various tastes, including succulent steaks and enticing options for both vegetarians and those seeking gluten-free selections. Every dish is expertly prepared to perfection, tantalizing the taste buds, with the side dishes deserving special mention. The drink selection is equally impressive, with an extensive offering of wines and cocktails to satisfy every palate. While the dessert menu may be compact, the chocolate lava cake is a sweet indulgence that will undoubtedly satiate your cravings. In sum, Shiro Lagos is the perfect destination for a delightful evening out with friends. It not only offers delectable cuisine but also extends a warm and accommodating staff. Whether you're seeking a romantic dinner for two or a lively night out with friends, Shiro Lagos ensures a truly unforgettable experience.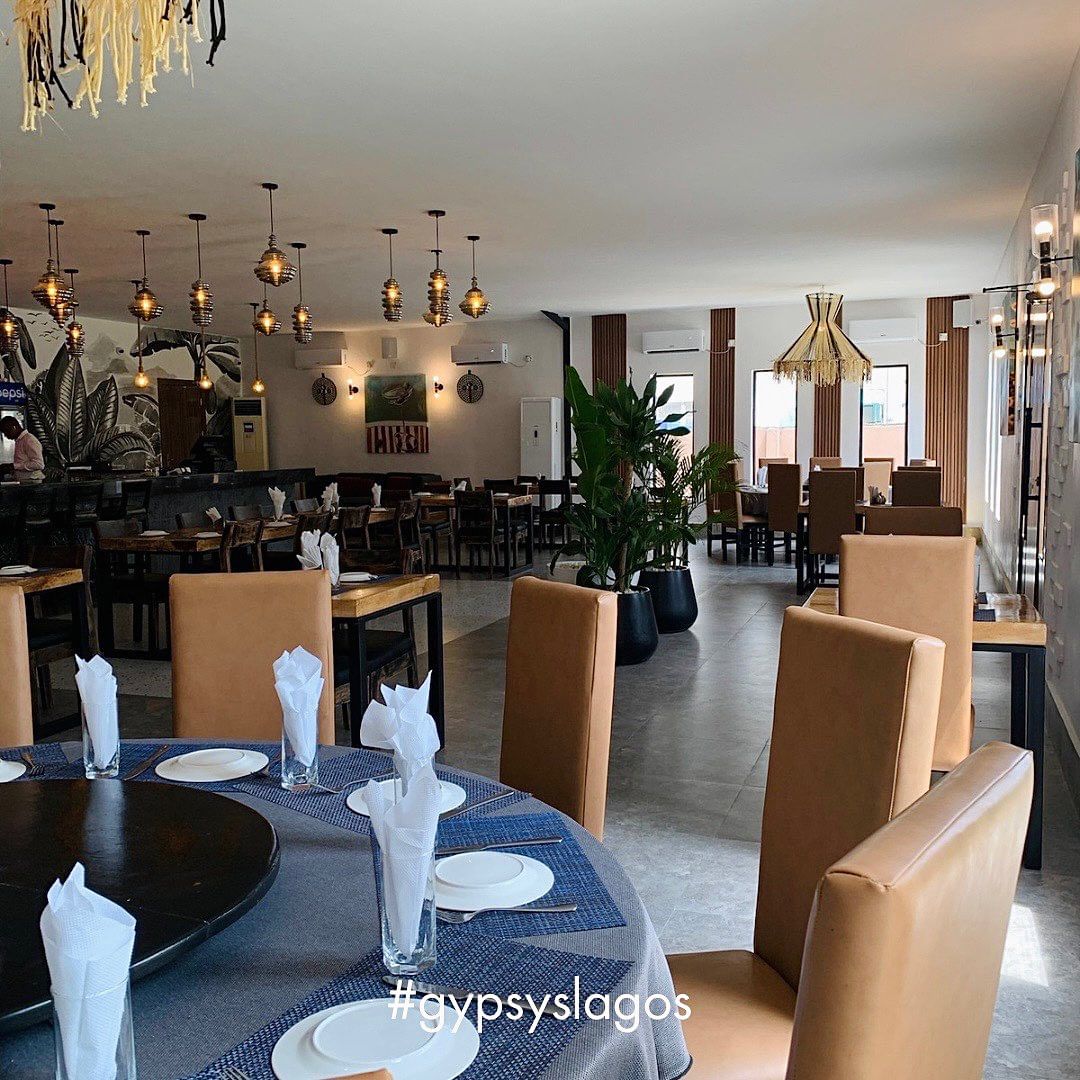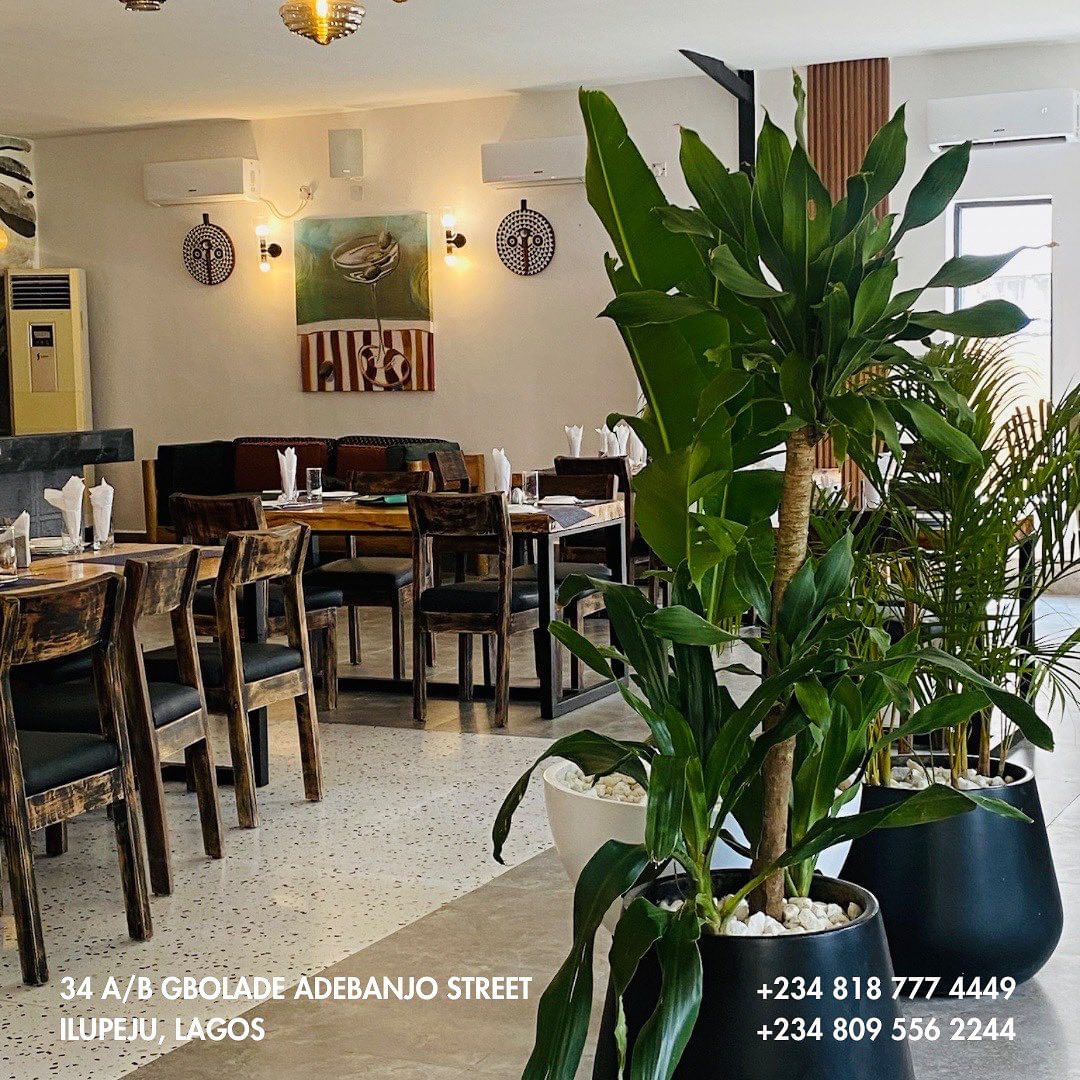 8. Gypsy's Restaurant & Bar
Step into the inviting realm of Gypsy's Restaurant & Bar, gracefully nestled in the vibrant heart of Lagos. An enticing culinary journey awaits you, featuring a rich tapestry of cuisines from around the world, including Indian, Nigerian, and Chinese. The menu becomes your portal to a world of flavors, allowing you to explore the diverse culinary traditions of these three distinct cultures. At Gypsy's Restaurant & Bar, hospitality transcends borders. Whether seeking a romantic evening, a business meal, a special occasion, or a casual gathering with family and friends, our establishment caters to a spectrum of dining needs. The fine dining ambiance sets the stage for memorable moments, while our casual setting provides the ideal backdrop for relaxed family gatherings and nights out with friends. For the corporate world, we offer business meals tailored to meet corporate dining requirements. The staff, epitomizing friendliness and attentiveness, ensures that each guest departs with indelible memories. Behind the scenes, passionate chefs labor meticulously to create the perfect dish for each customer, utilizing only the freshest, premium ingredients. The opportunity to welcome you to Gypsy's Restaurant & Bar is eagerly anticipated, promising to provide a truly unforgettable and flavorful experience that will linger long after your visit.
9. Samudra Lagos
Nestled in Lagos, Nigeria, Samudra Lagos is a dining establishment that graces guests with a picturesque view of the beach from its rooftop seating area. This restaurant boasts an extensive menu, encompassing a spectrum of culinary offerings, ranging from traditional Indian dishes to modern international delights. The restaurant has earned accolades for its bold and flavorful cuisine, as well as its accommodating ordering system, which permits a delightful fusion of dishes from around the world. The ambiance at Samudra Lagos is one of relaxation and warmth, with a gentle breeze from the nearby beach and comfortable seating, creating an inviting space for memorable conversations. Samudra Lagos consistently delivers delicious food, offering a wide array of choices. The menu includes classic Indian fare like tandoori chicken and masala dosa, as well as contemporary creations such as chicken tikka masala and prawn vindaloo. For an exceptional dining experience, patrons can opt for the rooftop seating, providing not only a stunning beach view but also a more intimate setting. Adding to its allure, Samudra Lagos offers great value for your dining investment. Despite the inclusion of Value-Added Tax and service charges, the pricing remains reasonable. In summary, Samudra Lagos beckons those seeking a distinctive dining adventure in Lagos. With its diverse menu, comfortable ambiance, and breathtaking beach view, it stands as an ideal destination for outings with friends and family, promising an unforgettable dining experience that lingers in your memory.
Conclusion
In the vibrant culinary landscape of Lagos, these nine authentic Indian restaurants truly stand out as hidden gems for those seeking a taste of India. From the aromatic curries to the delectable tandoori dishes, these establishments have successfully transported the rich flavors and traditions of India to the heart of Lagos. Each restaurant offers a unique dining experience, blending the essence of Indian culture with the spirit of Lagos. Whether you're a connoisseur of Indian cuisine or simply looking to embark on a flavorful journey, these restaurants promise a memorable and satisfying experience that will leave your taste buds craving for more. So, don't miss the opportunity to savor the best of Indian cuisine in Lagos; these restaurants are sure to delight and inspire food enthusiasts of all backgrounds.
Spice up your life and savor the flavor at these 9 Authentic Indian Restaurants in Lagos – where every bite is a passport to paradise!
YOU MAY LIKE THIS