Discover a realm of culinary excellence as we unveil the most distinguished dining destinations in Ghana. In this curated list of the 'Best 7 Fine Dining Restaurants in Ghana that Shine,' we invite you to embark on an exquisite journey through the country's thriving gastronomic scene. These exceptional establishments have earned their place through a combination of culinary artistry, sumptuous flavors, and unparalleled hospitality. Each restaurant on this exclusive list promises an unforgettable dining experience, setting new standards for fine dining in the heart of West Africa. Whether you're a connoisseur seeking a new adventure or a lover of gourmet delights, these restaurants are destined to leave an indelible impression on your taste buds and your soul.
7 Fine Dining Restaurants in Ghana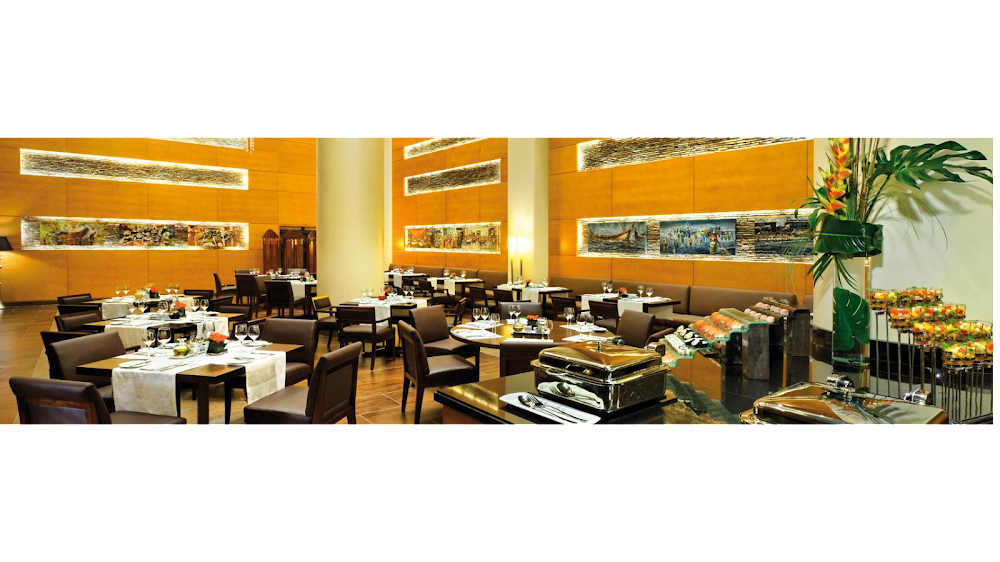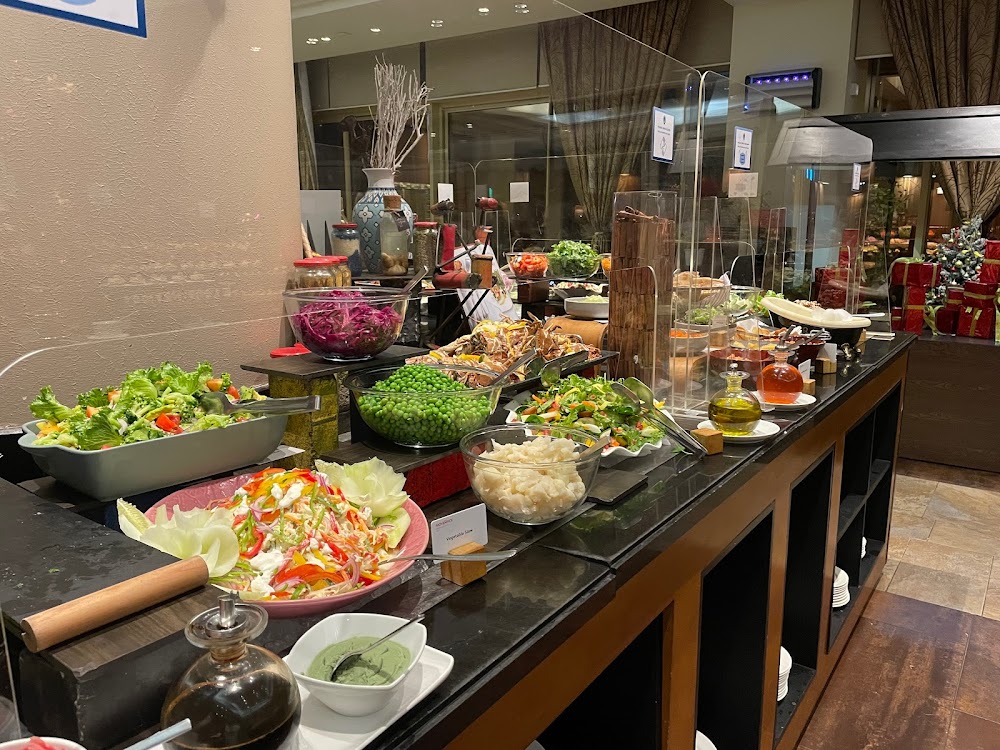 1. Sankofa Restaurant
Welcome to Sankofa, where a unique blend of African, Chinese, Indian, Mediterranean, and European cuisines graces the tables of Accra. Sankofa stands as an ideal culinary destination, offering not only delectable dining but also an evening of entertainment. The menu at Sankofa boasts a rich tapestry of traditional West African flavors, all crafted from fresh, meticulously selected ingredients and an exquisite blend of spices. Guests can savor Indian classics like chicken tikka masala, indulge in Chinese delicacies such as dumplings, and relish Mediterranean favorites like succulent kebabs. With a diverse array of offerings, the menu promises to cater to every palate. In addition to sumptuous fare, the restaurant hosts live musical performances, creating an enchanting ambiance for your dining experience. From local talents to internationally renowned artists, live music elevates your evening. For those seeking a special occasion, the ever-evolving buffet showcases an array of delectable dishes and flavors. At Sankofa, fine dining is redefined in a relaxed setting, where attentive staff ensures a delightful experience. Party reservations, accommodating groups of any size, are available. Join us at Sankofa for a delightful meal and an evening of entertainment. Whether it's a romantic rendezvous, a night out with friends, or a special celebration, there's something here for everyone. Anticipate the pleasure of being served soon!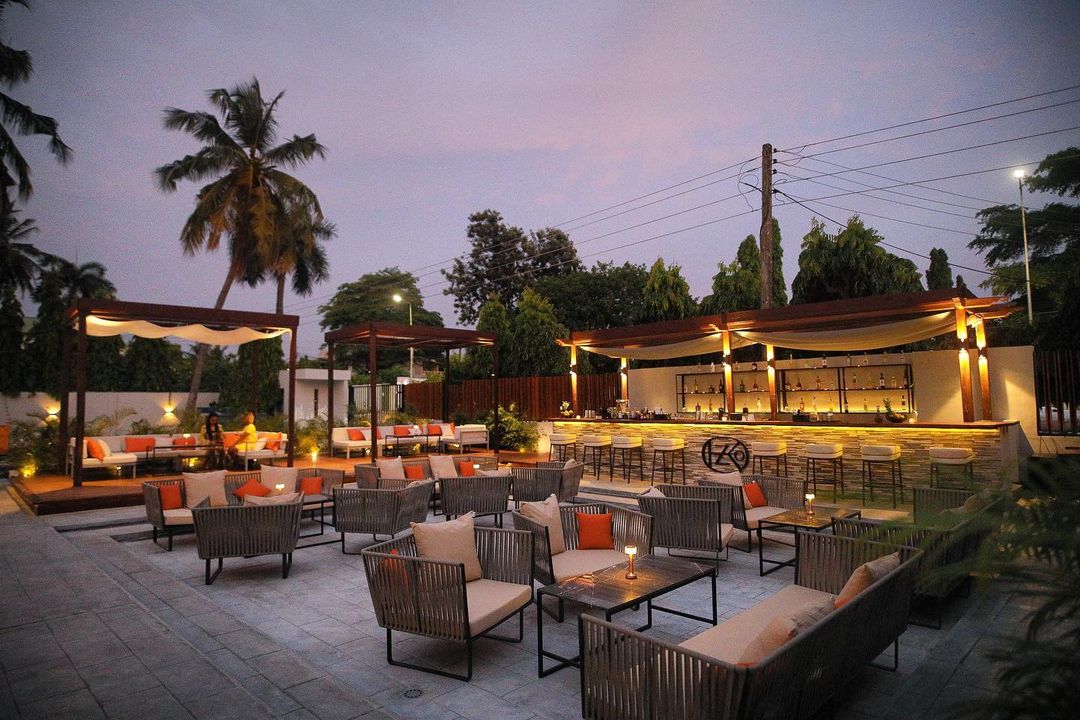 2. Kōzo
Located in West Accra, Ghana, Kozo stands out as an exceptional fine dining restaurant, celebrated for its diverse culinary offerings. The establishment boasts an extensive selection of cuisines, all within an elegant setting that promises an unforgettable dining experience. Kozo's menu is a culinary journey that caters to a wide range of tastes. From traditional Japanese delicacies like ramen and sushi to beloved Italian classics such as pizza and pasta, there's a dish to satisfy every craving. Complementing this culinary diversity are specialty cocktails, as well as a thoughtfully curated selection of wines and beers. For an unparalleled dining experience, guests have the option to reserve a table and indulge in a sumptuous multi-course meal prepared by our skilled chefs. This personalized table service experience is enhanced by our dedicated staff, always ready to accommodate any request. Kozo offers a memorable dining experience characterized by creative dishes and a cozy atmosphere. Whether you're in search of a casual lunch or a romantic dinner, Kozo provides the perfect setting to enjoy a delicious meal with family or friends.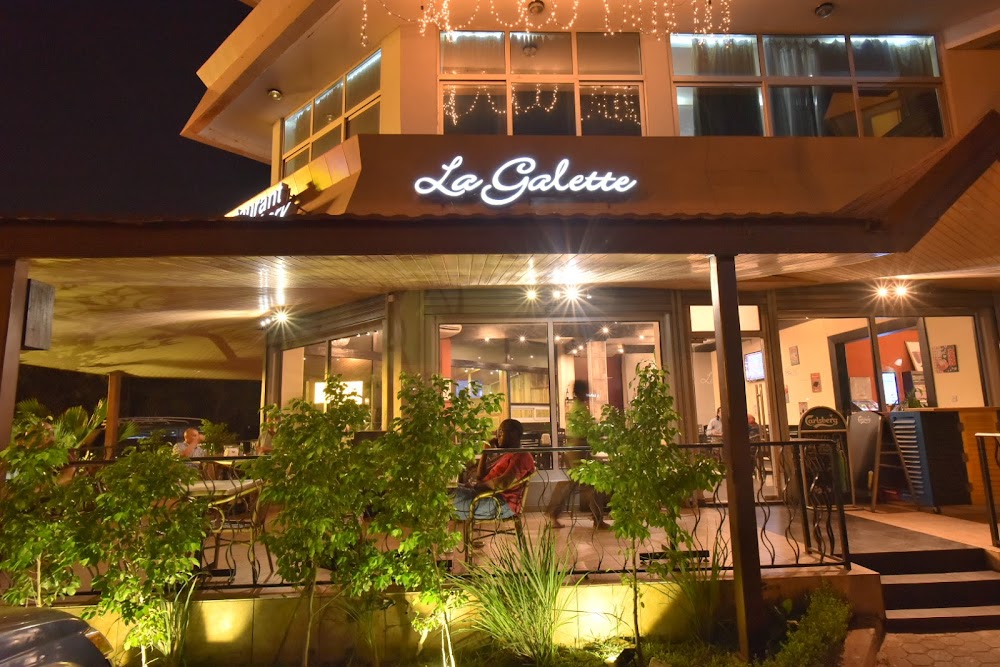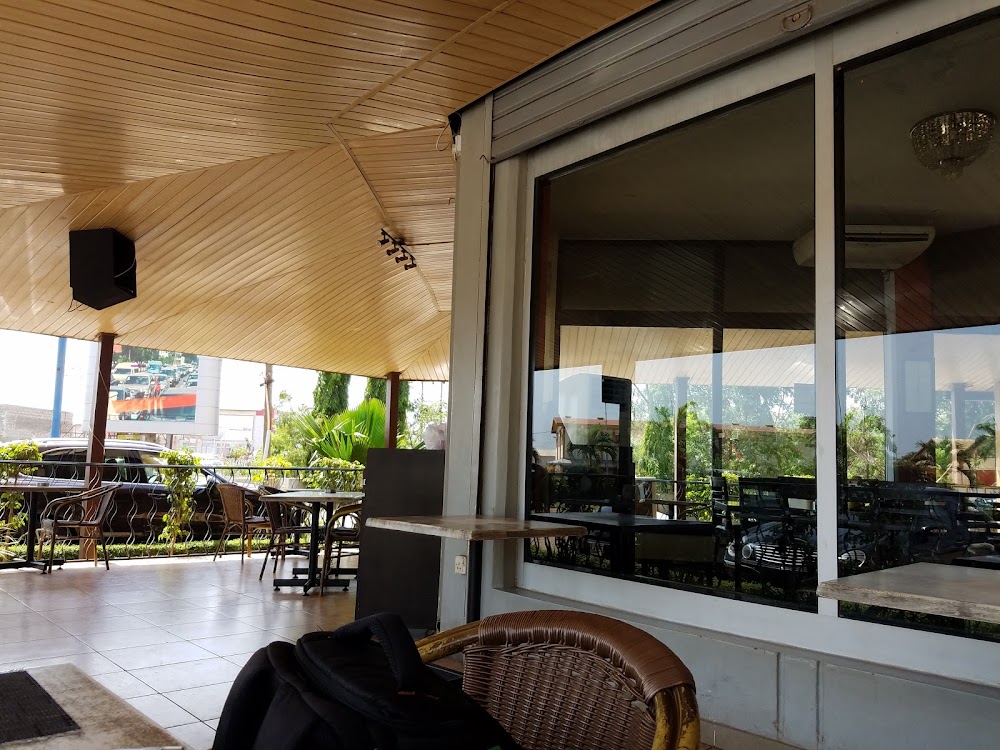 3. La Galette Restaurant & Bakery
Welcome to La Galette Restaurant & Bakery, an exquisite fine dining destination nestled in the heart of Accra, Ghana. Located in a serene setting, this establishment offers an unparalleled dining experience that transcends the ordinary. With an extensive menu featuring a range of delectable dishes, from savory wings to irresistible desserts, all meticulously crafted with the freshest ingredients, La Galette promises a gastronomic journey like no other. The culinary offerings extend beyond traditional fare to include an enticing selection of cakes and pastries, masterfully created by skilled bakers to satisfy even the most discerning palates. At La Galette, the atmosphere is one of elegance and warmth, making it the preferred destination for a memorable evening with friends or a romantic dinner for two. Step into the world of fine dining at La Galette Restaurant & Bakery, Accra's premier culinary haven, where the pursuit of culinary excellence meets the art of exceptional service.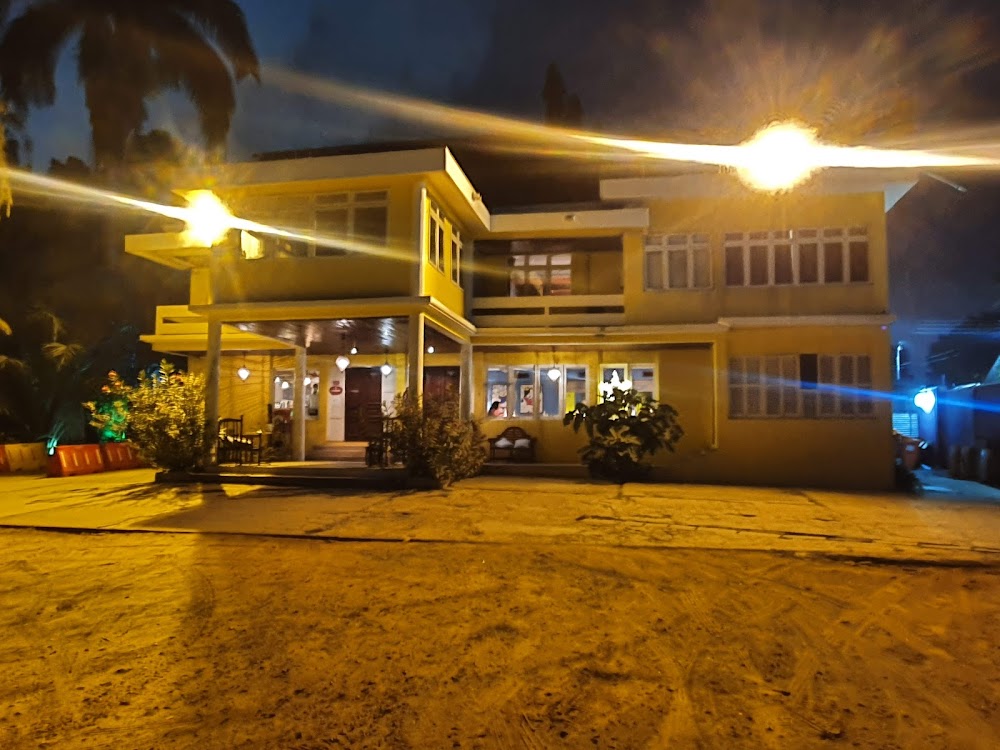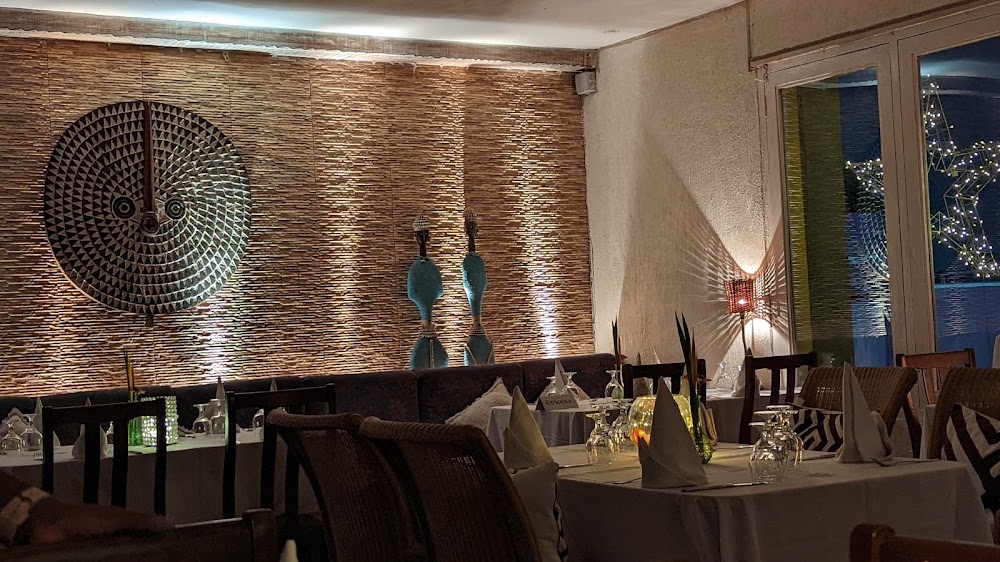 4. La Chaumiere
Discover the Essence of Fine French Dining at La Chaumiere, a Timeless Gem in the Heart of Accra, Ghana. With over two decades of culinary excellence, this establishment exudes a blend of sophistication and warmth that defines the quintessence of fine dining. La Chaumiere's elegant ambiance, reminiscent of a cozy French countryside retreat, creates an inviting atmosphere for connoisseurs of exceptional cuisine. With a legacy spanning 20 years, the proprietors of La Chaumiere extend a warm and engaging welcome, taking immense pride in curating an exquisite dining experience. The menu, an ode to French gastronomy, offers a diverse array of French-inspired dishes, each crafted with precision and flair. Every plate is a masterpiece, a testament to the commitment to culinary artistry. La Chaumiere's seafood offerings, including the exquisite Algerian Shrimps & Squid in tomato sauce and the Sole Fish in garlic butter sauce, stand out as culinary triumphs. Save room for the captivating desserts, featuring an array of pastries, cakes, and other delectable sweet delights. To complement your meal, explore the curated selection of world-class wines, elevating your dining experience to an extraordinary level. La Chaumiere encapsulates the essence of fine French dining in Accra. Here, the ambiance is an invitation, the cuisine is an experience, and the owners' dedication is evident. Immerse yourself in the world of exquisite French culinary traditions within the cozy embrace of La Chaumiere. It's more than a restaurant; it's a journey into the heart of fine dining.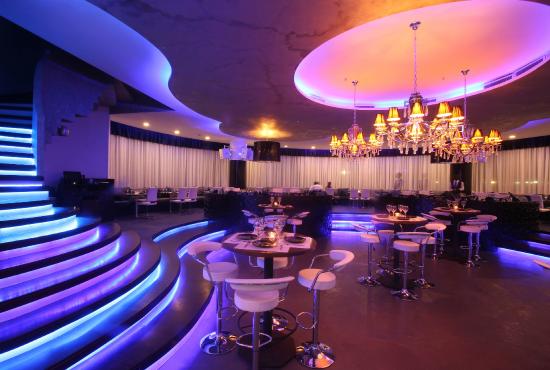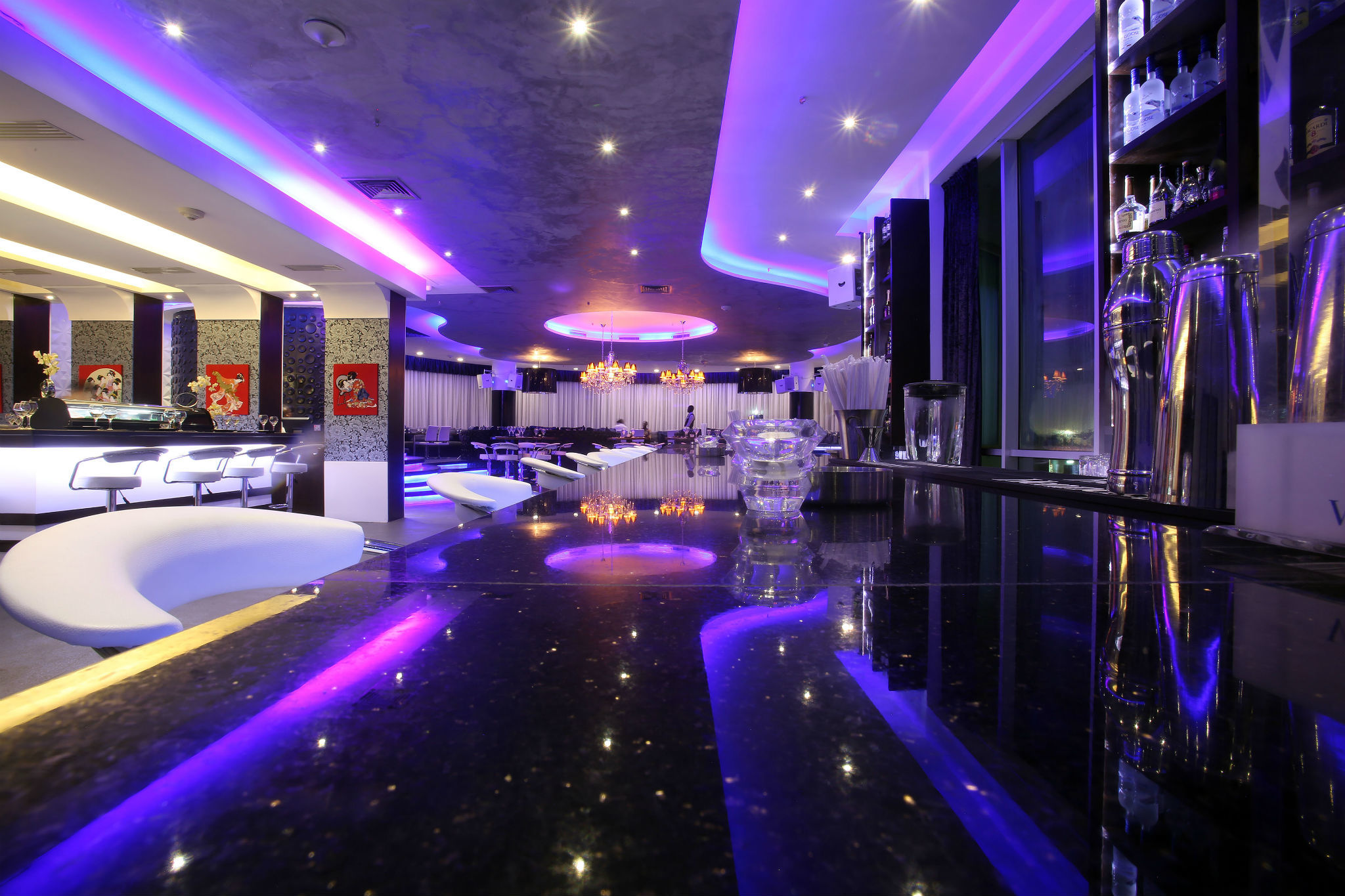 5. Soho Restaurant
Welcome to Soho, Accra's premier destination for a unique fine dining experience! Discover an array of international cuisines, ranging from Asian to Mexican, Italian to American, and Mediterranean, ensuring a diverse menu that satisfies every palate. Skilled chefs craft tantalizing dishes using only the freshest ingredients. The spacious indoor dining area boasts an inviting ambiance, perfect for intimate dinners or special occasions. Immerse yourself in a full-service bar, stocked with an extensive selection of wines, spirits, and craft beers to elevate your dining experience. At Soho, the commitment is to deliver an unforgettable dining experience. Knowledgeable and attentive servers are on hand to provide recommendations and address any inquiries you may have. To facilitate your visit, reservations are available. Soho eagerly awaits the opportunity to welcome you, where an exceptional meal and an unforgettable fine dining experience await.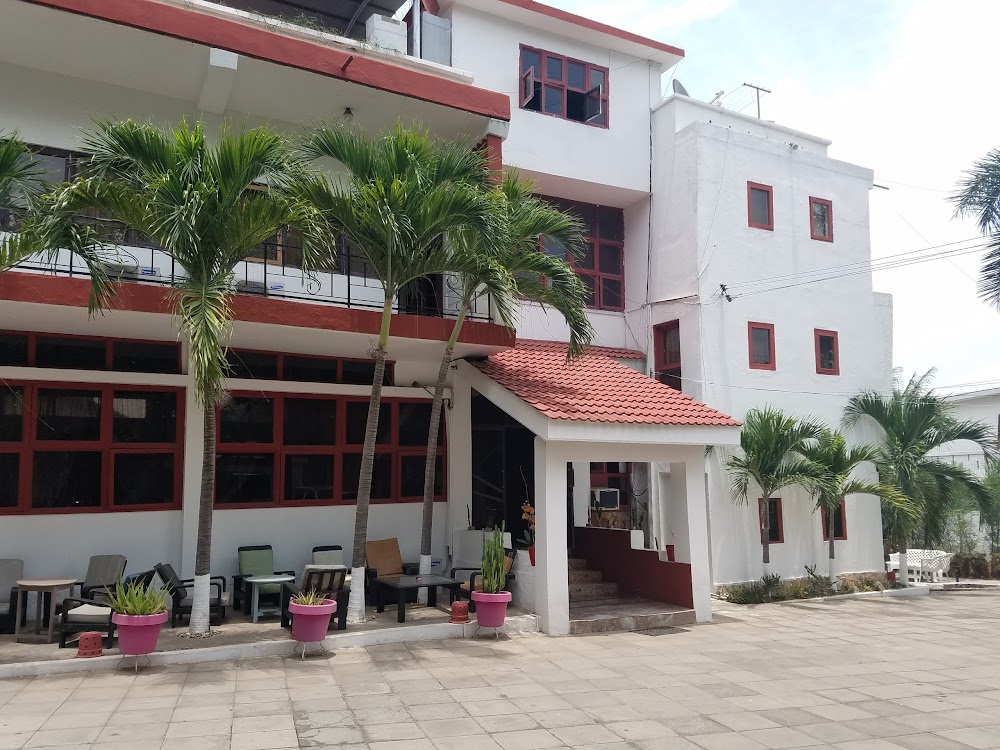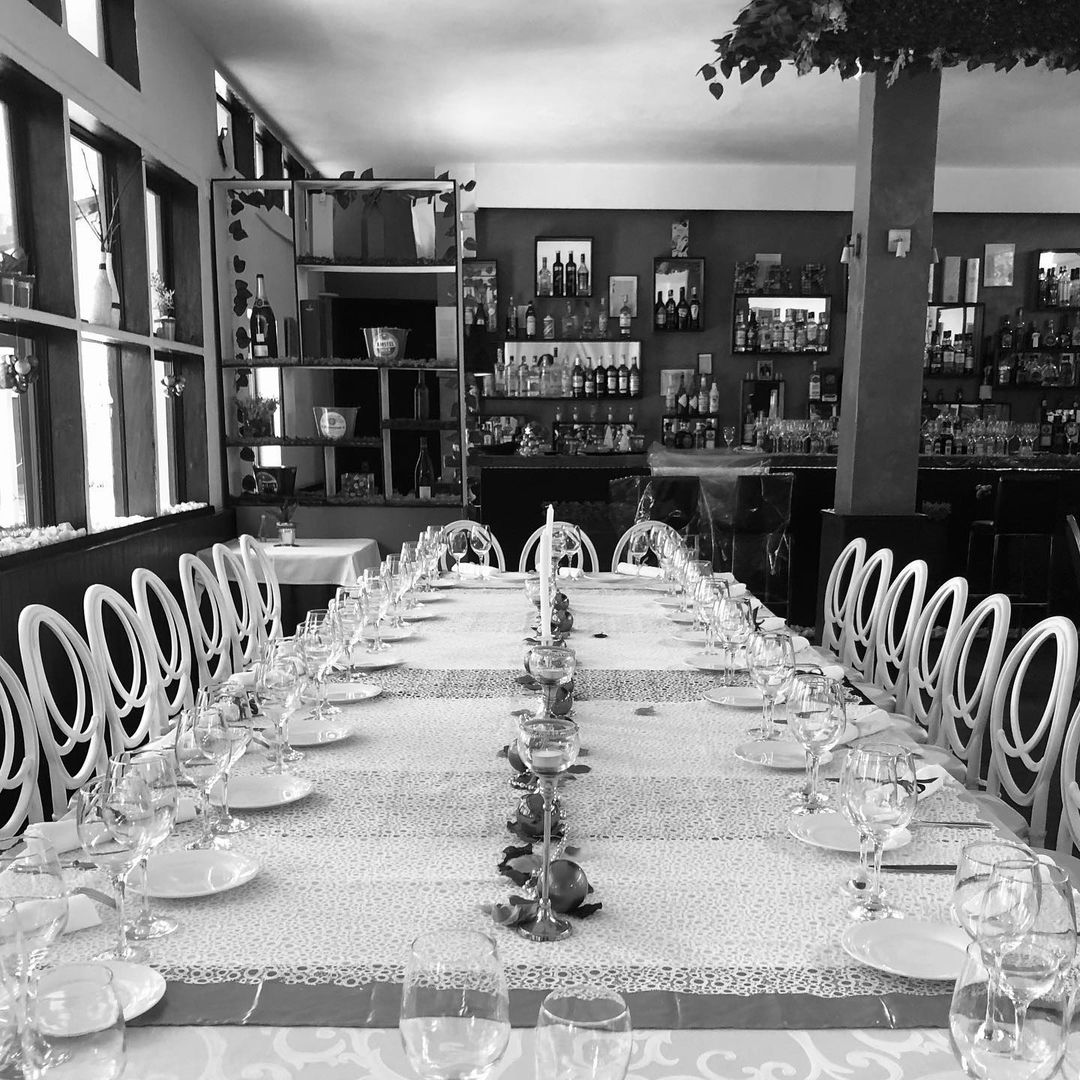 6. Le Tandem
Situated in the vibrant heart of Accra, Ghana, Le Tandem presents an exceptional fine dining experience that blends the rich flavors of French cuisine with the culinary influences of Ghana. The ambiance is warm and welcoming, setting the stage for an unforgettable meal, while the attentive and friendly staff ensures a memorable visit. The menu at Le Tandem features a harmonious fusion of classic French dishes, such as Coq au Vin and Boeuf Bourguignon, alongside modern creations that expertly weave together a delightful spectrum of flavors and textures. To complement your dining experience, they also offer an extensive wine selection that spans both French and African varieties. For those seeking non-alcoholic options and provides a curated selection of beverages. Le Tandem stands as the ideal choice for those in search of a distinctive fine dining experience. The ambiance, culinary creations, and service promise to satisfy even the most discerning palates. Come and savor the unique blend of French and Ghanaian flavors at one of Accra's premier dining establishments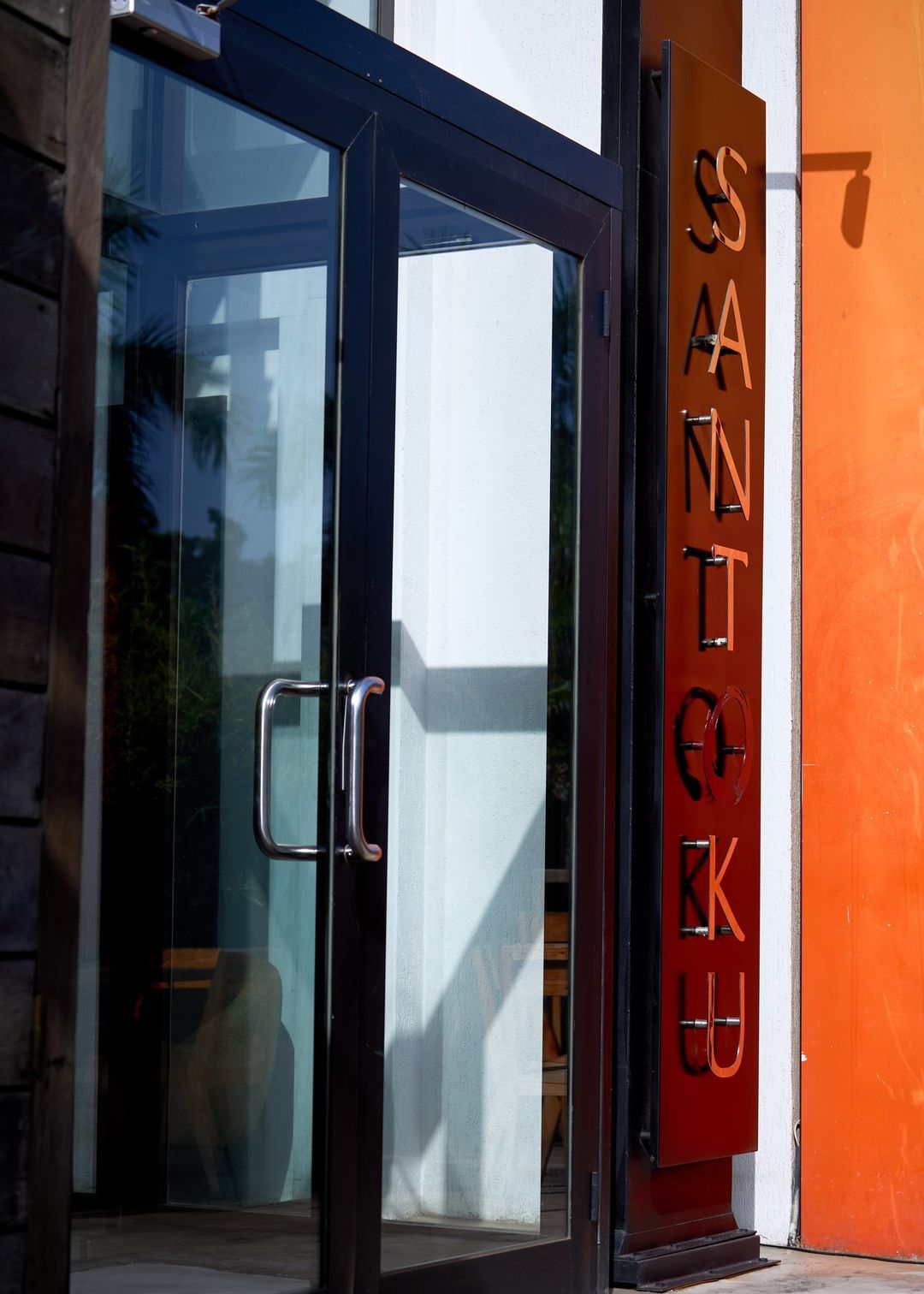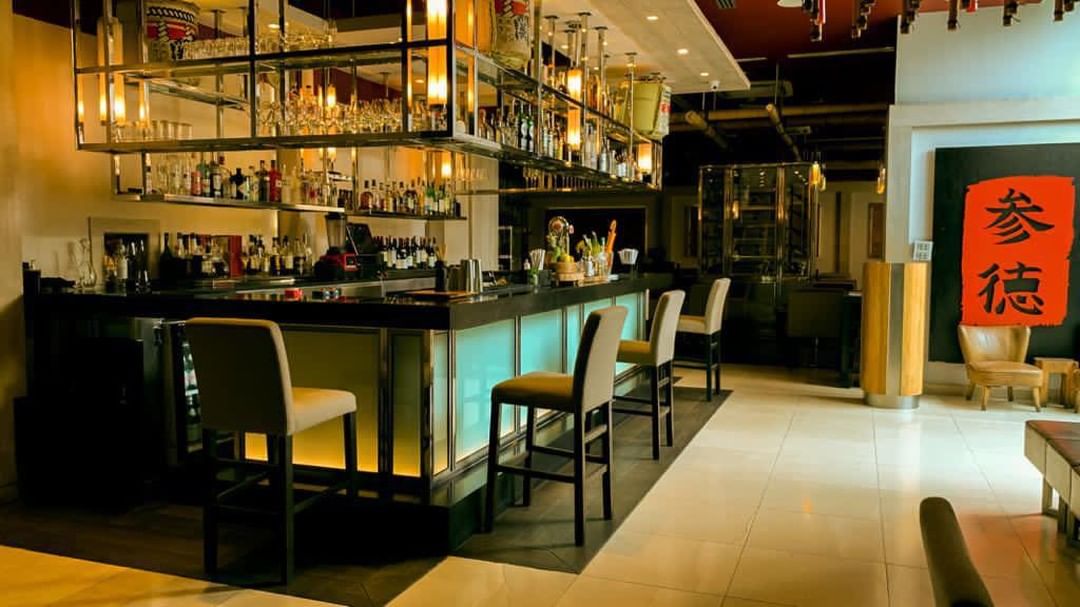 7. Santoku
Santoku, located in Accra, stands as a beacon of international fine dining, promising an exquisite and delectable culinary journey with each visit. This establishment sets an unparalleled standard, from its meticulously crafted cocktails to its fresh and masterful sushi creations, appealing to a diverse range of discerning palates. The restaurant exudes an inviting and warm ambiance, accentuated by the presence of a live band performing international classics, enhancing the overall dining atmosphere. The service staff embodies attentiveness and courtesy, consistently going the extra mile to ensure the utmost satisfaction of every guest. The culinary offerings at Santoku are nothing short of top-notch, with an extensive menu presenting an array of thoughtfully curated options. Here, chefs wield the freshest ingredients to craft unique, flavorful dishes that tantalize the senses. The complexity and intrigue of flavors, coupled with exquisite presentation, leave a lasting impression. Portions are generous, and the prices remain remarkably reasonable for such fine dining. The bar service transcends ordinary expectations, with cocktails crafted with a genuine love for the art, allowing for personalized twists on your favorite libations. Impeccable service is a cornerstone of the Santoku experience, with a staff that is perpetually attentive and accommodating, ensuring each guest departs with cherished memories. In sum, Santoku is a superlative fine dining destination, seamlessly blending excellent cuisine, exceptional service, and a captivating atmosphere. Whether seeking a romantic dinner for two or a lively evening out with friends, Santoku exceeds expectations on every front.
Conclusion
In a culinary landscape as rich and diverse as Ghana's, these 7 fine dining restaurants truly stand out as beacons of exceptional gastronomy. From their artfully crafted menus to their impeccable service and inviting atmospheres, each of these establishments invites you to embark on a remarkable culinary journey. Whether you're a seasoned connoisseur or an adventurous foodie, these restaurants promise an unforgettable experience that captures the essence of Ghana's vibrant dining scene. Prepare to be delighted and captivated as you savor the flavors of Ghana at these shining gems of fine dining.
Indulge in a world of culinary excellence at these outstanding Ghanaian fine dining restaurants. Bon appétit!
YOU MAY LIKE THIS