Prepare to embark on a culinary journey that will transform your weekend mornings into unforgettable experiences. Brunch at these outstanding restaurants isn't just a meal; it's an artful fusion of flavors, ambiance, and hospitality. Whether you're seeking a cozy corner cafe, a trendy urban hotspot, or a serene garden setting, these establishments promise to elevate your weekend and leave you with memories to savor.
8 Outstanding Restaurants to have Brunch this Weekend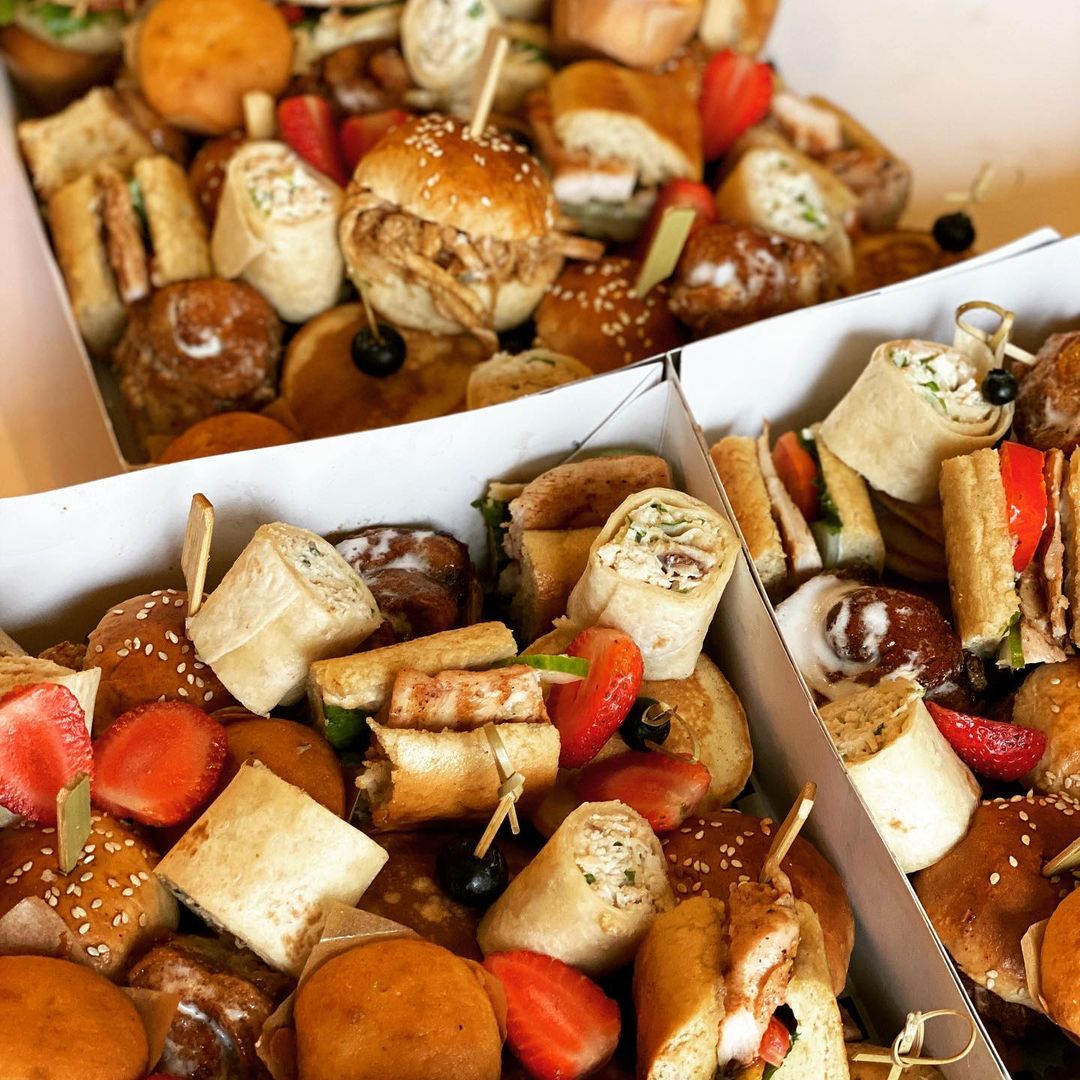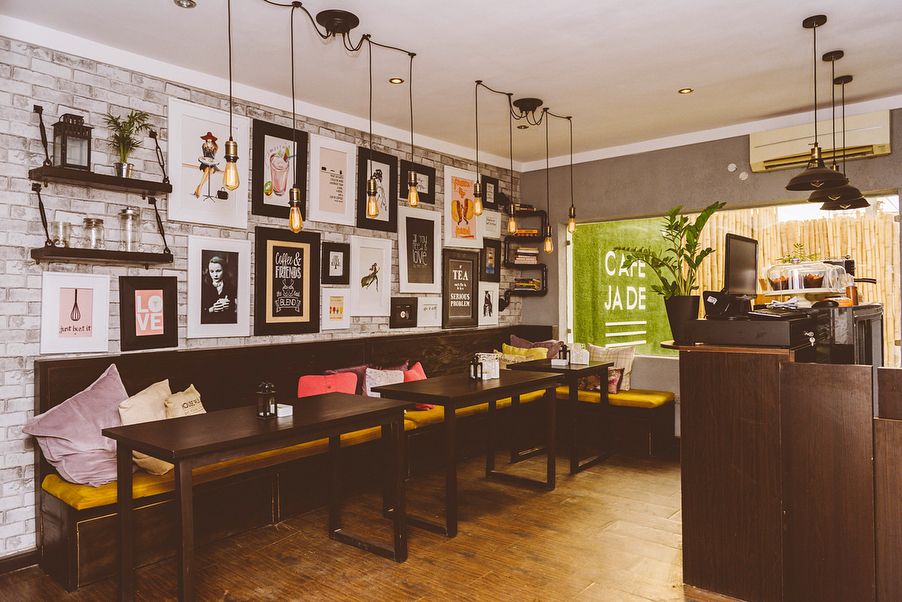 1. Cafe Jade
Step into the captivating world of Cafe Jade, a harmonious blend of Nigerian and English culinary traditions nestled within the vibrant heart of Lekki, Lagos. Here, the distinctive flavors of Nigeria and the timeless charm of English cuisine come together in a seamless fusion that promises to tantalize your taste buds. Located in the heart of Lekki, Lagos, Cafe Jade beckons you to embark on a sensory journey like no other. The menu is an ode to the freshest, locally sourced ingredients, where flavors intermingle to create signature dishes that will leave you craving for more. Discover a laid-back ambience that invites you to unwind and savor every bite. Choose from a wide range of dining options, whether you prefer the convenience of take-out, the relaxed charm of casual dining, or the excitement of event hosting. Cafe Jade specializes in curating memorable moments, making it the perfect choice for hosting a variety of gatherings, from lively kid's parties to productive coffee breaks and leisurely brunches. At Cafe Jade, your dining experience transcends the ordinary, ensuring that every visit is an unforgettable culinary adventure. Make a reservation today and indulge in the flavors of Cafe Jade, where fusion meets tradition and every bite tells a story.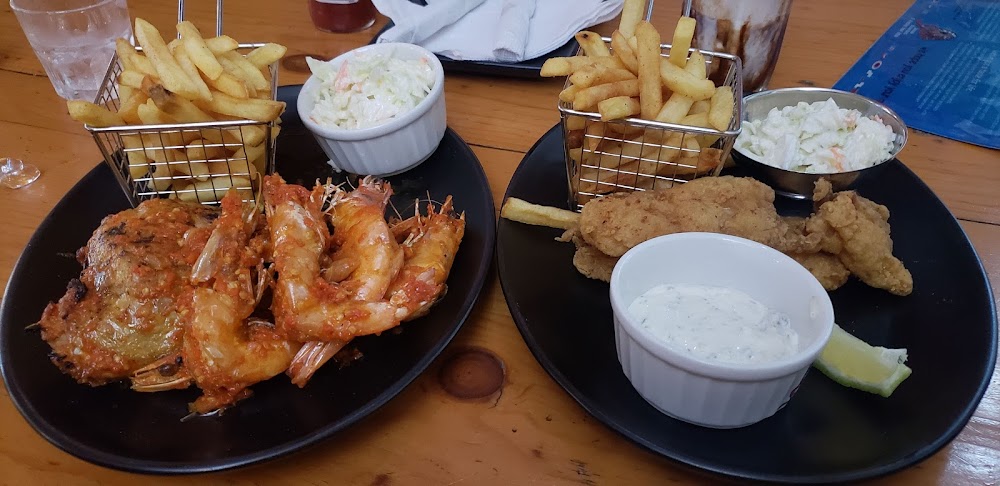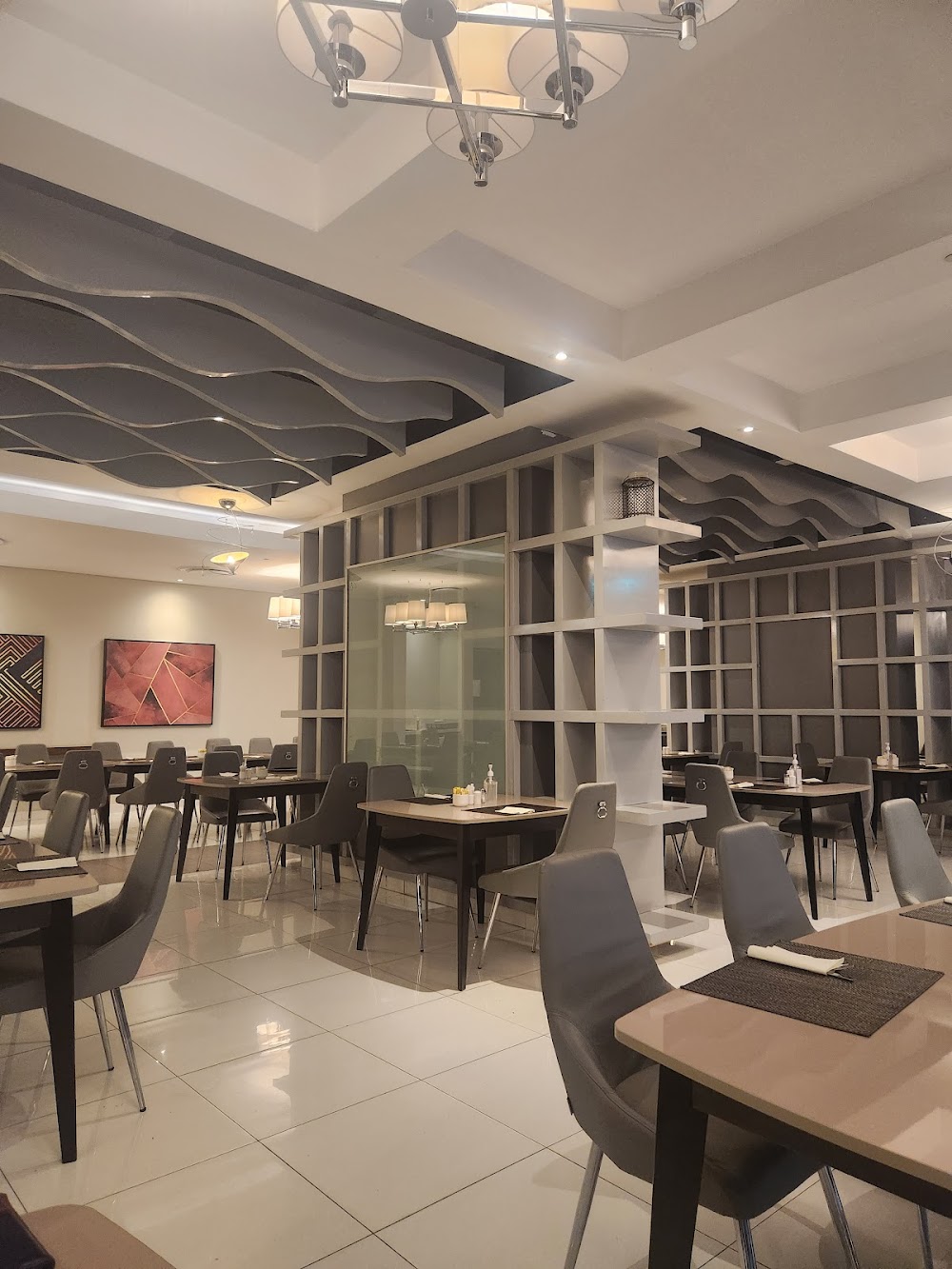 2. Iyeru Okin Restaurant
Iyeru Okin Restaurant, nestled in the vibrant heart of Lagos at the esteemed Radisson Blu Hotel, beckons as a must-visit culinary oasis. This dining destination redefines the art of indulgence with its splendid all-you-can-eat buffet, an exquisite treasure trove of delectable delights. Ascending to the first floor, you'll find yourself immersed in a spacious, inviting ambiance, where every visit promises a relaxed and memorable experience. The buffet spread at Iyeru Okin is nothing short of extraordinary, featuring a diverse array of local delicacies, sumptuous vegetarian creations, decadent cakes, pastries, and a tempting assortment of beverages. Be it a brunch rendezvous with friends, an intimate dinner for two, or a power-packed business lunch, this restaurant caters to all cravings. What's more, the buffet is thoughtfully priced, offering exceptional value ranging from 13k to 20k, contingent on the time of day. The lunchtime feast, available from 12 noon to 4 pm, is priced at a modest N16,500 per head, while the evening buffet commences at 6 pm. The glowing reviews from satisfied patrons are a testament to Iyeru Okin's culinary prowess, warm service, and irresistible buffet spread, making return visits a frequent occurrence. For those mindful of their dietary choices, there's an abundance of low-carb options, complemented by the availability of unlimited bottled water. When in search of a delectable yet reasonably priced dining experience in Lagos, Iyeru Okin Restaurant stands as the epitome of excellence, where delectable cuisine, inviting ambiance, and exceptional staff converge to craft unforgettable moments.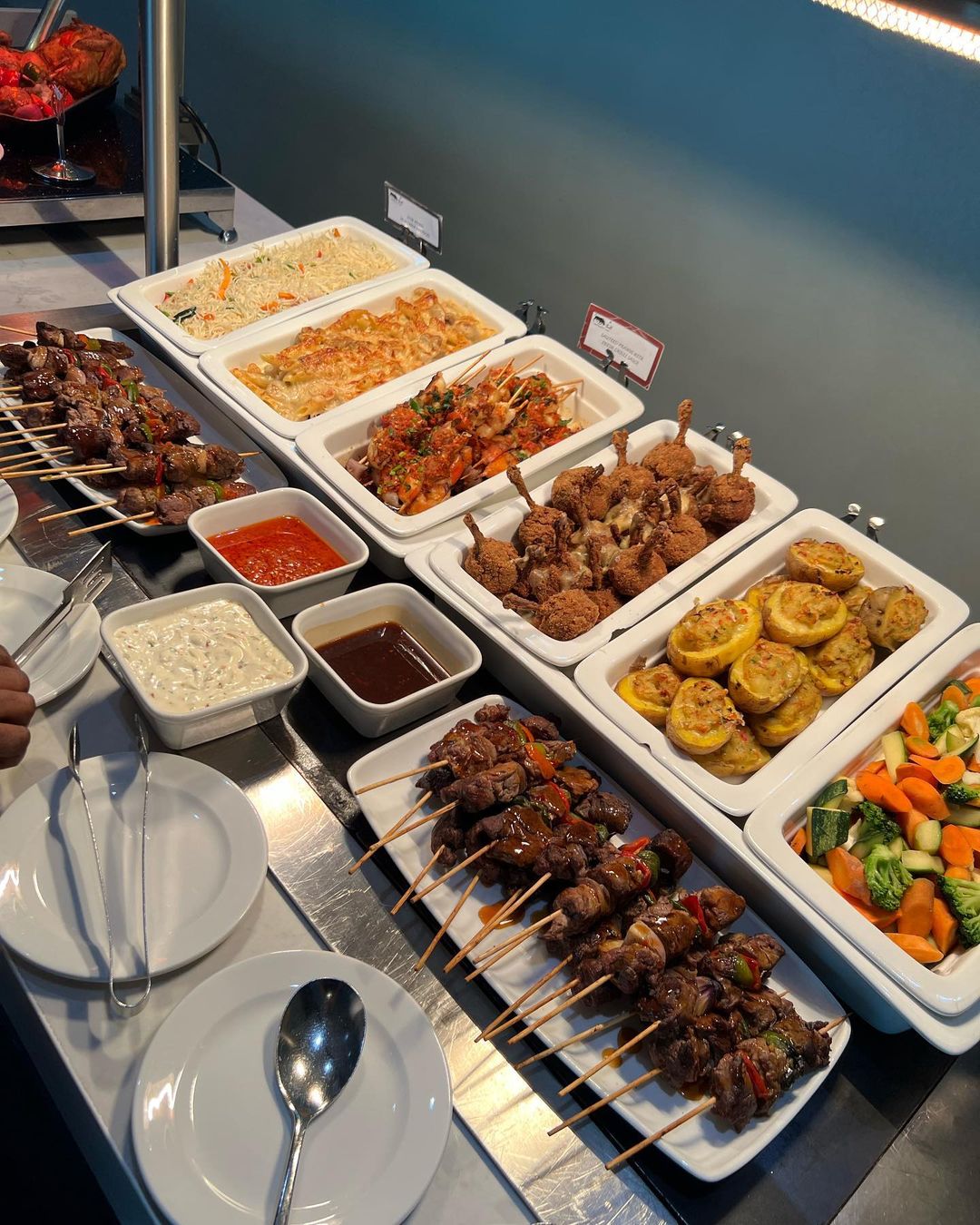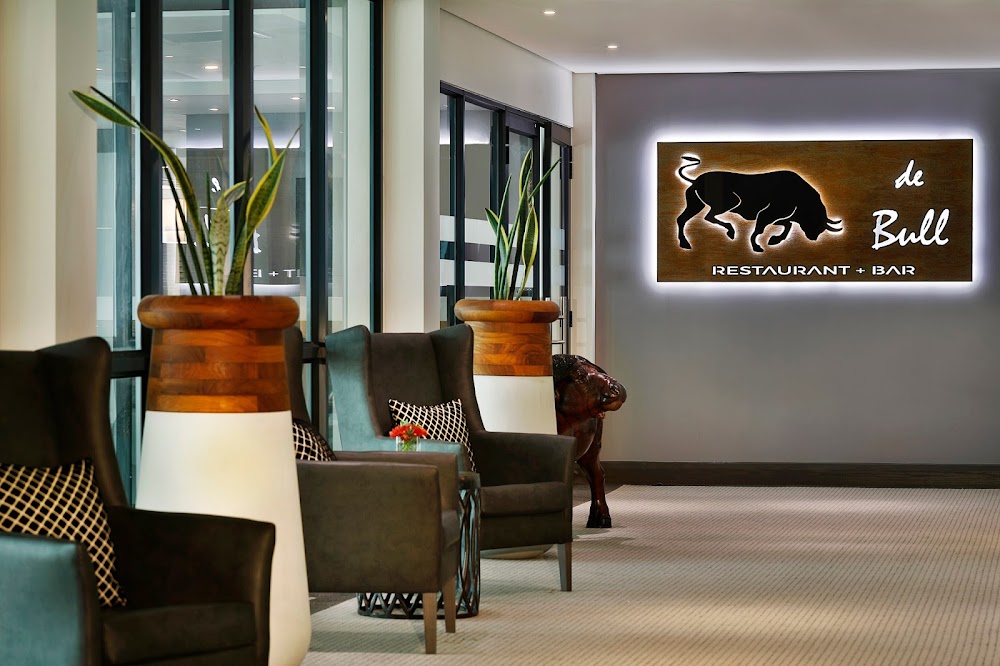 3. De Bull Restaurant & Bar
Step into De Bull Restaurant & Bar, your gateway to an unforgettable dining adventure. Nestled in the heart of Lagos, our restaurant beckons with an ambiance that exudes luxury and relaxation, complemented by sweeping vistas of the Private Jet hangar and the MMIA runway. The meticulously curated menu at De Bull boasts an enticing array of culinary delights, ranging from local treasures to continental and intercontinental delicacies. The dedicated chefs have mastered the art of tantalizing taste buds with dishes that traverse African, Asian, and European influences. Every morsel is a masterpiece, crafted with the utmost precision and flair. Don't miss the Sunday weekly brunch buffet—a lavish spread that encapsulates all the flavors and experiences De Bull has to offer. The exceptional staff at De Bull is renowned for their warmth and attentiveness. They are always eager to go above and beyond to ensure your visit is nothing short of perfection. The atmosphere here is a welcoming haven, and the live music serves as a delightful backdrop to enhance your overall experience. De Bull stands as the epitome of luxurious and leisurely dining. With delectable cuisine, affable service, and awe-inspiring views, De Bull is your ultimate destination for cherished moments with family and friends. Come and savor the extraordinary at De Bull Restaurant & Bar.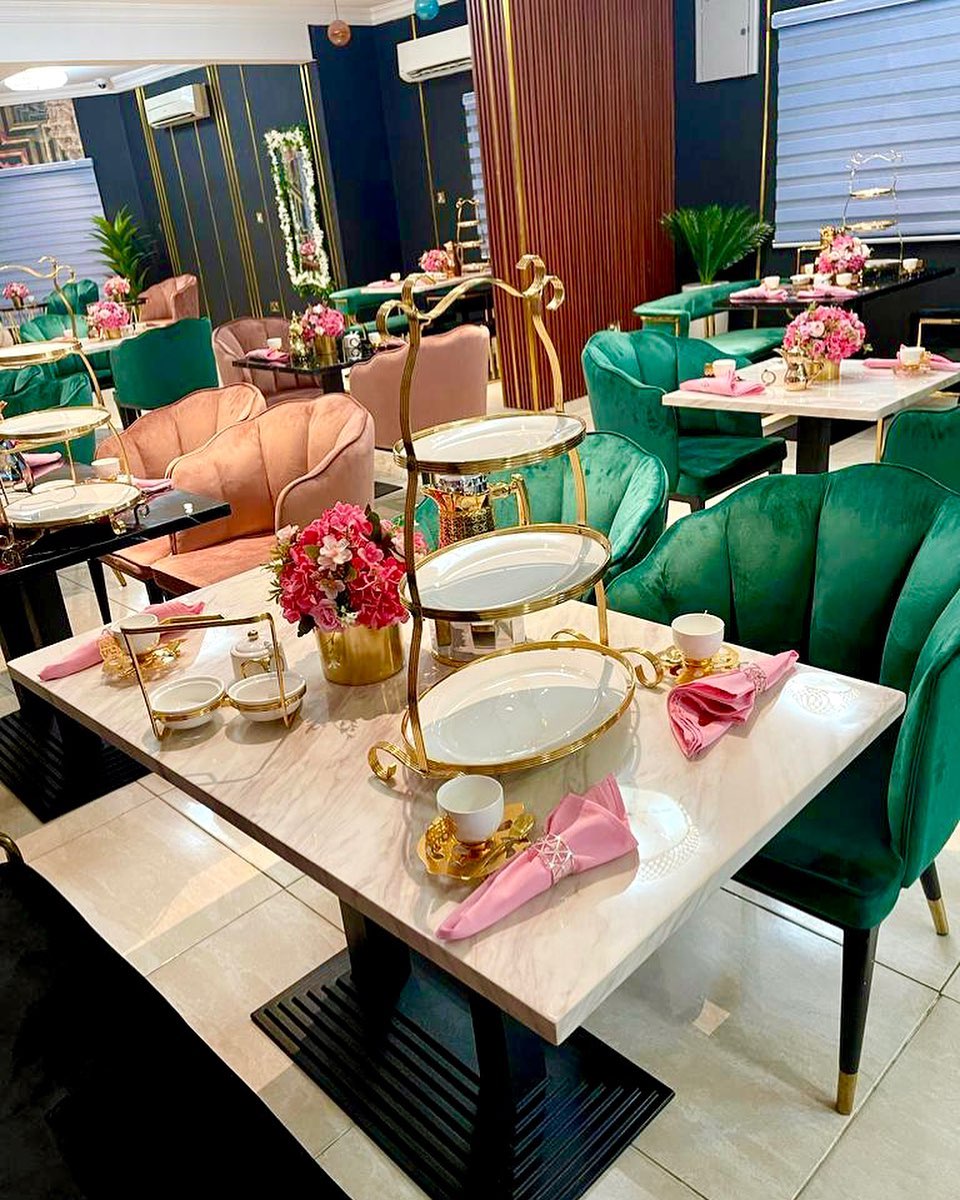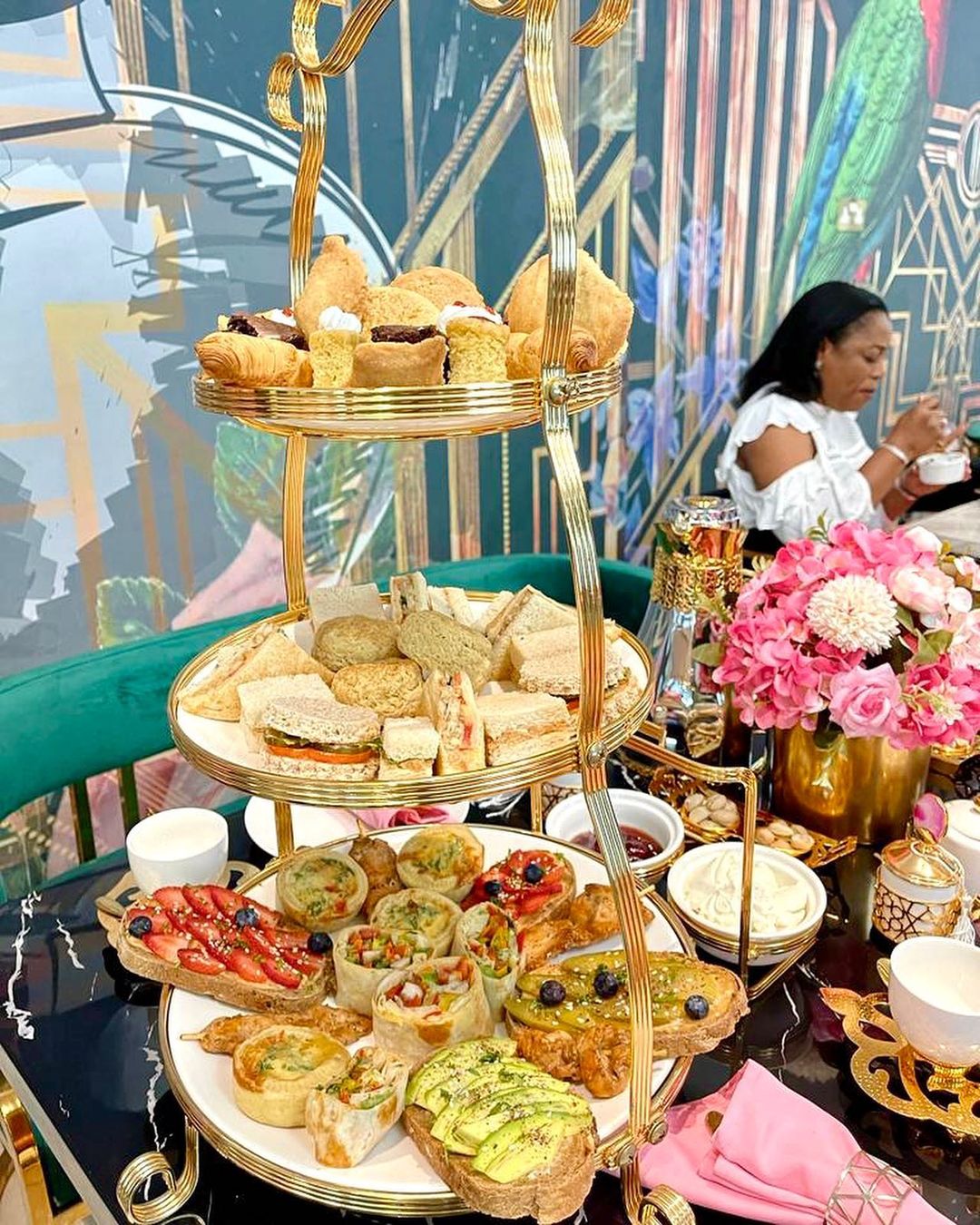 4. Lagos Tea House
Lagos Tea House, located in the heart of Lekki, offers an exquisite dining experience in a stunning setting. Whether you're dining with family, friends, or your significant other, this restaurant provides an inviting ambiance that immediately captivates. The decor is a visual treat, with cozy seating arrangements, lush foliage, and tasteful design elements that combine to create a soothing and welcoming atmosphere. However, it's not just the atmosphere that shines at Lagos Tea House; the culinary delights are equally noteworthy. From freshly brewed teas to traditional Nigerian dishes, every item on the menu is a testament to culinary perfection. The attentive and friendly staff ensures that each guest enjoys an exceptional dining experience. On Sundays, their brunch spread is a culinary journey worth savoring, offering a delectable assortment of fresh salads, heartwarming dishes, and irresistible desserts. As an added bonus, the restaurant is graced by the melodies of a skilled pianist, adding a touch of musical charm to your meal. Lagos Tea House is more than just a dining destination; it's a haven for food enthusiasts, friends, and families seeking not only a great meal but also a truly beautiful and inviting atmosphere. For those in the Lekki area, it's a must-visit establishment that promises an unforgettable dining experience.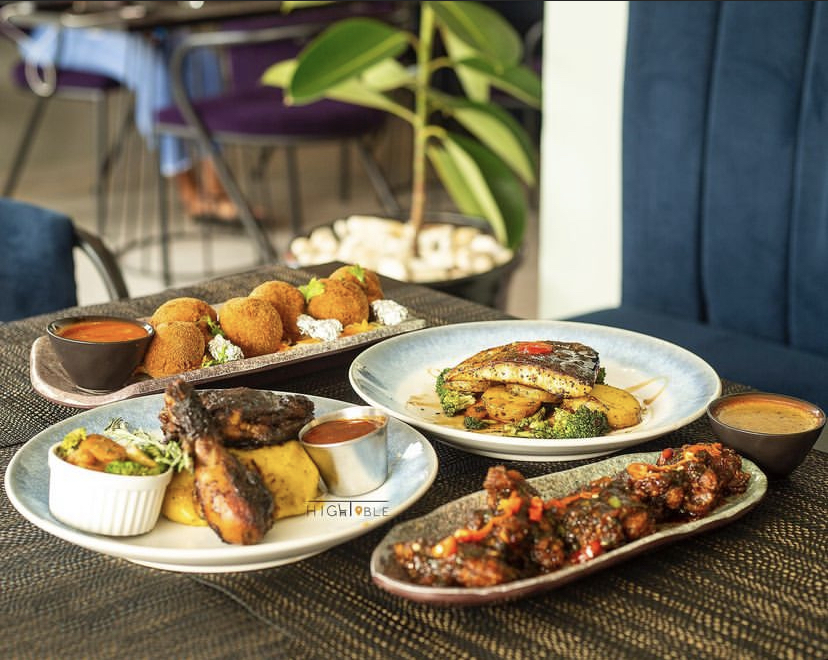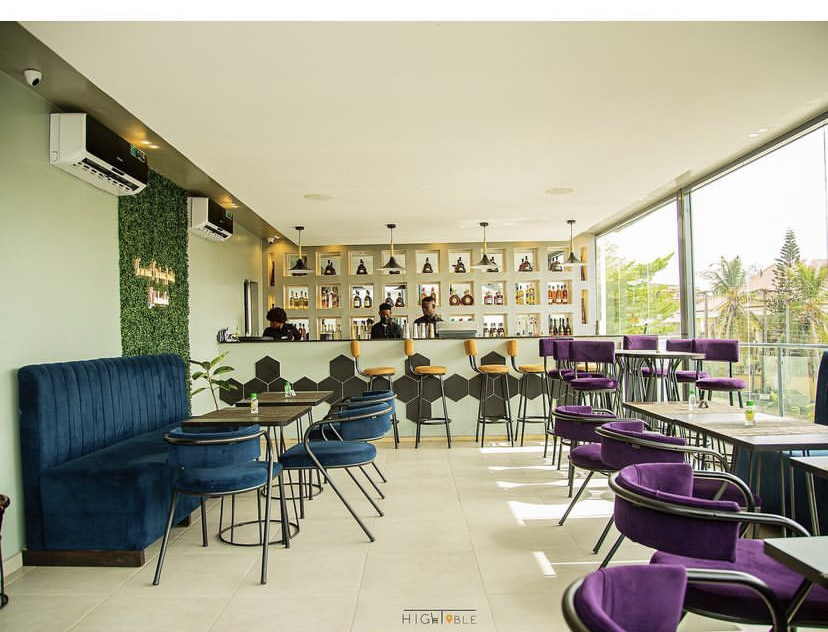 5. No5 Lounge
In the heart of Lagos, No5 Lounge stands as a modern restaurant, ready to offer guests an exceptional dining experience. Blending Comfort Food, Continental, and Pan-African cuisine, it caters to diverse tastes. Whether you're craving a quick bite or an opulent culinary adventure, No5 Lounge has something to tantalize your palate. The atmosphere is relaxed and casual, complete with outdoor seating and a rooftop terrace, ideal for alfresco dining enthusiasts. Those in search of a touch of luxury will find a fine-dining option here. To ensure privacy for business meetings or special celebrations, No5 Lounge offers a selection of intimate private rooms. No5 Lounge also entices with a tempting weekend brunch menu, featuring a variety of mouthwatering options for both light nibbles and hearty meals. This venue serves as the perfect backdrop for a night out with friends or a serene evening spent with cherished companions. With its distinct ambiance and culinary delights, No5 Lounge promises an unforgettable dining adventure.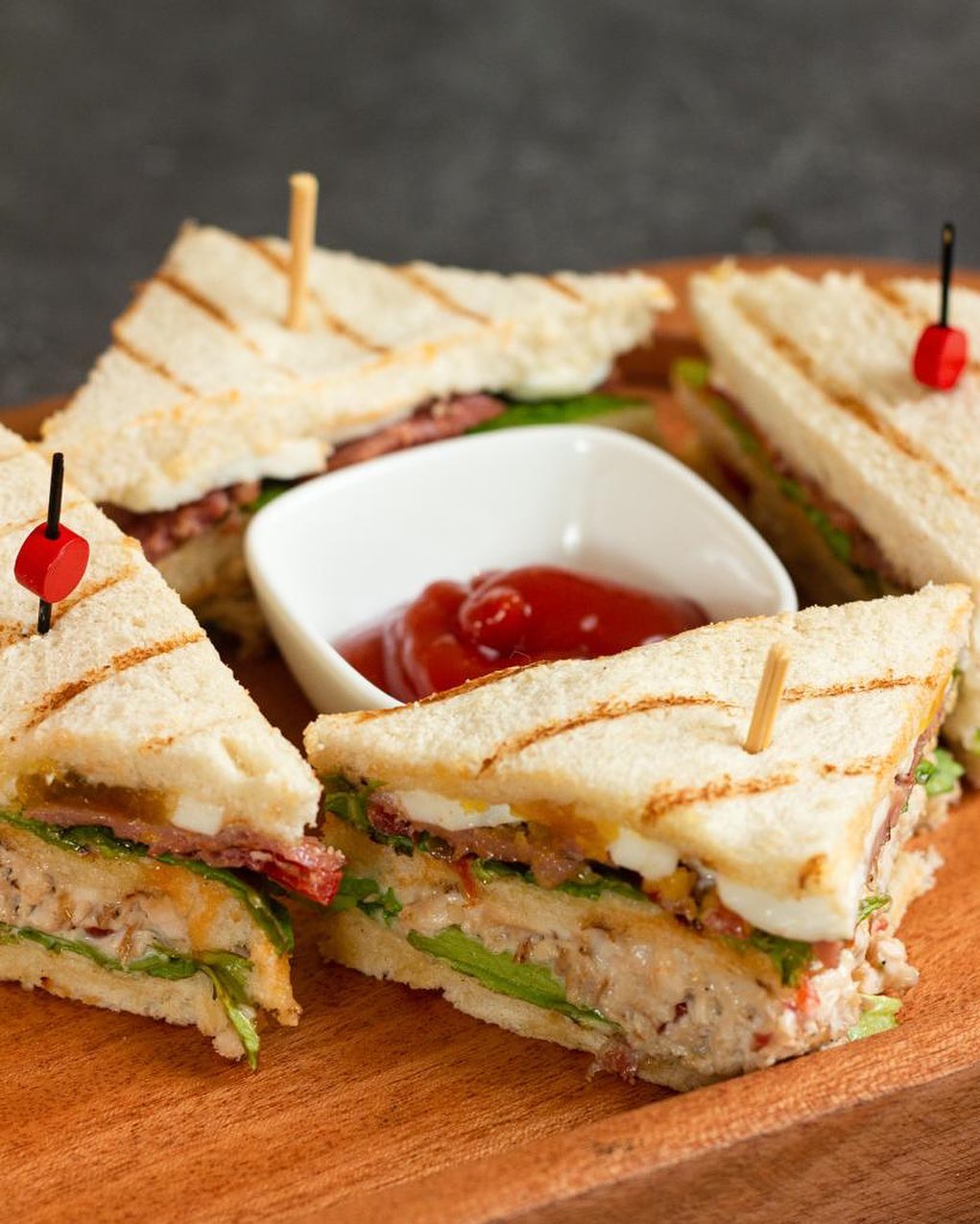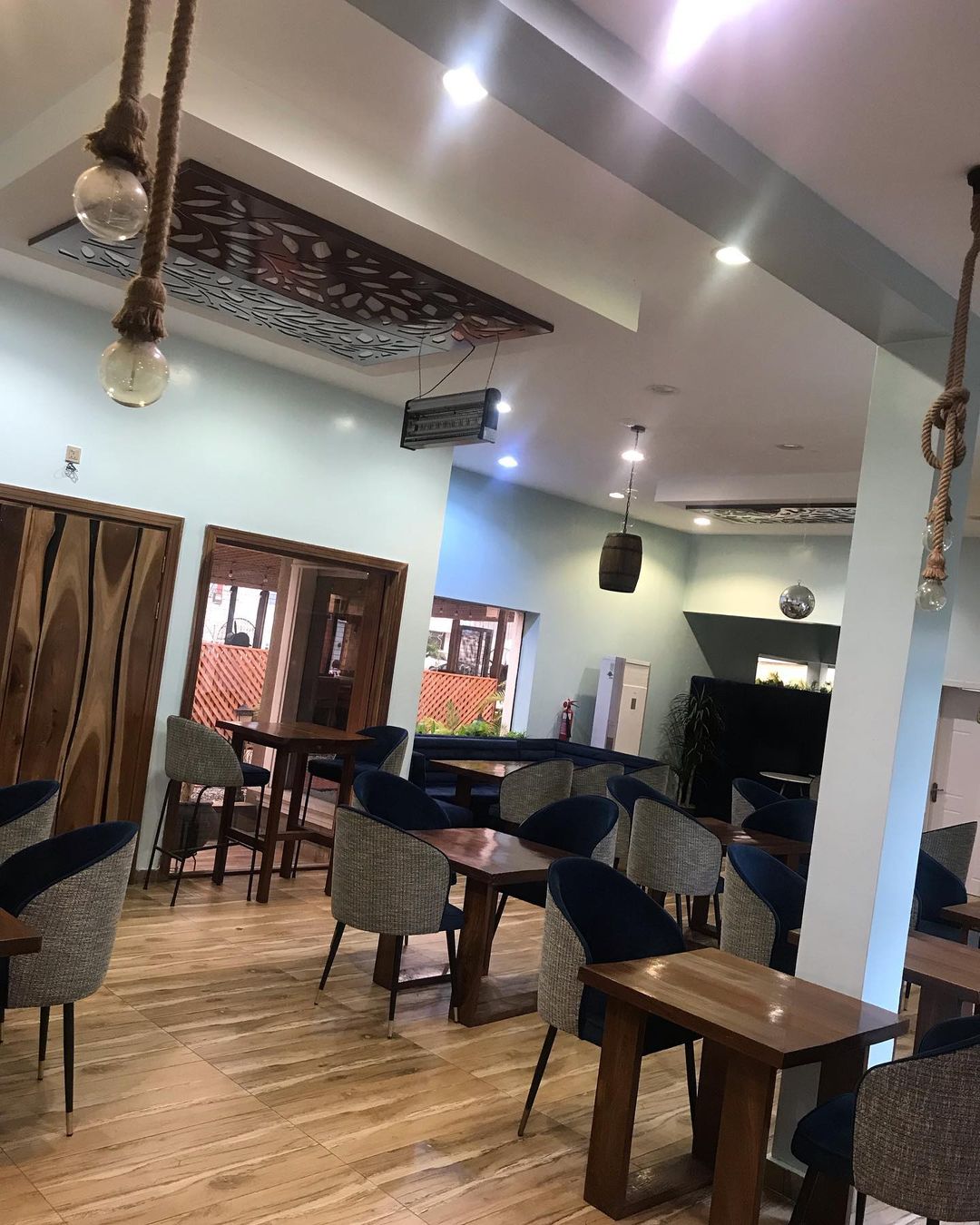 6. 1504 Restaurant
Nestled in the heart of Lagos, Nigeria, the 1504 Restaurant promises an unparalleled dining experience that transcends borders and flavors. This culinary gem seamlessly fuses the culinary artistry of Italy, China, and beyond, inviting you to embark on a global gastronomic journey. Immerse yourself in its contemporary ambiance, where every detail is designed to enchant your senses. The menu, a masterpiece in itself, showcases an array of Italian and Chinese delights, meticulously crafted by their accomplished chefs. From delectable starters to crisp salads, sumptuous pastas to savory entrees, each dish boasts the freshness of locally sourced ingredients, ensuring a tantalizing and health-conscious feast. Whether your palate craves the light or the hearty, the 1504 Restaurant has a dish to satiate every appetite. For alfresco enthusiasts, the restaurant offers outdoor seating and a charming terrace, allowing you to relish your meal in the warm embrace of Nigerian air. Elevate special moments with their fine dining experience, perfect for intimate candlelit dinners or exclusive gatherings with friends. Weekends come alive with brunch offerings that redefine your culinary expectations. And for a touch of entertainment, indulge in live performances that infuse vivacity into your dining experience. Whether it's a casual evening out, a cherished celebration, or a quest for culinary adventure, the 1504 Restaurant stands as the epitome of dining excellence.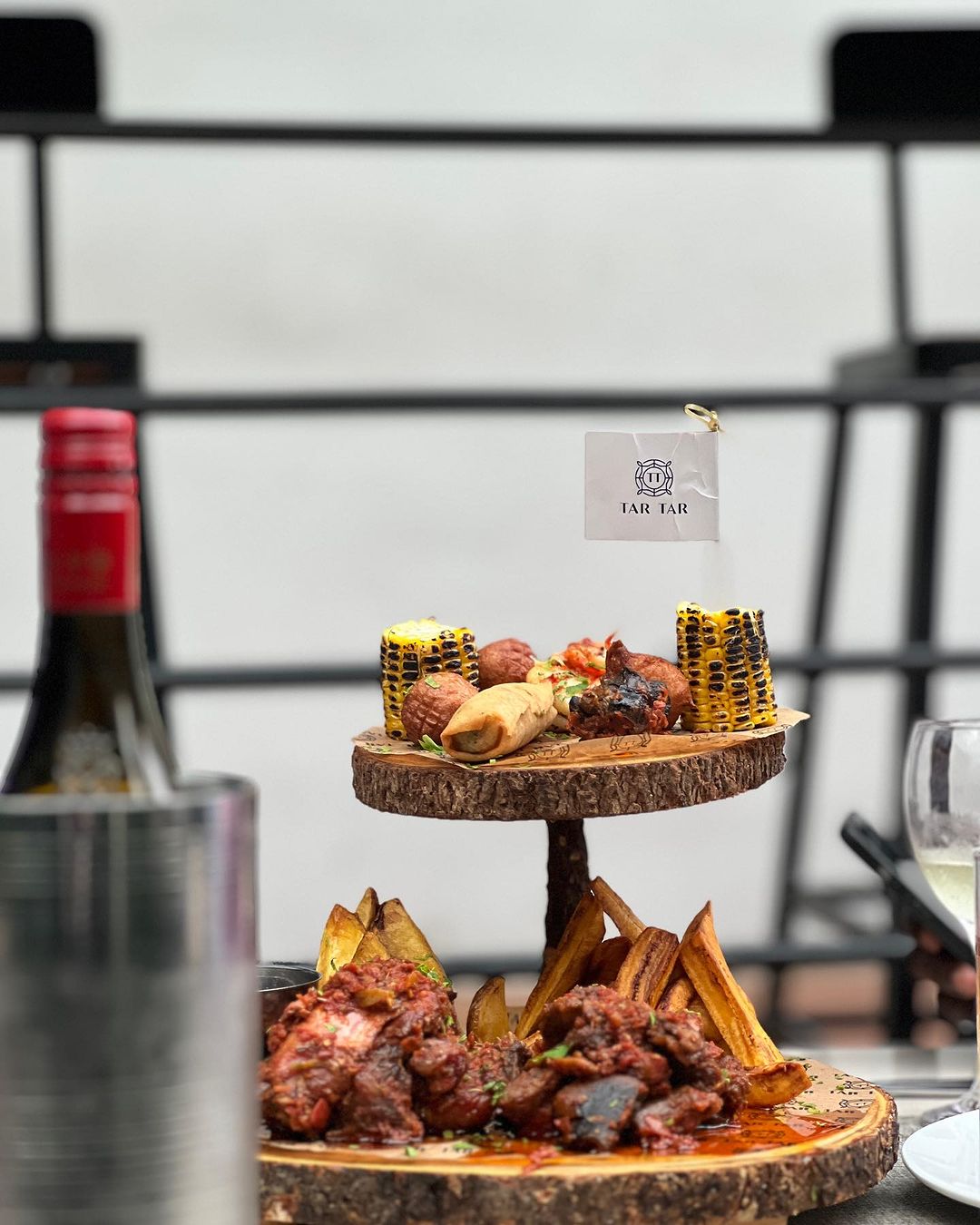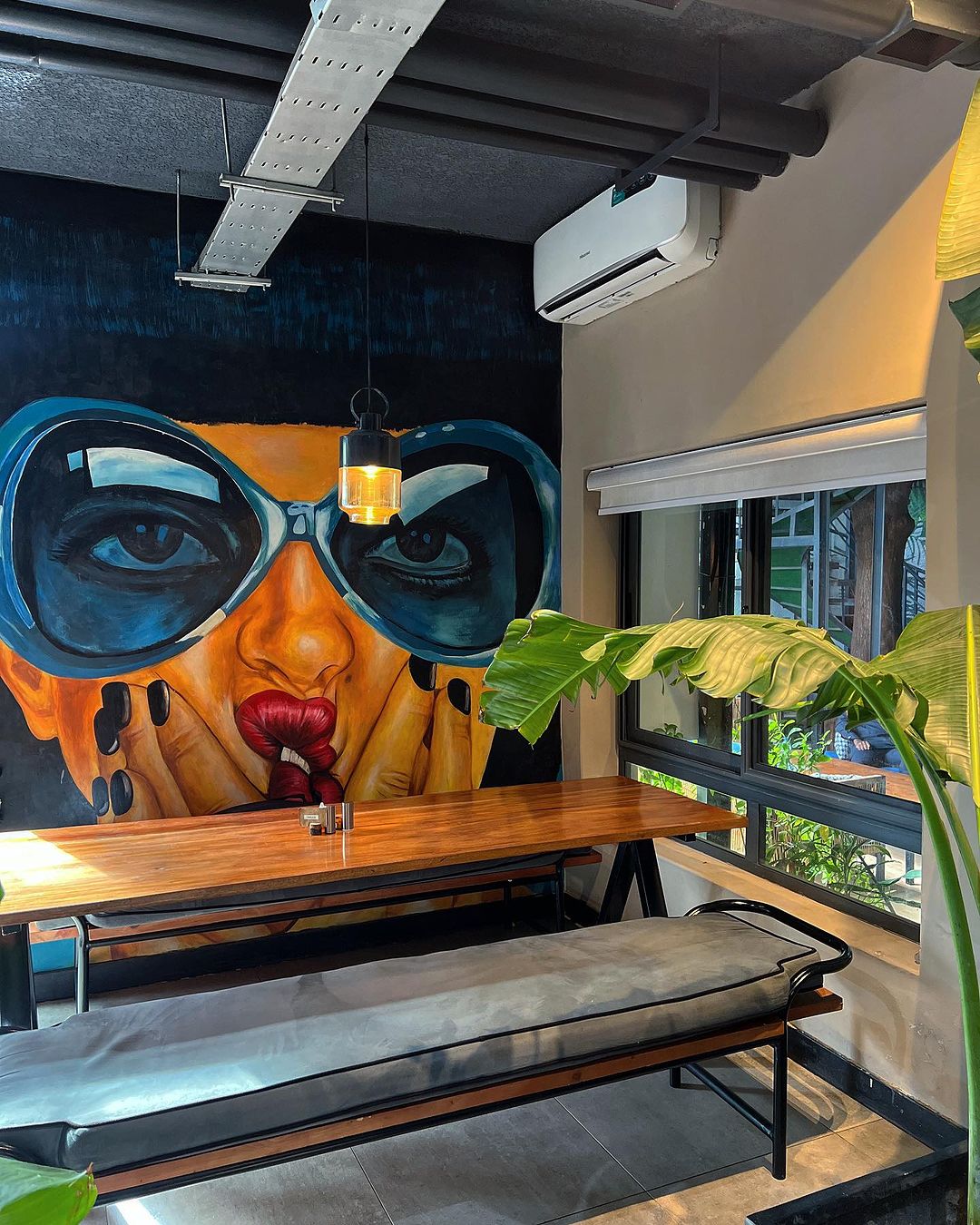 7. Tar Tar
Tar Tar emerges as a luxurious culinary haven that beckons with both indoor fine dining opulence and an enchanting outdoor lounge area. The restaurant's ambiance is a harmonious symphony of tranquility and aesthetic charm, offering numerous picturesque corners for capturing memorable moments. At Tar Tar, the service is nothing short of impeccable, with a friendly and accommodating staff that possesses an encyclopedic knowledge of the delectable fare and libations on offer. Speaking of the cuisine, Tar Tar's menu is a culinary masterpiece, featuring dishes like succulent king prawns, fragrant coconut rice, soul-warming tomato soup, and invigorating ginger drinks—all bursting with exquisite flavors and delightful textures. While prices may lean toward the upscale side, every penny invested in this dining experience is richly rewarded by the exceptional food quality and the enchanting restaurant atmosphere. Tar Tar beckons as the ideal setting for moments shared with family, friends, or a cherished date. With its cozy, secluded ambiance, it promises a truly unique experience, whether you're seeking a memorable brunch or an enchanting night out.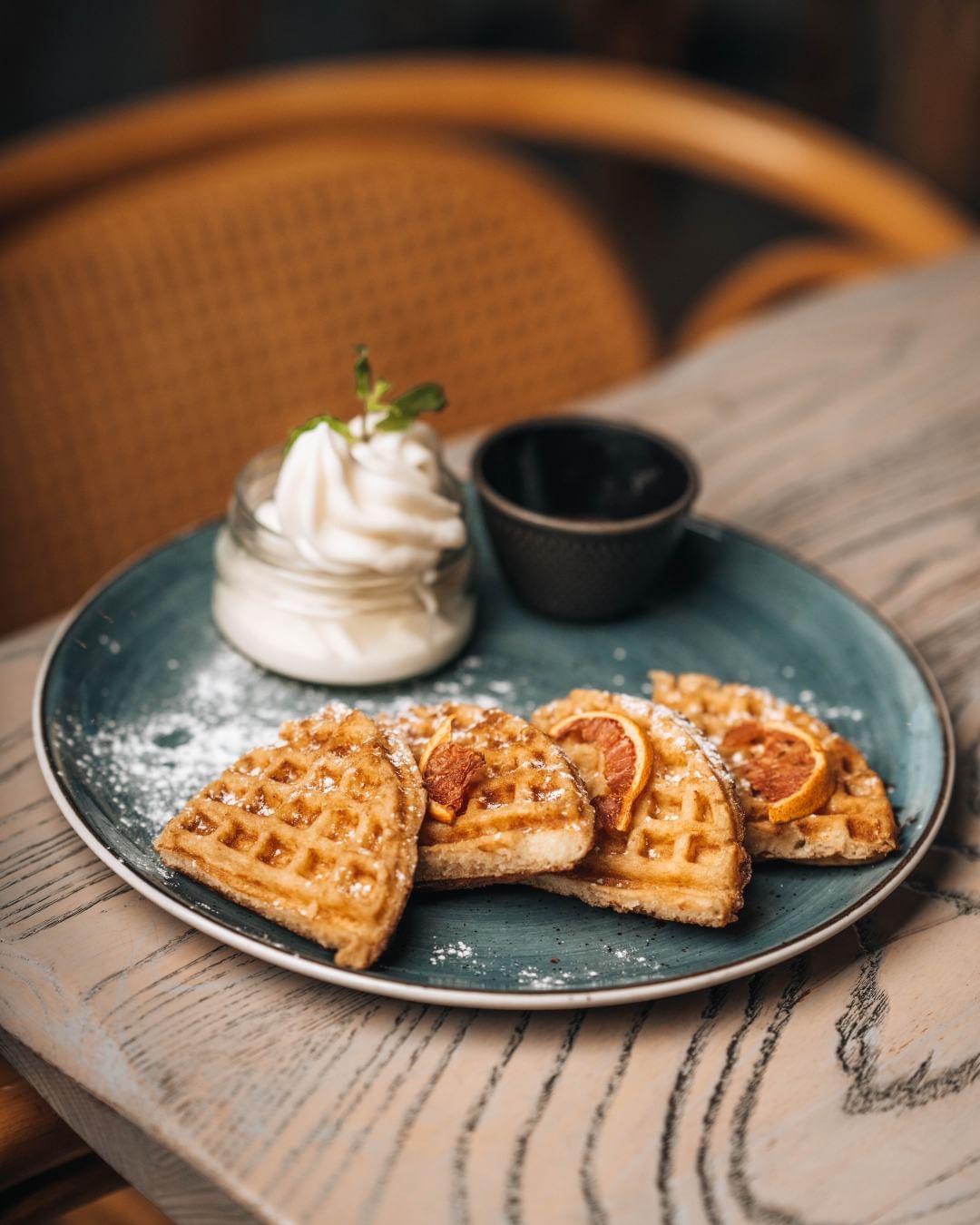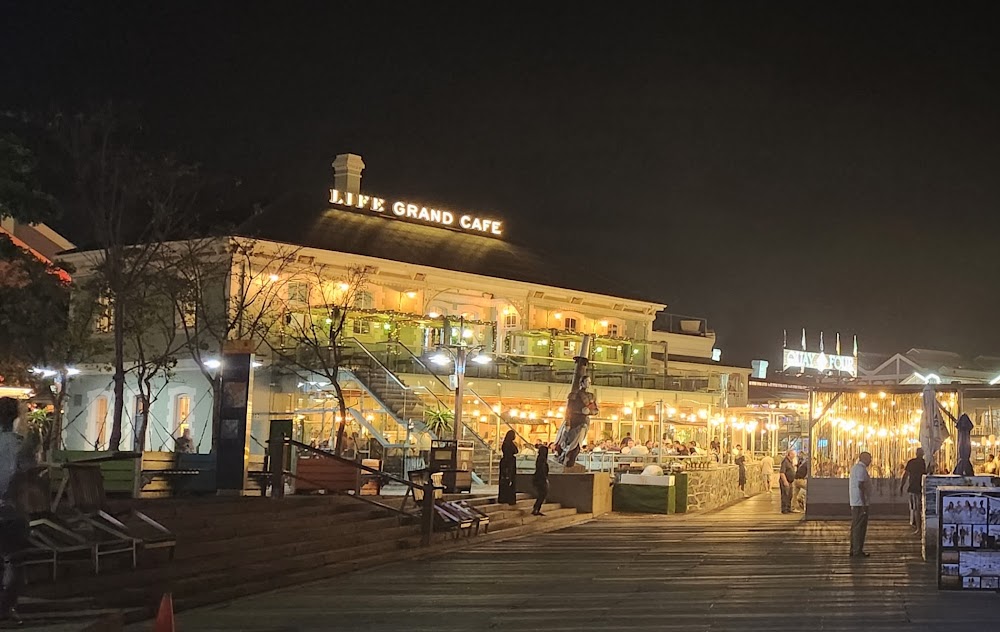 8. Life Grand Cafe Waterfront
Life Grand Cafe Waterfront, nestled in the heart of Cape Town, is a dining establishment that masterfully combines the allure of a waterfront view with an exquisite culinary journey. As you step into this vibrant eatery, you'll be met with a lively atmosphere, where the music pulses energetically on bustling Saturday nights. Despite the bustling ambiance, the dedicated staff works diligently to ensure every patron feels right at home, and the cuisine consistently dazzles with its freshness and delectable flavors. The menu boasts an impressive array of options, including tantalizing dishes like tuna and salmon poke, flavorful curries, succulent steaks, delicate sushi, and refreshing root vegetable salads. Each dish is a testament to the chef's meticulous attention to detail, prepared to perfection. However, what truly sets Life Grand Cafe Waterfront apart is its captivating atmosphere. Inside, the restaurant exudes a contagious buzz of activity, while outside, diners are treated to a breathtaking view of the pier's edge and the serene waters dotted with boats. You have the choice to dine indoors, immersed in the vibrant ambiance, or opt for a more relaxed experience under the shade of umbrellas. With a diverse menu that caters to all tastes, from the indulgent chili bacon pasta to a delightful array of seafood offerings, there's something here for everyone. The staff, with their warm and welcoming demeanor, adds to the restaurant's charm, making it an ideal destination for a memorable night out. Even brunch enthusiasts will find themselves drawn to Life Grand Cafe Waterfront, where the sea breeze enhances the dining experience when seated outside. Regardless of the time you choose to visit, you can be assured of a truly unforgettable and delightful experience.
Conclusion
Indulging in brunch at these exceptional restaurants is a surefire way to elevate your weekend. Whether you're savoring classic favorites or exploring inventive culinary creations, the exquisite flavors and inviting atmospheres will leave you with cherished memories and a heightened appreciation for the joys of the weekend brunch experience.