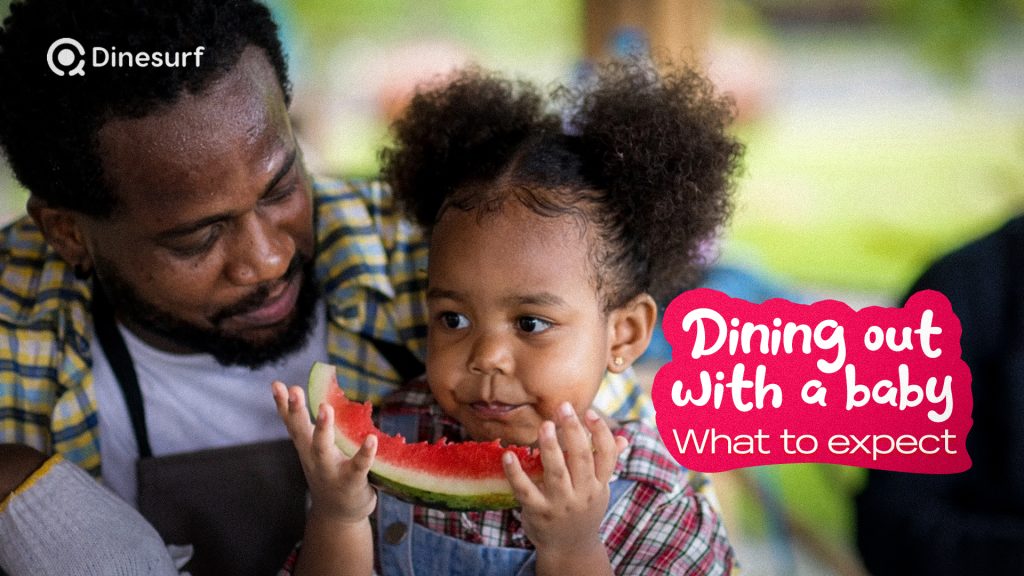 If you're a first-time parent, dining out with a baby for the first time can be pretty daunting. But don't worry, we're here to help! This post will give you tips on what to expect when eating out with your little one. From dealing with noise levels to finding a place that's baby-friendly, we've got you covered. So read on and get ready to enjoy a meal out with your little one!
Things to note when dining out with a baby
1. Dealing with noise levels: One of the first things you'll notice when dining out with a baby is the increased noise level. Whether it's other diners chatting or music playing in the background, it can all be quite overwhelming for your little one (and you!). The best way to deal with this is to try and find a quiet spot in the restaurant, away from any hustle and bustle. If that's not possible, then try to choose a time when the restaurant is less busy, such as during off-peak hours.
2. Finding a baby-friendly restaurant: When it comes to finding a suitable restaurant for dining out with a baby, there are a few things you need to take into consideration. Firstly, does the restaurant have highchairs or booster seats? This is essential for keeping your little one safe and comfortable during the meal. Secondly, is the menu child-friendly? Look for items that are soft and easy to chew, as well as avoiding anything that's too spicy or salty. And finally, check out the restroom facilities – are they clean and well-stocked with baby changing supplies?
3. Ordering food: Once you've found a table and got your little one settled, it's time to start thinking about what to order. If your child is still breastfeeding, then you'll need to make sure there's a good selection of lactose-free options on the menu. For older babies and toddlers, try to order something that can be easily cut up into small pieces. And if you're not sure what to choose, don't be afraid to ask the waiter or waitress for their recommendations.
4. Dealing with mealtimes: One of the challenges of dining out with a baby is dealing with mealtimes. If your little one is still on bottle feeds, then you'll need to bring along a travel bottle warmer or make sure the restaurant has one available. If your baby is eating solid foods, then you'll need to bring along some snacks and finger foods to keep them happy during the meal. And if your baby is prone to tantrums, then it's always good to have some distraction techniques up your sleeve!
5. Dealing with diaper changes: Another thing to consider when dining out with a baby is diaper changes. If your little one is in diapers, then you'll need to find a place to change them. Most restaurants will have a changing table in the bathroom, but it's always good to call ahead and check. Alternatively, you can bring along a portable changing mat to make things easier.
6. Dealing with messy eaters: Let's face it, babies can be messy eaters! So, when you're dining out with a baby, it's important to be prepared for any messes that might occur. Be sure to bring along some wipes and a change of clothes, just in case. And if your little one makes a real mess, don't worry – most restaurants are understanding and will be happy to help clean up.
Dining out with a baby can be a fun and social experience, but it does take some preparation. By following the tips (click here for more tips) we've provided, you can make sure your outing goes as smoothly as possible for both you and your little one. Are you a parent? What are your top tips for dining out with a baby? Share them with us in the comments below! They would be helpful to other parents!
Dinesurf also has some kid-friendly restaurants on our platform and it's definitely a place you would love to go with the whole family or friends while nursing your baby. Make a reservation now here.
YOU MAY LIKE THIS