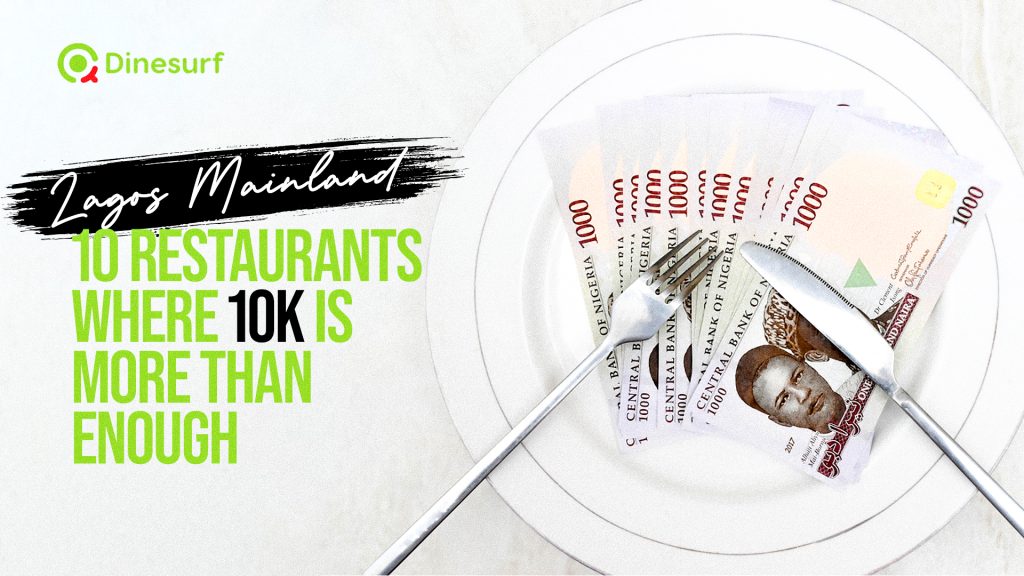 There are so many places to eat in Lagos but most reviews from individuals have shown that many individuals believe that it's very difficult to find a restaurant where you won't have to break the bank after eating a meal in there and if you're one of those people who likes to eat out at expensive restaurants and you can't afford them for now but still want to dine out because it's one of your favorite things to do, don't worry – we've put together a list of 10 restaurants on Lagos mainland where 10k is more than enough. So, sit back, relax, and enjoy a delicious meal without breaking the bank.
Affordable Restaurants in Lagos Mainland
This is one of the most beautiful and popular restaurants in Ikeja, Lagos. It's a bar and grill where you can have a delicious meal with friends, family or colleagues. The Grid serves a wide range of food including salads, soups, steak, seafood and much more and everything on their menu is affordable and meals are tasty.
Maybe because they are located close to University of Lagos, you may likely say that is why their prices are fair but that's not the case. SoulFood Restaurant has been around for a while and the prices on their menu have never changed. Their food is affordable and it's delicious, we recommend you try them out if you're looking for an affordable meal without any disappointment.
3. Burg (Ikeja).
If you are out of options and you want a decent burger with very good milkshakes, here's your spot and also if you are not much of an eater or would rather have something light, you can check the out. They also have chicken sandwiches, fries etc. Enjoy!
4. La Mango Restaurant and Lounge.
This place is surely a good spot-on Lagos mainland to relax and unwind from the stress of work or school because it also offers facilities for clubbing, lounging, pool side parties, launchings and of course plenty of food. It may not be one of the best, but they are trying.
5. Ofada Boy.
The king of Ofada rice, not like they do not have varieties, they do! But this is one of the meals out of so many others that stands out for them. Their meals are quite affordable and filling.
6. Lacibo Restaurant and Lounge.
With a beautiful ambience, there is no way you won't come back visiting and it is also one of the best in its environs. But also, you must note that it is not a big restaurant and quite small, but their meals are great, and prices are affordable.
7. Spur (GRA, Ikeja).
If you plan on taking your kids along with you while dining out and still on a budget, this is a great place for them because the ambience supports that.
8. Kuti's Bistro.
This is a small and inexpensive restaurant with alot of fun activities, it may be new, but this restaurant is already making waves. It is a place where there are provisions for all kinds of African and continental cuisines at an affordable price with an environment created for individuals and corporate organizations.
9. Pancake Hub.
Looking for the best breakfast spot? Pancake Hub is that spot and they are popularly known for their pancakes which are cheap but also of great quality. You would have your stomach full while still sticking to your budget.
10. Charleys Lounge:
If you need a place to chill, eat good food, or even relax all in one on Lagos mainland, then this is the best place for you. Great ambience, great food and affordable too. They also have Karaoke on Tuesdays.
If you're looking for where to get a delicious and affordable meal on Lagos mainland, one of these restaurants is sure to fit the bill. With prices that start at under 3,000 naira, you can enjoy a fantastic meal without breaking the bank. So, what are you waiting for? Start planning your next dining adventure now!
Reference: Opeyemi Famakin
Dinesurf allows you to check price range of restaurants, read important dining information and even check out the menu so you are not caught unawares. To make a reservation on our platform, click here.
YOU MAY LIKE THIS