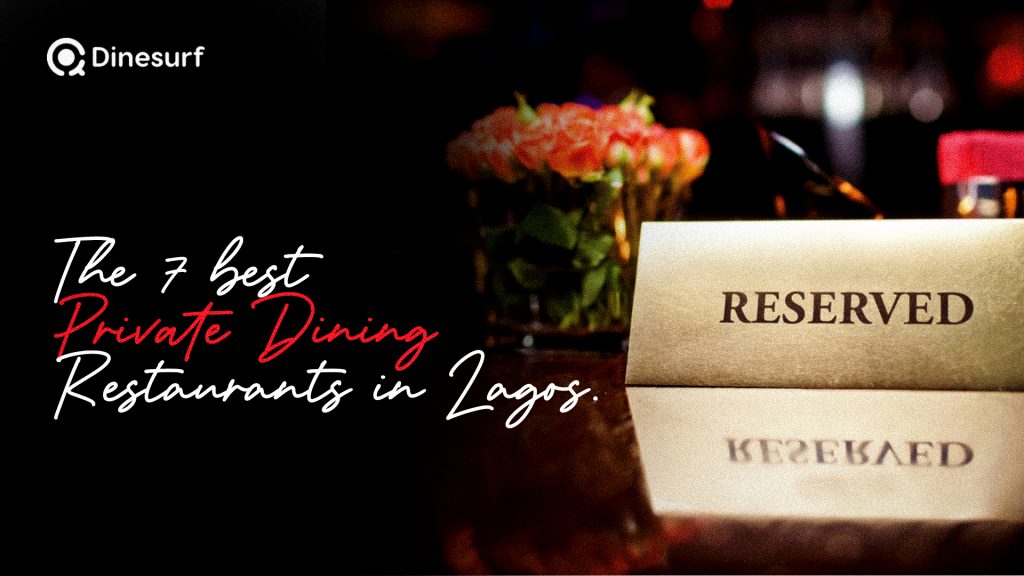 Lagos is a city that loves to party. From the nightlife districts of Victoria Island and Lekki to the restaurants that serve Lagos' unique brand of cuisine, there's always something going on in this West African metropolis. If you're looking for an intimate dining experience away from the crowds, check out our list of the 7 best private dining restaurants in Lagos. You won't be disappointed!
7 best private dining restaurants in Lagos
1. Shiro Restaurant and Bar
Shiro is a Pan-Asian restaurant located in the heart of Victoria Island. The restaurant's private dining room is perfect for small groups looking for an intimate dining experience. The room comes complete with its own sushi bar, making it the perfect place to enjoy a sumptuous Japanese meal or any other meal being served. The outdoor area is also a place to sit and relax after a meal.
Another restaurant that you would find in Victoria Island is Izanagi. Izanagi is a Japanese restaurant in a really cute space, heavily influenced by Asian decor pieces. They even have a private room where you get to seat on puffs and a really low table, with their staff kitted out in full regalia. If you are craving a Japanese meal or sushi, this is your best bet.
The Pearl Garden is a Chinese restaurant located on Victoria Island. They specialize in authentic oriental cuisine. It's a local favorite; extremely popular with Lagosians and expatriates as well, plus one of the number one go-to places for corporate events, wedding parties and numerous large gatherings/functions. But this does not mean, you cannot come here if you intend to have a private dinner with your friends/family, just make sure to make a reservation ahead so that everything can be arranged before your arrival.
This particular restaurant regards themselves as a "social house". A home away from home for the vintage and the contemporary, the quirky and the orthodox, the green and the seasoned. Amongst all the spaces they have here, there is also a private dining room area that accommodates 2 to 20 people, and the minimum reservation duration is 2 hours but there's no maximum reservation duration. The space is cozy, has a really nice vibe and the food is also great.
343 Degrees North is located in Victoria Island and also one of the best private dining restaurants in Lagos. The restaurant has a really beautiful ambience and the perfect place to take a break away from the hustle and bustle of the city. They have both an indoor and outdoor seating area (rooftop lounge & terrace area), but their private dining room is where you should be heading to if you are looking for an intimate dining experience.
6. Noir Restaurant & Bar
Noir is a black and picturesque building located on 4a Akin Olugbade St, Victoria Island. It is the first of its kind, French inspired culinary experience that combines fine dining with a fun, friendly and warm environment. Noir as a brand, focuses on giving its guests a taste of Paris in the bustling city of Lagos. The restaurant offers private dining experiences on their beautiful rooftop, which offers stunning views of the cityscape.
7. 411 Restaurant and Bar
This restaurant is located on No 5 Amodu Tijani close, off Sanusi Fafunwa Street Victoria Island, Lagos. This restaurant offers both local and continental dishes from different parts of the globe prepared by top notch chefs. It is the perfect spot to meet with friends for drinks, lunch or dinner or to celebrate special occasions like birthdays, bachelors' eve, lady's hen nights, and other private and corporate events.
If you are looking for an exquisite dining experience, one of the best private dining restaurants in Lagos is definitely a good choice. With exquisite food and beautiful settings, these restaurants will make your special event memorable. Have you had a chance to visit any of these top 7 private dining spots? Let us know in the comments below!
These restaurants are all listed on TripAdvisor and you can also make a reservation to one or more of them on the Dinesurf platform.
YOU MAY LIKE THIS